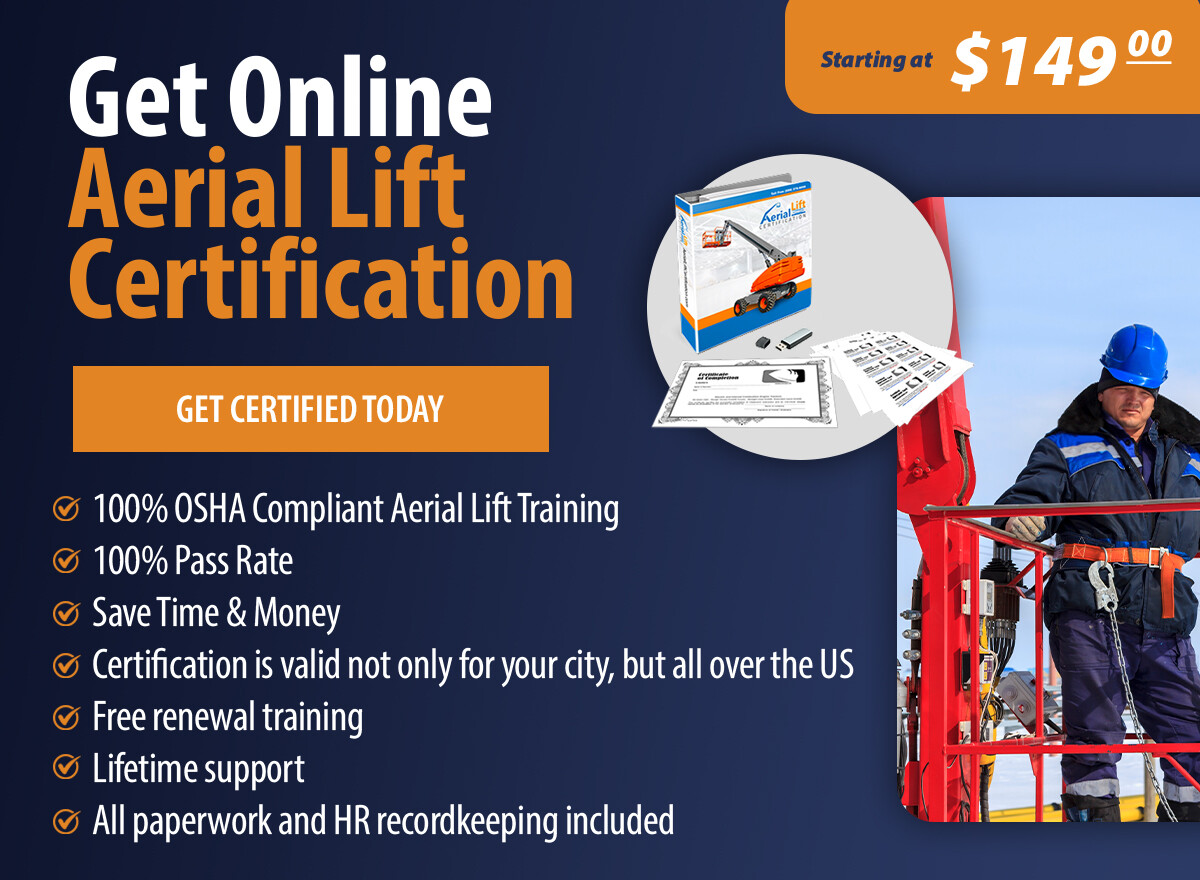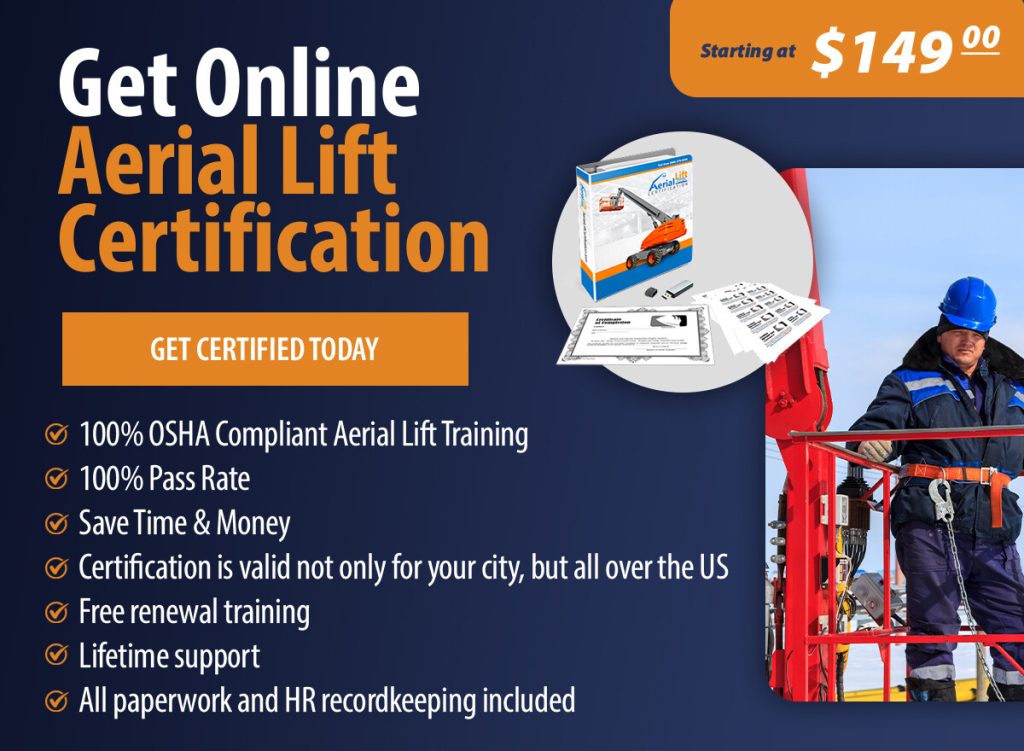 Pursuing aerial lift certification in Scottsdale once meant traveling to and spending time in an off-site classroom. The training process was both time-consuming and expensive. These days, AerialLiftCertification.com makes learning easy and convenient. Start your aerial lift training in Scottsdale on your own time. Our courses can help you develop the skills necessary to operate aerial lifts anywhere in the United States. Training options include:
Trainer Certification $149.00: This self-paced course will train you to become your organization's Certified Aerial Safety Expert.
Operator Training Kit (which will be mailed) $299.00: Teach lift operators in-house with our comprehensive Operator Training Kit.
Bundle & Save (Best Deal) $399.99: Get all the perks of having a fully certified on-site aerial lift trainer and an employee aerial lift certification training package at one low price!
How Online Aerial Lift Certification in Scottsdale Works
Scottsdale aerial lift certification is easy to pursue when you learn with ALC. You can keep trainees on-site while they train, and you'll save both time and money. Most trainees complete the course in about an hour – it's a wise investment of your valuable time and resources. To get started with training, follow these simple steps:
Registration – Create an account, log in, and register any employees you want to be trained.
Select Class – Pick the course that best fits your company's needs, then head to check out.
Finish Course – Learners may complete the course at their convenience and their own pace.
Take and Pass the Written Exam – Employees can take the test as often as needed to earn a passing score.
Complete a Hands-On Evaluation – An on-site trainer employed by your company should provide a hands-on evaluation for trainees. If you don't have anyone trained to conduct this test, our Train the Trainer course can help you prepare a person to handle them moving forward.
Print Proof of Certification – After completing the previous five steps, you can immediately print off proof of certification in the form of operator cards.
At this point, lift operators are fully certified to OSHA standards. File operator cards with Human Resources as proof of proper certification.

Why Choose AerialLiftCertification.net for Scottsdale Aerial Lift Certification
Aerial lift operators in Scottsdale are required to be trained and certified per OSHA standards. Should you fail to provide training opportunities for workers, your company may be fined. Untrained employees are more likely to be involved in more lift accidents than their operators, who have been trained and certified. If you're hoping to avoid workplace accidents, it's important to make Scottsdale aerial lift certification online a main priority. Here are a few benefits associated with our training:
24/7 Access – An internet connection is all you need to train with ALC.
Quick and Simple – Most people finish the course in about an hour, but you can take as long as you need with the material.
Printed Proof of Certification – Once you're done training, you can immediately print off proof of certification and keep it in your HR file.
Free Lifetime Renewals – OSHA requires all lift operators to recertify every three years. We offer free lifetime renewals, saving you money over the long haul.
A Fantastic Value – Our classes are affordable and comprehensive at just a fraction of most training schools charge.
Given these perks, using AerialLiftCertification.com for your in-house training makes sense. Since we offer a 100 percent money-back guarantee, there's no risk in trying us!

Frequently Asked Questions About Scottsdale Aerial Lift Certification
How do I get aerial lift certified in Scottsdale? Let us answer some frequently asked questions:
Why Do I Need to Pursue Aerial Lift Certification?
OSHA requires all aerial lift operator employers to offer training and certification opportunities. Should your company fail to offer these opportunities, it may face penalties. Aerial lift training is a smart investment since trained workers are more efficient and less accident-prone.
Can I Register for Training Myself, Or Should My Manager Sign Me Up?
OSHA requires all employers to provide training for lift operators, so you may want to wait and train once you're employed.
Do You Need Experience to Begin Training?
Experience is optional to begin training with ALC.
Is Aerial Lift Certification Required in Scottsdale?
Yes, all lift operators in the United States must be certified before using aerial lifts.

Choose ALC for Scissor Lift Certification in Scottsdale 
Providing your workers with the best Scottsdale aerial lift certification training is a priority. ALC understands this, so we ensure you can give your workers the best certification training, any time you choose. 
There is no need to delay aerial lift certification in Scottsdale. Instead, partner with ALC, and we can help your workers become certified aerial lift operators right away. 
If you have additional questions about our aerial lift certification training in Scottsdale, we're happy to respond to them. For more information or to sign your workers up for our certification training, please contact us online or call us today at (888) 278-8896.