Learn More About our Aerial Lift Training Kits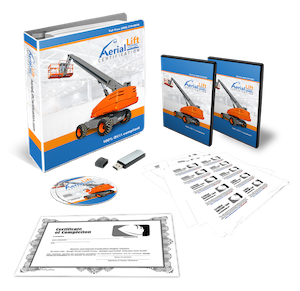 Providing proper training for aerial lift operators is not only vital for ensuring a safe workplace, but also for meeting the requirements of OSHA regulations. Our convenient and affordable aerial lift training kit will help you train and certify your employees for operating aerial lifts quickly, conveniently and cost-effectively. With our unique, interactive and state-of-the-art aerial lift training kits you can train your aerial lift operators at your workplace without the need for expensive, offsite courses.
Foster a safe and productive work environment, develop safety awareness among employees, and meet OSHA workplace safety requirements with our comprehensive training kit for aerial lift operators. Designed for maintenance, construction craftsmen and other personnel who require a thorough knowledge of aerial lift safety, our training and certification program ensures that operators are qualified to operate aerial lifts safely and properly.
Choose from our Aerial Lift Training Kits today!
Our aerial lift training kit will get your employees trained in approximately one hour without the inconvenience of sending them offsite or renting a separate building for training purposes at a fraction of the cost. Our training kits for aerial lift certification include an interactive DVD full of exercises and vital information designed to be accessible and thorough for all of your employees. Topics include fundamentals, load handling, safe driving, stability and capacity, safety standards, and inspection of completion and operator permits. Our training kit for aerial lifts is designed to meet the requirements of OSHA regulations 29 CFR1910, the National Fire Institute, and the American National Standards Institute.
Features of our aerial lift training kits include:
5 pre-test summaries of key training points and a practice quiz at the end of every section.
Hands on evaluation forms for you to use as a guide to complete the certification and evaluations
Specialized in simple to use print form for each classification of powered industrial truck classes 1-7 (excluding class 6 tuggers)
Trainer's and Operators Saftey Power Point presentation
Our interactive aerial lift training kit can be used for guided training, self-paced or group training, offering you the flexibility to train in the way that makes sense for your business. User-friendly and available in both English and Spanish, our kits are easy for anyone to learn proper safety and operational methods. Our training kit for aerial lift operators enables you to ensure that your workplace meets safety requirements and that every employee is properly trained and certified to create a safe, productive work environment.
To learn more about our aerial lift training kit, contact us today.