Get Certified to Train and Certify Your Aerial Lift Operators
Save Time and Money with this Complete In-House OSHA Compliant Online Certification Program
Free Renewals

Pay one time and you'll never need to pay again because we offer free refreshers and renewals for you anytime.

Instant Documentation

Print your OSHA compliant certification on completion.

Free OSHA Updates

Stay current. You'll receive all relevant OSHA updates
Training your aerial lift operators can be inconvenient, costly, and a hassle to say the least. But if you had your own in-house trainers to lead the training for you, never having to leave your workplace, you could provide the training OSHA requires, while maintaining productivity and customizing the work to your business.
Aerial lift Train the Trainer gives you the framework and papers you need to set up your own aerial lift training in-house - for one low, affordable price.
In-House Certification – the Only Sensible Option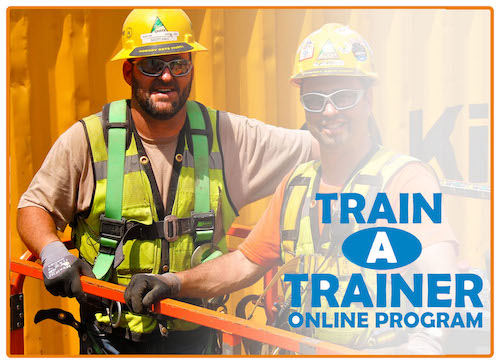 Proper aerial lift training is the key to preventing accidents and keeping a safe and compliant workplace. As an employer, you know the importance of ensuring all operators are certified for aerial lifts, but that doesn't mean it's always easy to find the right training and figure out when your employees will complete this training. In fact, it can be frustrating and stressful to say the least.
You know your equipment and work processes better than anyone – so why not become your own safety authority with our aerial lift train the trainer program?
It's been developed from over 20 years of experience by seasoned aerial lift operators who know and practice OSHA's aerial lift safety requirements daily. With instant online access and instant documentation, you'll enjoy the benefits immediately – at a fraction of the price of other programs.
You can ensure a safe and productive workplace, meet OSHA safety standards, and designate one of your own trusted employees as the in-house qualified trainer.
Why Train in House Anyways?
Aerial lift training can cost hundreds of dollars per employee when it involves traveling to an offsite training facility and paying for instruction through classroom teaching. This adds up not only in the amount it can cost, but also in the time it takes and the loss of productivity it can cause at your workplace.
Here are just a few of the many reasons why you should consider training your employees in house:
Keep more profit in your business
Never lose productivity because of training
Never forget to re-train employees and renew their certifications
Increase your workplace's efficiency with more skilled and prepared workers who feel safe
Reduce the amount of accidents you experience every year
Stay out of OSHA's radar
The Aerial Lift Train the Trainer Program Includes:
24/7 Online Access: the entire OSHA-compliant training program accessible online from anywhere 24/7
Done-for-you Safety Policy Outlines to keep your employees safer and minimize or eliminate injury lawsuits
Printable Certification: proof you're certified to train others on aerial lift operation and safety
Unlimited Certifications: certify as many aerial lift trainers as you need (prepares you for employee turn-over)
FREE Updates: you get immediate notifications as OSHA releases new compliance information, so you're always up-to-date
Aerial Lift Safety Topics Include:
Equipment Inspections
Safe Driving
Load Handling
Safety Standards
Stability and Capacity
Hazard Assessment
Inspection of Completion
Operator Permits
And much more
As a graduate of our aerial lift train the trainer, you will learn how to teach these important safety topics, and will be given the skills, outlines, and overviews you need to qualify students for their certification.
Benefits of Our Aerial Lift Train the Trainer Program
The cost to train operators for aerial lift certification can be expensive and time-consuming if an employer has to pay an outside party or off-site facility to lead this training for employees. The expenses don't just involve the training itself but also the travel costs, paid time-off for employees, and the loss of productivity at your worksite. If you train your own experienced workers to train other employees, you can save on all of these costs and keep productivity high. With your own in-house aerial lift training program, you can have more control over what workers are being taught to ensure they are fully prepared for your workplace.
As an employer, you will…
Save money on training – no need to hire an outside consultant or training program
Save time and money on travel – no need to visit an offsite training facility
Stay productive: no downtime, get trained and certified 100% online anytime, anywhere to certify all your current and future operators with ease
Reduce accidents and delays by up to 70%
Meet and exceed current and future OSHA Aerial Lift requirements
Avoid fines of up to $70,000
Minimize the risk of injury-related lawsuits
Lower insurance costs: potentially qualify for reduced compliance rates offered by many insurance companies
Who is Our Aerial Lift Train the Trainer For?
An aerial lift trainer is the instructor who teaches new employees the safe operation of aerial lifts and guides the hands-on practical that is required for certification. Our aerial lift train the trainer program teaches the skills experienced aerial lift operators need to teach novice workers on the mechanical workings of an aerial lift, the safe operational practices, how to perform equipment inspections, and how to assess the environment for hazards. Ultimately, the number one goal of training is to prevent accidents in the workplace.
If you identify with the following qualities, then our aerial lift Train the Trainer is for you:
You're passionate about helping others and sharing your knowledge
You have great patience when working with inexperienced workers
You're dedicated to protecting everyone's safety and preventing accidents in your workplace
Why Choose AerialliftCertification.com for Train the Trainer?
Designed by experienced aerial lift operators for aerial lift workers, the aerial lift train the trainer course from AerialliftCertification.com can help your business save thousands of dollars on training costs for employees and exceed OSHA requirements for safety training. It may even make you eligible for special compliance rates offered by insurance companies. Safety training is one of the smartest investments you can make for your business, and our aerial lift train the trainer program is the smartest way to train your workers to educate new employees in the operation of aerial lifts.
Inside our aerial lift train the trainer program, you will receive the following:
5 pre-test summaries of the key training points for trainer, with a practice quiz at the end of each section
Sample outlines for establishing safety policies in the workplace
Our program covers the safe driving, load handling, safety standards, stability, capacity, and inspection of aerial lifts to ensure new operators are receiving all the information they need to operate aerial lifts safely and qualify for their certificates.
Our aerial lift train the trainer course is the most comprehensive online program available, and it can save you thousands of dollars every year on the training for your new employees.
If you're a company that has a substantial turn over, multiple locations, or needs to meet OSHA safety requirements and wants to save thousands of dollars, our aerial lift Train the Trainer course is for you.
Join Nearly 30,000 Companies Who Use Us, including:
100% Money-Back Guarantee:
Try the Aerial Lift Train the Trainer Certification Program risk-free for an entire year.
If you're not completely thrilled, simply let us know within 1 year for a prompt, no-questions 100% refund.
Get Started Today
There's no faster, easier way to get certified as an aerial lift trainer.
Save time and money – invest in our self-paced online certification program today, risk-free…
You can purchase our Train the Trainer program or save money with our Bundle Package, which includes aerial lift certification. If you have any questions about aerial lift train the trainer or aerial lift certification, give us a call at (888) 278-8896.