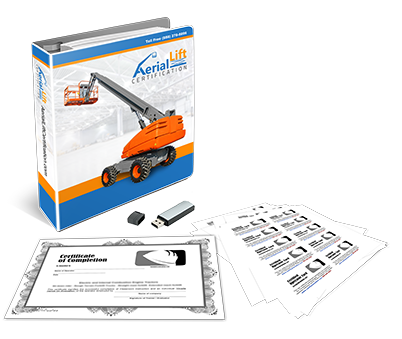 BUY NOW – $399
Get the benefits of a complete employee aerial lift certification training package and a fully certified on-site aerial lift trainer and at a fraction of the cost with our bundle and save offer. Aerial Lift Certification helps your company create a safe work environment, meet OSHA requirements, and eliminate the need for costly and time-consuming offsite training programs with our exclusive aerial lift certification deals. Our new aerial lift training deals will save you up to $50 per package and is loaded with comprehensive exercises and vital safety information to ensure that all of your employees receive proper training the first time around, while saving you money.
Why Choose the Bundle and Save Package?
Our bundle and save aerial lift training kit ensure that workers who operate aerial lifts are properly trained in the safe use of the equipment, maintain and operate elevating work platforms in accordance with the manufacturer's instructions, and never override hydraulic, mechanical or electrical safety devices. Both the Occupational Safety and Health Administration (OSHA) and the American National Standards Institute (ANSI) have a series of rules designed to protect employees using aerial lifts, and our aerial lift training deals are designed to help you meet those requirements at an affordable rate.
Inside the Bundle and Save package, you'll find access to our two top training programs for one affordable price:
• Aerial Lift Training Kit
• Train The Trainer Course Online
Our affordable and convenient aerial lift training kit will help you train your employees to safely operate aerial lifts and scissor lifts quickly and cost-effectively. Our bundle and save safety training programs are designed to help drastically reduce the risk of injury and increase workplace productivity.
OSHA safety requirements for aerial lifts include: securing the boom or ladder in the stored position when the vehicle is in motion, obeying weight limits of the boom and bucket, and employees must have a body harness and lanyard attached to the bucket or boom.
OSHA requirements for scissor lifts include: using guardrails when present and fall protection equipment when not, properly stabilizing the scissor lift to prevent accidents, and positioning the scissor lift to avoid hazards.
Our Aerial Lift Training Kit teaches workers:
• How to operate aerial lifts, including cherry pickers, articulating boom lifts, and telescopic boom lifts
• How to perform equipment inspections
• How to perform site inspections
• How to recognize and avoid hazards
• How to prevent accidents
The kit includes:
• One 3-ring binder with all course materials
• 2 interactive DVDs
• All aerial lift and scissor lift fundamentals including load handling, safe driving, stability and capacity, safety standards, inspection of completion, and operator permits
The aerial lift training kit bundle and save program is organized to maximize learning and retention in a shorter amount of time then traditional training methods. Training can be completed onsite at your place of business without the need for employees to travel to other locations, which can cost money and productivity.
In addition to improved safety and meeting the requirements of OSHA regulations 29 CFR1910, the National Fire Institute, and the American National Standards Institute, our aerial lift certification program includes the following indirect benefits:
• Increased productivity
• Higher quality products
• Increased morale
• Better labor/management relations
• Reduced turnover
• Better use of human resources
To learn more about our aerial lift training kit, go here.
If you have experienced aerial lift and scissor lift operators and you'd like to keep the entirety of your operator training in house, you need to invest in the highly affordable Train The Trainer course online from ALC.
When you train your operators in house, you can:
• Save money by not having to pay for expensive offsite training
• Stay productive by not having to lose workers for training days
• Ensure your workers are always up to date on their trainings and renewals
• Improve your workplace's efficiency
• Improve the safety of your workplace and reduce accidents
• Reduce your risk of getting fined by OSHA
Inside the Train The Trainer course online you will receive:
• 24/7 access
• Done-for-you outlines
• Printable certification
• Free updates
• 5 pre-test summaries
• Sample outlines
• Teachings on equipment inspections, safe driving, load handling stability and capacity, safety standards, hazard assessment, and much more!
Once you complete our trainer course, you will be qualified to lead the evaluation portion of aerial lift and scissor lift training for new operators.
Read more about the Train The Trainer course online here.
If you have any questions about our programs, get in contact with us at AerialLiftCertification.com.