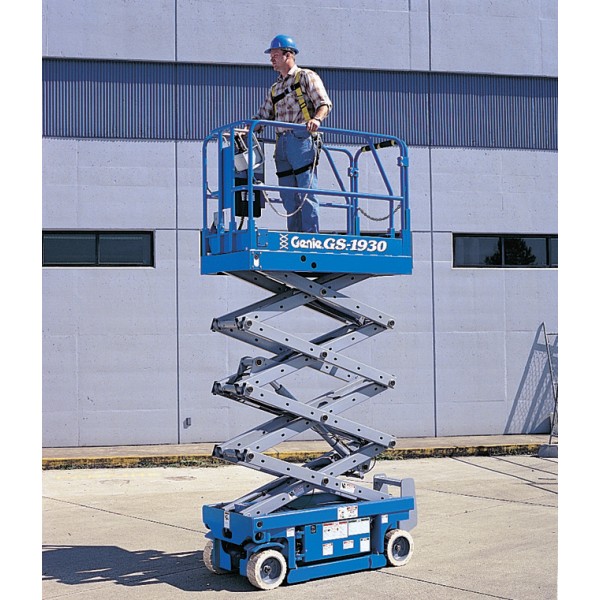 Scissor lift safety is an important factor for any workplace. With OSHA regulations in place, it's essential to ensure that everyone involved with scissor lifts understands the safety rules that must be adhered to. Scissor lift operators must be properly certified, and all lifts must be inspected on a regular basis. Scissor lifts should only be used for their intended purpose and any defects must be reported immediately and repaired before being put back into operation. Furthermore, standard safety guidelines such as proper positioning of the drive controls, use of fall protection equipment, checking the ground surface and making sure that no bystanders or untrained personnel are near the scissor lift must always be followed. Being aware of these OSHA scissor lift requirements can greatly reduce accidents and injury in the warehouse.
What is a Scissor Lift?
A scissor lift is a work platform that lets workers move vertically at heights. It is commonly used in construction, retail, entertainment, and manufacturing, among other industries. Scissor lifts vary in size, height, fuel type, and application. Whatever job you have to do, odds are good that there's a scissor lift right for the task.
Scissor lifts differ from other types of lifts in that they use crossed beams that function in a scissor-like fashion. These beams allow scissor lifts to move up and down. Scissor lift safety must be practiced with caution, as these powerful machines can be dangerous when used improperly.
Scissor Lift Safety
When used in accordance with OSHA scissor lift requirements, these lifts can be quite safe. Too often, though, safety best practices go out the window on the jobsite. Over a one year period, OSHA found scissor lifts to be involved in at least 10 fatal accidents and another 20 serious incidents. The report concluded that the majority of these accidents resulted from a lack of proper operator training in scissor lift stabilization, positioning, and fall protection. When operators are properly trained and certified by an OSHA approved training institution such as AerialLiftCertification.com, scissor lifts can be safe and valuable pieces of equipment. Allowing untrained and inexperienced workers to operate scissor lifts in the workplace however, can have devastating results, which is just one of the reasons why OSHA-compliant scissor lift safety training is so important.
OSHA takes scissor lift safety tips very seriously and has established a set of scissor lift safety tips and rules that all businesses where scissor lifts are used are legally obligated to follow. These safety rules are outlined in OSHA regulations Section 29 CFR 1926.451. Employers also need to take OSHA's scissor lift safety requirements seriously. If you employ workers who operate scissor lifts, you need to be aware that you're legally required to provide them with OSHA scissor lift certification training at no cost. Failure to comply can result in severe penalties, hefty fines, and possible legal action.
OSHA Scissor Lift Requirements
OSHA scissor lift requirements task businesses with teaching lift operators about scissor lift safety protocols. It is mandatory for any worker that uses a scissor lift to receive proper training. OSHA requires scissor lift operators to get recertified every three years, too. It's the employer's responsibility to see that each of their operators receive OSHA-approved training and certification such as offered by ALC. This is to ensure they understand scissor lift safety rules and procedures, including how to properly inspect and maintain the equipment, as well as understanding and following the manufacturer's instructions. The training also needs to include the correct use of personal protective equipment (PPE).
The OSHA study mentioned above found that the majority of accidents where scissor lifts were involved resulted from employers failing to adequately address fall protection, stabilization, and positioning issues with their workers. Although these are all important issues, OSHA's number one scissor lift safety concern is that only properly trained and certified workers be allowed to operate various types of AWPs, which includes scissor lifts.
OSHA regulations 29 CFR 1926.451(g) and 29 CFR 1910.29(B) require scissor lifts to always be equipped with adequate guardrails that are in place under all conditions. This includes indoor and outdoor construction, water tower repairs, shipyard work – anywhere scissor lifts are used. The OSHA regulations prohibit workers from standing on, leaning against or using a scissor lift's guardrails for stabilization, which are dangerous and serious safety violations. If guardrails aren't available, fall protection harnesses should be worn by workers and securely fastened to the lift whenever the platform is more than10 feet above either the ground or a platform immediately below.

Share this Image On Your Site
Scissor Lift Safety Tools
OSHA scissor lift certification training requires employers and operators to be thoroughly familiar with their scissor lift regulations, including the following:
1. Fall Protection
To prevent injuries to workers caused by falls from a raised platform, OSHA regulations include requiring all scissor lifts to have guardrails. Before operating scissor lifts, workers must be adequately trained in how to correctly position and secure the guardrail system. Operators must also understand that they stand only on the platform and never on the guardrail. Finally, they need to be trained to always stay within easy reach of the work area to avoid injuries from falling off the platform while leaning over the guardrail.
2. Lift Stabilization
Employers need to ensure that all scissor lifts used in their workplaces are in stable condition and not in danger of collapsing or tipping over. To prevent scissor lifts from collapsing or tipping, both employers and operators need to ensure that all safety systems are in good working order and condition. Scissor lift operators need to be especially careful when driving the equipment to prevent colliding with other vehicles, as well as stationary overhead and ground-level obstacles. It's also extremely important that the combined weight of workers, tools and equipment on board the platform never exceed the manufacturer's stated load limits. Employers and workers are both responsible for following OSHA's scissor lift safety measures to make sure the lift remains stable at all times.
3. Lift Positioning
It's important that scissor lifts are always positioned in a manner that prevents them from falling or tipping and injuring the operator, coworkers, observers and passersby below. Operators also need to use extreme care in keeping scissor lifts well away from power lines and similar hazards to avoid risking injury or death by Whenever a scissor lift is operated near a fixed object, moving vehicle or other pieces of equipment, there's a risk of injury from a tipping or crushing incident. This is also true when a scissor lift is driven beneath overhead obstacles such as doorframes or overhead support beams. In-house safety procedures need to be implemented and observed to ensure that scissor lifts are always properly positioned, as well as to comply with OSHA's scissor lift safety requirements.
4. Scissor Lift Harnesses
The use of harnesses on scissor lifts as a means of preventing injuries or fatalities from falls continues to be a hotly debated issue. OSHA scissor lift regulations require all employees working from aerial platforms to attach a lanyard to his or her safety harness, which needs to be securely anchored to a point on the lift. This is to ensure that the worker will be kept from falling to the ground in the event of an accident. Some people feel that safety harnesses don't need to be worn while working from scissor lifts, while there are others who believe that harnesses should always be used.
Additional Scissor Lift Safety Tips
For a safer and more efficient workplace, lift operators should work to familiarize themselves with their machine's manufacturer's guide. When it comes to scissor lift safety, knowing how to properly move and reposition such equipment can make all the difference. It's also important to keep scissor lifts away from vehicle and pedestrian traffic. Overhead obstacles must be kept in mind as well – as should site hazards like holes, trenches, and slopes that could cause tip-overs.To ensure you're complying with OSHA scissor lift requirements, work to establish traffic control measures on and around the job site. Use high visibility ground control guides to define traffic corridors, and be sure lifts are at least 10 feet away from electrical lines and other power sources. Following these basic scissor lift safety tips can prevent many of the most common types of accidents.
To use a scissor lift safely, an operator must:
Evaluate the Environment
Ensure a work environment is clear of any obstacles or hazards. The work surface should be stable, so the lift will remain in place as an operator uses it. If the work area is busy, establish traffic controls to keep bystanders away from a scissor lift. Additionally, if weather conditions are poor, workers should avoid operating a scissor lift until it is safe to do so.
Whether you're working indoors or outside can also make a big difference in scissor lift safety. For instance, you wouldn't want to use a diesel-powered scissor lift indoors unless you have excellent ventilation. The fumes from the lift can make workers sick when used indoors. Conversely, when working outdoors, you'll want to make sure you're working with a rough terrain model with four-wheel drive that can guard against tip-overs. 
Assess Fall Risks
Scissor lift operators must have the proper equipment to mitigate the risk of falls. The lift should have a guardrail that is undamaged and free of rust. Also, the operator should never stand on or lean against the guardrail when the lift is in use.
While fall risks are minimal for scissor lift operators, situational awareness is important. OSHA regulations for scissor lifts don't outline specific recommendations, but it's important to be mindful of the potential for falling tools and equipment. These can distract workers, causing injuries, and, in rare cases, may even lead to a fall.
Review Protective Controls
Scissor lift operators should check the lift's brakes and other safety controls before they start using the machine. If any protective controls are malfunctioning, they must be repaired immediately. Inspection of your lift before you begin working can help keep you safe on the job. Check hydraulics for leaks, make sure your horn is working properly, and make sure your wheels are free of defects or gouges. Brakes should be inspected too – once you set the brakes, verify that they will indeed hold the lift in position. If a scissor lift is found damaged, avoid using it until the necessary repairs have been made.
The aforementioned tips are discussed in detail during a scissor lift safety training course. Furthermore, this course offers insights into the key components associated with safe use of a scissor lift.
What to Expect from ALC's Online Training and Certification
OSHA scissor lift requirements start with training and certification. AerialLiftCertification.com is the only online training program available with the experience, resources and OSHA expertise to provide fast, easy and affordable scissor lift training and certification. All ALC course materials are created by industry professionals with years of experience working with OSHA and have a thorough knowledge and understanding of scissor lift safety regulations. When you enroll your employees in one of ALC's OSHA approved online aerial lift certification programs, you can rest assured they'll gain crucial insight into safely and efficiently operating scissor lifts under virtually any working conditions.
ALC, the leader in aerial lift training offers three OSHA-compliant program choices for scissor lift training, all of which can be completed in about an hour. Our training packages are:
The ALC Training Kit is one of our most popular courses. It covers everything your operators need to know to safely and efficiently operate scissor lifts for one low price. Once complete, learners will know all they need to earn their OSHA scissor lift certification. There are no "per employee" costs – a one-time payment of just $299 covers all your operators. Free lifetime course material updates and renewal training are included in the tuition.
This is a self-paced program designed to save your business time and money by conducting your boom lift operator training in house. By designating one or more of your employees as an in-house trainer he or she will be qualified to certify your other operators. Everything you need is included for only $149.
Can't decide between the two courses? Then our Bundle package is for you! The package includes both the ALC Training kit and our Train a Trainer program for the discounted price of just $399 – you'll save $50 over purchasing the two courses separately. This is the best option for a business hoping to meet OSHA scissor lift requirements without breaking the bank.
To have your operators trained and certified takes a lot less time than you might think. Our aerial lift and scissor lift classes are customized training programs. Although some students complete the training in as little as an hour, there are no time limitations, so your employees can work at their own pace. Since all training materials are available online 24/7, ALC's aerial and scissor lift training can be completed any time that's convenient and any place there's an Internet connection. What's more, we guarantee a 100% pass rate!
ALC has all the scissor lift safety tips, compliance tools and resources to ensure your company has all required training. Remember, it's against the law to willingly ignore scissor lift safety rules and hire workers without training. Get your scissor lift safety taken care of today with ALC – sign up and see how we can help!

Enroll Your Workers in Our Scissor Lift Safety Training Program Today
Our OSHA scissor lift certification is as effective as it is convenient. Workers can learn from the convenience of home or the office – there's no need to spend an entire day offsite at a training facility anymore. Instead, participants can learn about scissor lifts in a single afternoon from anywhere with an internet connection. 
Fail to meet OSHA scissor lift requirements and your organization could face steep penalties. If you're eager to avoid fines, enroll your team in ALC's online scissor lift safety training program today. Still have questions about our OSHA scissor lift certification training? Give AerialLiftCertification.com a call today at (888) 278-8896 to speak with one of our training experts who'll answer your questions, address your concerns, and help enroll your operators in our 100% OSHA-approved scissor lift operator training program! By enrolling your employees today your workplace can be safer and OSHA-compliant in as little as an hour!