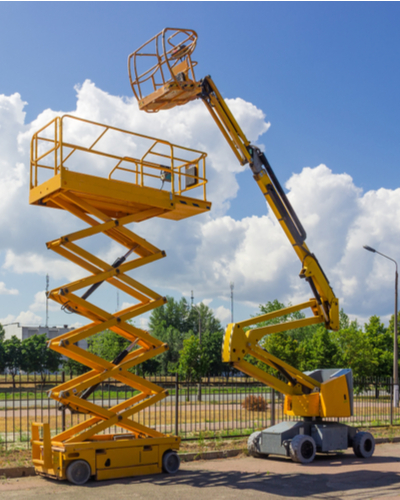 The term aerial lift refers to a wide range of internal combustion, battery-powered, and hybrid aerial work platforms. These various types of lifts all come with unique variations to help businesses boost their productivity and efficiency. No matter which construction lift you use in your business, employers are required to provide training for workers. Education can go a long way in creating a safe, hazard-free place to work.
What Are the Different Types of Lifts?
Different types of aerial lifts were created with different jobs in mind. Some are made for working indoors, while others are made for handling extremely heavy loads. There are also types of man lifts that can travel over rough terrain. Once your workers receive their aerial lift certifications covering these different types of construction lifts, they'll be ready to get to work and operate the type of aerial lift that's best for the job at hand with confidence. Six of the most common types of lifts in use today include:
Cherry Pickers
Originally named for lift equipment used in orchards to harvest fruit too high on the tree to pick from the ground, cherry pickers are the type of aerial lift most commonly found in general use today. They're mounted on vehicles and have an aerial platform supported by a boom, from which workers complete their tasks. Cherry pickers are still used today for picking hard to reach fruit, as well as accessing overhead utility lines, trimming trees, and a wide range of construction and maintenance work.
Personnel Lifts
Sometimes called people lifts, these mechanical ladders are among the most popular yet somewhat different types of man lifts in use today. Personnel lifts offer greater stability than regular ladders, are easy to set up and store and can reach heights approaching 50 ft. Although this kind of construction lift may seem simple, aerial lift training is still required for them to be used properly.
Articulating Boom Lifts
Different types of lifts come with unique strengths and challenges. An articulating boom lift, or ABL, is a type of crane that can be repositioned while keeping the basket at a steady height. Designed for working above ground, articulating boom lifts have two hinged joints, which give them greater flexibility than other aerial lifts and cranes. With full 360-degree rotation capabilities, ABLs are ideal for maintenance work, construction, landscaping, and other jobs that require accessing hard to reach areas. There are, however, certain risks inherent in operating or working from an articulating boom. Because they're often employed to access tough to reach work areas, the risk of being crushed or struck by falling objects increases dramatically.
Telescopic Boom Lifts
A telescopic boom lift is a work platform that can be extended and retracted with tubular sections that slide in and out. A telescopic boom lift is usually more expensive than other types of aerial lifts and capable of reaching heights of up to 100 ft. It is used for trimming trees, HVAC system installation and maintenance, working on bridges, accessing multi-story buildings from outside, painting, fire rescues, and even helping stranded riders on a stalled roller coaster. 
Scissor Lifts
Reaching heights up to 60 ft., scissor lifts have an accordion-style mechanism to elevate workers for construction work, painting, window washing, HVAC system installation and maintenance, and other overhead. Unlike other types of lifts, they're considered to be a form of scaffolding. 
Towable Boom Lifts
Lightweight and portable, towable boom lifts are great for working in yards, gyms, and light industrial jobs. As the name suggests, they can be towed just about anywhere. Being one of the most convenient types of construction lift, safety protocols for towable boom lifts are often skipped over. As such, workers can be more prone to operate towable boom lifts with a casual attitude, which can lead to accidents, injuries and property damage. But, towable boom lifts need to be operated just as carefully as other types of construction and man lifts.
Telescopic Forklifts
Commonly referred to as telehandlers, telescopic forklifts combine a telescopic boom lift with a traditional construction lift. A typical telehandler has a reach up to 21 ft. Telehandlers enable operators to transport items over rough terrain and long distances. They often have oversized tires and a reinforced cage cab.
Rough Terrain Forklifts
Rough terrain forklifts are similar to telehandlers. But, they tend to offer greater reach than telescopic boom lifts. Rough terrain forklifts deliver immense strength, too. They are usually capable of carrying loads up to 8,000 lbs., making these forklifts terrific options for lifting or transporting heavy loads.

Evaluating Different Types of Lifts
Determining which type of lift to use for your next construction project can be a confusing process. Take a look at several lift options. You can then gain insights into how different types of lifts work and their respective advantages and disadvantages and make an informed decision. As you weigh your options, keep the following considerations in mind:
Space and Weight
Choose a lift that accommodates your indoor or outdoor workspace. Ensure you can load workers and their gear onto a lift without exceeding its weight capacity.
Type of Movement
Determine if you need a lift that can move vertically or both horizontally and vertically.
Power Source
Assess electric and diesel-powered options. Electric lifts are quieter than diesel-powered ones. They also have no emissions and are ideal in indoor workspaces. However, diesel-powered models can offer lower cost of ownership and other benefits you won't find with electric options.
The Importance of Safety Training for Construction Lifts
No matter which types of lifts you use in your construction business, safety and success depends largely on training. ALC's aerial lift certification training programs are designed to equip lift operators with the skills required to operate construction lifts, perform necessary inspections, avoid hazards, and prevent accidents on the job.
If you fail to adequately train your team, your employees may struggle with falls, tip-overs, lift collapses, electrocution, and collisions with overhead or falling objects. The good news? These hazards can be easily avoided with proper training. Since our course can be completed in about an hour's time, there's no excuse not to educate your team. Completing this training can also help your organization avoid expensive OSHA fines and penalties. 
Get Your Aerial Lift Certification from ALC in as Little as One Hour!
As the country's number one online provider of aerial lift certification training AerialLiftCertification.com will provide your workers with top quality, comprehensive training for the various types of construction lifts. Through our OSHA-compliant training, your workers can be certified in as little as one hour. Our programs include the use of all different types of man lifts with a minimal investment of time and money.
Here are ALC's training courses for various types of aerial lifts:
This is a comprehensive certification training course for all types of aerial lifts that's affordable, practical, and ideal for improving workplace safety. Regardless of the types of construction lifts your company uses, this course is perfect for completing OSHA compliant training. A one-time payment of just $299 will train and certify all your current and future employees!
Our self-paced Train a Trainer kit teaches and certifies one or more of your workers to train and certify your other workers and future hires. For just $149, you'll have the convenience of your own in-house trainer on hand at all times!
Can't decide between the two? Then our Bundle Package that includes our other two programs is for you! The Bundle Package is value priced at just $349, which is a savings of $50 over purchasing the two courses separately.
No matter what types of construction lifts used by your company, it's absolutely essential that your employees are OSHA compliant and prepared to operate all types of lifts efficiently and safely. Sign up your employees now for AerialLiftCertification.com training and you'll be on your way to a safer and more productive working environment!

Aerial Lift FAQs
At ALC, we get asked questions about different types of lifts all the time. Allow us to answer a few of our most frequently asked questions:
What's the Difference Between an Aerial Lift and a Scissor Lift?
According to OSHA, an aerial lift is a vehicle-mounted platform that's capable of moving vertically, horizontally or both. OSHA classifies a scissor lift as a type of scaffolding with a work platform that can only be moved vertically.
Why are Some Lifts Called Cherry Pickers?
Cherry pickers got their name from aerial work platforms that were used in orchards to harvest fruit too high on the tree to be picked by hand from the ground. Still used in fruit orchards today, these types of lifts are also used for working on overhead utility lines, cleaning and painting tasks, fire rescues, as well as filming sporting events and other competitions from above.
What are the Different Types of Boom Lifts?
Common types of lifts include articulating, telescopic, and towable. The right boom lift for a jobsite depends on the tasks that must be performed at a jobsite.
Do Workers Need to be Certified to Operate these Types of Lifts?
Workers must receive OSHA-compliant safety training before they can legally operate machine-powered aerial work platforms. The training teaches workers how to safely operate various types of lifts, how to identify jobsite dangers, how to avoid lift accidents, and more.
Can Workers Earn Their Aerial Lift Certification Online?
Online aerial lift certification training is valid. An online certification training program is accessible on a desktop or laptop computer or mobile device. It lets workers complete lessons at their convenience. Upon completion, workers can download and print out their aerial lift certification and operator card. From there, they'll be ready to operate construction lifts and be in compliance with OSHA regulations. 
Is There a Time Limit for Aerial Lift Certification Training?
Workers can complete aerial lift certification training as quickly as they choose. For some workers, ALC's training program can be completed in as little as one hour. Or, for others, they can take their time as they build the skills necessary to properly operate different types of lifts.
Do Aerial Lift Certifications Expire?
Aerial lift certifications generally expire three years from the date of issue or the last renewal. Exceptions are when a worker is involved in an accident while using a forklift or when a new type of lift is brought into the workplace, aerial lift refresher training may be required sooner than three years.
It helps to track your workers' aerial lift certification status. If a worker's aerial lift certification will expire soon, ensure he or she enrolls in safety training. That way, the worker can maintain their status as an OSHA-compliant aerial lift operator. Plus, you can avoid possible fines and penalties associated with letting an unauthorized worker use a lift at your jobsite.

Learn About Various Types of Lifts in ALC's Aerial Lift Certification Program
Still have questions or need more information about our training for different types of construction lifts? Please contact us online or call us today at (888) 278-8896 – we're here to assist you with all your aerial lift training and certification needs!