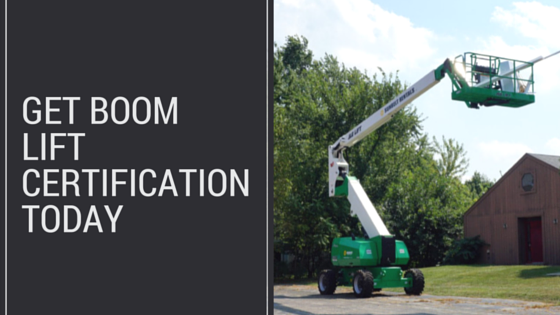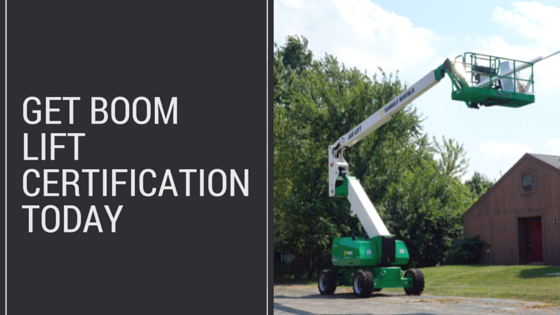 A boom lift is a piece of heavy equipment with a bucket or aerial work platform (AWP) attached to the end of a moveable arm or boom that can be extended both vertically and horizontally. When used by those with boom lift certifications, they offer greater range than other kinds of aerial lifts.
Like other industrial equipment, boom lifts provide plenty of benefits for landscaping companies, construction firms, and more. However, without proper training and knowledge of how to prevent boom lift accidents, they're also potentially dangerous to operate.
How to Get Boom Lift Certification with ALC
Follow these simple steps to get your company fully OSHA compliant with ALC:
Register your company and employees.

Choose your courses.

Have boom lift operators complete online learning.

Once they pass, complete the hands-on evaluation (all forms and paperwork included).

Print their

boom lift license

s and they're clear for work – 100% OSHA compliant!
ALC will help ensure your company meets boom lift certification requirements. Plus, you can choose whatever option works for each individual employee: guided, self-paced or group training. We give you the ultimate flexibility for your OSHA boom lift training!

ALC's Boom Lift Training Options
You have questions about your compliance program and OSHA requirements. Namely, how do I get boom lift certification near me? We have answers…any of our value-packed training courses to get your workers their boom lift licenses.
Check out our affordable, on-point courses:
One of our most popular courses, the ALC Training Kit covers everything your employees need to know in order to safely, efficiently and effectively operate boom lifts. There are no "per employee" costs – a one-time payment of just $299 covers all your operators and includes lifetime free course material updates.
Train the Trainer is a self-paced program designed to save your business time and money by conducting your boom lift operator training in house. By designating one or more of your employees as your company's in-house aerial training expert and having them complete our training program, he or she will be qualified to certify your other operators. Everything you need is included for only $149.
Can't decide between the two courses? Then our Bundle Package is for you! The Bundle and Save package includes both our Training Kit and Train The Trainer program for $399, which is a savings of $50 over purchasing the two courses separately.
Enroll your employees today and your workplace can be safer and OSHA-compliant by this time tomorrow!
Boom Lift Certification Requirements
OSHA requires the following components to be included in boom lift certification and operator training:
Formal written instruction

"Hands-on use of boom lift equipment

In-person operator evaluation conducted by a certified trainer
The verbal and written portions of the training must cover the following topics:
How to recognize

safety hazards

BEFORE they occur

How to identify, address, and prevent unsafe working conditions

Safe operation of all MEWPs and AWPs

Why maximum load and

height requirements

are important

How maintenance is linked to overall safety

How to properly read and understand manufacturer operating guides and other product literature

And much more
OSHA additionally requires all boom lift operators to receive refresher boom lift training a minimum of every three years. Refresher training may be required if a worker is involved in an accident while using an aerial lift, when lift-related hazards are observed in the workplace, or if a different type of aerial lift is to be used. With AerialLiftCertification.com, renewal training is free for life. Once employees complete the boom lift instruction and certifications required by OSHA, you'll avoid the risks of administrative penalties, expensive fines, and costly litigation.
Why Boom Lift Training Matters
According to OSHA, aerial lifts are involved in 3% of all construction site deaths. Failure to comply with OSHA's rules not only puts your workplace at risk, but also exposes your business to severe penalties, expensive fines, and possible litigation. Avoid being a part of that 3% – sign your employees up for ALC's boom lift certification near me now!
In the hands of an untrained worker, a boom lift can be an extremely dangerous piece of equipment. ALC's boom lift training covers everything your workers need to know about safely operating boom lifts, including what to do when things don't go as planned and the unexpected happens. Avoid placing your employees' lives and well-being at risk by allowing them to operate boom lifts without having been properly trained – enroll them in ALC's OSHA-compliant boom lift operator training today! Benefits of training through ALC include:
Your workers can receive training that meets OSHA requirements.

You'll have a safer and more productive workplace.

The training is self-paced, and can be completed anywhere there's an internet connection and any time that's convenient – all training materials are available online 24/7.

All lifetime refresher and recertification boom lift certification training is absolutely FREE and included with your purchase!

Since the courses are online, there's no need for workers to take time off from the job to travel to and from an offsite training facility.

Once the training is completed, boom lift operator certifications can be immediately downloaded and printed – there's no need for them to arrive in the mail.
And don't forget, our boom lift certification training fits any budget, including yours! All of your current and future employees get their certification without breaking the bank.
Earn Your Boom Lift Certification Online
ALC gives you everything to stay OSHA compliant. What's more, we regularly review changes to ANSI standards (another basis for workplace safety) to give your company the most up-to-date boom lift certification available. 
The bottom line: boom lift certification training is a must-have if you employ workers who use boom lifts. This training is easily accessible, and workers can earn their boom lift certification in as little as one hour.
As an employer, it's your responsibility to ensure that each of your boom lift operators has been properly trained and issued a boom lift operator certification. With proper operator training like the program provided by ALC, your employees will learn the differences between operating aerial boom lifts and scissor lifts, as well as how to safely operate a boom lift by recognizing and avoiding potential workplace hazards. Check out our boom lift training today and get started with an OSHA-compliant safety plan!

Boom Lift Training FAQs
At ALC, we've become bona fide experts on all things pertaining to boom lift training. If you're still unsure about getting your employees their boom lift licenses, allow us to walk you through a few of our most frequently asked questions and answers:
How Long is My Boom Lift License Good For?
Once you've earned your OSHA boom lift certification, you'll be qualified to operate boom lifts for three years. Should you be involved in an accident, though, you may be required to complete renewal training sooner. Regardless, ALC offers free renewal training for life – our boom lift training is one of the very best investments you can make.
Is Boom Lift Training Available Online?
A simple search for boom lift certification near me will reveal many options for online training. ALC's online courses are convenient, affordable, and easy to complete in about an hour's time. After completing the training, you'll be ready to download and print your certification card immediately. There's no faster way to get in compliance with OSHA regulations! Avoid costly fines and penalties and get OSHA boom lift certification today!
Can Anyone Use a Boom Lift?
Virtually anyone can be trained to use a boom lift, but training is key. Without a thorough understanding of how these machines work, operators may find themselves in dangerous situations. That's why OSHA boom lift certification requirements are so strict. Accidents are more likely to happen among inexperienced and untrained operators, so it's best to get trained and certified before attempting to use a boom lift in the workplace.

Enroll Your Employees with Boom Lift Certification Training Today!
Boom lift certification and training doesn't have to be a chore to get compliant. With ALC, we're with you every step of the way to make sure all your boom lift operators are trained and compliant.. Still have questions about ALC and our offerings? Contact us online or call (888) 278-8896 now to speak with one of our training experts. We're happy to answer any questions you might have, address concerns, and help you and your team enroll in our 100 percent OSHA-approved boom lift operator training.