Earn Your Aerial Lift Certification Online Now! Our Training is Convenient, Affordable, and Can be Completed in About an Hour's Time!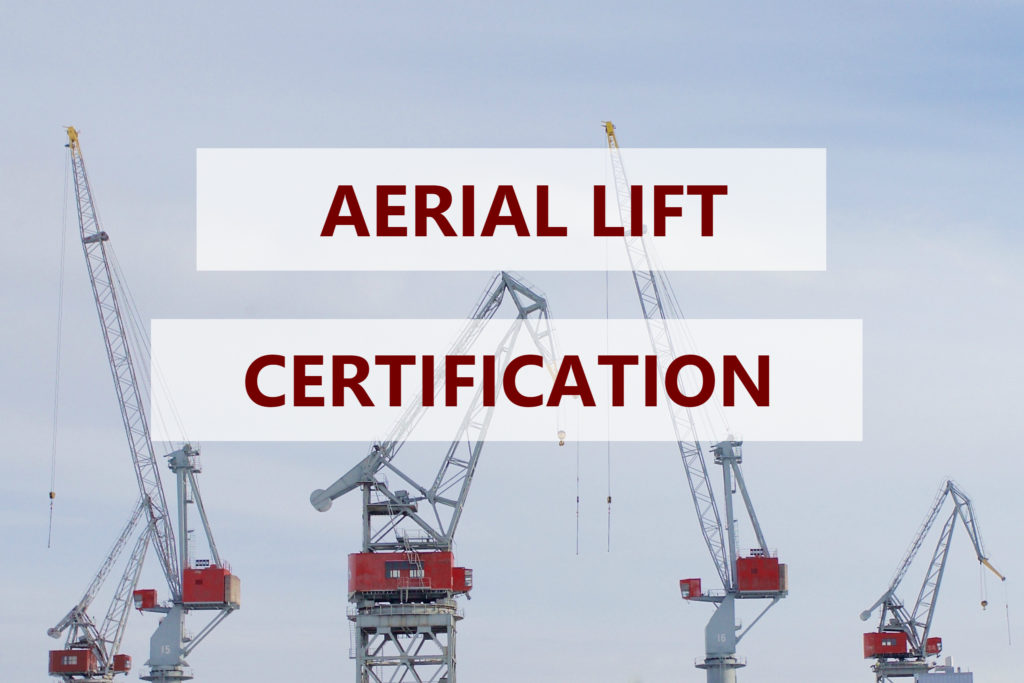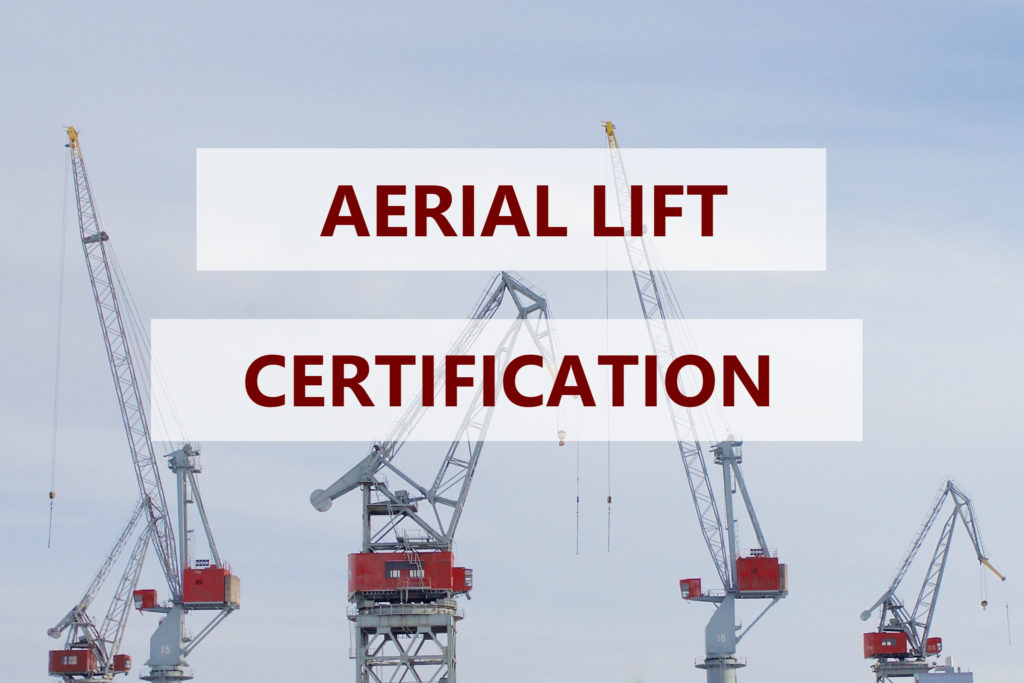 Aerial lifts play an important role in warehouses, construction sites, and in the manufacturing industry. When used by those with aerial lift certifications, they offer increased access and manueverability. Benefits of aerial lifts include:
Stability:

Safe access to hard to reach areas

Mobility:

Workers can easily move to different areas of a site

Flexibility:

Adjust the height of the lift to precisely the right location
There's no denying the convenience and versatility of aerial lifts, but they're really only as effective at their operators. Without the right training, aerial lift operatore may find themselves in over their heads. Workplace accidents and injuries are more common among untrained employees, which is why OSHA has create safety regulations surround aerial lift certification. If your organization hopes to avoid expensive OSHA penalties, accidents, and injuries on the job, it's important to be proactive in seeking out OSHA aerial lift certification.

OSHA Aerial Lift Certification Requirements
The Occupational Safety and Health Administration helps to ensure workplace safety around the country. Their rules and regulations provide the basis for many certification programs. Look at any aerial lift training course description and you'll likely see references to OSHA. That's because they have the power to levy expensive fines against any company that fails to meet OSHA standards. 
If your organization is hoping to avoid penalty, make sure workers are certified to operate aerial lifts. The responsibility to train and certify workers lies with the employer. If your company's safety program does not include a clear pathway to certification for all aerial lift operators, fines and penalties may be inevitable. By building OSHA aeiral lift certification into the culture of your workplace, though, you'll help to foster a safer work environment while avoiding OSHA fines. 
The Benefits of Online Aerial Lift Certification
OSHA requires every employee to be trained and certified in aerial safety, but that doesn't mean choosing just any aerial lift certification training program. There are in-person, off-site programs that are expensive and require hours if not days of your or your employees' time. There are also basic written programs that really don't provide adequate training. AerialLiftCertification.com has designed a training program unlike any other that provides everything you need to know about aerial lift operation and safety, leaving you prepared to step into an aerial lift.
At ALC, we make training simple, which is one reason our aerial lift training is so popular. For starters, it's very affordable. Our training costs much less than hiring outside trainers. ALC's training is also extremely flexible. Since all materials are available online 24/7, you and your employees can take our online aerial lift certification course any time and any place that's convenient. As long as you have a smartphone, tablet or other digital device and an Internet connection, you're good to go!
When you choose online OSHA aerial lift certification training from ALC, you can:
✓ Skip the travel and traffic to an offsite facility
✓ Save money by avoiding expensive in-person training with a third party company
✓ Train on your own time, at your own pace
✓ Ensure you are always up-to-date on OSHA-compliant training
✓ Protect yourself, as an employer, from costly OSHA fines and legalities
✓ Print your online lift certification instantly
✓ Reduce the number of accidents in the workplace
How to Get Aerial Lift Certification
Curious about how to get aerial lift certification online? It's easier than you might expect. Once you're ready to complete online aerial lift certification training, all you'll need to do is create an account on our website. Sign in under your employer's registered company account and work through the modules at your own pace. Once you've passed all quizzes and the final test, you will need to complete the final portion, the evaluation at your workplace.
Once your employees have completed our aerial lift certification, simply print our aerial lift certification cards. This serves as 100% proof that your employees passed the test and have current credentials. Plus, all the necessary aerial lift training documents are accessible immediately. Usernames and passwords remain active, so there is no delay in obtaining documentation.
Our popular online aerial lift training course meets OHSA and ANSI required safety concepts, and our training helps reduce workplace accidents and provides documentation of training. What's more, we offer a Train the Trainer course and a convenient 3-year renewal program as well! If you have a group of 25 or more people that need training, we also offer premium group rates for added value.

Begin Your Aerial Lift Certification Training Today
ALC offers convenient aerial lift certification training that can be completed in about an hour's time. Once complete, you'll have everything you need to begin working as an aerial lift operator. You'll also have proof of certification – should OSHA inspectors show up at your workplace, you'll be found in compliance with their regulations. This investment in yourself and your company is truly priceless! Still have questions about our offerings? Our FAQ section has the answers.
If you'd like to learn more about our aerial lift certification or training courses, please visit our contact page to send a message or speak with one of our friendly customer service representatives by calling (602) 277-0615. We're here to help. We also offer city specific aerial lift information.
We are a premier provider for OSHA-compliant online aerial lift training. Experience the ALC difference and get started today. We'd love to hear from you!