Serious OSHA Aerial Lift Violations = Six-Figure Proposed Fine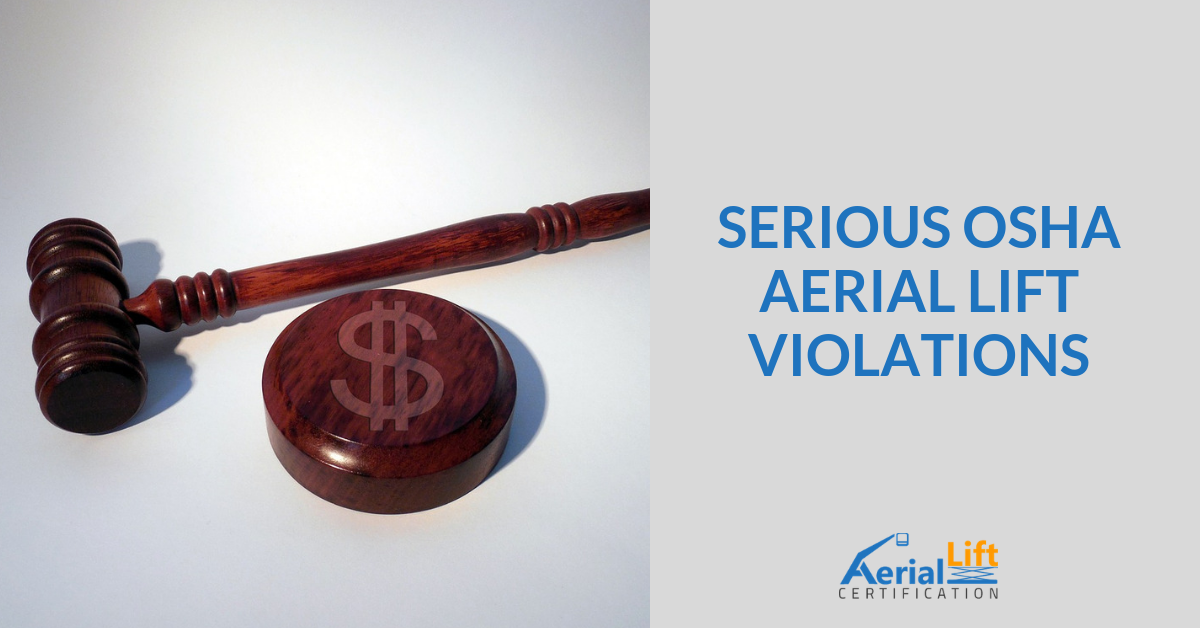 Despite the many safety features built into today's aerial lifts, working on one still involves risk. In fact, an average of 26 construction workers die every year in the U.S. from using an aerial lift. As the overseer of safety standards for industrial workers, OSHA takes its duties very seriously. That's why the agency often fines companies $10,000 or $25,000 for aerial lift violations. When the violations are extreme or repeated, OSHA fines can top $100,000.
Take the case of AMB Construction as one of the examples of OSHA violations. Based in Brooklyn, New York, the company was cited for 14 violations involving unsafe practices while repairing a roof. These included using ineffective fall protection gear or none at all. The worst violation involved using an aerial lift at 20+ feet with no fall protection. AMB had a history of violations. So OSHA decided to send a message – a fine totaling $113,300!
Diana Cortez, head of OSHA in nearby Tarrytown, said, "Dangers can be prevented by employers with basic, common-sense and legally required safeguards. This includes providing fall protection and effective training to help workers recognize and avoid fall hazards. That was not the case here."
Shortly thereafter, OSHA fined 11 contractors a total of $135,000 for fall hazards at a mall construction project in Cheektowaga, New York. All of the violations had to do with inadequate or no fall protection on the job site. All but one of the contractors escaped with fines ranging from $1,500 to $16,500. OSHA hit the largest violator with a fine of $78,500.
"What's disturbing is the breadth and frequency of fall hazards observed throughout this jobsite, among a wide variety of construction trades," said Arthur Dube, OSHA's area director in Buffalo. "This situation is unacceptable. Falls are the number one killer in construction work. It takes only one misstep, be it from an aerial lift, roof, scaffold, ladder or into a hole, to cause death or disabling injury."

Toe The Line, Avoid the Fines
OSHA's goal is to eliminate aerial lift accidents. However, they understand that even when all the rules are followed, accidents can still happen. To avoid costly fines, be prepared to show that you have followed OSHA procedures for avoiding aerial lift hazards.
Know the hazards associated with aerial lifts:
Falls
These include workers falling from height and falling objects striking people on the ground.
Tip-overs and structural failures
Unstable terrain, high winds or incorrect setup can lead to tip-overs. Rust, damage and poor maintenance can cause aerial lifts to collapse.
Electric shock
Contact with live power lines is the main cause of electric shock. However, electricity can often jump from the line and shock a worker.
Entanglement hazards
Workers and/or the lift can become tangled in wires, tree branches and other objects.
Contact with ceilings and other overhead objects
This can occur due to improper operation of the lift or lack of attention from the operator.
Train and certify all lift personnel to OSHA standards
This applies to lift operators and anyone working on a lift.
Pre-inspect the lift before starting work
Before using an aerial lift, always verify that it is set up correctly and in safe operating condition. This includes checking things like vehicle components, fluid levels, tires, wheels, guard rails, safety equipment, emergency controls and more. For a complete inspection list, visit OSHA's Aerial Lift Fact Sheet page. Never operate an aerial lift if problems are detected with any of the guardrail or operating components.
Inspect the work zone before using a lift
Look for possible hazards, such as terrain issues or obstructions. Then take action to correct or eliminate them to avoid OSHA violations and fines. Work zone hazards can include:
Holes
Uneven or unstable surfaces
Not enough ceiling height
Slopes, ditches, or bumps
Debris and floor obstructions
Power lines and other overhead obstructions
High wind and other severe weather conditions
Pedestrian traffic in or around the work site
Types of OSHA Violations and Fines
The US Department of Labor provided a document for the type of OSHA violations and fines given out with the minimum and maximum penalty amounts. While this list isn't law and can be changed at any time, it provides a basic idea of how much a company can be penalized for not following OSHA requirements.
If the violation is listed as serious, the minimum fine can start out at $975 with the maximum of $13,653 per violation. A violation listed as other-than-serious may have zero penalty or a maximum the same as serious. Willful or repeated penalties start out at $9753 per violation but it can go up to $136,532 per violation.
Failure to meet posting requirements can cost as much as $13,653 per violation. Failure to abate means that the company fails to fix the violation or to stop doing whatever they are being penalized for. This penalty comes at a hefty price of $13,653 per day that the issue remains unabated after the abatement date.
OSHA can determine the gravity of the violation based on a formula, which includes the severity of the violation and the probability of it occurring. The severity is ranked from low to medium to high with a probability of lesser or greater. The gravity of the violation is labeled as low, moderate, or high.
One of the factors for willful penalties is how many employees the business has. Companies with 251 or more employees receive no reduction in penalty while those with 10 or fewer may receive a reduction of 80 percent. Obviously those companies with a higher risk to their employees and others and those who are willfully ignoring OSHA regulations generally receive greater penalties.
Certify Your Team the Easy Way
It's a good idea to know all OSHA and American National Standards Institute standards that relate to aerial lifts. These include:
OSHA: 29 CFR 1910.67, 29 CFR 1910.269(p), 29 CFR 1926.21, 29 CFR 1926.453 and 29 CFR 1926.502
ANSI: ANSI/SIA A92.2-1969, ANSI/SIA A92.3, ANSI/SIA A92.5 and ANSI/SIA A92.6.
Above all, don't use untrained and uncertified workers on aerial lifts. That's like asking OSHA to hit you with a big fine. With the ease and low cost of today's convenient online training, there's no reason for not certifying your entire team. To keep your workers and your bottom line safe and avoid OSHA violations and fines, visit Aerialliftcertification.com for fast, professional aerial lift training and certification.