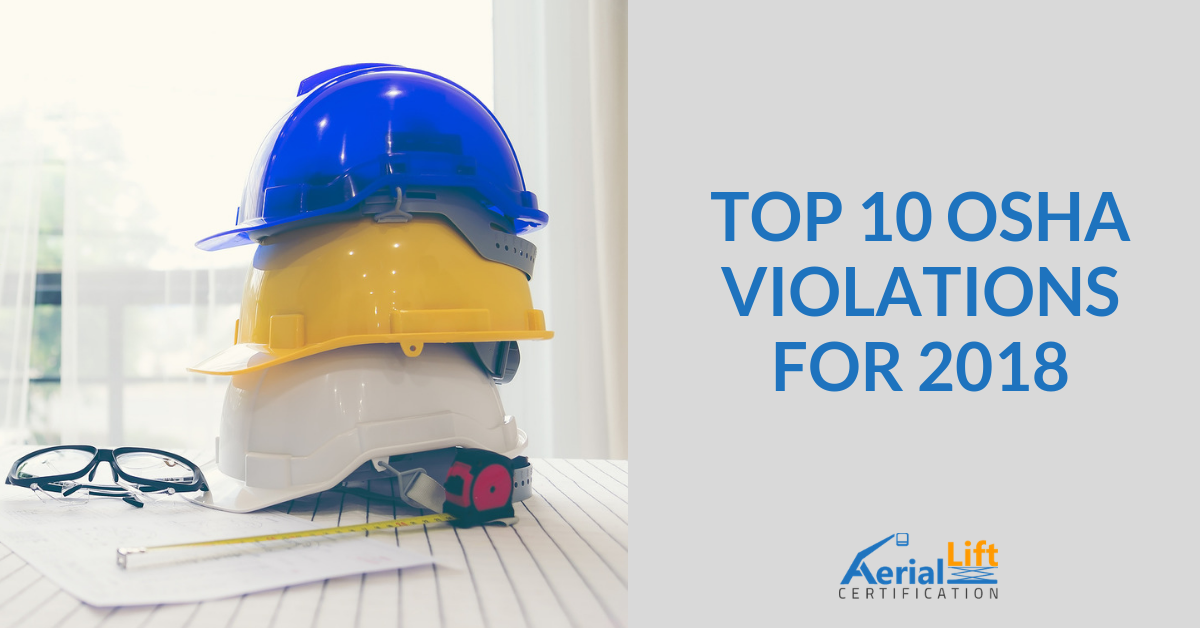 Every year, well-known organizations announce various top 10 lists. From the Top 10 Billboard songs to the Top 10 Best Places to Live in America, ranking different things is still as popular as ever. The process of ranking, sorting, and rating ranks as one of America's favorite pastimes!
Well, the U.S. Occupational Safety and Health Administration (OSHA) is no different. Each year, they announce their own top 10 list – the most frequent OSHA violations. Unlike other top 10 lists, which are based on opinions, the OSHA rankings are all about the data. OSHA violations are logged, cataloged, and categorized on an annual basis.
These violations all involve potentially serious accidents, injuries, and even death. If you regularly operate aerial lifts, scissor lifts, or other types of aerial work platforms (AWPs), many of the top 10 yearly OSHA hazards apply to your line of work.
Knowing which hazards are more likely to occur helps with best safety practices; that's the idea behind OSHA's annual top 10 list.
If you're looking to avoid the top 10 OSHA hazards every year – and all other hazards, too – AerialLiftCertification.com can help. Our training courses enable aerial lift operators, scissor lift employees, and others recognize hazards from the start. With convenient online access, affordable prices and engaging training content, AerialLiftCertification.com ensures your employees are prepared for on-the-job efficiency, safety, and confidence! Plus, our courses are a great option for individual workers looking to enhance their safety credentials and career possibilities.
2018: Most Frequent Safety Violations
OSHA always releases their list of yearly top 10 violations in October. Why? Because the fiscal year (FY), for most businesses in the U.S., ends on September 30th. So the top 10 violations of 2018 actually include the last three months of 2017, along with the first nine months of 2018.
The deputy director of OSHA's Directorate of Enforcement Programs, Patrick Kapust, recently made the list public. Like most years, the top 5 violations remain unchanged from the previous year.
Here are OSHA's top 10 safety violations for fiscal year 2018. As you'll see in the list below, many of these OSHA violations are directly (or indirectly) related to the use of scissor lifts, aerial lifts, and other AWPs.
1. Fall Protection – General Requirements (OSHA standard 1926.501)
With 7,270 violations, fall protection once again tops the list. This type of violation is very important for aerial lift operators, as standard 1926.501 establishes safety guidelines for all AWP activity.
2. Hazard Communication (1200)
More than 4,500 Hazard Communication violations happened in FY 2018. Mostly dealing with toxic substances and related hazards, aerial lift and scissor lift workers should be aware of this guideline.
3. Scaffolding (451)
Since AWPs, aerial lifts and other elevated work platforms are considered scaffolding, standard 1926.451 violations are a concern for all scissor lift and aerial lift operators. This type of safety hazard is always in the top 5, illustrating the importance of safety training!
4. Respiratory Protection (134)
Aerial lifts at construction sites with gaseous fumes. Indoor scissor lifts in confined spaces. These are just a few examples of how Respiratory Protection violations can happen. Always check with your site safety supervisor about proper respiratory safety measures.
5. Lockout/Tagout (147)
If your scissor lift or aerial lift shouldn't be used or is currently being repaired, it should be clearly identified as locked out/tagged out. Surprisingly, this safety violation continues to happen more often than you'd think: 2,944 total for FY 2018.
6. Ladders (1053)
With 2,812 reported safety incidents in FY 2018, ladder violations nearly cracked the top 5.
7. Powered Industrial Trucks (178)
Accidents, injuries, and other incidents involving powered industrial trucks (forklifts, man lifts, pallet jacks, etc.) were once again a top 10 violation, with 2,294 reported cases.
8. Fall Protection – Training Requirements (503)
Think about this: there were 1,982 documented cases of fall protection (training requirement) violations for FY 2018. From unsecured safety harnesses to other kinds of fall protection safety issues, this is one of the most critical violations to keep in mind for scissor lift and aerial lift employees. With training from AerialLiftCertification.com, you're prepared to avoid these hazards!
9. Machine Guarding (212)
Machine guarding is a confusing term to some people. It means keeping the worker/employee protected from potentially hazardous machine activities, including rotating parts, projectiles, etc. Here's a good example for an aerial lift worker for a landscaping business: let's say a wood chipper is near your aerial lift. Machine guarding measures should be in place to ensure wood, dust, and other materials are kept away from you and surrounding workers and pedestrians.
10. Eye and Face Protection (102)
You may not think eye and face protection – a newcomer to the top 10 list, with 1,536 reported violations – would impact aerial lift operators. But think about it: from tree sap to proper safety gear on a cold, windy day, it's important to keep your face well protected from the weather and other hazards.
Be Aware of All Aerial Lift and Scissor Lift Hazards!
Don't let safety violations impact your business. Keep your employees safe on the job with OSHA compliant aerial lift and scissor lift training from AerialLiftCertification.com.
Sign up today, and see how proper training improves employee morale, keeps your workplace safe, and also gives you some extra peace of mind! To speak with our safety training and compliance consultants, give us a call at 1.888.278.8896. We look forward to hearing from you soon!