Top 10 OSHA Violations for 2020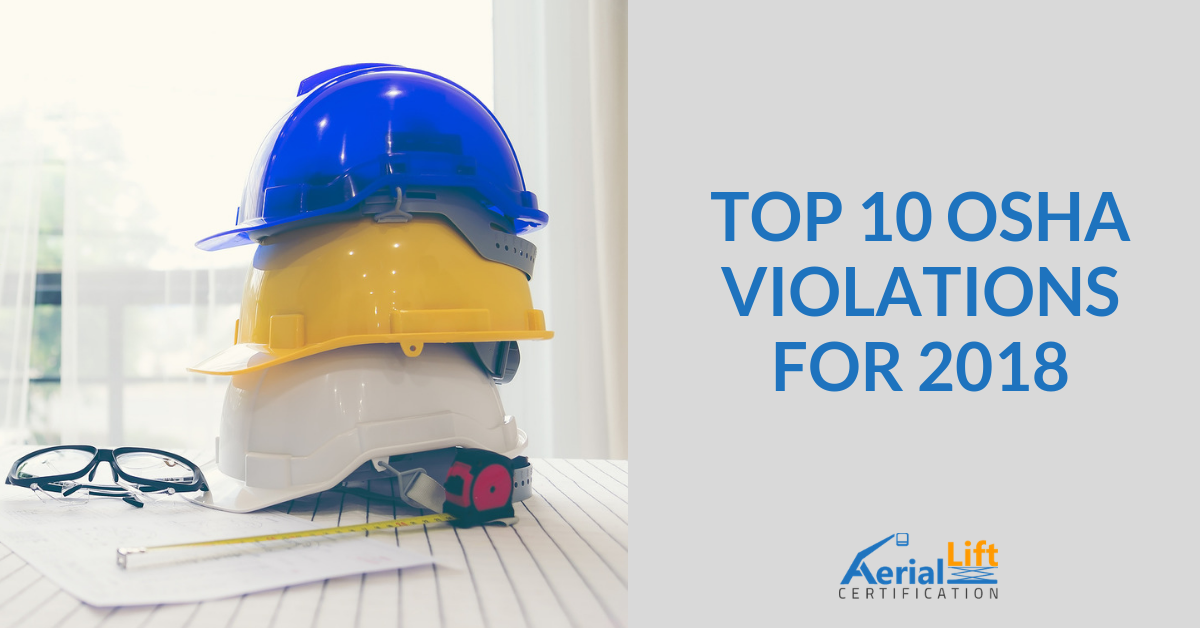 OSHA releases a list of the most frequent safety violations each year. The list is based on safety violation data that is logged, cataloged, and categorized annually.
Reviewing the list of the top OSHA violations can be beneficial, particularly for businesses that employ workers who use aerial lifts. Aerial lift workers face a wide range of dangers every day, and their employers must plan accordingly. If these employers understand the top OSHA violations, they may be well-equipped to identify workplace hazards. Best of all, they may be able to address such hazards before they lead to aerial lift accidents, injuries, and fatalities.

What Are OSHA Violations?
OSHA violations can involve accidents, injuries, and fatalities. If you regularly operate aerial lifts, scissor lifts, or other types of aerial work platforms (AWPs), many of the top 10 yearly OSHA hazards apply to your line of work.
What Are the Types of OSHA Violations?
There are four types of OSHA violations:
1. Willful
A willful violation occurs if an employer knowingly does not comply with an OSHA mandate. Or, the violation occurs if an employer shows it is indifferent about employee safety.
2. Serious
A serious violation occurs when a workplace hazard endangers workers. In this instance, a hazard causes an accident or illness that results in death or severe physical harm.
3. Repeated
A repeated violation is one that occurs multiple times. Employers can receive repeated violations if they were previously cited for the same penalty within the past five years.
4. Other-Than-Serious
An other-than-serious violation is related to job safety and health but is not considered serious. For example, failure to provide workers with information about safety regulations or posting safety documents in designated work areas can result in other-than-serious violations.
Types of OSHA Violations in FY 2019: What You Need to Know
Here are OSHA's top 10 safety violations for fiscal year 2019.
With 7,014 violations, fall protection tops the list of OSHA violations in FY 2019. Standard 1926.501 establishes safety guidelines for all AWP activity, and it describes which systems are appropriate to help guard against falls.
2. Hazard Communication (1200)
More than 4,100 hazard communication violations happened in FY 2019. The majority of these violations dealt with toxic substances and related hazards.
3. Scaffolding (451)
There were 3,228 reported scaffolding violations in the United States in FY 2019. Since AWPs, aerial lifts, and other elevated work platforms are considered scaffolding, standard 1926.451 violations are a concern for aerial lift operators.
4. Lockout/Tagout (147)
If your scissor lift or aerial lift shouldn't be used or is currently being repaired, it should be clearly identified as locked out/tagged out. Surprisingly, this safety violation continues to happen more often than you might think: 2,975 total lockout/tagout safety violations were reported in FY 2019.
5. Respiratory Protection (134)
Aerial lifts at construction sites with gaseous fumes and indoor scissor lifts in confined spaces are two examples of how respiratory protection violations can happen. In FY 2019, 2,826 respiratory protection violations were reported nationwide.
6. Ladders (1053)
There were 2,766 reported ladder safety violations in FY 2019; this figure is almost identical to that of FY 2018 (2,780 violations).
7. Powered Industrial Trucks (178)
In FY 2019, there were 2,347 total accidents, injuries, and other incidents involving powered industrial trucks (forklifts, man lifts, pallet jacks, etc.). Comparatively, 2,281 such incidents were reported in FY 2018.
8. Fall Protection – Training Requirements (503)
There were 2,059 documented cases of fall protection (training requirement) violations in FY 2019. From unsecured safety harnesses to other kinds of fall protection safety issues, this is one of the most critical violations that can affect scissor lift and aerial lift employees.
9. Machine Guarding (212)
Machine guarding is used to protect workers from rotating parts, projectiles, and other machine hazards. In FY 2019, there were 1,987 machine guarding violations reported in the United States.
10. Personal Protective and Life Saving Equipment — Eye and Face Protection (102)
FY 2019 marked the second-consecutive year that eye and face protection ranked 10th on the list of top OSHA violations. Year over year, the number of reported eye and face protection violations rose between FY 2018 (1,528 violations) and FY 2019 (1,630 violations).
Who Is Responsible for OSHA Violations?
The party responsible for an OSHA violation varies. In some instances, a worker may be held responsible for a workplace safety violation that causes an accident, injury, or fatality. Or, in other cases, an employer may be held responsible for OSHA violations. There may be times when both a worker and employer are jointly responsible for OSHA violations as well.
How an employer approaches OSHA violations is crucial relative to workplace safety. If an employer is proactive, it can ensure its workers are educated about workplace safety and OSHA penalties. The employer can also verify that its workers understand on-the-job risks and best practices to mitigate these dangers before they escalate.
How to Report OSHA Violations
Workers are encouraged to come forward if they believe a work environment puts themselves or others in danger. By doing so, these workers can ensure work hazards are addressed, so all employees can perform everyday tasks safely.
If an employee believes their workplace is dangerous, he or she can reach out to their supervisor for assistance. However, in the event that their superior does not address the workplace safety concern, the worker can reach out to OSHA for additional assistance.
An OSHA complaint can be filed online via an electronic form. Workers can also download a PDF version of an OSHA complaint form and fill out and submit the form via mail.
It may also be helpful to speak directly to an OSHA official regarding workplace safety concerns. To do so, a worker can call OSHA at 1-800-321-OSHA.
How to Prevent OSHA Violations
OSHA violations are problems that every business wants to avoid, since these issues show a company fails to put workplace safety at the forefront of its operations. As such, if a business receives an OSHA violation, it may also experience brand reputation damage, revenue losses, and fines.
To prevent OSHA violations, a top-down approach to workplace safety is vital. Business leaders can learn about workplace safety and encourage workers to do the same. That way, all employees across a business can cultivate a safe, productive, and efficient work environment.
Enroll in Aerial Lift Safety Training Today
At ALC, we offer aerial lift certification training courses for workers at all levels. Our courses are designed to teach employees about workplace safety, so they can learn how to avoid OSHA violations and on-the-job accidents. To find out more about our aerial lift safety courses, please contact us online or call us today at (888) 278-8896.