How to Use an Aerial Lift for Painting Safely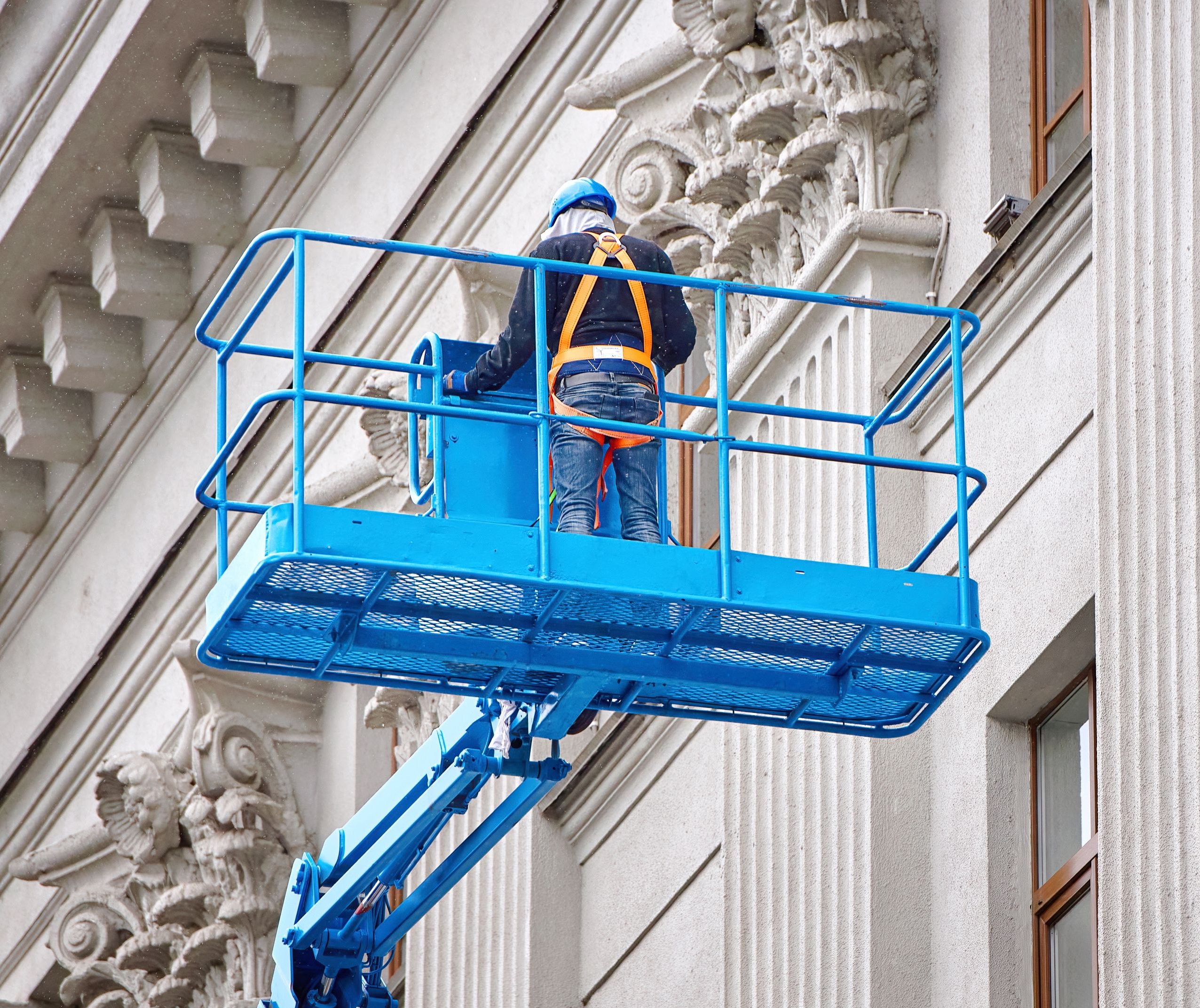 If you are painting at a height of 10 ft. or higher, you need to take extra precautions. Otherwise, if you ignore the proper safety measures, you could suffer a painting at height fall that results in an injury. Even worse, you could suffer a fatal painting at height fall. Using a lift for painting can be very effective, but it's important to be smart about avoiding accidents and injuries. 
Painting at heights usually requires an aerial lift, and painting and contracting firms often use aerial lifts for both indoor and outdoor projects. Some of the most skilled aerial lift operators around are mainly painters by trade! The ability to maneuver in tight spaces, avoid overhead hazards, and still provide 100% paint coverage is no easy job. Workers using a painting lift must deal with unique safety hazards while still getting their jobs done on time.

When to Use a Lift for Painting
A lift for painting may be necessary for painters who are working at heights to improve the appearance of:
Roof

Ceiling

Exterior siding

High walls

Dormers (windows that project vertically from a sloping roof)

Cornice (ornamental molding around the wall of a room, directly below the ceiling)
A painting lift may be used for indoor and outdoor projects, but the type of lift required for these projects can vary. For instance, an electric scissor lift for indoor painting can be a great option for painting a high ceiling in a home or business. Meanwhile, a boom lift can provide access to every inch of a building's exterior, so painters can use the lift to apply a consistent coat across a home or business.
AerialLiftCertification.com helps any aerial lift or scissor lift painter prepare for on-the-job hazards. Our affordable training courses are ideal for both beginner and advanced aerial lift operators. It doesn't matter how experienced you are – what matters is whether or not you're OSHA certified.
Painters, just like every other type of aerial lift operator, need to stay aware of job hazards, while also balancing their unique workplace requirements. Let's paint the perfect picture of safety atop a painting lift.
Why Use a Painting Lift
A scissor lift for interior painting can be incredibly useful. Workers can perform more efficiently, since they can carry the necessary equipment with them on their platform. Given how tedious interior paint jobs can be, it's important to have all your supplies within easy reach. A lift can also provide greater access to those hard to reach spots workers might be struggling with from the ground level. 
Painting at height always comes with a degree of risk, but aerial lifts make the process a lot safer. Ladders and step stools can be unstable, and paint roller extension poles can be unwieldy. If you have a painting job – either interior or exterior – an aerial lift can really make the job safer and easier. Of course, it's important to be adequately trained to use such equipment before you get started. 
How to Select a Lift for Painting
Choosing the right painting lift for the job can help save you valuable time and money. Start by considering the work area. What height will you need to paint at? Are there obstacles in the way? How large is the area? What, if any, are the floor load requirements? The answers to these questions can help guide your search for the right equipment. 
Mobile elevated work platforms, or MEWPs, come with specific weight restrictions that must be followed to the letter. Consider the weight of the equipment you hope to use for the job. While a scissor lift for interior painting may have a weight restriction of around 800 pounds, that's a significantly higher capacity than the average ladder.
Whatever equipment you choose should be easy to maneuver. Lifting heavy equipment and materials onto high work platforms often puts workers in danger by causing unnecessary fatigue. As you select your lift for painting, keep in mind how long you plan to work at height. The longer your shift, the larger your MEWP should be, as you'll have more space for more equipment and materials. 
Tips for Painting at Heights on an Aerial Lift
Keep these tips in mind before using a lift for painting:
1. Organize Your Tools
Multiple trips up and down on an aerial lift aren't ideal for painters, especially in outdoor conditions. Make sure you have everything you need before starting. This includes drop cloths, paint, brushes, and protective equipment.
2. Pay Attention to the Weather
For outdoor aerial lift painters, this is extremely important. Sudden shifts in the weather can make any job dangerous. Keep an eye on the weather forecast.
3. Mind Your Max Load Capacity
Every aerial lift operator needs to know their painting lift's maximum load capacity. If you put too many painting materials on the lift, your safety could be at risk!
4. Work on Stable Ground
While aerial lift painters are focused on their job up in the air, don't forget about ground conditions. Wet, slippery, or uneven terrain can derail any painting project. Always make sure the ground is stable and secure enough for safe aerial lift use!
5. Watch for Overhead Hazards
Be mindful of ceiling heights indoors and other height dangers like power lines and overpasses outdoors.
6. Plan Ahead for the Job at Hand
Consider how many times you may need to go up and down on an aerial lift to complete a project. Then, you can find the right scissor lift for interior painting, load it with adequate tools and materials, and limit the number of trips you'll need to take to complete the work safely and effectively.
7. Wear Protective Equipment
Wear a hard hat, safety glasses, steel-toe boots and other personal protective equipment (PPE) any time you work in an aerial lift. Also, avoid wearing loose clothing that can potentially get caught in the lift.
Other Painting Lift Best Practices
As you get ready to use a painting lift for your next job, choose equipment that's compact enough to fit within your space. Heavy duty, extendable platforms are ideal for maneuvering through standard doorways but large enough for two people to work upon. You'll also want to be mindful of the floor beneath your lift. When working inside, choose a lightweight lift with counter-rotating wheels. They can move across carpet, tile, and laminate without causing damage. A lift with a completely self-contained hydraulic system can also help reduce the potential of leaks.

Sign Up For Safety Training for Painters Today
A painter is just one type of aerial lift worker that requires OSHA aerial lift certification. Using a lift for painting can indeed be effective, but without proper safety training, workers may struggle to stay safe. With ALC, we'll help you achieve compliance – faster and more affordably than you think. We have guided, self-paced or group training for all of our training courses. Our training content is developed to meet and exceed OSHA regulations 29 CFR 1910, the National Fire Institute, and the American National Standards Institute. For any questions about our aerial lift and scissor lift OSHA training, please contact us online or call us today at (888) 278–8896. Thanks for considering ALC for your aerial lift training needs!