The World's Tallest Scissor Lift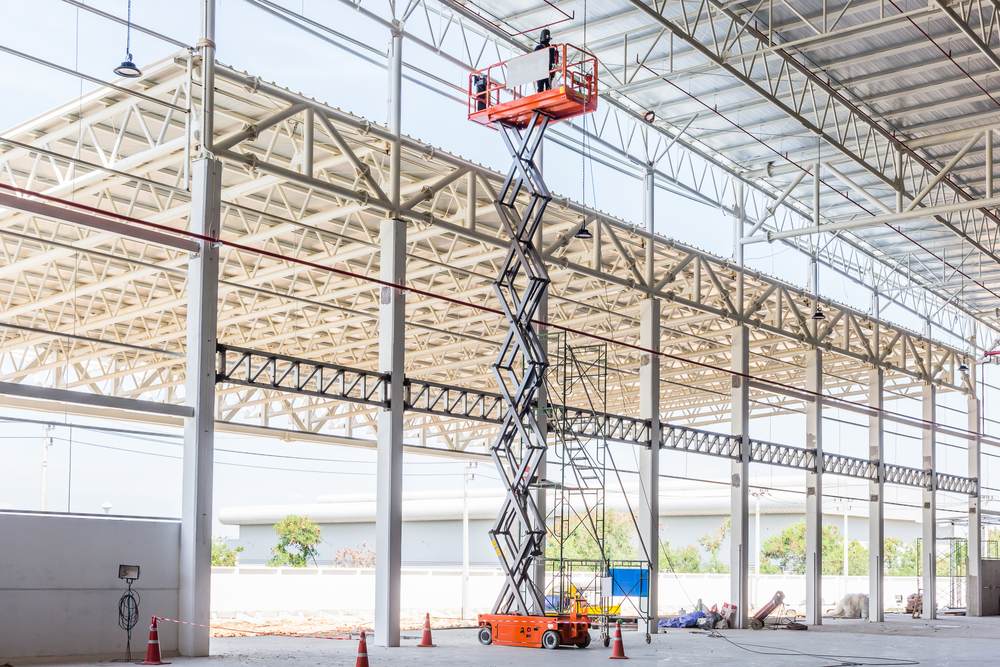 Construction employees and other industrial workers have been using aerial lifts and scissor lifts to build tall buildings and objects for thousands of years. To better understand the use of aerial lifts over the years, let's examine the history behind these machines, and also answer the question everyone wants to know: what is the tallest scissor lift in the world?
History of Scissor Lifts
The first hydraulic lifts were produced in 1845. They were propelled by a steam engine and had many limitations. In 1880, the electric lift was invented, and the use of aerial lifts took off.
Today, there are two basic kinds of aerial lifts: scissor lifts and boom lifts. Also known as aerial work platforms (AWPs), or mobile elevating work platforms (MEWPs), both types are designed to provide temporary access at heights. Both can also be used for a variety of jobs and work sites. To operate scissor lifts, specialized skills and training are required. The U.S. Occupational Safety and Health Administration (OSHA) is the federal agency tasked to ensure every scissor lift operator is trained – and this responsibility ultimately falls on employers. 
If your company needs to train and certify scissor lift operators – and any other AWP or MEWP employee – AerialLiftCertification.com (ALC) offers a great selection of courses for beginners, veteran operators, and everyone in between. What's more, we also provide 3-year renewal training as well, so your compliance is always ensured with ALC!

A Closer Look at the World's
Tallest Scissor Lift
The road from the first scissor lift to the highest scissor lift has witnessed many innovations and safety improvements since the mid-20th century. In 1963, Charles Larson received a U.S. patent to develop a scissor lift. However, the first scissor lift didn't reach the market until the early 1970s, and it was an instant hit. Since then, the demand for scissor lifts has continued to grow. Over the years, scissor lifts grew larger, taller, more robust, and safer. These days, they are considered indispensable tools for construction, warehousing, building maintenance, and many industrial applications.
There are two types of scissor lifts: electric and internal combustion (IC). The electric engine is powered by a battery, and it is mostly used indoors. IC scissor lifts can run on gas or diesel. Also called "rough terrain" scissor lifts, they are designed for outdoor use and uneven surfaces. Some dual-fuel models can work outdoors and indoors. They use gas for outdoor work and emission-free propane for indoor jobs.
Scissor lifts started out with low working heights. Early on, it was rare to see a scissor lift that could go higher than 20 ft. Then two things happened: the technology and design of scissor lifts improved, and stronger and more stable scissor lifts were developed and released. This, in turn, made scissor lifts safer than ever before. Companies began using scissor lifts for many different jobs. As the demand for scissor lifts grew, taller machines were produced. Now, scissor lifts with working heights of 30 to 50 ft. are not uncommon.
Currently, the tallest scissor lift in the world is the PB S370-24 ES 4×4. This impressive lift has a max working height of approximately 123 ft. This makes it a popular choice for:
Building facade work

Working on power plants and large warehousing projects

General construction

Cladding (the application of one material over another to provide a skin or layer)

Architectural glazing
The PB S370-24-ES has many other useful features as well. It has a safe working load capacity of more than 1,650 lbs., and is environmentally friendly and emission-free. The scissor lift also offers four-wheel drive, two-axle steering, a differential lock, and a fully automated support system.
Medium-Height Scissor Lifts
The largest scissor lifts have their uses, but most scissor lifts reach about half the height as the biggest scissor lifts in the world. Another reason early scissor lifts offered minimal working height was they were designed for indoor jobs. As they became sturdier and safer, they began to be used in more outside jobs. Since outside jobs can often require working higher up, the demand for taller scissor lifts continues to increase. Now, more scissor lifts are being built to work at around 40 to 50 feet. The following may not be among the tallest scissor lifts in the world. But sometimes you don't need to go 100 up in the air to get the job done.
Three popular scissor lifts at medium heights include:
Working height of 88.5 ft.
Lift capacity of 2,200 lbs.
Automatic leveling system balances out unevenness of the ground
Popular with façade and installation jobs
Working height of 45 ft.
Lift capacity of 500 lbs.
Drivable at full height
Tight turning radius makes it good for indoor work
Working height of 56 ft.
Designed for rough terrain
Dual fuel engine and four-wheel drive
Auto-leveling outriggers
What Is the
Tallest Boom Lift
?
Boom lifts and scissor lifts differ on 3 key aspects: direction, platform size and overall height. 
Direction

– while boom lifts, AWPs and MEWPs move both horizontally and vertically, scissor lifts only move on a vertical axis.

Platform size

– while boom lifts have greater freedom of movement, it usually comes at the cost of sacrificing the size of the work platform. Scissor lifts, including the

tallest scissor lifts

, typically have more room on their platform for equipment, tools, etc.

Overall height

– here's where the differences between scissor lifts and aerial lifts are the easiest to recognize. The

tallest boom lift

easily soars in excess of 200 ft. into the air. The

highest scissor lift

, meanwhile, barely reaches 100 ft. 
Keep in mind, that there are also slight differences in the certification process for the two types of equipment as well. 
The working heights of today's scissor lifts are remarkable. However, they don't come close to matching the heights of the tallest boom lifts on the market. The title of "world's tallest boom lift" belongs to the JLG Industries Model 1850SJ Ultra Boom. This remarkable boom has a top working height of 185 feet – about the size of a 19-story building. Even more amazing, it offers three million cubic feet of reachable space.
Height isn't the only feature of the 1850 SJ Ultra Boom. It also offers performance to match. Despite being the tallest boom lift, it can extend from the ground to full height in less than five minutes. It includes a telescopic jib that extends and retracts. The platform can hold up to 1,000 lbs. And the boom comes with an LCD platform display to enhance safety and productivity. For example, the graphic display shows the operator's position in the work envelope to aid in positioning. Engine status, fuel levels, service codes and other messages assist with operation and troubleshooting.
The boom's ability to telescope into and around structures makes it an ideal choice for steel erection and energy-related construction in:
Petrochemical applications

Power generation and wind plants

Stadium, convention center, and theater construction

Entertainment and studio-related applications
What Is the Tallest Genie Lift?
From a height standpoint, the Genie® SX-180 Boom Lift comes in a close second to the 1850 SJ Ultra Boom. It delivers 180 ft. of vertical reach and 80 ft. of horizontal outreach. This creates a large working envelope that other boom lifts can't approach.
The large 7-ft. x 3-ft. platform can hold up to 750 lbs. It automatically remains level as the boom moves. The lift can be driven even when it is fully telescoped, which reduces downtime on the job. You can find the tallest Genie lift hard at work in many industries:
Construction

Maintenance

Telecommunications

Gas and oil refineries

Chemical maintenance

Large utilities
Why You Need Training for the
Highest Scissor Lift
& AWPs
When you have people working 60 ft. or more above the ground, training becomes more important than ever. So why not go with the experts at AerialLiftCertification.com?
ALC offers comprehensive training that teaches workers how to safely operate aerial lifts at all heights. With our training, your workers can learn to operate scissor lifts, boom lifts, and other types of aerial lifts, regardless of size. They can also gain the insights they need to limit the risk of aerial lift falls and other accidents.

Sign Up for Aerial Lift Safety Training from ALC
ALC provides the true pinnacle of OSHA compliance, whether your workers are operating the world's biggest scissor lift or the smallest aerial lift. ALC offers fast, affordable, and OSHA-compliant aerial lift safety training. Workers can take online classes wherever they have internet access. Plus, they can print their certification card as soon as they pass the exam.
With ALC in your corner, you'll have everything you need in order to ensure all your AWP, MEWP and scissor lift operators are fully trained and certified. In the event of an accident, OSHA will conduct an investigation to ensure all training protocols were accounted for – and if your employee doesn't have the proof of training (provided by ALC), be prepared to pay thousands in fines, legal fees and other expenses. 
The best time to ensure compliance was yesterday. It's against the law to have any employee operate any MEWP, from the largest scissor lift to the tallest boom lift. To learn more or to enroll your workers in our aerial lift safety training program, please contact us online or call us today at (888) 278-8896.