So which type of aerial lift do you need for your next job? Two of the most popular and common aerial work platforms (AWPs) include boom lifts and scissor lifts. Each has its own particular advantages – and knowing which ones apply to your needs goes a long way to determine which one you need to buy or rent.
Picking the right equipment between a boom lift and scissor lift is a choice. But when it comes to boom and scissor lift certification, employers don't have a choice…they're required to provide training and OSHA certification for all drivers. AerialLiftCertification.com (ALC) offers OSHA-compliant training for each type of equipment, and we'll ensure all your operators are fully OSHA compliant!
Not sure a scissor lift vs boom lift certification or training requirements? Let's look at each type. Then, we'll discuss some practical, proven training courses offered by Aerial Lift Certification.com.
Boom Lift vs Scissor Lift – Key Differences
A boom lift extends a worker in a small bucket both vertically and horizontally – that is, they extend beyond the wheel base. A scissor lift, meanwhile, only goes straight up vertically. Both types of equipment require boom and scissor lift certification. 
Hazards for these lifts are similar, and include overhead dangers, falls from height, unstable terrain, and more. Boom lifts, in particular, have their own unique hazards and dangers, simply because this type of equipment reaches much higher than scissor lifts, and typically operate outdoors, with unique weather and stability considerations. With boom and scissor lift certification from ALC, you'll know all about scissor lift vs boom lift hazards – which are unique to each, and how to prevent them from happening in the first place!
With ALC's training & certification for scissor and boom lifts, your employees will enjoy greater confidence on the job, better safety awareness, and increased productivity. Plus, they'll be able to determine what type of equipment is required for any job – scissor lift or boom lift.

What is a Boom Lift?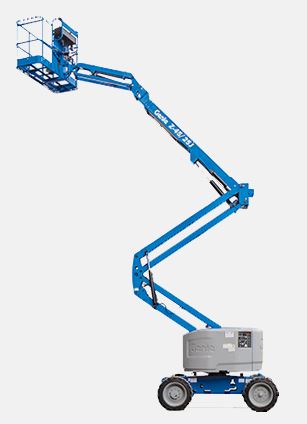 Simply put, a boom lift is a device used to elevate workers safely. The boom lift is controlled by a hydraulic mechanism and reaches higher than scissor lifts.
What is a boom lift used for? All sorts of work activities that require workers or material at elevated heights. Just some of the workers that use boom lifts include construction workers, firefighters, maintenance personnel, and more.
Boom lifts are more expensive to own than scissor lifts; as a result, some companies opt to rent boom lifts, rather than buy outright. Whether your company rents or owns boom lifts, you need to ensure all your operators have OSHA compliant safety training and are certified to operate the equipment. 
How to Operate a Boom Lift
There are three key safety concepts to remember when operating a boom lift. These important safety measures include:
Always know the machine's max load capacity, and never exceed this number.

Make sure the aerial lift or boom lift is on stable ground.

Account for power lines, structures, trees and other overhead hazards.
That's just one of the many key differences between scissor lift and boom lift training. For a more detailed look at safety tips and training requirements related to boom lift certification, check out our article on this subject. Regardless of whether you operate a scissor lift or boom lift, stability is one of the most underrated safety requirements.
OSHA Boom Lift Certification Requirements
The following OSHA standards are related to boom lift operation, maintenance, and training: 29 CFR 1910.67, 29 CFR 1910.269(p), 29 CFR 1926.21, 29 CFR 1926.453, 29 CFR 1926.502.
Like any other industrial equipment, aerial lifts and boom lifts can be dangerous, especially with the added hazard of (sometimes) extreme heights factored into the safety equation. The hazards of working on an aerial lift include tipovers, electrocution, structural failures, and contact with ceilings and other overhead objects. That's why boom lift and scissor lift certification is so important…and also why it's required by law! Boom lift certification shows your employer that you know how to recognize and eliminate hazards.
With AerialLiftCertification's scissor and boom lift certification, we teach you exactly what you need to know to obtain your boom lift certification so that you are ready and able to go to work safely.
We teach you:
How to recognize and deal with hazards, including fall hazards

How to operate the lift correctly, including things like load capacity and maximum intended load

How and when to perform inspections

Manufacturers' requirements
At AerialLiftCertification, we know that adult learning is interactive. We use interactive, state-of-the-art e-learning technology. We teach your employees more than just how to pass your boom lift certification test. We teach you how to be a safe aerial lift operator.
What is a Scissor Lift?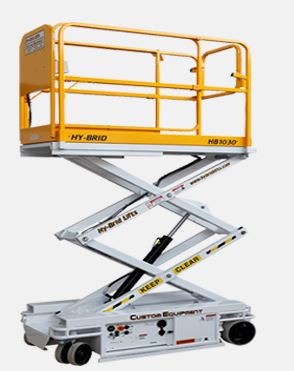 In terms of functionality, a scissor lift is a type of aerial work platform (AWP), aerial device, elevating work platform (EWP), or a mobile elevating work platform (MEWP). All of these devices are used to provide access for personnel and/or equipment to work in areas that would otherwise be inaccessible, mostly because they are too high.
Did you know that, for classification purposes, OSHA doesn't even consider scissor lifts as "true" aerial lifts or aerial work platforms (AWPs)? In fact, all scissor lifts are defined as a subset of scaffolding. This concept can be confusing at first glance, but the reason OSHA considers scissor lifts as scaffolding is for two primary reasons:
The equipment is usually used indoors.

Unlike boom lifts, AWPs and cherry pickers, scissor lifts extend upwards immediately under the equipment base; there's no horizontal extension, only vertical.
Scissor lifts are used for construction work, maintenance, venue organization, and much more. If your employees are sure how to operate a scissor lift, ALC has three different training packages to help with OSHA compliance.
How to Operate a Scissor Lift
Here is a picture of a scissor lift. It is only able to move in the vertical plane, unlike a boom lift, which also can move sideways. A scissor lift uses folded, linked supports in a criss-cross "X" pattern, called a panto-graph or scissor mechanism. Sometimes, a scissor lift will have a "bridge" that extends the platform closer to the position where the work needs to be carried out. This is because of the rig's limitation to vertical movement.
Working a scissor lift also has its share of unique challenges. Depending on how high your scissor lift goes, there are fall protection requirements, overhead hazards, and other concerns. Working on a scissor lift vs a boom lift is different, but they're alike in this regard – if you're going to operate both types of industrial equipment, you need a scissor lift certificate and boom lift certificate.
OSHA Scissor Lift Certification Requirements
Many scissor lift workers are confused about which specific guidelines they're responsible for. Thanks to ALC's comprehensive scissor lift certification, you'll know exactly what you need in order to become a safer, more productive, more confident scissor lift operator! OSHA scissor lift training is based on:
In addition to these requirements, recent changes to ANSI A92 standard impact everything from proper training techniques to fall protection and more. With ALC, we'll show your employees how to operate a boom lift, how to operate a scissor lift, and much more!
At AerialLiftCertification.com, not only can we provide the necessary training leading to scissor lift certification, we also have a convenient self-paced online course to get you qualified to become Certified Aerial Safety Expert at your place of employment. The benefits of this are obvious. You'll increase your OSHA awareness and overall safety smarts. You will also be qualified and in a position to teach newly employed aerial lift operators to get their scissor lift certification. Besides, it will look really good on your resume. With a scissor lift certificate, you'll enjoy the qualifications to get the best-paying scissor lift jobs.
Don't trust your boom lift and scissor lift training with anyone else. AerialLiftCertification.com gives you everything necessary to become compliant, at a very affordable rate!
Aerial Boom Lift & Scissor Lift Operator Certification FAQs
What is the difference between a scissor lift and a boom lift?
An aerial lift goes much higher than a scissor lift. Plus, a scissor lift extends only straight up from the base, while an aerial lift extends across and over the wheel base.
What is a scissor lift considered?
A scissor lift is considered a mobile elevating work platform (MEWP) or an aerial work platform (AWP).
Which type of lift is better for both indoors and outdoors?
Scissor lifts are ideal for indoor projects, while aerial lifts excel in outdoor environments. The main factor with this boom lift vs scissor lift question has to do with lift heights. Some aerial lifts can extend vertically beyond 100 feet, while most scissor lifts are in the 10 to 20-feet range.
Is a boom lift an aerial lift?
Yes, a boom lift is a type of aerial lift. They're also referred to as cherry pickers or man lifts. In a boom lift, workers are elevated in a small bucket. Aerial lifts are also referred to as aerial work platforms (AWPs) or mobile elevating work platforms (MEWPs). These terms are captured by recent updates to American National Standards Institute (ANSI), and all of ALC's training and certification capture both ANSI and OSHA safety guidance.
For the boom lift vs scissor lift debate, which is safer?
While aerial lifts and boom lifts are subject to more hazards, thanks to their height and outdoor use, they're not necessarily more dangerous than scissor lifts. With boom and scissor lift certification, your operators are able to safely operate boom lifts and scissor lifts with equal confidence and success!
What are some important scissor & boom lift considerations?
This a great question, and one we receive quite often here at ALC! Every job is different, as is every company's equipment needs. It all depends on your particular requirements, which are determined by these factors:
Lifting capacity. If you need a worker with minimal tools at height, aerial lifts usually fit the bill. However, if you need extra capacity for additional workers, and the project is indoors, a scissor lift is probably your best bet. Always consider lifting capacity when choosing between a

boom lift vs scissor lift

.

Expense account

. What can your budget handle? Scissor lifts are usually cheaper to rent & own, while aerial lifts are more expensive. While budgetary considerations are important, don't let this factor override your safety requirements. Even if you have to spend a little more for the "right" equipment – and the safer equipment – consider your employees' safety first and foremost!

Direction

. Remember, scissor lifts operate on a straight vertical axis. If your job requires straight above access indoors, scissor lifts should do the job. But if you need a more versatile & flexible extension and you're outdoors, boom lifts are the better fit.

Work environment

. For indoor jobs, scissor lifts are the better option. For outdoor construction, maintenance and even landscaping, cherry pickers and other AWPs are better suited to get the job done. Regardless of your work surroundings, remember that your operators need

boom lift and scissor lift certification

in order to meet OSHA compliance and safety standards!

Height considerations

. Scissor lifts have a reach capacity of around 50 feet. Boom lifts can easily go at least twice as high, with some articulating boom lifts able to reach up to 150 feet and higher!
Do aerial lifts and scissor lifts require OSHA certification?
100% yes! That's why boom and scissor lift certification is so important – and ALC can get your entire workforce trained!

ALC is Here for Boom and Scissor Lift Certification Today!
Whatever type of aerial lift you are working on or aspire to work on, we can train you to OSHA certification standards. In as little as an hour, you can be printing out your certificate of completion and operator card. Get started today to find out how.
ALC is here to get your safety program off the ground today! If your employees need to know how to operate a scissor lift or how to operate a boom lift, we'll get your entire workforce OSHA compliant. Get registered today!
We're ready to help with your scissor lift and boom lift training today. If you need training for scissor and boom lifts, ALC is the only certification solution you needWe also offer lifetime support, along with renewal training for aerial boom lift & scissor lift operator certification, too! Sign up today, or call our office at 888.278.8896. Thanks for considering ALC for your boom and scissor lift certification!lifting capacity