How to Secure Safe Ground When Operating an Aerial Work Platform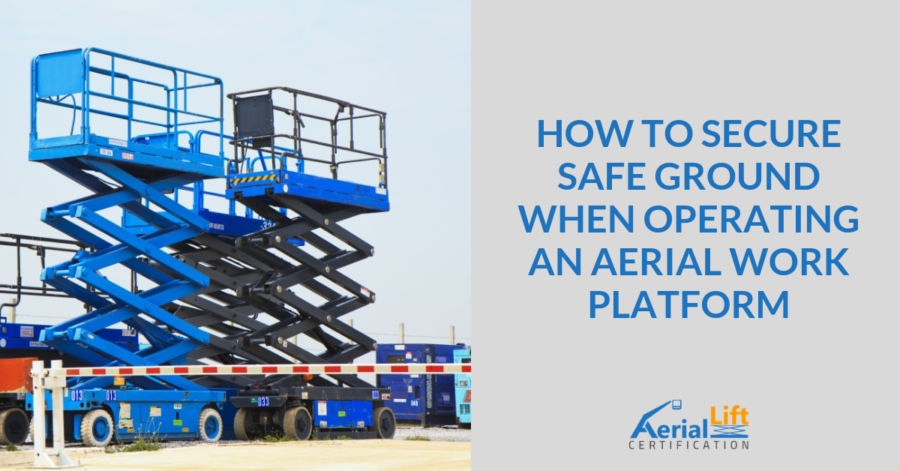 It wasn't too long ago that ladders and scaffolds were the only way to work at height. These days aerial work platforms (AWPs) are the equipment of choice for most jobs above ground. AWP's offer many advantages. They are very mobile. They're sturdier and safer. They allow workers to be more efficient on the job. And they provide access to areas that can't be reached by ladders or scaffolds.
However, this type of work involves risk, and AWPs come with their own safety hazards. These are the main causes of injury or death for aerial lift workers:
Falls from heights
Being ejected from the work platform
Getting hit by falling objects
Electrocution from live power lines
Tipover or collapse of the aerial lift
Of these, tip-overs and collapses are the most dangerous because they can injure or kill people on the ground. Aerial lift safety starts with knowing what causes these accidents and how to avoid them.
What Causes Aerial Lift Tipovers
The most common cause of aerial lift tip-overs is when the boom or the bucket cable break. But there are plenty of other causes to watch out for. If the bucket falls, the lift can get out of balance and fall over. Working in bad weather, such as high winds or poor visibility can also result in a tip-over. Too much weight on the lift can make it less stable.
One hazard that often gets overlooked is working on uneven ground. Aerial work platforms require stability in order to operate safely. When working on a slope, that stability can be compromised. Scissor lifts are less prone to this danger because they only go straight up. Boom lifts can move vertically and horizontally, which makes them less stable than scissor lifts. Place a boom lift on uneven ground and the risk of tip-over goes up.

Securing Safe Ground Outdoors
Securing safe ground when working outdoors starts with using the right kind of aerial lift platform. Certain types of lifts – called rough terrain scissor lifts – are designed for working on uneven surfaces. These are usually powered by a diesel engine. They also come with four-wheel drive and reinforced tire treads. This allows them to go where other types of aerial lifts can't. It also provides better traction when working on rough terrain.
Some rough terrain scissor lifts can be used on slopes. This unique feature is called "gradeability." It typically ranges from zero to 40 percent. When working on uneven ground, make sure the angle of the slope does not exceed the limit of the scissor lift you are using.
Some types of telescoping and articulating boom lifts can be used on uneven ground. However, the risk is greater than with a rough terrain scissor lift. In most cases, telescoping boom lifts are the preferred choice over articulating lifts.
Regardless of the lift type you choose, use these best practices to work safely:
Do not raise or extend the platform unless the lift is on a firm surface.
Use extra care when operating the lift near drop-offs. Only aerial lift certified operators should use boom lifts on slanted ground.
Do not exceed the lift manufacturer's maximum slope rating.
Do not operate on uneven ground in winds greater than 28 mph.
Allow at least 30 feet between the boom and any live power lines.
Make sure the tires are designed for rough terrain and are properly inflated.
Most important, make sure all operators are trained and certified to work on the specific type of aerial lift that will be used on a sloping work site.
Assess The Work Site Before Operating an Aerial Work Platform
Uneven ground is not the only safety hazard when working outdoors. Other ground-related hazards include ditches, potholes, snow or ice, scattered debris, mud, loose sand, and puddles.
Hazards not related to the ground can include live power lines and overhead obstructions. Trees too close to the work area can limit visibility and blow against the aerial lift. High winds can increase the risk of tip-over. Any hazard that could threaten the stability of the aerial lift should be removed or protected against.
Once you have all ground hazards taken care of, it's time to assess the condition of the aerial work platform. This requires a thorough inspection of the following:
Damaged controls
Bent or broken structural members
Hydraulic or fuel leaks
Fraying cables, loose wires, and cracked welds.
Tire tread wear and pressure
Also check the AWP for hazards such as a slippery surface or unsafe guardrails.
Review The AWP's Wheel Loading Identification
Never exceed the load rating of an aerial lift wheel. The wheel manufacturer sets this rating, and can be contacted with any questions. If the rating is not available, don't use the wheel. Exceeding the rating can compromise the function of the AWP and cause the ground underneath to give way.
Follow Safety Protocols
Never let the pressure to complete a job keep you from following safety guidelines. Don't use an aerial lift on an incline or hill except under these conditions:
The AWP operator is trained, certified and experienced
You have an aerial lift designed to work on uneven terrain
The job supervisor is well trained and on-site
Never operate an aerial lift on unstable ground, even if it is level. If the ground at the work-site does not seem strong enough, don't operate the AWP. Otherwise you risk a tipover or collapse that could lead to injury and death.
Securing Safe Ground Indoors
Using an aerial lift indoors is generally safer that outdoors because the work site is more controlled. However, warehouses and other indoor worksites have their own unique hazards. This includes unlevel surfaces, such as ramps for forklifts. These tend to have a small slope angle. But it doesn't take much of a slope to make the aerial lift less stable. Tipovers can also occur indoors.
Other indoor hazards include:
Wet or slippery floor surfaces
Dirty or greasy floor surfaces
Overhead obstacles, such as lighting, piping and HVC conduits
Floor surfaces that need repairing
High amount of pedestrian foot traffic
Scissor lifts are the preferred choice for indoor jobs that use an aerial work platform. They tend to be smaller and more stable that boom lifts. They're also easier to operate. Even so, anyone operating a boom lift indoors should have their aerial lift certification.
Safety guidelines include:
Keeping floor surfaces clean, dry and in good repair
Marking all obstacles on the floor, walls and ceiling
Roping off an area around the aerial lift to prevent foot traffic from getting too close
Aerial Lift Certification
Whether indoors or outdoors, never use an aerial work platform unless the operator is fully trained and certified. This is especially true when working outdoors on uneven ground. AerialLiftCertification's online training program is fast, affordable, and can be completed in about one hour. It can be taken anywhere you have Internet access. And it covers every aspect of aerial lift safety. Keep your workers safe with OSHA-compliant training from AerialLiftCertification.com.