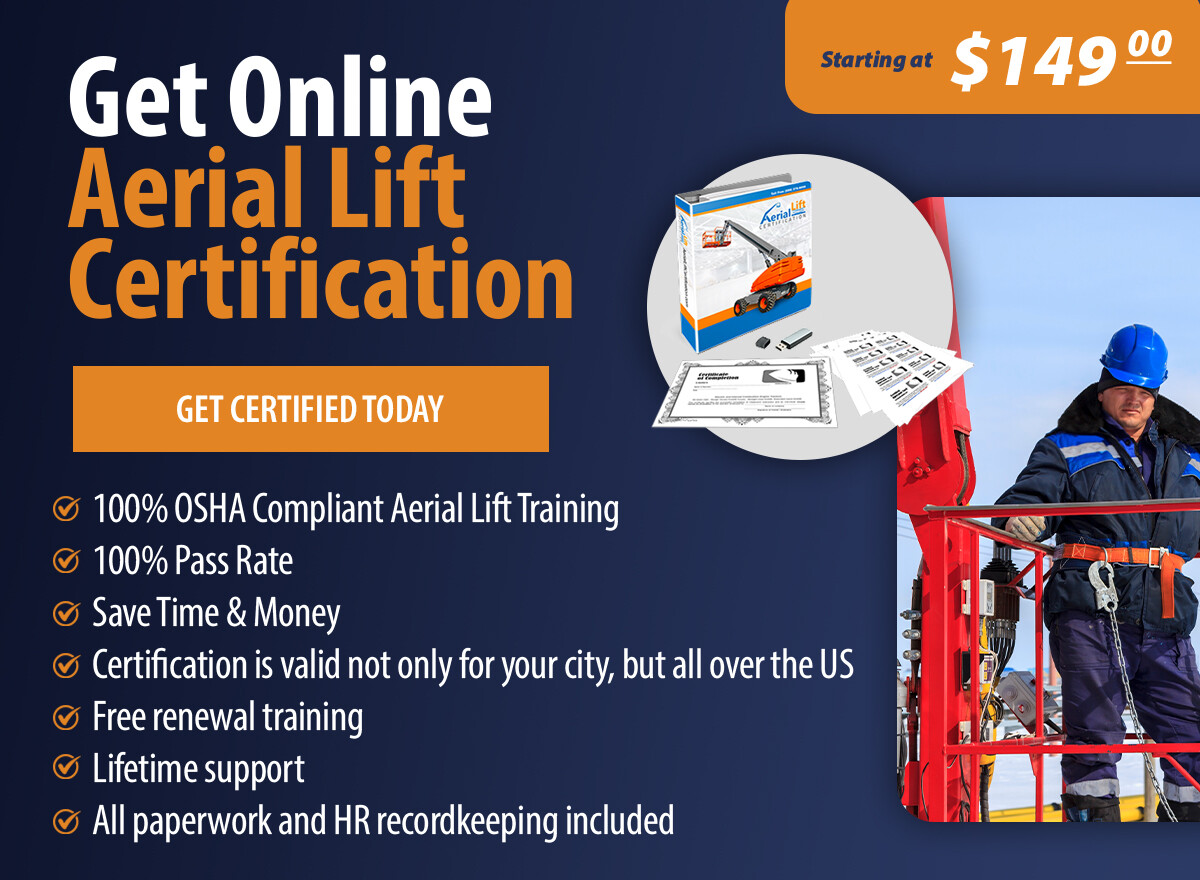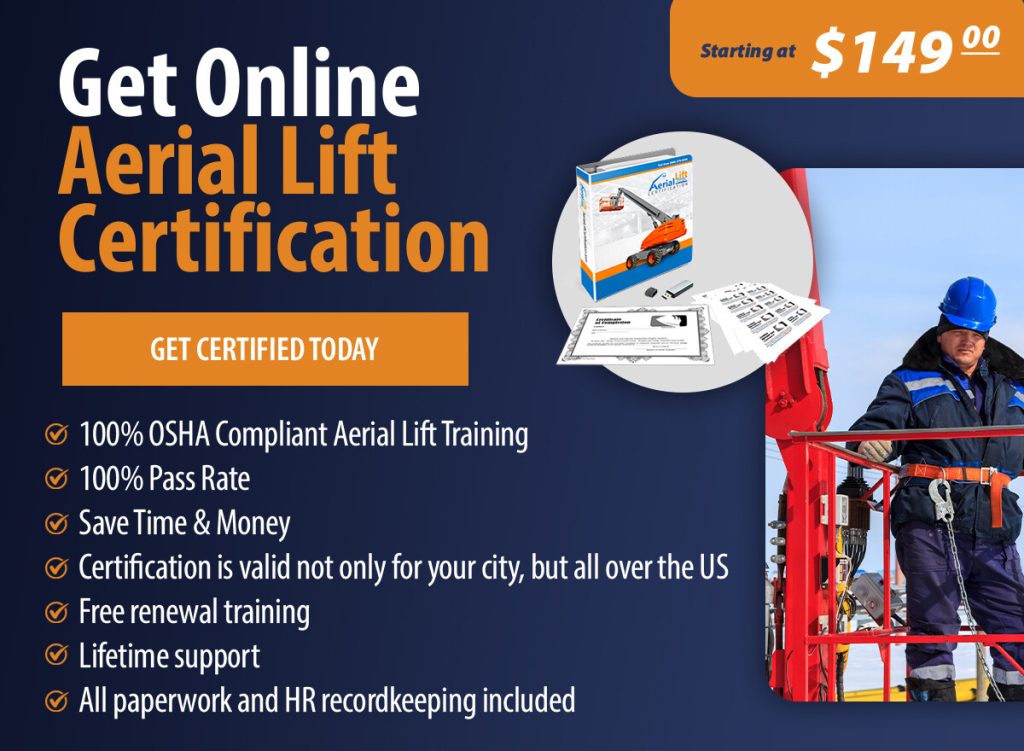 Aerial lift certification in San Diego once required classroom training. Trainees needed to spend valuable time traveling to and from the training school. Nowadays, AerialLiftCertification.com makes it easier than ever to learn the ropes. Begin your aerial lift training in San Diego on your terms. Our classes can help you gain the skills to use aerial lifts anywhere in the United States. Training options include:
Trainer Certification $149.00: Our self-paced class will teach you to become your company's official Certified Aerial Safety Expert.
Operator Training Kit (which will be mailed) $299.00: Train new lift operators in-house with our Operator Training Kit.
Bundle & Save (Best Deal) $399.99: Do you want all the benefits of having a fully certified on-site aerial lift trainer and an employee aerial lift certification training package at one low price? This deal is hard to pass up!
How Online Aerial Lift Certification in San Diego Works
San Diego aerial lift certification is simple when you train with ALC. Trainees can stay on-site while they learn the fundamentals, saving you valuable time and money. Most people finish the course in about an hour, making it a smart investment of your resources. To get started with training, follow these simple steps:
Registration – Create an account, log in, and register any trainees you want to be enrolled.
Select Class – Choose the class that best fits your company's needs, then check out.
Finish Class – Trainees may finish the course at their convenience and preferred pace.
Take and Pass the Written Test- Trainees may take the test as many times as they need to earn a passing score.
Complete a Hands-On Evaluation – An on-site trainer employed by your organization should conduct a hands-on evaluation for trainees. Don't have anyone trained to conduct this test? Our Train the Trainer course can help you train someone to oversee such evaluations moving forward.
Print Proof of Certification – Once the previous five steps are complete, print off the operator cards as proof of certification.

At this point, lift operators are fully certified to OSHA standards. File operator cards with Human Resources as proof of certification.
Why Choose AerialLiftCertification.net for San Diego Aerial Lift Certification
Aerial lift operators in San Diego must be trained and certified to OSHA standards. Failure to provide training opportunities for operators and your company may be fined. Untrained workers are much more likely to be involved in lift accidents than operators trained and certified. If you're hoping to avoid workplace accidents, it's important to prioritize San Diego aerial lift certification online. Here are a few perks associated with our courses:
24/7 Learning – So long as you're connected to the internet, you can train from anywhere.
Fast and Easy – Most trainees complete the class in about an hour, but you can take as long as you need with the content.
Immediate Proof of Certification – As soon as you're done training, you can print off proof of certification and keep it on record with HR.
Free Renewals – OSHA requires all operators to recertify every three years. We offer free lifetime renewals, saving you money over the years.
A Great Value – Our courses are competitively priced – not to mention comprehensive.
With all these perks awaiting you and your colleagues, using AerialLiftCertification.com for your in-house training makes sense. Since we offer a 100 percent money-back guarantee, there's no risk in trying us!

Frequently Asked Questions About San Diego Aerial Lift Certification
Are you still wondering how to get aerial lift certified in San Diego? Allow us to answer some frequently asked questions:
Why Do I Need to Get Aerial Lift Certification?
OSHA requirements state that all aerial lift operator employers must offer training and certification opportunities to employees. If your organization fails to offer these opportunities, you may face penalties. Aerial lift training is a wise investment since trained operators are more efficient and less accident-prone.
Are Aerial Lifts Dangerous?
They can be – a June 2021 incident in Otay Mesa, California, highlights how quickly forklifts can become dangerous.
Can I Register for Training Myself, Or Should My Manager Sign Me Up?
OSHA requires all employers to provide training for lift operators, so you should wait and train once you find a job in the industry.
Do You Need Experience to Begin Training?
Experience is optional to begin training with ALC.
Is Aerial Lift Certification Required in San Diego?
Yes, all lift operators in the United States must be certified before using aerial lifts.

Enroll Today for ALC's San Diego Aerial Lift Certification
San Diego aerial lift certification training couldn't get any easier, and there's never been a better time for your employees to become OSHA compliant than now. ALC's fast, easy and affordable training provides everything you need to achieve OSHA compliance. Contact us online or by calling ALC at 888-278-8896 to enroll your employees, and you'll soon have a safer, more productive San Diego workplace.