The Aerial Lift Safety Checklist You Need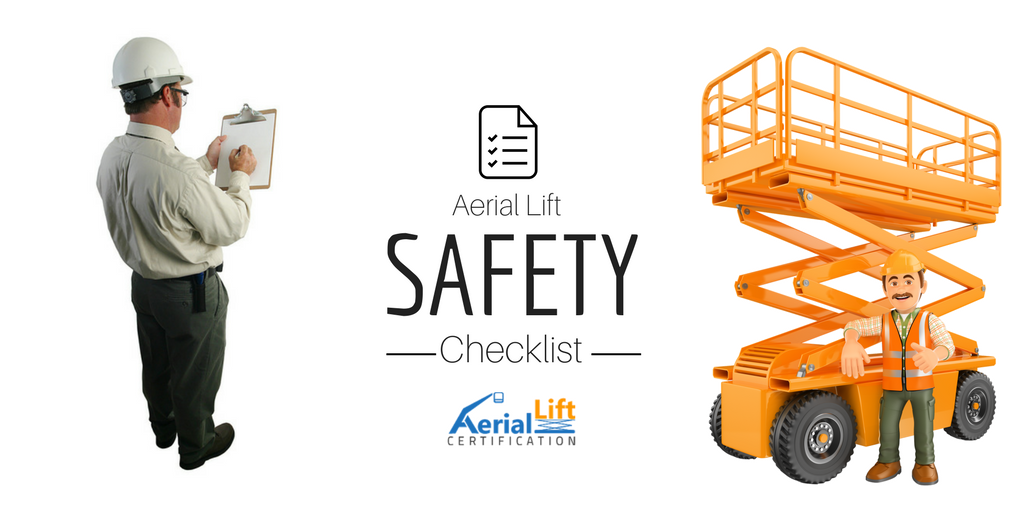 Aerial lifts are commonly used during construction projects, and they allow workers to safely perform many jobs above the ground. Yet, aerial lifts are also a leading cause of construction accidents in the United States, according to The Center for Construction Research and Training. This is why all job sites need an aerial lift safety checklist.
What Is an Aerial Lift Safety Checklist?
The Occupational Safety and Health Administration offers safety guidelines to help employees avoid many of the most common on-the-job hazards. Fail to follow these guidelines and the odds of an accident occurring goes up significantly.
Worker safety must always come first. An aerial lift safety checklist can help workers keep safety a priority day after day. With a checklist in their arsenal, workers are empowered to complete duties in the safest way possible. A thorough inspection of equipment can help workers better understand the condition of their tools and ensure lifts are used properly.
Of course, even the most detailed of safety checklists can't make up for a lack of worker training. Without proper certification, employees are bound to find themselves involved in a workplace accident. Aerial lift training courses can teach workers how to stay safe and use equipment effectively.

What is Included in an Aerial Lift Inspection Form?
An aerial lift inspection form can help you comply with OSHA safety standards and prevent accidents. Most important, this checklist helps you and your coworkers stay safe on the job.
Now, let's look at what is included in a scissor lift safety checklist: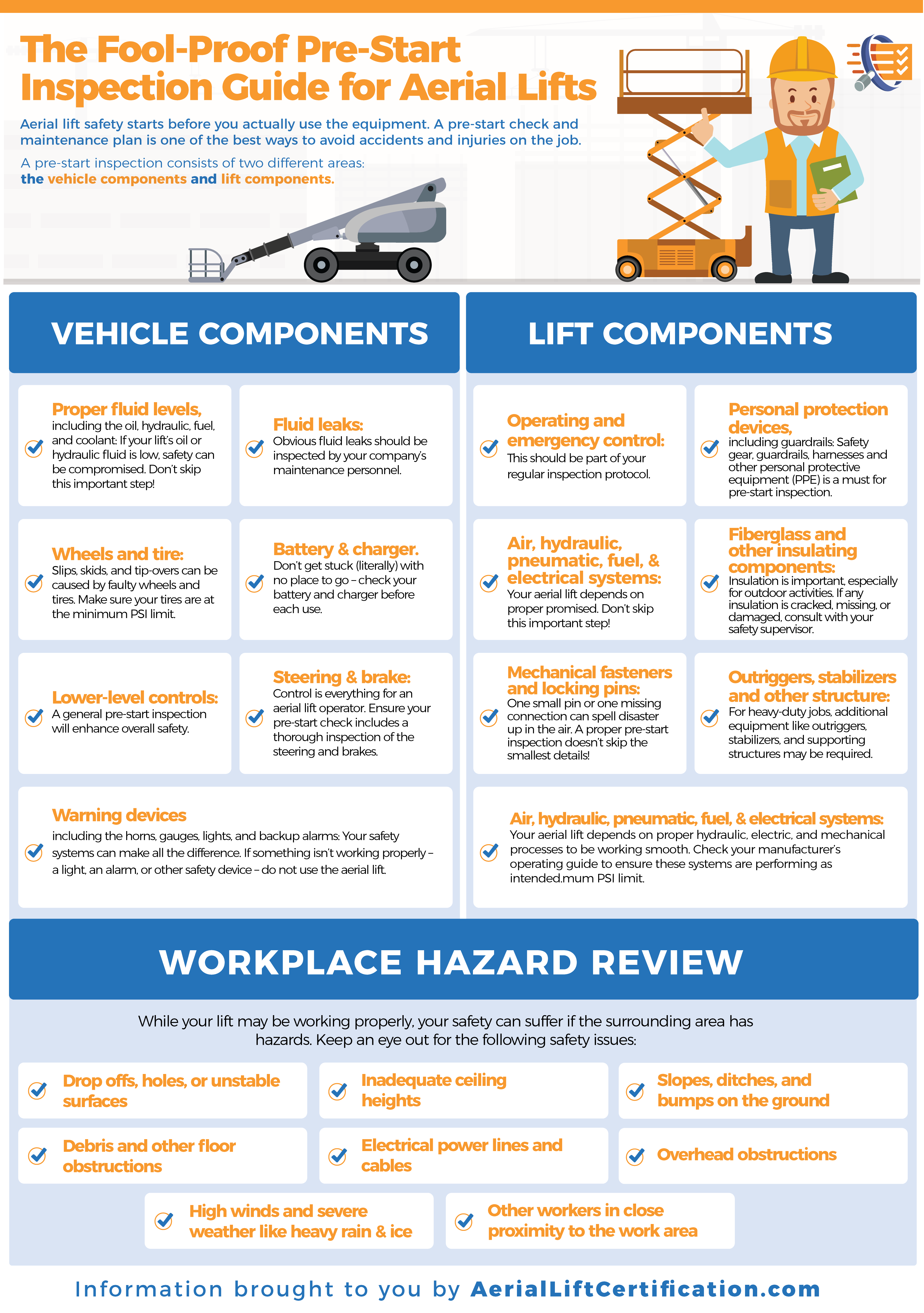 Click image to enlarge
Share this Image On Your Site
1. Aerial Boom Lift Pre-Use Inspection Checklist
Every aerial lift job should start with an inspection of the lift, as this helps prevent damaged or faulty parts from creating hazards. The inspection should cover the vehicle and the lift, including:
All fluid levels, including the oil, fuel, and coolant
Any fluid leaks
Wheels and tires
Battery and charger
Lower-level controls
Horns, gauges, lights, backup alarms, and other warning devices
Steering and brakes
In addition, parts of the lift to inspect include:
Operating and emergency controls

Personal protective equipment
Air, hydraulic, fuel, and electric systems

Fiberglass and other insulating components

Missing or hard-to-read charts, warnings, or instructional markings
Mechanical fasteners and locking pins
Outriggers, stabilizers, and similar structures
Loose or missing parts
Guardrail systems
Remember, even a minor defect can cause significant problems that lead to an accident. If an scissor lift inspection turns up damaged or missing parts, work should not begin until they are repaired or replaced.
2. Job Site Factors
Every job site has safety hazards, which is why every scissor lift safety checklist should include a thorough inspection of a work area.
All hazards must be recognized and removed before work can begin. These include:
Drop-offs, holes, or unstable surfaces
Low ceiling heights
Slopes, ditches, and bumps on the ground
Debris and other floor obstructions
Live power lines and cables
Overhead obstructions
High winds and severe weather like heavy rain and ice
Other workers close to the work area
The aforementioned hazards can make it difficult to maintain a safe job site, and you need to address them before they get out of hand. Of course, if you enroll in a boom lift safety training program, you can gain the insights you need to remove job site hazards without delay.
3. Fall Protection
OSHA requires aerial lift workers to have proper fall protection equipment. Workers should also have proper training, so they know how to use their safety gear.
Fall protection gear is designed to prevent falls by restricting worker movement. Some types can also arrest falls when they occur.
Before starting a job, use an aerial lift safety checklist for fall protection gear that ensures:
All workers have the proper gear.
Workers have body harnesses or restraining belts and lanyards.
These are attached to a point on the boom or bucket.
These are not belted off to nearby structures or poles.
All access gates are closed.
Workers stand firmly on a bucket floor or platform.
Workers don't climb or lean on or over the guardrails.
There are no planks, ladders, or other devices in the working position.
An aerial lift safety checklist that accounts for fall protection gear is crucial. With this checklist in hand, you'll be well-equipped to prevent boom lift falls now and in the future.
4. Overhead Protection
Any overhead obstruction can increase the risks of an accident occurring. Forceful impacts, electric shocks, and crushing injuries are all possible. Hitting an obstruction with a platform or sloping on unstable ground can also lead to accidents like tip-overs. Thankfully, there are a number of things you can do on your job site to improve aerial lift overhead protection, including:
Assume all power lines are live.
Stay at least 10 feet away from all power lines and cables.
De-energize live power lines in a work zone.
Keep an eye out for overhead objects.
Don't set up the aerial lift between overhead obstructions.
Set outriggers on pads or a level surface, then set the
Use wheel chocks on sloped surfaces.
Set up work zone warnings like cones and signs.
Overhead protection sometimes goes unaddressed, but you need to account for it. By doing so, you can limit the risks of accidents caused by overhead obstructions.
Safe Operational Practices
Thorough safety training can do wonders to prevent aerial lift accidents. While a scissor lift inspection form can help workers stay alert to potential issues, it represents the beginning – not the end – of safe operational practices. Once the lift is in use, operate on the assumption that all electrical wires are live. Stay at least 10 feet away at all times. De-energize power lines in the area to prevent electrocution. This tip can seriously save lives!
It's also important to be mindful of overhead clearances and objects. Buildings, trees, and power lines must all be accounted for when using aerial lifts. Whenever possible, avoid using lifts between such obstructions. Use outrigger pads to work on a level surface. They can really come in handy when you're trying to avoid shifting or swaying while you work. When working on a hill, be sure to use wheel chocks, too.
What Not to Do When Operating Aerial Lifts
An aerial lift inspection form can indeed go a long way to keep workers safe. Still, it's equally as important to know what not to do when operating aerial lifts. For instance, it's incredibly important not to overload the lift with workers or tools. Each model has its own unique load capacity. Fail to respect those limits and an accident may become inevitable.
It's also important that workers avoid using the lift as a crane. Never carry objects larger than the platform area. Avoid driving with the platform raised, too. Respecting the vertical and horizontal limitations is crucial – aerial lifts are designed to operate within a set of parameters. Push those limits and you could find yourself in over your head.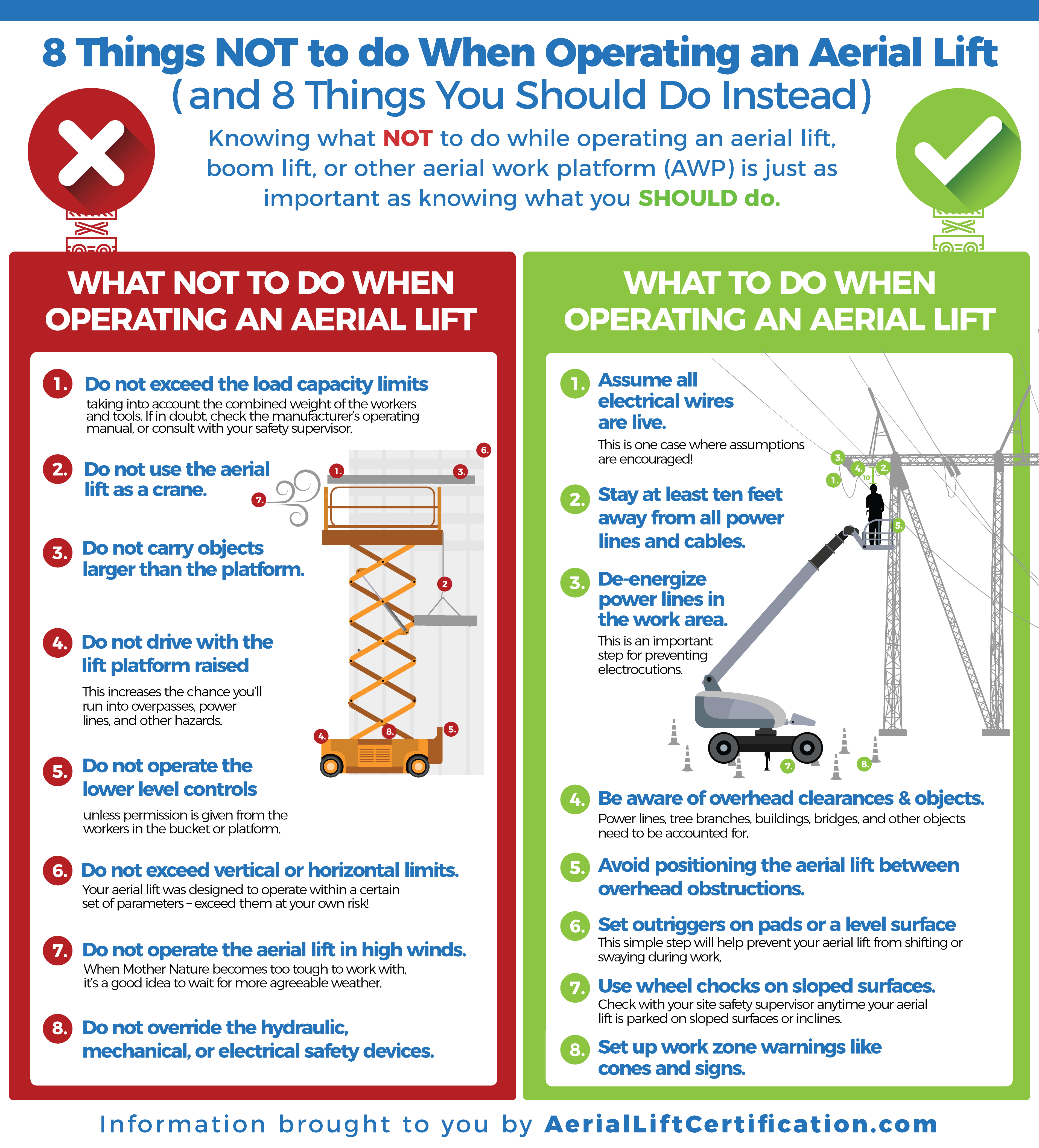 Click image to enlarge
Share this Image On Your Site
The Importance of Aerial Lift Safety Training
Employers should ensure that all workers who are required to use a scissor lift are fully trained and certified. This scissor lift checklist outlines the key topics that should be covered in a training program:
How to safely operate different types of scissor lifts
How to perform pre-job inspections
How to recognize and remove job site hazards
How to navigate around workers and equipment while driving a lift indoors
How to operate a scissor lift outdoors over different types of terrain
How to safely use all lift controls
How to use safety guidelines to prevent accidents
A scissor lift inspection checklist is an incredibly valuable tool in of itself. Workers, however, must also have a clear understanding of how to actually use a scissor lift properly. Failure to adequately train workers could put everyone on the jobsite in danger. Given how affordable and convenient it has become to learn to operate scissor lifts, you owe it to your colleagues to ensure everyone is thoroughly trained.
Aerial Lift Safety FAQs
1. How Many Americans Die Each Year in Aerial Lift Accidents?
According to OSHA aerial and scissor lift safety statistics, approximately 25 Americans die every year from aerial lift and scissor lift accidents. As part of OSHA's scissor lift and aerial lift safety policy, our training helps employers train their workers to avoid accidents and injuries on the job!
2. Does OSHA Require Aerial Lift Certification?
Yes! Proper aerial lift safety is impossible without a sound scissor lift and aerial lift safety policy in place – ALC shows you how!
3. Do You Need to be Certified to Operate an Aerial Lift?
Yes – certification shows OSHA that your operators are legally able to operate scissor lifts and aerial lifts.

Put Your Aerial Lift Safety Knowledge to the Test
Think you're an OSHA aerial lift safety expert? Take our quiz to find out how well you know the ins and outs of safe operation and maintenance of aerial lifts. Of course, if you fall short of your expectations on our quiz, there is no need to stress. Because, if you take advantage of our certification programs, you can get up to speed on all aspects of aerial lift safety.
Enroll in Aerial Lift Safety Training from AerialLiftCertification.com Today
Not sure where to start when designing your ideal aerial lift inspection form? There's no need to worry! By signing up for aerial lift safety training with AerialLiftCertification.com, you'll learn everything you need to know about preventing accidents on the job.
Our convenient online modules allow workers to learn from the convenience of home, the office, or anywhere with an internet connection. Courses teach employees how to clean up and deal with hazardous materials and situations. Should a safety issue arise, they'll know exactly how to leap into action and resolve the problem. OSHA aerial lift inspection forms are excellent foundations for workplace safety, but they're just the beginning.
Our aerial lift safety training program complies with OSHA guidelines, can be taken anywhere you have Internet access, and only takes about an hour to complete. It also protects your most important asset — your people.To learn more about our aerial lift safety training program or to begin safety classes, please contact us online or call us today at (888) 278-8896.