The Basics on Electric Scissor Lifts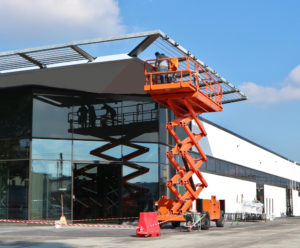 Electric scissor lifts are aerial platform lifts that are commonly used for industrial and manufacturing jobs to safely boost workers to great heights. With AerialLiftCertification.com, you can get your employees certified to work on such equipment in an hour or less using our convenient online course. Keep reading to learn more about electric powered scissor lifts and their certification requirements.
What are Electric Scissor Lifts?
Featuring platforms to accommodate both workers and their materials, electric scissor lifts are essential to modern construction projects. They provide a safe, reliable environment for workers to complete projects with heights involved. Scissor lifts can be extended upwards during use and collapsed downward for easy storage. Typically powered by either electric or diesel engines, these lifts safely raise up workers and materials in ways ladders never could.
There are a few different types of electric scissor lifts. A small electric scissor lift can come in handy for indoor projects in spaces like schools and libraries. An electric hydraulic scissor lift is also ideal for using indoors, as they do not emit harmful exhaust fumes as diesel based lifts typically do. Rough terrain scissor lifts are typically used for outdoor terrain and come equipped with heavy duty tires and high weight capacity.
How to Drive an Electric Scissor Lift
To operate an electric scissor lift, enter the vehicle using three points of contact to maintain balance. Unlock the safety gate, enter, and then make sure the gate is locked behind you. Flick the operating switch into drive and lower the joystick to drive forward. Reverse the joystick backwards to drive backwards. Press buttons on the joystick to steer wheels left or right. Once in position, flip the operating switch into the elevation setting and pull the joystick backwards to lift upward. Push forward to lower the platform.
Electric Scissor Lift Operator Certification Needs
Scissor lift operators must be fully certified before they can begin using these machines. That's because they can be incredibly dangerous to operate. Aerial lifts are often extended to significant heights, and without proper training, workers may find themselves in precarious situations. Getting certified to operate an electric lift for construction can help workers avoid serious workplace accidents and keep them in compliance with OSHA regulations.
Consequences of Not Certifying Employees to Drive Electric Scissor Lifts
Expensive fines are frequently imposed on construction companies who fail to get their employees certified to drive electric scissor lifts. Untrained workers are also more likely to be involved in workplace accidents and become injured. It's not worth the risk of injury or fines to skimp on certification and training.
Electric Scissor Lift FAQs
Curious about how to operate electric scissor lifts? Here are answers to some of the most frequently asked questions on the subject:
1. Are Scissor Lifts Considered Aerial Lifts?
Electric scissor lifts are not classified as aerial lifts, since they are mobile-supported work platforms. Aerial lifts, on the other hand, are vehicle-mounted elevating and rotating platforms.
2. Who Can Operate Scissor Lifts?
According to OSHA guidelines, only workers who have been properly trained and certified should operate electric scissor lifts. Enrolling workers in AerialLiftCertification.com's certification program is a great way to ensure employees are in compliance with OSHA regulations.
3. How Long is Scissor Lift Certification Good For?
Once their certification course is complete, workers are certified to operate electric powered scissor lifts for three years.

Get Certified to Operate Electric Scissor Lifts
At AerialLiftCertification.com, we make it easy for workers to become certified to operate electric scissor lifts. Convenient and affordable, our online course can be completed from the comfort of home in under an hour. If you're looking for comprehensive training to get your team up to speed, please contact us online or call us today at (888) 278–8896.