Bobcat's New Rotary Telehandlers Put New Spin on Traditional Function
Legendary manufacturer Bobcat is at it again.
Bobcat has long been known for their innovative aerial lift products. Their latest offering – the Stage IIIB/Tier 4 interim rotary telescopic handlers – is hard to top. Launched in 2015, these "EVO Generation" rotary telehandlers are more than just a big step forward for the industry. Many are calling them the biggest technology breakthrough in years.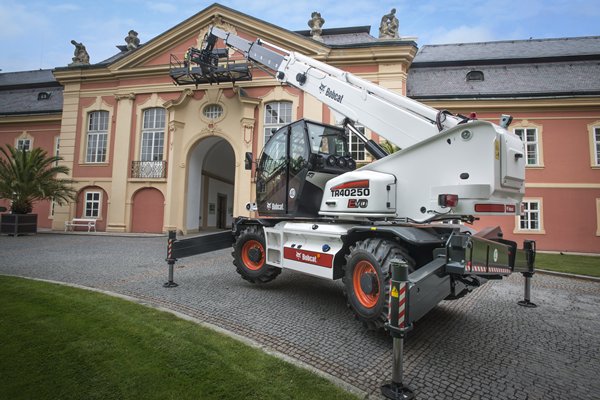 Four Rotary Telehandler Models to Choose From
The new rotary telehandlers from Bobcat come in four models. Each has a different max lifting height.
TR38160 – 51'
TR50190 – 61'
TR50210 – 67'
TR40250 – 79'
All four models are designed for safety and comfort. They offer added safety features to help protect workers. They enhance productivity. They can be used as a telescopic handler, access platform and a crane – all in one machine. They are ideal for jobs that require very high lifting of loads or people, especially in confined spaces.
What is a Telescopic Handler?
A telescopic handler (a.k.a. telehandler) is a versatile lifting machine. It combines a telescopic boom with a lifting attachment to move people and loads. The telescopic boom allows the lifting attachment to extend forwards and upwards. As a result, the lift can handle jobs that many other lifts can't. For example, a telehandler can remove palletized cargo from inside a trailer. It can also place loads on rooftops and other high places. These are jobs that would normally need a crane.
Telehandlers are designed to work with many types of attachments. These can include fork carriages, crane jibs, buckets, lifting hooks, and more. This allows telehandlers to perform many jobs that forklifts, cranes and work platforms do – only faster and more efficiently. A "quick hitch" design element allows operators to change attachments quickly and safely. This saves time by allowing the telehandler to perform tasks that would otherwise require two or more machines.
Full Rotary Capability Makes the Difference
What makes Bobcat's rotary telehandlers stand out from other models? Their ability to make 360° rotations. This provides better access, making the job simpler and easier. All four Bobcat models use a rotating turret to provide the 360° working area.
The TR model telescopic handlers come with auto management of the lifting capacity. This makes it easy for workers to adjust the turret's rotation speed. The rotating turret also reduces the need to relocate the lift in the middle of a job. Some of Bobcat's rotary telehandlers come with a 400° rotating turret. It can rotate 200° to the left and 200° to the right for an even wider working area.
New Rotary Telehandler Safety Features
There's a lot more to like about the new telescopic handlers from Bobcat. Check out these other features:
Hydrostatic transmission. This provides high wheel torque for a smooth, precise drive. The two-speed mechanical gearbox optimizes speed and torque for each job.
Telescopic stabilizers. These are positioned based on the space around the lift to improve stability and safety.
Wing type stabilizers. These provide fast stabilization and efficient lifting performance. Workers can correctly level the machine on very uneven ground.
Frame leveling. When working on a slope, operators can adjust the frame level to horizontal with a max range of 10°.
The new Bobcat models also come with a self-diagnostics and troubleshooting feature. It alerts users to key maintenance checks, operation status, boom position and load capacity. This improves safety and lengthens the life of the rotary telehandler.
Simple Handling of Attachments
Perhaps the best feature of the new Bobcat telescopic handler models is the smooth way they work with so many attachments. Operators use a switch in the cab to select an attachment. The selection is then displayed on the screen. The Load Management System automatically selects the correct load chart for the attachment.
The auxiliary hydraulic function is easily controlled using the roller switch on the joystick. With one finger, workers can operate hydraulically powered attachments such as winches. All four TR models are "man-platform ready". This allows workers to easily connect and operate an aerial work platform. Once the lift is stabilized, all boom and turret hydraulic functions are remotely controlled from the basket.
If you're still wondering "What is a telescopic handler?", do yourself a favor and check out the Bobcat T4 models. You'll be amazed at all they can do!
Protect Your Workers and Your Lifts with ALC Training
No matter what new aerial lifts hit the market, you need to have a thorough safety plan in place. For aerial lifts, scissor lifts, and more, nobody beats Aerial Lift Certification.
Our OSHA-compliant training classes teach workers all they need to know about aerial lift safety. The courses only take about an hour to complete. Workers can take them anywhere they have Internet access. And they can print their certification card upon completing the course.
ALC training classes are very affordable. They help you maintain a safer workplace. And we offer the best customer service in the business. ALC is the best option to save money, optimize resources and become a better, safer workplace.
Ready to sign up now? Our OSHA aerial lift specialists are here to help. Call our team about any of our training packages at (888) 278-8896. Or visit the ALC contact page.