Aerial Lift Fall Protection Over Water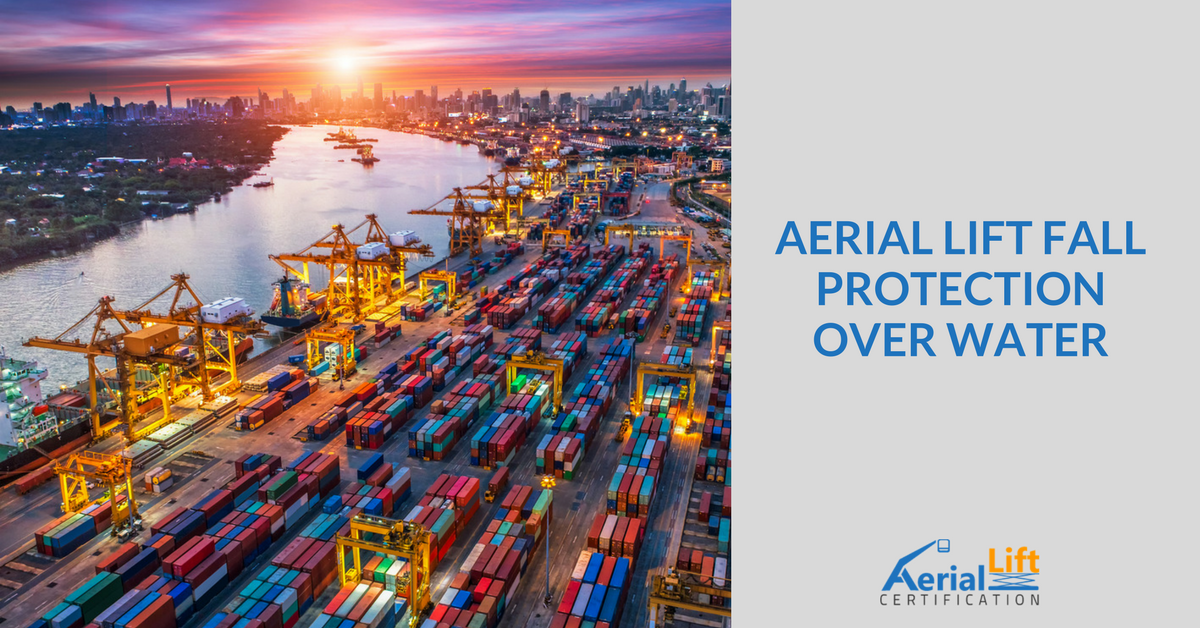 Falls are among the most common aerial lift accidents. This makes fall protection one of the most important safety measures when working with aerial work platforms. While aerial lifts are most often used at construction sites, for tree care, or with other forms of maintenance tasks, they can also be used over water in a marine shipyard or boatyard setting. Working with aerial lifts over water consists of a unique set of potential hazards and dangers, and aerial lift operators must know how to work safely in this type of setting. Not only are there falling hazards, but there are drowning hazards as well.
In this article, we'll discuss the dangers of working on aerial lifts and bucket trucks over water, the rules and regulations for this type of work, and how workers can protect themselves and prevent accidents.
OSHA working over water fall protection is one of the most important subjects for aerial lift workers, and it has created a Quick Card about water fall protection, which we'll review. But first, let's look at some situations where lift operators would use aerial lifts around water.

Fall Protection Over Water: When Might Operators Be Using Aerial Lifts Over Water?
Aerial lifts are commonly used to perform various tasks from elevated positions in shipyards and are often used to replace conventional shipyard scaffolding. They are used to build, maintain, and repair large ships, lift and lower crates and loads, and more. They might also be used in construction, helping to erect buildings that live right on the shoreline. In these instances, workers may need to use aerial lifts to perform certain tasks directly over the water.
Whether used in a shipyard, boatyard, or another construction setting, aerial lifts can make an otherwise very impractical and unsafe situation much more efficient and safe, compared to traditional staging devices. However, aerial work platforms can still cause injuries and fatalities when not used correctly and when aerial lift fall protection is not in place. Without proper OSHA working over water fall protection in place, aerial lift operators are at risk of drowning and other life-threatening accidents and injuries.
OSHA Working Over Water Fall Protection: What Are the Rules for Working Over Water with Equipment?
Fall protection involves the use of body harnesses, lanyards, and attachment points on the boom or bucket that protect a worker from falling and getting injured or killed. According to OSHA, aerial lift fall protection is a requirement for all types of work on aerial lifts, including the use of harnesses and lanyards. However, OSHA says that the only exception to this rule is when using aerial lifts over water. "Except over water, employees occupying the personnel platform must be provided and use a personal fall arrest system." Workers are more at risk of drowning if they fall into the water or if the lift collapses into the water and they are tied to the boom or bucket. When working over water, operators are allowed to unhook their lanyard from the boom or basket.
If working in an aerial lift not directly over water but over a large floating object, punt, fender, or another type of object, workers should tie off because they will more than likely hit the structure if they fall.
OSHA Quick Card: Important Elements of Effective Working Over Water Fall Protection
For shipyard workers – this type of aerial lift operator requires OSHA working over water fall protection – there are certain guidelines that OSHA established in a widely distributed Quick Card.
This helpful resource, which is usually cited as one of the principal OSHA working over water fall protection standards, contains safe work practices for aerial lift workers to follow while working above water. These include:
Always have a fall protection mechanism in place, secured with adequate anchorage.
Use safety devices at all times
Follow the lift manufacturer-recommended operating procedures.
Do not place an aerial lift between structures, including boats.
Place stops or wheel chocks on aerial lifts next to the water to prevent falling off piers, docks, etc.
Understand an aerial lift's swing radius when working above water.
These are some of the best tips for OSHA working over water fall protection. For a complete overview of their tips & tricks for safe aerial lift operating techniques around water, reference the OSHA working over water fall protection Quick Card.
Construction Working Over Water Safety Tips
Aerial lift operators need to be very careful when they use lifts over water. The following safety tips can help these operators guard against falls and other accidents when they work over water:
Wear a body harness with a lanyard attached to the boom or bucket (except when working directly over water to avoid a drowning hazard).
Keep an aerial lift in place at all times.
Do not override safety controls.
Use stops to prevent the lift from falling off open edges.
Perform lift safety checks frequently and conduct regular lift maintenance.
Ensure workers are trained and certified to operate aerial lifts.

'
Along with following the aforementioned safety tips, aerial lift operators must determine if they need to be tied off when they complete tasks over water.
Does an Aerial Lift Operator Need to Be Tied Off When Working Over Water?
When it comes to performing tasks over water in an aerial lift, an operator must always be tied off, according to OSHA. Aerial lift operators must wear a body harness with a lanyard that is attached to a designated anchorage point when they complete tasks over water, OSHA states. They must also recognize that a personal flotation device (PFD) will not save them in the event that they fall from heights.
Remember, a PFD is insufficient for falls of 40 ft. or higher, OSHA points out. By tying off before they operate an aerial lift over water, a worker can guard against falls from heights. In this instance, the worker can remain safe as he or she completes tasks on the lift. If the worker inadvertently falls, the tie-off will prevent a fall that may otherwise result in an injury or fatality.

Get Training and Certification to Prevent Accidents with Aerial Lifts
Safety devices, harnesses, and other aerial lift fall protection equipment certainly go a long way in preventing workers from falling injuries and fatalities. However, all the tools in the world can't help operators if they aren't trained to use aerial lifts.
Operator training is the most important part of aerial lift safety and preventing accidents involved with aerial work platforms. Many accidents can be prevented when operators are trained and prepared to recognize and avoid hazards. Using aerial lifts over water is certainly no different.
If you're looking for top quality, convenient, and affordable aerial lift training from an OSHA-compliant source, look no further than AerialliftCertification.com. Our online courses teach workers everything they need to know about using aerial lifts safely, including aerial lift fall protection. From any device with an internet connection and in only about one hour, workers can be trained and certified to operate aerial lifts and scissor lifts.
To learn more about our online courses, please visit our training kit page, or you can contact us with any questions you may have.