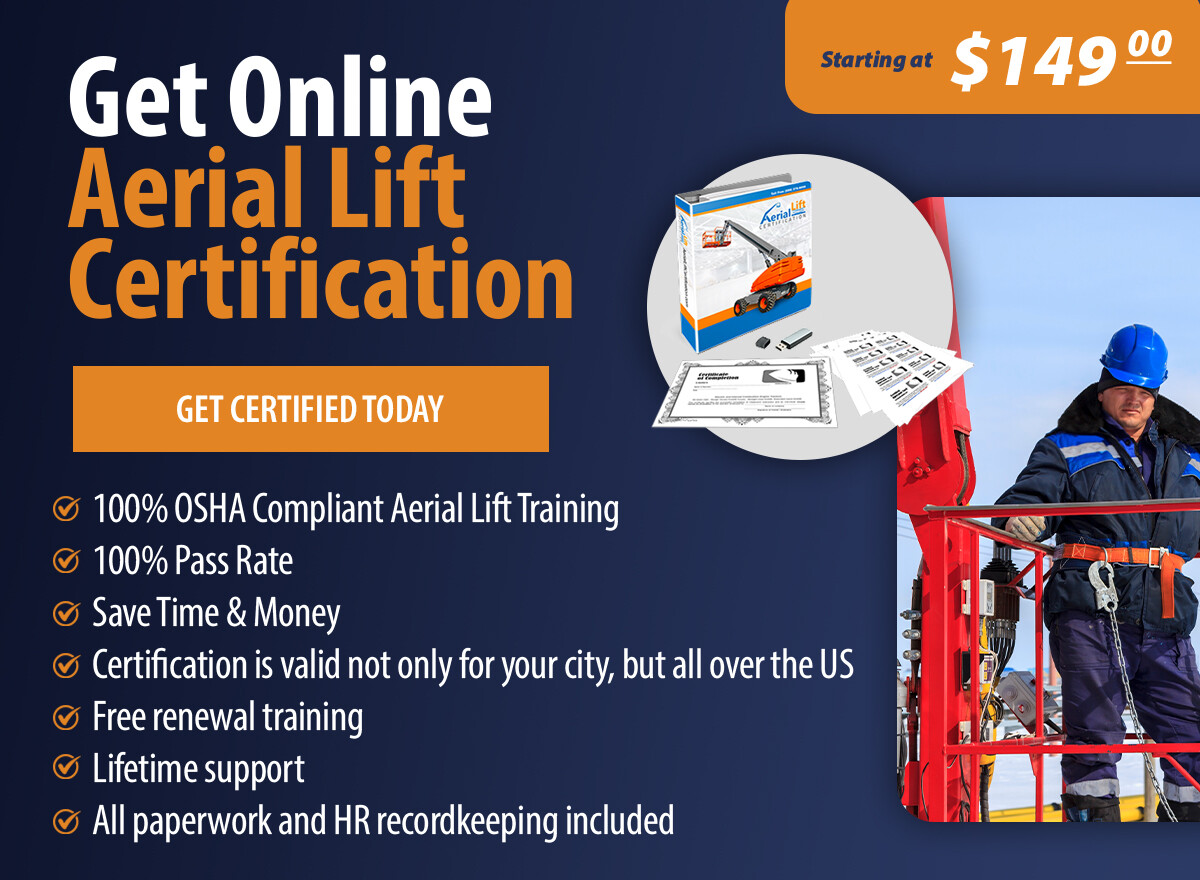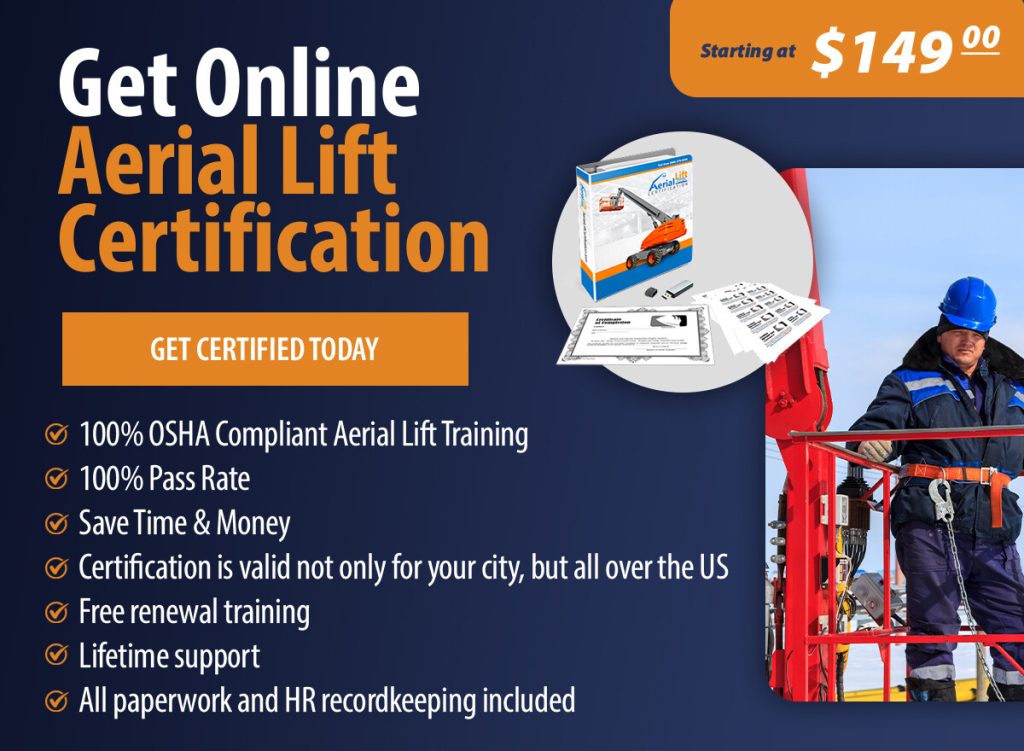 Still searching for in-person classes for aerial lift certification in Englewood? Thanks to AerialLiftCertification.com, you can skip the expensive, time-consuming classroom learning in favor of convenient, affordable online training. After undergoing training with us, you'll be certified to operate aerial lifts in New Jersey and throughout the entire country. Our convenient online course is self-paced, allowing you to become your organization's Certified Aerial Safety Expert for just $149. For $299, invest in your organization's safety program – we'll mail you a comprehensive training kit that can be used to train employees whenever you need. Bundle and save with both the trainer certification and the operator training kit. For $399.99, you'll have everything you need to train employees to train others, and all the resources they'll need to offer ongoing training sessions.
How Online Aerial Lift Certification in Englewood Works 
Englewood aerial lift certification opportunities don't get more convenient than this. Our online resources make it simple to learn the fundamentals and brush up on the basics any time you need. Instead of spending all day traveling to and from classroom trainings, you can learn from the convenience of home or the office. Here's how it works:
Register Employees:

Sign up the workers in need of aerial lift certification training.

Select Course:

Choose the applicable course and check out.

Complete Training:

Learn at your own pace from any device connected to the internet.

Take the Online Written Test:

The exam can be taken as many times as needed to earn a passing score.

Complete the Hands-On Evaluation:

Don't have an employee in mind to perform the hands-on evaluation of trainees? Our

Train the Trainer course

is the solution!

Print Operator Cards:

Once training is complete, you'll gain instant access to operator certification cards. Print them off and keep them in your employee files for easy access.
After completing these steps, employees will be ready to legally operate aerial lifts. Just be sure to keep proof of certification handy in case OSHA officials stop by for an inspection.


How Online Aerial Lift Certification in Englewood Works
Learning how to get aerial lift certification in Englewood is really just the start. After understanding the process, you may be curious to shop around for the best training options. There are a lot of benefits of training with ALC – avoiding accidents and OSHA fines chief among them. Here are few other perks of training with us:
24/7 Access:

Train at any time, from any place, on any device connected to the internet

Self-Paced:

Most people complete our material in about an hour, but you can spend as much time with our resources as you'd like!

Instant Proof of Training:

As soon as training is complete, you can immediately print off proof of certification.

Free Renewal Training:

OSHA requires aerial lift operators to recertify every three years. ALC members enjoy free renewal training for life!

Affordable:

Our prices can't be beat – each registration is an investment in your organization's safety program.
We also offer a 100 percent money-back guarantee that ensures your satisfaction. There's truly no risk in giving ALC a try!


Frequently Asked Questions About Englewood Aerial Lift Certification
Still have questions about aerial lift certification in Englewood? We've got you covered with our handy FAQ section:
Does OSHA Require Training for Aerial Lifts?
Yes, all aerial lift operators must be formally trained and certified before the begin work.
What Qualifications Do You Need to Operate an Aerial Lift?
No experience is necessary start aerial lift training, but you must be certified before beginning work as an aerial lift operator.
Are Aerial Lifts Dangerous?
Without proper training, aerial lifts can indeed be quite dangerous. Aerial lift accidents happen in New Jersey more frequently than many people realize. Proper training and certification can help prevent many of the most common types of aerial lift accidents.

Affordable Aerial Lift Certification in Englewood, NJ
Because this certification is so valuable and important, it would be natural to assume that it is expensive and time-consuming. When you choose AerialliftCertification.com, however, that's not the case. AerialLiftCertification.com's online operator training and certification is fast, convenient and affordable.
Aerial lift certification in Englewood can be completed in about one hour.  All course materials are online and can be taken using a smartphone or other digital device anytime and anywhere it's convenient. Aerial lift training certificates and operator cards can be downloaded and printed within minutes of completing the training.
No more expensive 3rd party training costs, and forget about driving to an off-site training conference. ALC gives you everything required to handle your aerial lift certification in Englewood, NJ. 
For more information on AerialLiftCertification.com and the best aerial lift certification in Englewood, New Jersey, call us toll-free at 888-278-8896. To get certified today, click here – you'll be glad you did!