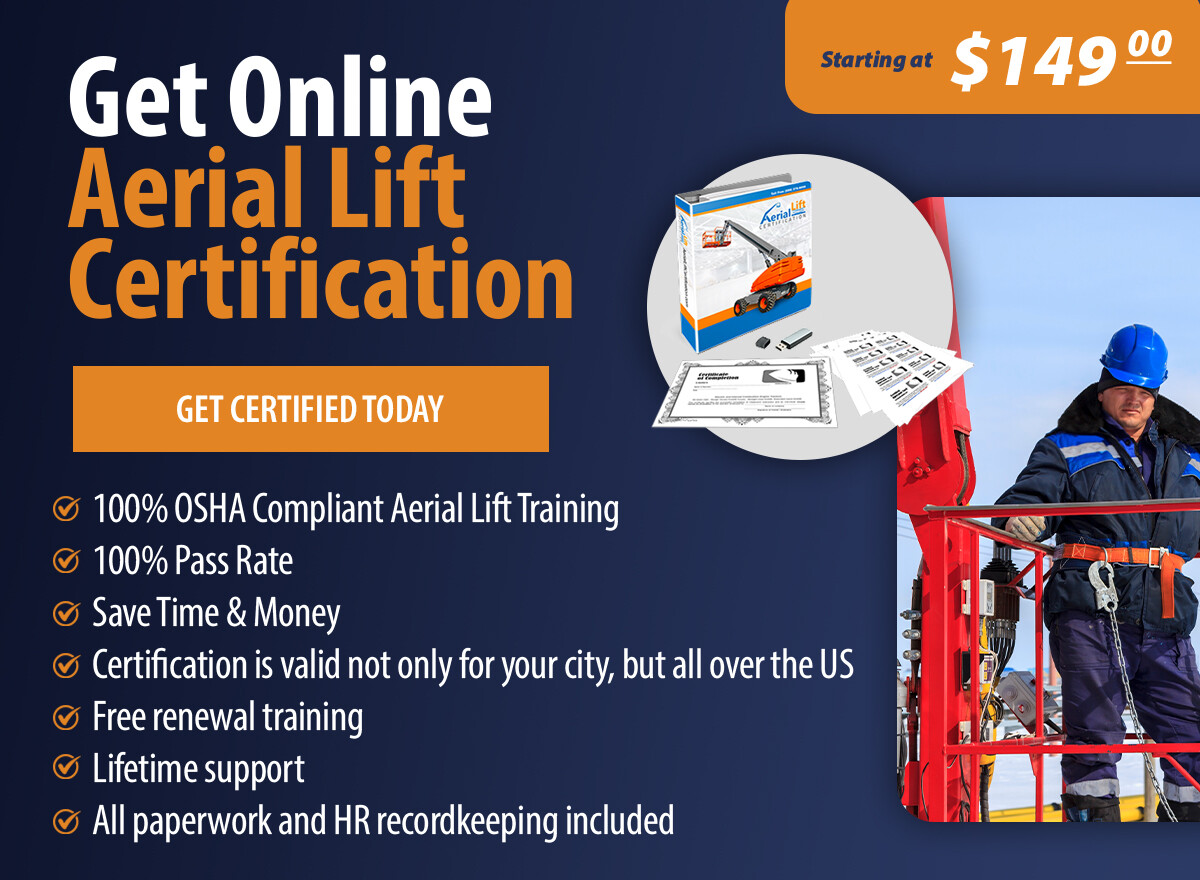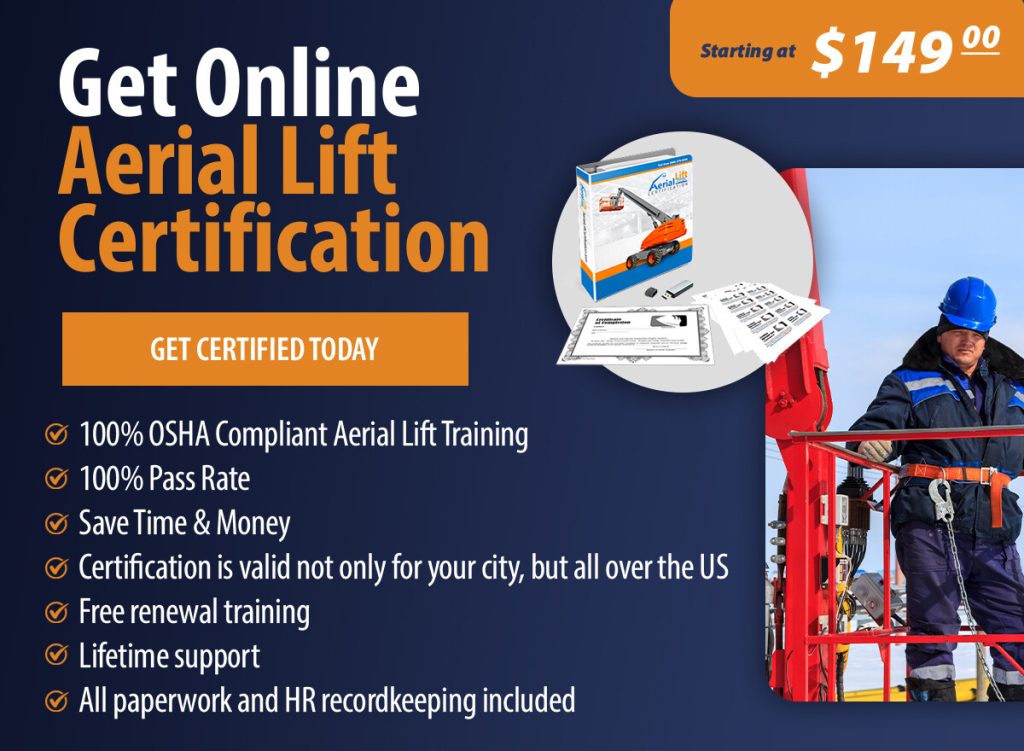 Aerial lift certification in Maine once required employers to send their workers off-site for extended periods. This meant a lot of time and money needed to be invested in the process. Nowadays, AerialLiftCertification.com allows trainees to learn from any location.. This certification program offers unparalleled convenience, affordability, and simplicity for aerial lift training in Maine. Multiple training options are available, allowing you to build the skills necessary to operate aerial lifts in Maine and across the country.
How Online Aerial Lift Certification in Maine Works 
Maine aerial lift certification is simple when you train with ALC. Instead of sending trainees off-site and spending valuable time and money on training in a classroom, in-house certification opportunities can be incredibly rewarding. Most of the class can be completed in about an hour, making certification through ALC a no-brainer. Follow these simple steps to get started:
Employer Registration – Make an account and register any trainees you want enrolled.
Choose Course – Select the course that best fits your organization's needs, then check out.
Finish Coursework – Trainees can take the course at their convenience, and at their own pace. 
Complete and Pass the Written Exam – Trainees may take the test as many times as necessary to earn a passing score.
Undergo a Hands-On Evaluation – An on-site trainer of yours should perform a hands-on evaluation. If you don't have a person in mind to perform this test, Our Train the Trainer course can help. You designate an individual to train so they can assess the skills of new lift operators.
Print Proof of Training – Once training and evaluations are complete, print off proof of certification in the form of operator cards.
After this point, lift operators are fully certified in the eyes of OSHA. File operator cards with Human Resources as proof of proper certification.

Why Choose AerialLiftCertification.net for Maine Aerial Lift Certification
All aerial lift operators in the United States must be trained and certified to OSHA standards before they can begin work. Fail to meet these standards, and your organization may face steep fines. OSHA aside, untrained workers tend to be involved in more workplace accidents than their properly certified peers. it's important to make Maine aerial lift certification online a priority to avoid accidents, injuries, and fatalities on the job. Here are a few benefits associated with our offerings:
24/7 Availability – As long as you have internet access, you can complete our courses from anywhere.
Fast and Simple – On average, trainees take about an hour to complete our coursework. Because the class is self-paced, you can take however long you need with the material.
Printed Proof of Certification – There's no quicker way to train or gain proof of training. Once training is complete, you can print off your certification card and add it to your personnel file.
Free Lifetime Renewals – OSHA requires recertification every three years. We offer lifetime renewals, saving you serious cash overyour career.
A Fantastic Value – At just $59.95, our courses are both affordable and comprehensive. 
Given these incredible perks, using AerialLiftCertification.com for your in-house training makes sense. We offer a 100 percent money-back guarantee;, there's no risk in giving us a try!

Frequently Asked Questions About Maine Aerial Lift Certification
Need help with how to get aerial lift certified in Maine? Allow us to further clarify by addressing a few frequently asked questions:
Why Does Aerial Lift Certification Matter?
Employers are required by OSHA to provide their workers with training and certification opportunities. You may be fined or otherwise penalized if your organization fails to offer these things. Trained workers tend to be quicker, safer, and more efficient. Invest in training now and reap the benefits over the long haul.
Can I Register for Training, Or Should My Employer Sign Me Up?
Anyone can register for our course and pay out of pocket, but it's smart to consult with your employer first. They're required to provide training for employees, so you may want to wait and get certified once you're employed.
Do You Need Experience to Start Training?
No experience is necessary to start training with ALC. 
Is Aerial Lift Certification Required in Maine?
Yes, all lift operators nationwide are required to be certified before using aerial lifts at work. For more information, see OSHA standard 29 CFR 1910.178(I)(1). 
How Much Do Aerial Lift Operators Earn in Maine?
Lift operator salaries vary based on experience and industry. Typically, Maine aerial lift operators earn an annual salary of $44,215. Once you gain more experience in the field, you may earn more. 
Can Aerial Lift Training Help Me Avoid Accidents?
Definitely. Lift accidents happen more often than people realize. Recent incidents in Maine demonstrate just how unsafe these machines can be in the wrong hands. Proper training can go a long way to help prevent such accidents at work.

Get Maine Aerial Lift and Scissor Lift Certification Today!
Without Maine aerial lift certification, your company is stuck (literally) on the ground. Our scissor lift and aerial lift certification in Maine offers the easiest, most affordable path to total compliance. And that's something that's hard to put a price tag on. Well, we had to price our Maine aerial lift certification anyway – and you'll love our low costs!
For more information about our aerial lift certification courses or to sign your workers up for one of them, please contact us online or call us at (888) 278-8896. Or, check out our aerial lift and scissor lift training courses, and get started today!
Thanks for considering ALC for your complete aerial lift certification in Maine. We look forward to working with your company soon.