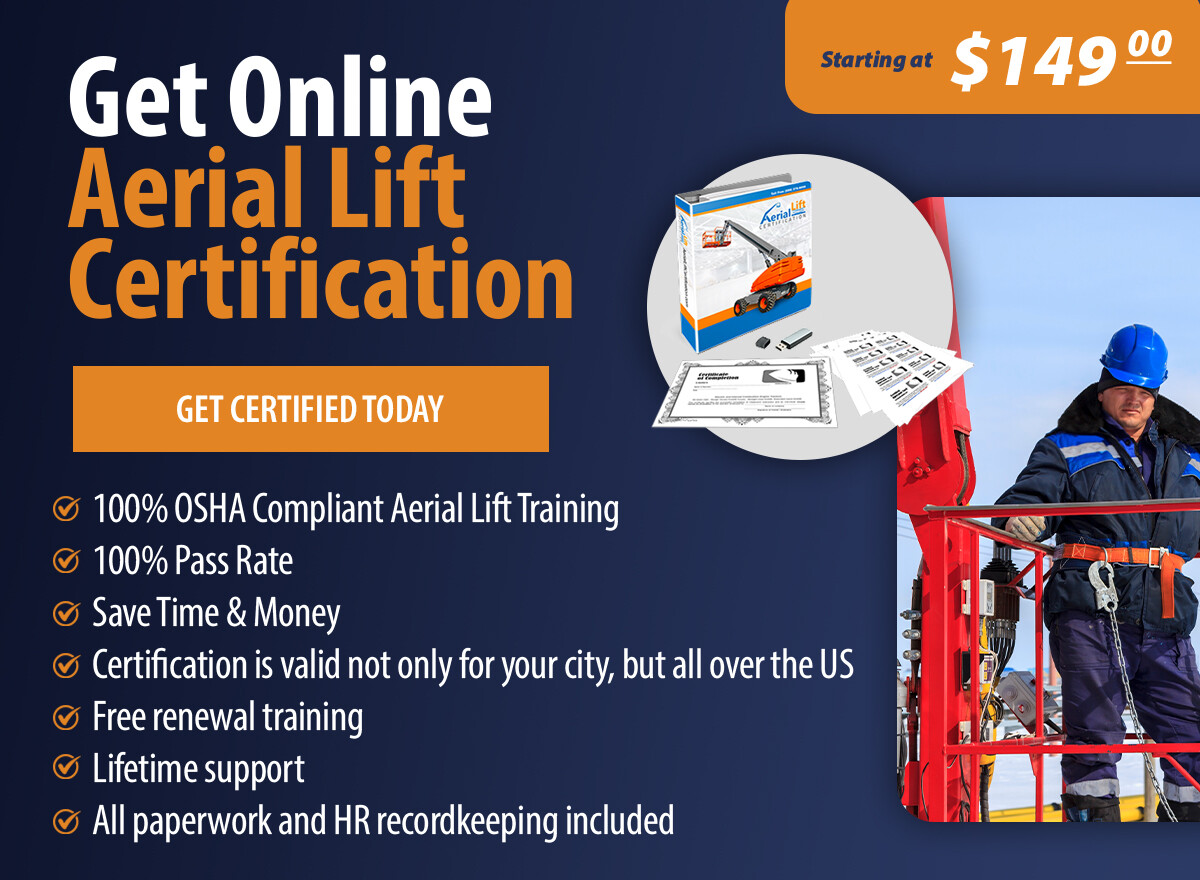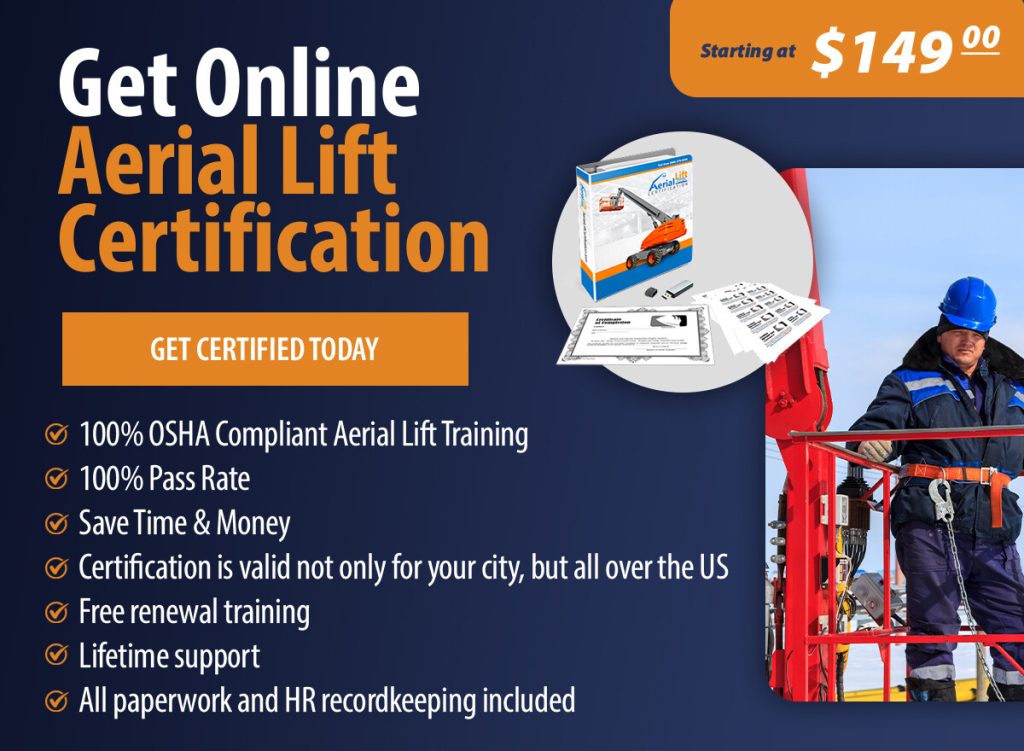 Aerial lift tasks can seem pretty straightforward, but you should never attempt to perform one of these tasks without the proper training and certification first. In Atlanta, OSHA requires that every aerial lift operator obtain this legal certification before operating a lift, and for good reason. This process makes aerial lift jobs safer for everyone involved.
Are you wondering how to get aerial lift certified in Atlanta? If so, then the good news is that you no longer need to get trained in person. Instead, you can get your certification 100% online. At Aerialliftcertification.com, you can complete the whole process and obtain an aerial lift operator training kit for an affordable $299. Find out more about our program below.
How Online Aerial Lift Certification in Atlanta Works
One of the best benefits of completing your Atlanta aerial lift certification online is that you won't have to clear away your schedule to attend in-person courses. You can complete our program on your own time. Even better, the process of getting your Aerial lift certification in Atlanta is very straightforward when you partner with Aerialliftcertificaiton.com. Here's how it works:
Sign Up

: First, you or your employer will sign up and register on our platform. If you're an employee, then be sure to check with your employer first before registering. Your employer may want to take advantage of our

bundle and save

option, which helps employers obtain a complete training package that will certify numerous employees.

Pick Your Class

: Your employer will then select which types of classes are needed for the certification. They will purchase the course for you.

Take the Course

: Next, employees will

login to our platform

and access the educational material. Depending on your employer, you can opt for either guided, self paced, or group-based certification. Then, you'll get to go through the interactive learning materials so you can feel competent handling an aerial lift.

Online Examination

: To make sure that you've absorbed the content, you'll be expected to pass a few online examinations. At the end of each section, you'll complete a quiz.

Hands-On Examination

: From there, an in-house certified trainer will help you perform a hands-on evaluation. During this portion, you'll be able to display your aerial lift knowledge and show your competence.

Print Your Certification

: Once the

certified trainer

sees that you can operate the aerial lift with competence, you'll graduate the program. You will be able to print off a copy of your certification and operator permit.
After going through the steps above, the employee with the certification is considered sufficiently trained by OSHA standards. They can now legally operate an aerial lift on your job site.

Why Choose Aerialliftcertification.com for Atlanta Aerial Lift Certification
As you can see, ALC puts you in the driver's seat with your Atlanta aerial lift certification, thanks to these features:
OSHA compliance: you're always covered in case of OSHA inspections with proof of certification from ALC
Prices that fit any budget: small, medium, and large companies in Texas love our training – sign up and see why today
Free recertification: aerial lift certification in Atlanta expires after 3 years. But you'll stay compliant with ALC's free renewal training
Quick & efficient: most students complete their aerial lift certification in Atlanta in about an hour
Convenient: there's no set schedule for completing the training – your employees can take whenever they're able
Even better, our program will provide you with a certificate that's valid for three years. When it comes time to recertify your employees, you can use our ALC training materials to train your workers. You'll be able to recertify your employees every three years for life.


Atlanta Aerial Lift Certification FAQs
Below, we'll go over some of the most common questions regarding aerial lift certification in Atlanta:
How Long Does Certification Take?
Once you receive your kit, you can certify employees quickly. Many customers report completing the educational material within one hour.
What Happens if I Get Caught Without an Aerial Lift Certification?
Employers who allow employees to operate aerial lifts without the proper training and certification are violating the law and OSHA standards. As a result, they could face fines, have their worksites shut down for safety concerns, and even have their business licenses threatened.
How Do I Perform On-Site Evaluations?
You can save a ton of time by training an in-house trainer with our program. This individual will perform the on-site exams.
Is Fall Protection Certification Needed for Aerial Lifts?
Absolutely yes, falls are accidental of course, but they can happen at a moments notice, just like in this incident.

Get Atlanta Aerial Lift and Scissor Lift Certification Today
The process to get Atlanta aerial lift and scissor lift training from ALC is simple. Select the certification program you want. Next, provide your workers with access to the program. From here, workers can gain insights into all aspects of aerial lift safety. And, when they complete our training materials, they can become OSHA-approved aerial lift operators. 
Of course, if you have concerns or questions along the way, let us know. Our aerial lift certification experts are here to assist you in any way we can. For more information about our Atlanta aerial lift operator certification programs, click here or call us at (888) 278-8896. We look forward to hearing from you!