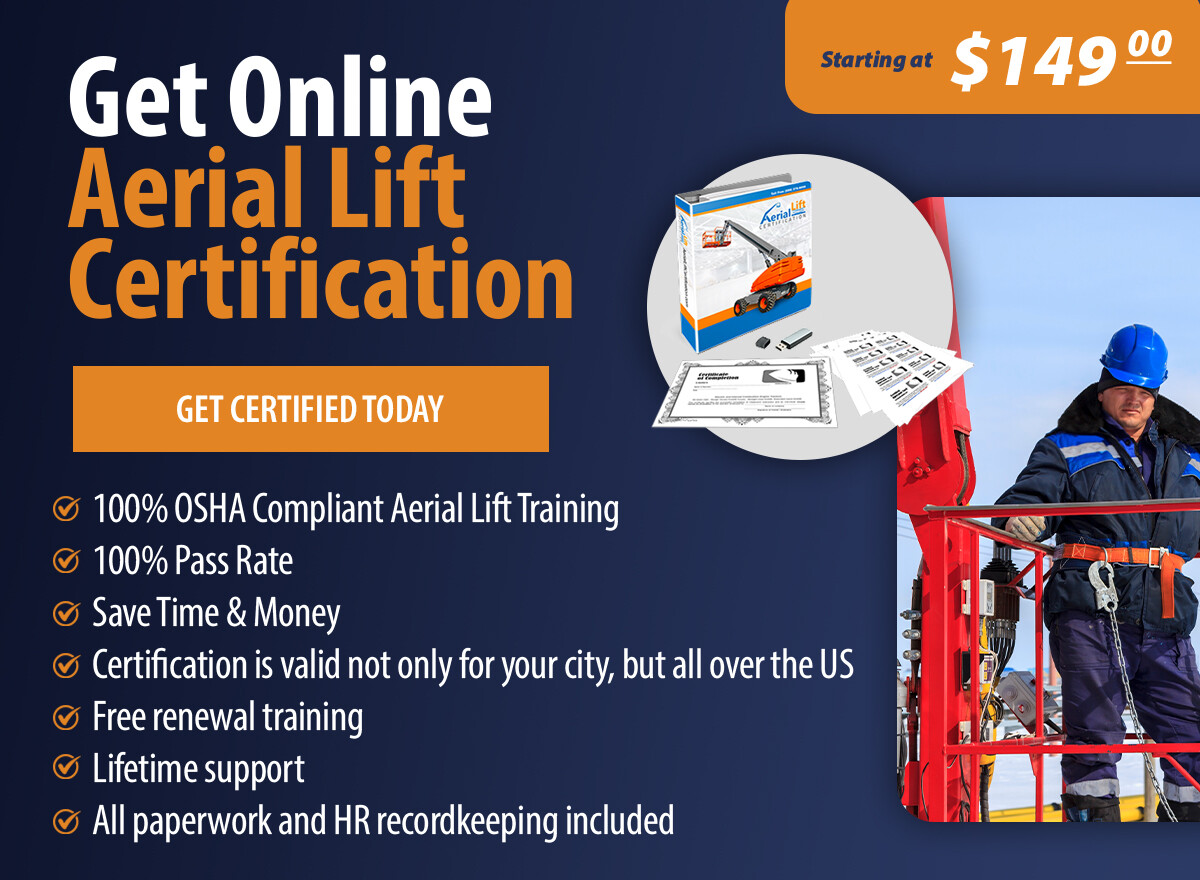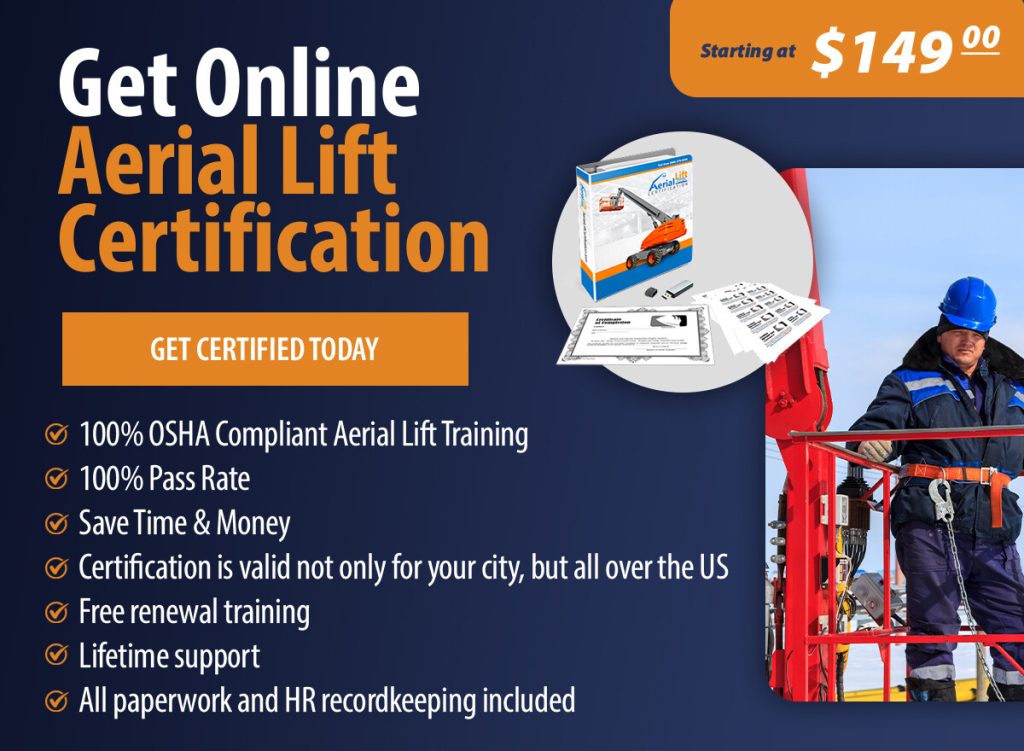 Around 61% of contractors use aerial lifts to help with exterior face construction. This type of equipment is also often utilized with interior construction work and maintenance jobs at a height.
How do you plan on using aerial lifts on your next job site? Whatever you plan on using them for, you must first invest in an aerial lift certification course for any employees operating the machines.
We can help your team get their Denver aerial lift certification online using our cost-effective training kits. Aerial Lift Certification will provide you with a complete Operator Training education kit at a one-time price of $299.00.
Since an aerial lift certification in Denver also means submitting an in-person evaluation from a certified trainer, you should want to get our train-the-trainer kit for $149.00. This program helps certify one of your members as an aerial safety expert who can evaluate your other employees. If you need both, consider our bundle and save option for $399.00.
Learn more about how to get aerial lift certified in Denver using our training kits below.
How Online Aerial Lift Certification in Denver Works
Considering how much of an investment it is to get your team certified, you'll likely want to know exactly how our process works. Here's a step-by-step guide of what to expect:
Employers Sign Up: First, you'll want to look through our website to ensure we offer what you want. Once you're sure, sign up with our website.
Select the Right Course: Check out our course options and select the best courses for your team. Once you pay for our courses, you'll have access to the digital material. We'll send you the hardcopy kit in the mail.
Employees Get Educated: Next, employees will go through the educational material. Employees can use the online digital copies of our training material or the student handouts we will send you.
Employees Must Pass Quizzes: To ensure your employees understand the training material, they must pass a few quizzes. These quizzes can be taken as often as necessary until the employee passes.
Employees Demonstrate their Abilities With an On-Site Evaluation: Next, the employee must submit to an in-person and on-site evaluation with a certified safety trainer. If you purchase our train the trainer course, you can certify one of your employees to conduct these evaluations.
Print Proof of Certification
After going through these steps, your employee will be considered sufficiently trained to operate aerial lifts up to OSHA's standards.

Why Choose Aerial Lift Certification for Denver Aerial Lift Certification
All aerial lift operators must be certified to comply with OSHA's legal rules and regulations. As an employer, you are legally obligated to ensure your workplace is safe. Certifying your employees is one step you should reasonably take since it will prevent accidents, injuries, and fatalities.
Train Anywhere Anytime: Access our material 24/7 online
Our Process is Simplified and Quick: Certify your team in 1 hour
Instant Proof of Training: Print proof of training from our site
Renew For Free: Free three year renewals
Cost Effective: With our bundle and save option, you can certify an unlimited number of employees
We also offer free updates to your kit, so you can continue using our product for years.

Denver, CO Aerial Lift Certification FAQs
Do you have more questions about aerial lifts, Denver aerial lift certification, or OSHA's standards? Check out our general FAQs and get answers to some of the most frequently asked questions about aerial lifts in Denver below.
Are Powerlines Considered an Aerial Lift Hazard?
Yes. Powerlines are a serious hazard that everyone on aerial lifts must be aware of. Powerline hazards can cause electrocution, severe injuries, and even fatalities. In late 2022, Andrew Forrest, a Denver resident, was severely shocked by a powerline after climbing into a boom lift, ascending 80 feet, and attempting to hang Christmas lights. As a result of the unsafe conditions he was exposed to, the worker has won a $2 million settlement to cover his medical costs. He is currently still suffering significant problems from his injuries.
Are Denver's Ski Lifts Considered Aerial Lifts?
Aerial lifts are a type of heavy equipment that's used to lift people, materials, and tools. In most cases, these lifts are used in a work environment. However, if you live in Denver, you already know how many ski lifts, gondolas, and similar sky lifts are in the area. Ski lifts, while used for recreation, are technically a type of aerial lift.
Preventing accidents with training and inspections is crucial, even if you're using aerial lifts in a recreational sense.

Get the Best Denver Aerial Lift and Scissor Lift Certification
Denver businesses must prioritize aerial lift safety. Otherwise, if these companies ignore OSHA requirements, they can expose their aerial lift operators to myriad dangers. They can also face OSHA violations, along with associated brand reputation damage and revenue losses. 
ALC offers an online, self-paced Denver aerial lift training program that teaches operators everything they need to know about safely operating aerial lifts, performing routine safety checks and inspections, and avoiding workplace hazards. All of our training programs are centered around our aerial lift certification test, which is a streamlined but thorough and convenient approach to getting the OSHA-approved training you need. 
Contact us online or call us at (888) 278-8896 to enroll your workers in ALC's Denver aerial lift certification training. Don't put off having your Denver aerial lift operators receive their certifications any longer – sign up with ALC today!