100% OSHA Compliant Aerial Lift Certification in Houston | Sign Up with ALC Today!
Situated near Galveston Bay and the Gulf of Mexico in Southeast Texas, Houston is home to more than 2 million people. Houston is both the most populous city in Texas and is the fourth largest city in the USA.  It's also one of the busiest job markets in the entire country. If your company hires aerial lift operators, you're responsible for their safety and training. If you're not sure where to start, AerialLiftCertification.com (ALC), the leader in aerial lift certification in Houston, will show you how the easy, affordable way!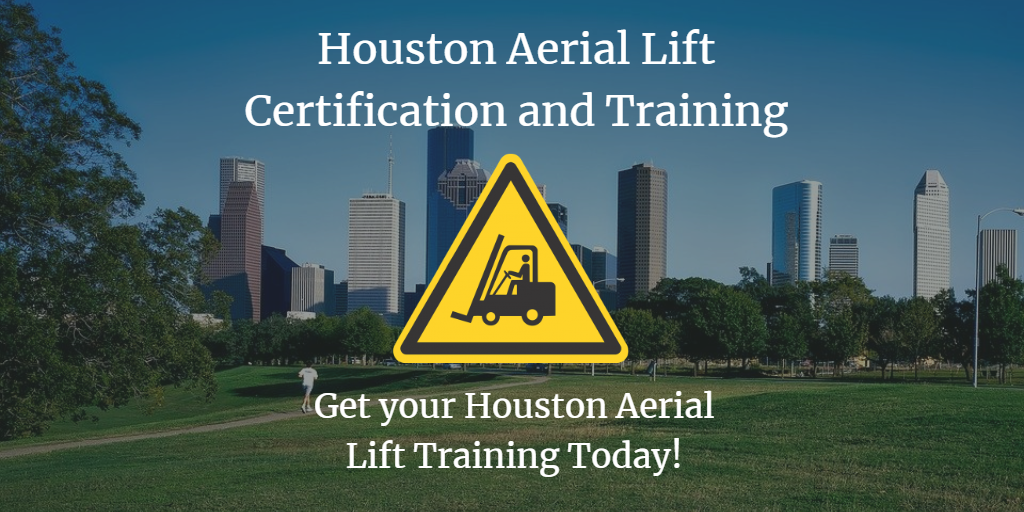 Training with ALC means you'll enjoy convenient, anywhere access, great prices, and outstanding support from our training experts! Need even more motivation to get started? Our aerial lift training in Houston, TX promises:
Quality customer service every step of the training process

Updated training that reflects OSHA and ANSI safety guidelines

OSHA compliance

All paperwork & HR recordkeeping handled

Great value 

And much, much more!
If your company needs the best aerial lift and scissor lift certification in Houston, ALC is the answer!
Aerial Lift Certification in Houston: ALC Courses & Pricing Information
Don't take chances with your aerial lift certification OSHA Houston. ALC has the courses to ensure your employees are 100% OSHA compliant!
This aerial lift certification in Houston courses covers basic safety concepts and everything your employees need to know in order to operate aerial lifts and scissor lifts safely.
It helps to have an in-house safety expert on aerial lift and scissor lift safety. With our Train a Trainer package, you can establish your own safety program, and always be in the loop with OSHA or ANSI updates that impact aerial lift certification in Houston.
Talk about value – nothing beats the Bundle Package for aerial lift certification in Houston, TX! Get maximum bang for your buck with this combination package. Includes both packages listed above for an exclusive discount.
Reduce accidents. Increase safety. Ensure OSHA compliance. Your employees deserve nothing but the best. And ALC's aerial lift certification in Houston delivers the best training and evaluation tools at great prices.

The Importance of Aerial Lift Certification in Houston
All Houston-area employers are responsible for aerial lift training. But most companies don't have the internal resources to handle their own training programs. That's why ALC is the best choice for getting employees OSHA compliant. With our aerial lift certification in Houston, your company will be ready in case of an OSHA audit or investigation.
A lack of operator skills and safety training results in a lack of productivity. Business owners who employ uncertified aerial lift operators run the risk of costly workplace damages and worker injuries or deaths. There's also the possibility of expensive legal fees to defend against accidents. Substantial fines can also be imposed by OSHA for allowing aerial lift operators to work without the proper certifications.  The best way to avoid these pricey consequences and protect yourself and your business is to enroll your employees in training for aerial lift certification for Houston, TX.
The Benefits of Choosing Online Aerial Lift Training in Houston, TX
OSHA compliant certification for aerial and scissor lift operators can cost a pretty penny. Many employers mistakenly believe they need to send workers off-site for training, wasting a day of productivity on travel to and from the classroom. This only adds to the financial burden of training and certifying multiple workers. 
Thanks to ALC, though, employers have convenient, affordable alternatives to in-person training courses. Third part training solutions can sap your budget, leaving you without clear direction for the future. ALC's aerial lift certification in Houston makes learning easy – and we give you all the necessary paperwork for your employee HR files. 
Our online training programs are incredibly affordable. For $299, you'll receive a complete training kit, allowing you to take certification into your own hands. If you want your own in-house trainer to teach new employees, order our Train A Trainer course. To save even more, sign up for our Bundle Package, which combines the Training Kit and Trainer courses for a single discounted price of only $399. You'll have everything you need to improve job site safety, avoid hefty fines, train new employees and boost your bottom line.
Online training means workers can complete aerial lift training in Houston, TX in about an hour's time. There's no need to take time off or dedicate invaluable free time to the training process. Instead, you'll finish up in a single afternoon, guaranteeing OSHA compliance for the next three years. 

Get Your Aerial Lift Certification in Houston Now
Earning your aerial lift certification in Houston is easy with AerialLiftCertification.com. Instead of traveling to an offsite facility, you can take our online course from anywhere that's convenient. So long as you have an internet connection, you can take and complete our training. 
All ALC students receive free three year renewal training, so your team is always up-to-date – no gaps in OSHA compliance or HR certification records! Should you be audited, you'll breathe easy knowing everyone is officially certified and licensed to operate aerial lifts. 
Sign up today or call us at (888) 278 – 8896 for OSHA-compliant aerial lift certification in Houston. ALC can help you get your employees up to speed in a single afternoon. Given how important it is to prevent accidents and injuries on the jobsite, you'll want to get started right away!