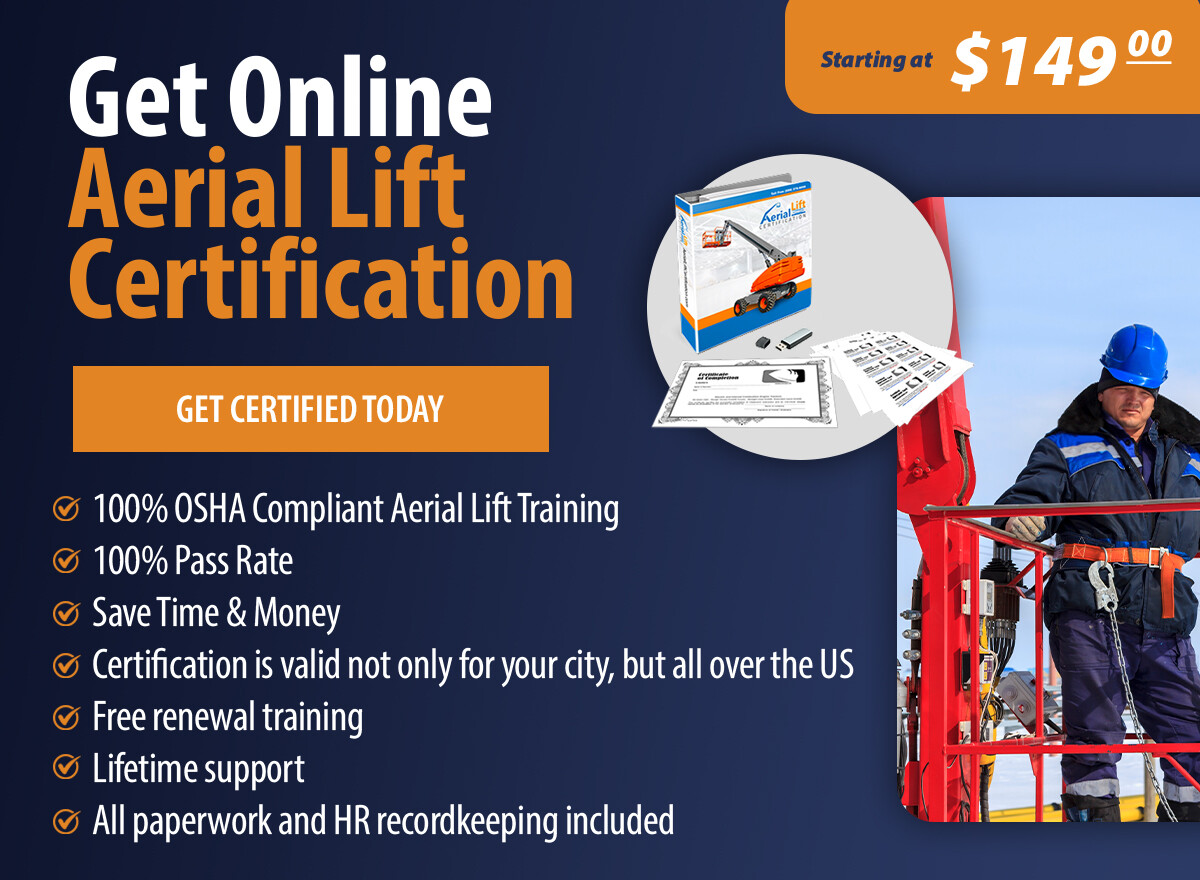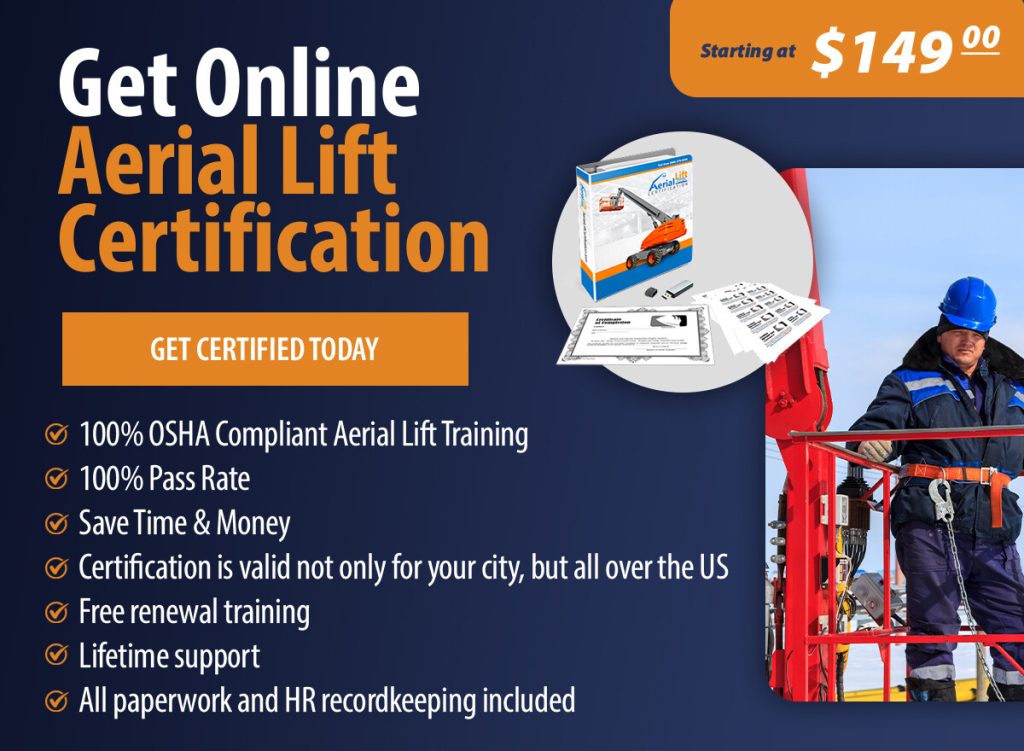 Training for a career in aerial lifts once meant spending valuable time and money on classroom learning. These days, AerialLiftCertification.com allows you to train from anywhere with an internet connection. Earning your aerial lift certification in Mountain View is easier and more convenient than ever before. Our online courses teach you everything you need to know to safely, efficiently, and legally operate aerial lifts throughout California and the entire United States.
How Online Aerial Lift Certification in Mountain View Works 
Training with ALC makes pursuing Mountain View aerial lift certification easy. Skip out on expensive, time-consuming third-party training. In-house certification opportunities are far more affordable and convenient. Our coursework can typically be completed in about an hour – get started with these simple steps:
Register Trainees – Create an account, log in, and register any employees you want to train.
Pick Your Course – Select the class that best suits your unique business, then head to checkout. 
Complete Class – Trainees may complete the online course at their own pace.
Take and Pass the Online Exam – Trainees may take the exam as many times as necessary to earn a passing score.
Undergo a Hands-On Evaluation – An on-site employee of the organization must conduct a hands-on evaluation of the newly trained operators. If you don't have a person in mind to perform this test, our Train the Trainer course can help you designate someone to train and evaluate the skills of new lift operators.
Print Proof of Certification – Once training and evaluations are complete, you can immediately print off proof of certification in the form of operator cards.
At this point, your new trainees will be fully certified in the eyes of OSHA. Keep operator cards with the Human Resources department as proof of proper certification.

Why Choose AerialLiftCertification.net for Mountain View Aerial Lift Certification
All aerial lift operators must be fully trained and certified per OSHA regulations before using lifts at work. Fail to meet OSHA standards, and your organization may face heavy fines. Even if you avoid penalties from OSHA, employing untrained aerial lift operators is too great a risk to bear. Untrained workers tend to be more accident-prone. This ups your odds of accidents, injuries, and fatalities on the job. With so much at stake, Mountain View aerial lift certification online is a no-brainer. Here are a few other perks of training with ALC:
24/7 Availability – If you have internet access, you can learn how to operate an aerial lift online.
Quick and Easy – On average, the course takes about an hour to complete. It's entirely self-paced, allowing you to work through at your preferred speed.
Print Immediate Proof of Certification – There's no quicker or easier way to train and get evidence of that training. You can immediately print off your certification card once training is finished.
Free License Renewals – OSHA requires aerial lift operators to recertify every three years. We offer free lifetime renewals to all our trainees.
Affordable – At $59.95, our courses are affordable and comprehensive. 
If you've been weighing the benefits of in-house training, allow AerialLiftCertification.com to show you how powerful our resources can be. We offer a 100 percent money-back guarantee, so there's no risk in giving us a chance!

Frequently Asked Questions About Mountain View Aerial Lift Certification
Still have questions about how to get aerial lift certified in Mountain View? Our FAQ section can shed a little more light on the subject:
Why Does Aerial Lift Certification Matter?
OSHA mandates that all employers provide opportunities for their workers to get trained and certified to operate aerial lifts. Should you fail to provide these opportunities, your organization may be penalized. There's also safety to consider. Trained operators are safer and less prone to accidents. Invest in training and you'll see it pay off in spades.
Can I Register for Training On My Own?
Anyone can register for aerial lift training, but it may be a good idea to consult with your employer first. Employers are required by OSHA to provide training for their team, so you may want to talk about your certification options within your organization.
Do You Need Experience to Start Training?
No experience is necessary to start training with ALC. 
Is Aerial Lift Certification Required in Mountain View?
Yes, all lift operators within the United States must be certified before using aerial lifts at work. For more information, see OSHA standard 29 CFR 1910.178(I)(1). 
How Much Do Aerial Lift Operators Earn in California?
Lift operator salaries vary based on region and experience level. On average, aerial lift operators in California earn an annual salary of $$53,625. The more experience you have, the more you'll earn.
Can Aerial Lift Training Help Me Avoid Accidents?
Certainly. Lift accidents happen far more frequently than many people realize. Recent headlines in California show how much is at risk every time these machines are used. Adequate training can help workers better assess risk and avoid injuries at work.

Aerial Lift Certification in Mountain View Made Easy
There's no reason to risk safety, OSHA penalties, and legal issues because your employees aren't certified. We know you don't have the time or extra budget for lengthy training and we know you don't want to operate on-site with uncertified lift operators. That's why Mountain View aerial lift certification and training is quick and easy with ALC. Find out more by calling (888) 278-8896 or sign up today to make your worksites safer, more compliant places.