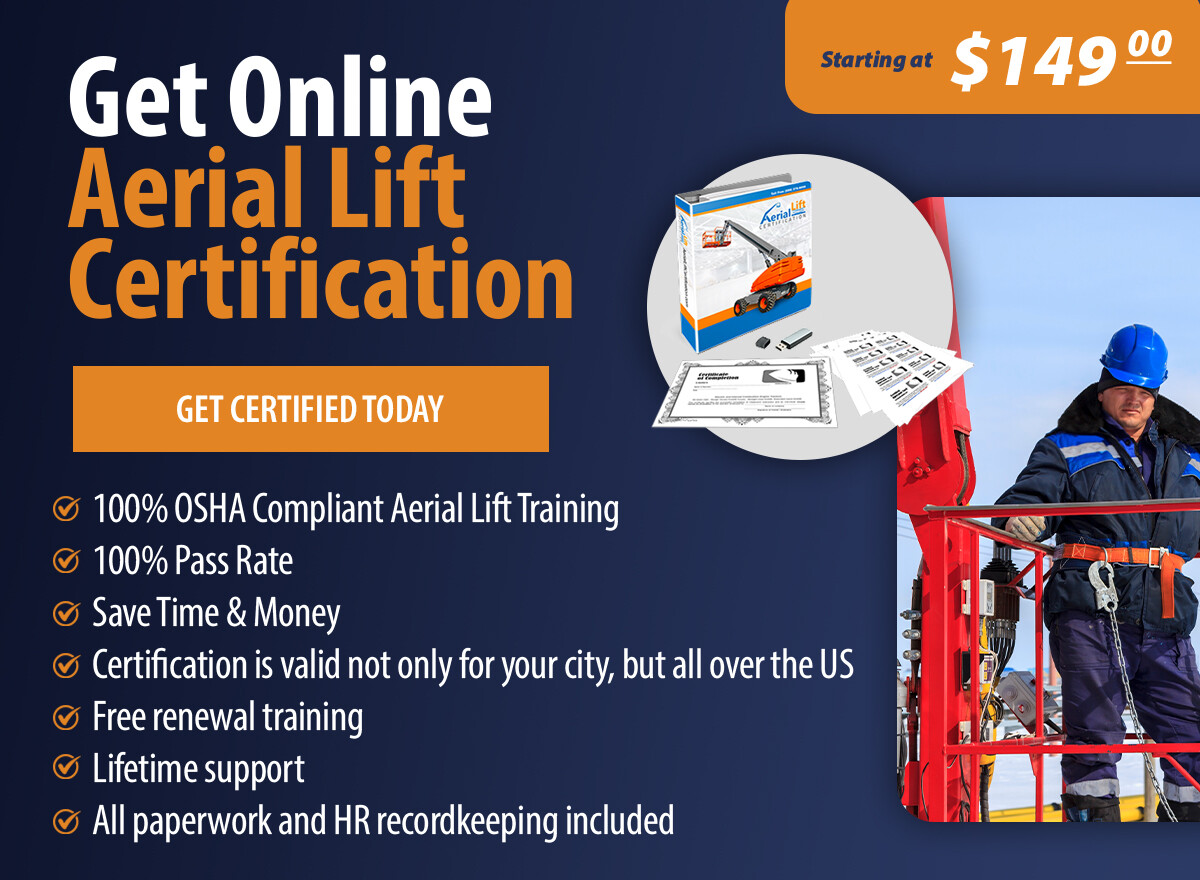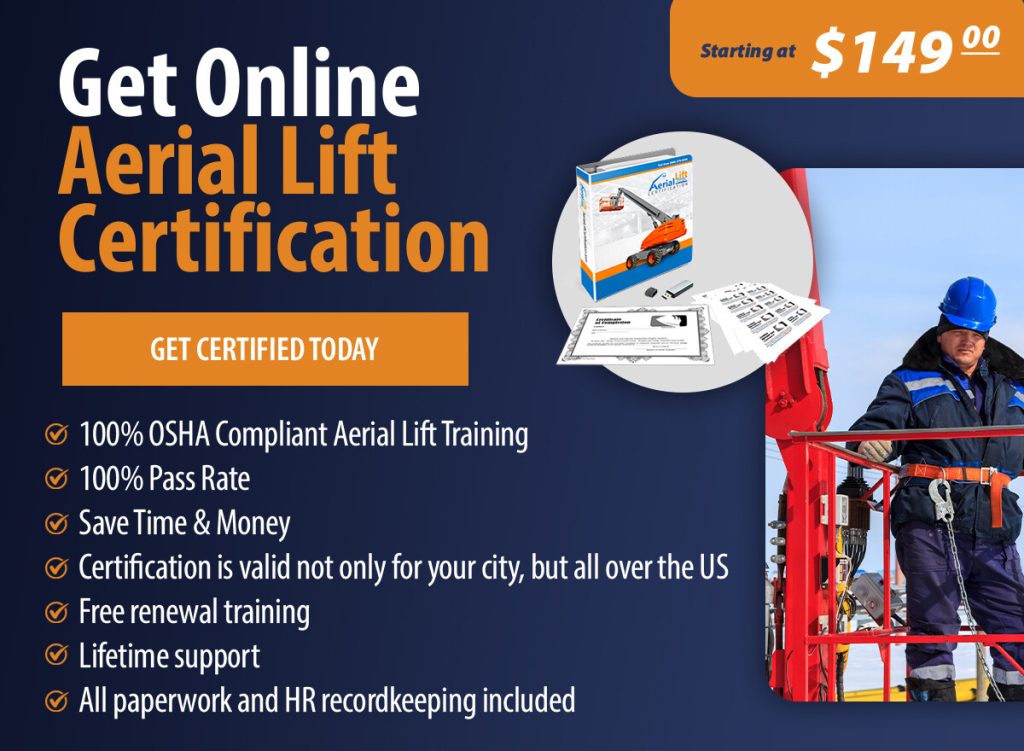 Aerial lifts help support New Jersey state's electrical power lines, transportation infrastructure, telecommunications and data networks, and more! Are you interested in utilizing this type of equipment soon?
If so, then you need to understand the law first. OSHA requirements dictate that every aerial lift operator be sufficiently trained to use the equipment before starting a job. In short, operators must first obtain an aerial lift certification in New Jersey.
Are you curious how to get aerial lift certified in New Jersey quickly and efficiently? At AerialLiftCertification.com, we offer an operator training kit at a one-time fee of $299.00. This comprehensive education course can help certify your entire team to operate aerial lifts online. Suppose you also want to conduct in-person evaluations to certify your team. In that case, you can obtain our train the trainer course for only $149.00.
With our bundle and save option, you can get both for only $399.00. Learn more about how our process works below.
How Online Aerial Lift Certification in New Jersey Works
Obtaining a New Jersey aerial lift certification online doesn't have to be a lengthy or difficult process. With our training kit, your whole team can educate themselves on their own time before taking an in-person evaluation. After that, they'll be considered fully certified! Here's how it works:
Sign Up With Us: First, employers should set up an account with us. You'll need a valid email address to create your account.
Pick a Class: Select which course best meets your team's needs.
Employees Educate Themselves: Once you've purchased our course, employees can educate themselves using our digital training materials. They can access this material 24/7 from any device with internet access.
Employees Take an Online Test: Employers should take and pass an online test before moving forward.
In-Person Evaluation: Next, your employee should submit to an in-person evaluation with a certified trainer. This process will ensure the employee can safely operate an aerial lift after training. Suppose you don't have a certified trainer on your staff yet. In that case, it is possible to educate one of your existing employees using our train the trainer kit. After completing this course, your employee can officially evaluate your other employees.
Obtain Proof of Training: You can certify your employee's training. After passing the evaluation, you can print off proof of the education directly from our course materials. After this process, employees will be considered OSHA certified to operate aerial lifts safely.

Why Choose AerialLiftCertification.com for Your New Jersey Aerial Lift Certification
Getting your team certified is more than just a legal issue. It's also vital for the safety of your team. Here are a few reasons why you should choose Aerial Lift Certification for your team's needs:
24/7 Access to Educational Material: Access our digital material anywhere with internet access
Affordable: Certify an unlimited number of employees for one price
Instant Proof of Education
Quick and Simple: Complete our program within an hour
Free Renewals and Updates: Aerial certifications do expire, so you'll need to recertify your team at some point. We offer free renewal as well as updates to our educational
On top of all these benefits, we can also offer a money-back guarantee to customers who purchase our kit and are unsatisfied with the material.

FAQs
Do you have more questions about New Jersey aerial lift certification or OSHA's standards? Are you interested in learning more about the common hazards an aerial lift operator will likely face while working? If so, then you should check out our general FAQs page. We've also provided answers to a few questions below.
Are Falls from Lifts That Serious?
You may not realize how high they go if you've never worked around aerial lifts. Falls from aerial lifts are always serious. They can result in severe injuries and even fatalities. For instance, one recent incident in a Philadelphia shipyard left a 26-year-old fighting for his life with critical injuries. The individual fell from a scissor lift and suffered a severe head injury and a broken neck.
Are Power Lines a Common Concern for Aerial Lift Operators in New Jersey?
Another extremely serious concern for aerial lift operators in New Jersey is powerlines. When aerial lifts travel upwards, operators should always be cautious of hitting a power line because it can lead to electrocution. For instance, one recent incident in New Jersey led to a 58-year-old losing his life. The worker accidentally made contact with power lines. After getting electrocuted, the worker fell 20 feet to the ground. He was rushed to a hospital, where he succumbed to his injuries. It remains unclear what caused the fatality between the fall and the electrocution.

Get Your Aerial Lift Certification in New Jersey Today!
Welcome to the Garden State! New Jersey's varied economy, large population, and strategic location on the East Coast make the Garden State an ideal place to grow a business. And many businesses continue to thrive in New Jersey, despite relatively high taxes. NJ's economy is super competitive, and just one accident on an AWP, aerial lift or MEWP can cost thousands in OSHA fines.
With ALC, you can reduce liability while boosting safety awareness throughout your company – and our prices will fit any budget, including yours!
Keep safety in full focus at your company with ALC. Our affordable training courses (Train a Trainer, Training Kit and Bundle Package) offer convenient learning formats, hands on evaluation forms, convenient online access, renewal training and much more.
Thanks for visiting AerialLiftCertification.com, New Jersey's #1 source for online OSHA compliant training and compliance. Sign up today and register your company. We look forward to assisting with your New Jersey aerial lift certification today.