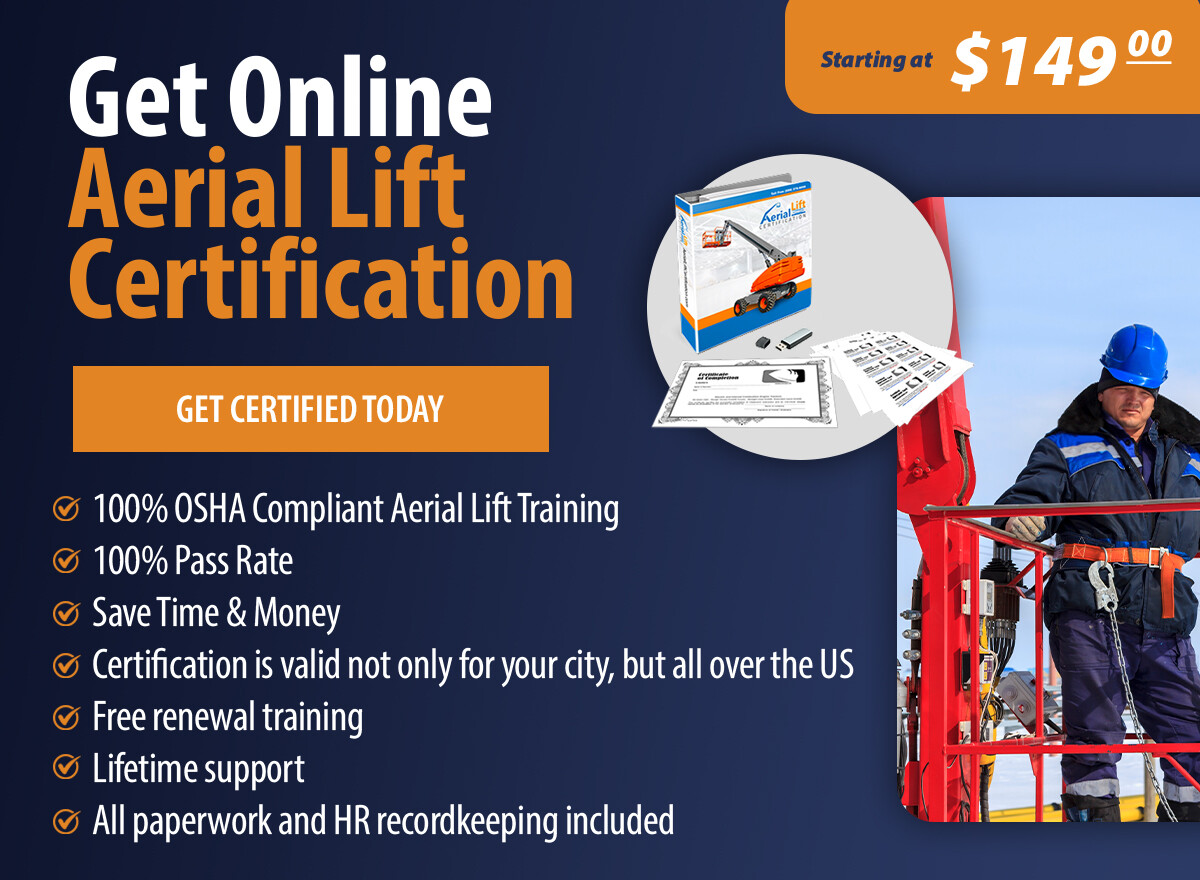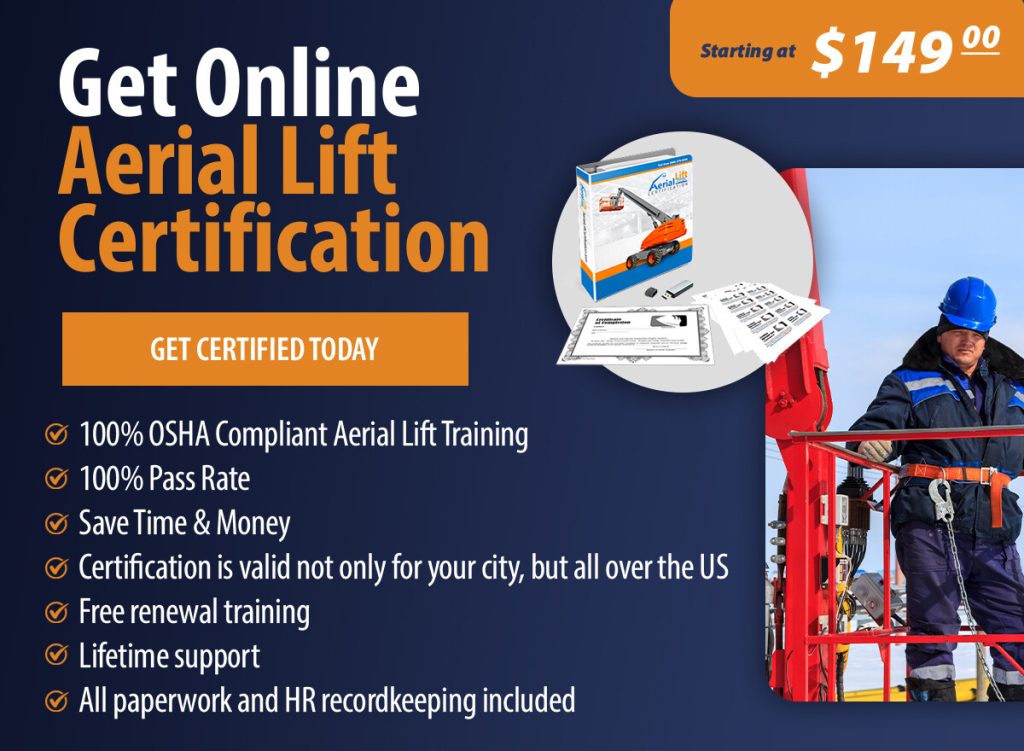 In the past, getting aerial lift certification in San Antonio required attending training off-site. This was time-consuming and costly. AerialLiftCertification.com offers a simple, convenient alternative. You can learn from anywhere, which is more affordable than traditional in-person training. It's convenient and accessible. Start your aerial lift training in San Antonio whenever you'd like. Our resources will help you build the necessary skills to operate aerial lifts safely across the country. Training options include:
Trainer Certification $149.00: Our online self-paced class will teach you everything you need to know to become your company's Certified Aerial Safety Expert.
Operator Training Kit (which will be mailed) $299.00: Train your lift operators in-house using our comprehensive Operator Training Kit.
Bundle & Save (Best Deal) $399.99: Get the benefits of a fully certified on-site aerial lift trainer and an employee aerial lift certification training package at one affordable price!
How Online Aerial Lift Certification in San Antonio Works
San Antonio aerial lift certification is simple when you train with ALC. Keeping your workers on-site while they learn you'll save serious time and money. Most people finish the course in about an hour – it's a smart investment of time and resources. To get started, follow these simple steps:
Employee Registration – Create an account and register any employees you want to be trained.
Choose Class – Choose the class that best fits your company's needs, then click on check out.
Complete Course – Trainees can complete the course at their convenience and at their own pace.
Take and Pass the Written Test – Trainees may take the test as many times as necessary to earn a passing score.
Complete a Hands-On Evaluation – An on-site trainer employed by your organization should provide a hands-on evaluation. If you don't have someone trained to oversee this test, our Train the Trainer course can help you prepare an individual to handle these duties.
Print Proof of Certification– Once training and both evaluations are finished, print off proof of certification in the form of operator cards.

After this point, lift operators are fully certified in the eyes of OSHA. File operator cards with Human Resources as proof of proper certification.
Why Choose AerialLiftCertification.net for San Antonio Aerial Lift Certification
All aerial lift operators in San Antonio must be trained and certified per OSHA standards. Your company may be penalized if your employees fail to meet such standards. Untrained workers also tend to be involved in more lift accidents than their peers who have been trained and certified. If you're hoping to avoid accidents, injuries, and fatalities, it's important to make San Antonio aerial lift certification online a priority. Here are a few perks associated with our training:
24/7 Access – If you have an internet connection, you can train with ALC.
Quick and Straightforward– Most trainees complete the course in about an hour, though you can take as long as you need with the course.
Printed Proof of Certification – As soon as you're done training, you can print off proof of certification and keep it in your personnel file.
Free Renewals – OSHA requires lift operators to recertify every three years. ALC offers free lifetime renewals, saving you serious money over your career.
An Undeniable Value – Our courses are as affordable as they are comprehensive – and cost a fraction of what most training schools charge.
Given these benefits, using AerialLiftCertification.com for your in-house training makes sense. We offer a 100 percent money-back guarantee, so there's no risk in giving us a try!

Frequently Asked Questions About San Antonio Aerial Lift Certification
Need help with how to get aerial lift certified in San Antonio? Allow us to address some frequently asked questions:
Why Does Aerial Lift Certification Matter?
Employers are required by OSHA to provide their workers with training and certification opportunities. If your company fails to offer these opportunities, you may face penalties. Quality training is a wise investment since trained workers tend to be quicker, safer, and more efficient at work.
Can I Register for Training, Or Should My Employer Sign Me Up?
Employers must provide training for lift operators, so you may want to wait and get certified once you're employed.
Do You Need Experience to Start Training?
No experience is necessary to start training with ALC.
Is Aerial Lift Certification Required in San Antonio?
Yes, all lift operators in the United States must be certified before using aerial lifts at work.

How to Receive Your Aerial Lift Certification in San Antonio
San Antonio is located in south-central Texas, and the city is rich in history and heritage. With a population of more than 1.5 million people, it's also the nations' 7th largest city. San Antonio is one of the fastest-growing urban areas in the country, and has the distinction of spanning 3 different counties! If you need assistance with aerial lift certification in San Antonio, ALC can get you on the track to compliance today!
With AerialLiftcertification.com, it's quick and easy to receive your aerial lift  certification in San Antonio. Our online training courses are flexible, affordable and convenient. They're also OSHA compliant. The courses can be completed in as little as an hour using a digital device anywhere there's an internet connection available. San Antonio aerial lift certification has never been easier, or more affordable!
Our aerial lift operator Training Kit costs just $299, and our Train a Trainer course will certify your employees to evaluate other lift operators in your company for $149. For even greater savings, ALC's Bundle and Save program will give you both course for $399. All Aerial Lift Certification training courses include free lifetime renewals for the retraining OSHA requires every three years.
To get started on the road to getting your company complaint in San Antonio, contact us online or call us at (888) 278– 8896 to speak with one of our knowledgeable San Antonio aerial lift certification team members.