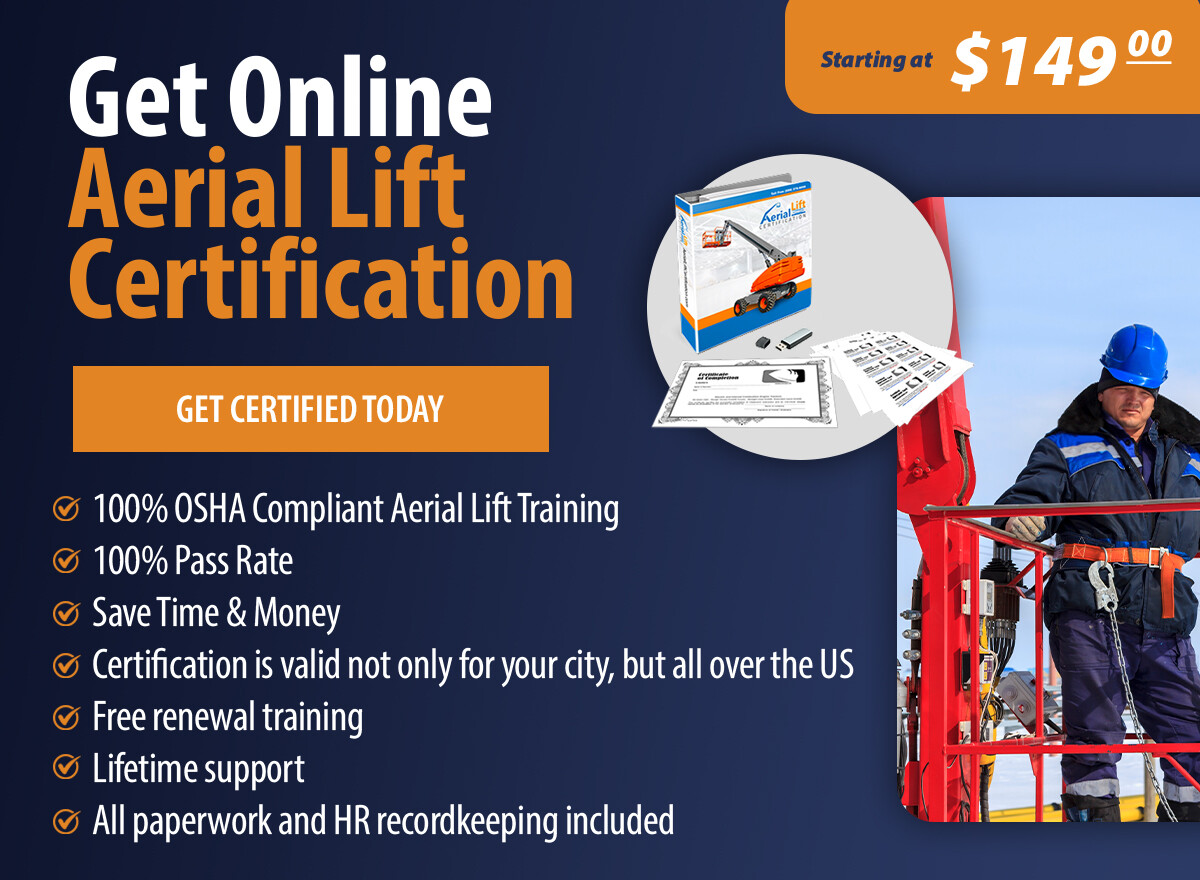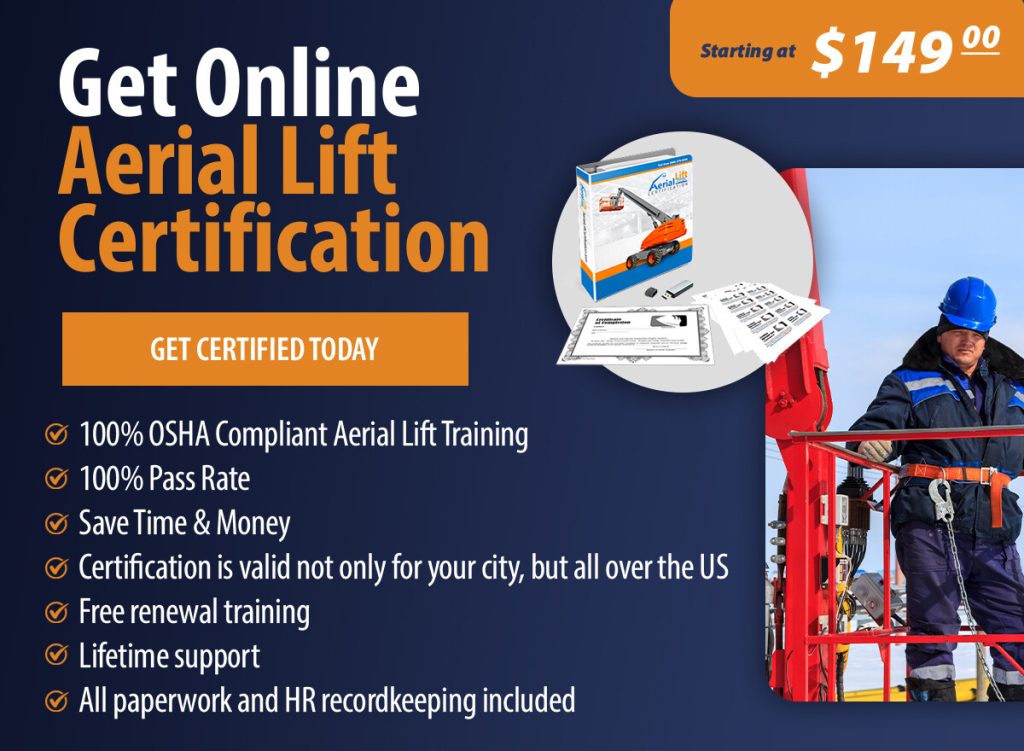 There's never been a more convenient way to earn your aerial lift certification in Seattle. Aerialliftcertification.com offers comprehensive train the trainer from anywhere with an internet connection and also offers a training kit that can be mailed to you for your convenience. Once training is complete, you'll be ready to operate lifts in Seattle and the the Evergreen State, as well as throughout the rest of the country. Our online certification clases allow you to learn new skills at your convenience. Getting certified is quick and easy!
How Online Aerial Lift Certification in Seattle Works
Thanks to Aerialliftcertification.com, it's simple for employees to pursue aerial lift certification online in Seattle. While off-site training can be expensive and time-consuming, our convenient offerings make it simple to get training right away. Just follow these steps:
Sign Up –

Employers should create an account and register each worker who is in need of certification.

Select Applicable Courses –

We offer a range of certifications based on your organization's needs. Simply select the courses that apply to you and check them out.

Undergo Online Training –

Learn at your own pace – there's no time limit on our content. Once finished, you'll need to take and pass an online test to show what you've learned. There's no pressure, since you can complete the test as many times as necessary to earn a passing score.

Complete an On-Site Evaluation –

A hands-on evaluation must be conducted by an on-site employee. If you don't have an operator trained to offer such evaluations, check out our

Train the Trainer course

. It teaches workers how to train others and perform the evaluation.

Print Your Operator Card –

Once you've earned a passing score on both the written and hands-on exams, you'll be officially certified to operate aerial lifts in Seattle. You can print proof of certification directly from our site.

Why Choose Aerialliftcertification.com for Seattle Aerial Lift Certification
Each aerial lift operator in the United States must be trained in accordance with OSHA rules. Uncertified workers often warrant large fines from OSHA. With the future of your business and the safety of your employees on the line, training counts for a lot.
Our convenient online classes for Seattle aerial lift certification come with a number of benefits, including: 
24/7 Accessibility –

Round-the-clock availability means employees learn at a place and time that works best for them. A device connected to the internet is all you need to start training.

Quick and Simple –

Our classes usually take about an hour to finish, and the exam at the end can be taken as many times as necessary to earn a passing score.

Certification Cards –

Employees may print off proof of OSHA compliance when training is finished.

Free Renewals –

Aerial lift operators are required to recertify every three years under OSHA regulations. We're the only training organization that offers free lifetime renewals. Any time you need a refresher, access our classes for free.

Affordable –

Skip the expensive and time-consuming off-site training options. At just $149, our courses are as affordable as they are convenient.
The aerial lift training classes of yesteryear just can't compare to the convenience and affordability of Aerialliftcertification.com. If you're still feeling unsure about whether to proceed, take a look at our reviews section to see just how useful our resources can be. All our training classes come with a 100 percent money-back guarantee, meaning there's no risk in giving us a try.

Frequently Asked Questions About Aerial Lift Certification in Seattle
Still unsure about how to get aerial lift certified in Seattle? Allow us to further clarify. Here are the answers to some of our most frequently asked questions:
Do I Need an Aerial Lift License in Seattle?
Yes, OSHA requires all lift operators in the United States to be trained and evaluated in accordance with standard 29 CFR 1910.178(I)(1). 
Do I Need the Experience to Earn My Aerial Lift Certification in Seattle?
No, you don't need any experience to complete aerial lift certification training with Aerialliftcertification.com.
Can I Register for Training, Or Does My Employer Need to Sign Me Up?
By law, employers must provide aerial lift certification in Seattle for their employees. While you can register and pay the fees for the course yourself, it may be better to find a job first and have your employer pay for your training.
How Much Do Aerial Lift Operators Earn in Seattle?
Aerial lift operators in Seattle earn an average salary of $38,517. The more experience a person has, the higher their salary tends to be. New operators often find themselves making less than average as they start out.
Why is Aerial Lift Training Necessary?
It's dangerous to operate aerial lifts without proper training. Operating heavy machinery without proper training is incredibly dangerous. A crane collapse in Seattle in 2019 left four people dead and two more injured. Understanding safety best practices can help workers avoid accidents and injuries on the job.

Complete Your Training with AerialliftCertification.com Today
AerialliftCertification.com is an online training platform that makes it convenient and affordable for workers to receive quality, OSHA-compliant Seattle aerial lift certification. The program can be accessed 24/7 on any device with the internet, and only takes about one hour to provide you with all the information you need. Sign up today and print your certificate instantly after completing the Seattle aerial lift certification program!
Give ALC a call with any questions you have about aerial lift certification in Seattle. We're not only the training provider of choice in the Pacific Northwest – we're also the #1 option for companies all across the country. And our aerial lift certification in Seattle travels with employees, no matter where they work. Call us today at (888) 278 –8896, and see how we can help. We look forward to helping with all of your aerial lift training in Seattle.