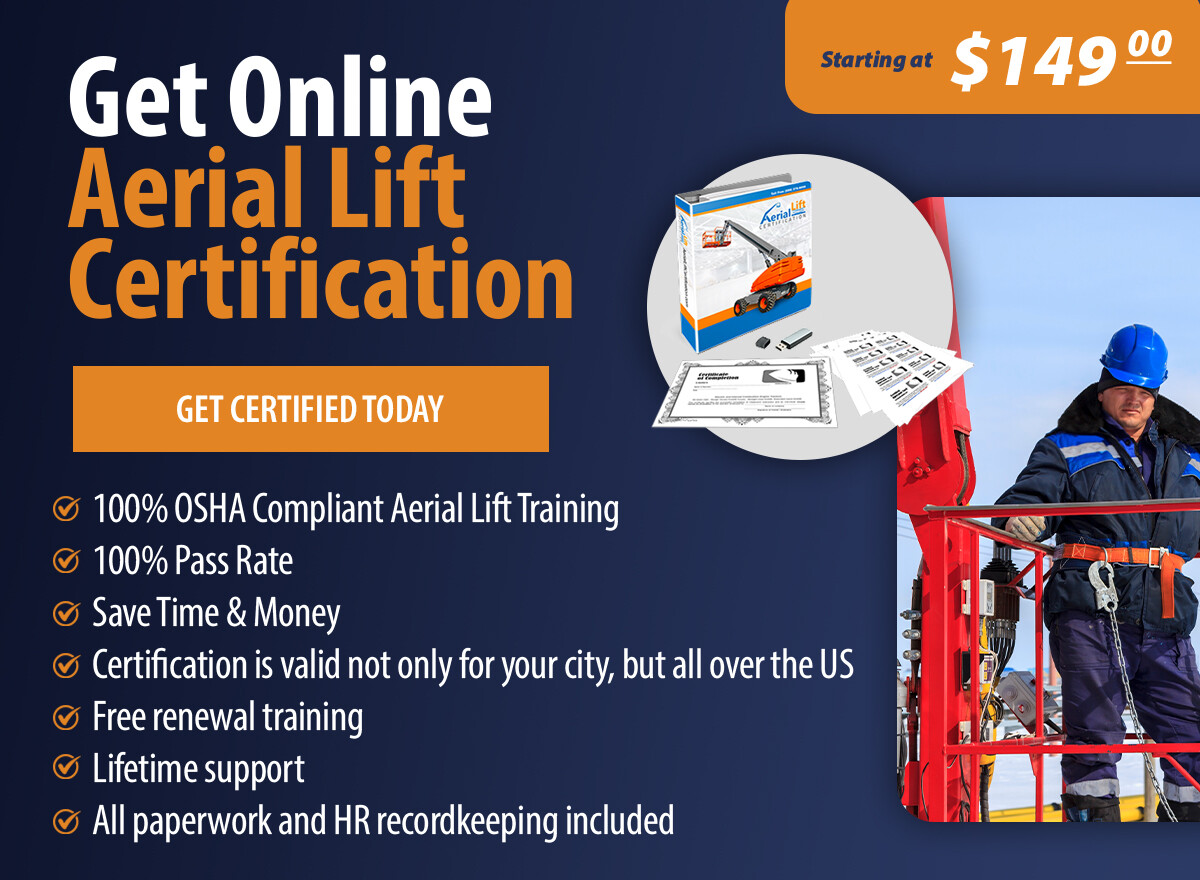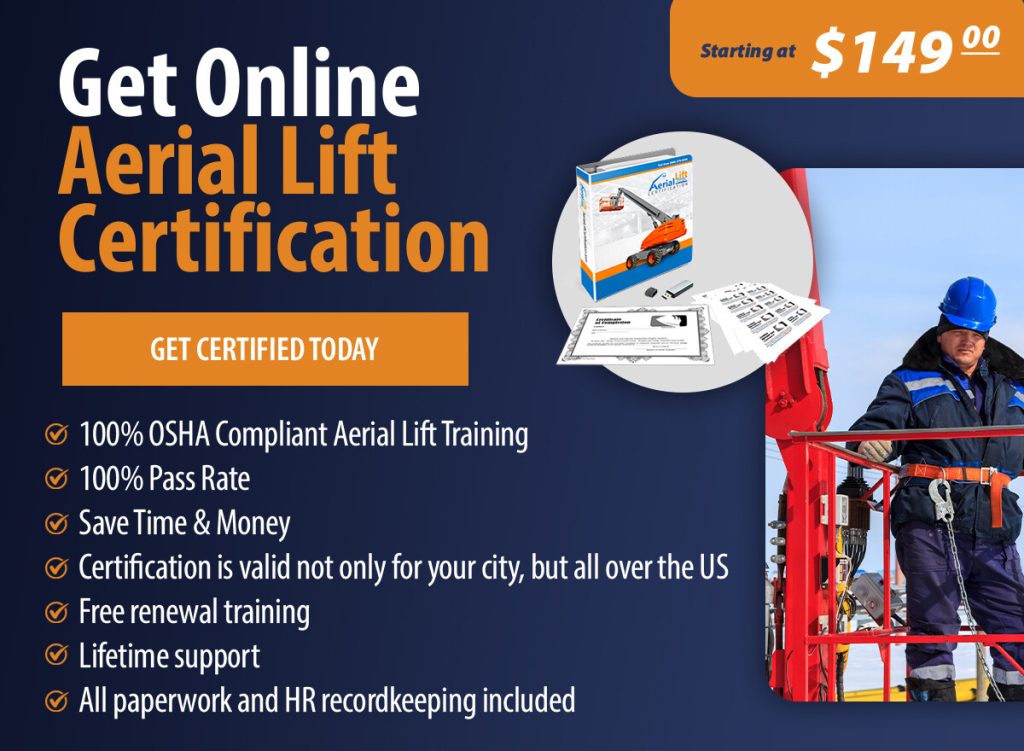 In the past, obtaining your aerial lift certification in Ashburn required you to attend in-person classes. If you need employees to get certified, then you might experience downtime at work or even have to postpone jobs. Now, though, you can obtain your aerial lift certification 100% online using our training kit program. Once you have the training materials, employees can finish their certification within a few hours.
Once certified, employees will be certified to operate aerial lifts not only in Ashburn but in any area in the U.S. Our training kit, which is $299, can certify an unlimited amount of employees for one price.
How Online Aerial Lift Certification in Ashburn Works
When obtaining an Ashburn aerial lift certification online through Aerialliftcertificaiton.com, the process will be smooth and easy. Since online certification is an option, you won't experience downtime at work or struggle to arrange a good course time for multiple employees. Instead, everyone can do their individual training at their own convenience. Here's a step-by-step guide on how it works:
Registering on Our Website

: Your first step in certifying your team for aerial lift operations is to register on our website. Get familiar with

our services

by looking through our site. By going through our website, you can see our prices, more about our program, and the advantages of working with us. When you're convinced, go ahead and sign up.

Select a Course

: While signing up, you'll be asked to select which

certification course(s)

you're interested in. We have a few options depending on your needs. Our basic kit will help your employees get their online education, while our trainer certification will provide education to an on-site representative so they can perform the evaluations necessary to complete the process. You can also bundle the two. Select your course and make the payment.

Get Familiar With Aerial Lift Operations

: Next, your employees can complete the online education portion of our program at their leisure. This educational course material is available 24/7 online. You can also use the hard copies we provide to do an in-person class if you'd prefer. While the time it takes to go through the material varies from person to person, many of our customers say they were able to complete the program within one hour.

Pre-Exams

: While you go through the online training, you will take 5 online exams. These exams are not meant to discourage you but to help you fully understand the subject matter.

Hands-On Evaluation

: Once the education is complete, a certified trainer should perform a hands-on evaluation with each employee. Employees who prove their competency will graduate from the program.

Print Your Operator Card

: Employees who successfully complete the hands-on evaluation should be awarded a certificate and an operator card. These cards are printable directly from our program, and they will serve as proof of your employee's education, training, and certification.
After getting certified, your employee should be up to OSHA standards when it comes to aerial lift operations. They should know how to perform aerial lift jobs safely and securely. Your job site will also be considered legally compliant if you do get inspected.

Why Choose Aerialliftcertification.com for Ashburn Aerial Lift Certification
Now that you know how to get aerial lift certified in Ashburn, you're likely wondering whether Aerialliftcertification.com is the right place to invest in a training program. We're here to explain why that's the case. Here are some of the advantages we offer:
OSHA compliance: you're always covered in case of OSHA inspections with proof of certification from ALC
Prices that fit any budget: small, medium, and large companies in Texas love our training – sign up and see why today
Free recertification: aerial lift certification in Ashburn expires after 3 years. But you'll stay compliant with ALC's free renewal training
Quick & efficient: most students complete their aerial lift certification in Ashburn in about an hour
Convenient: there's no set schedule for completing the training – your employees can take whenever they're able
Even better, our program will provide you with a certificate that's valid for three years. When it comes time to recertify your employees, you can use our ALC training materials to train your workers. You'll be able to recertify your employees every three years for life.

Ashburn Aerial Lift Certification FAQs
Below, we'll go over frequently asked questions about getting certified.
How Many Employees Can I Certify at Once?
Using our kit, you can certify an unlimited number of employees. You'll only be able to do one on-site evaluation at a time, but you can teach an entire class of employees at the same time if you choose to.
What if the Job Site Fails an Aerial Lift Inspection?
Aerial lift inspections are serious matters. If your job site fails an inspection, then you could get fined, have your job site shut down, or even have your business license threatened.
Will My Certification Expire?
Are you wondering whether your aerial lift certification will expire? In short, the answer is yes. You will need to have your certification renewed every three years. The good news is that you'll be able to re-certify quickly, easily, and for free once you purchase our training kit.
Are Accidents Preventable with Aerial Lift Certifications in Ashburn?
Yes, with proper training and certification you can avoid such incidents like this one that happened in Ashburn.

Choose AerialLiftCertification.com for Your Ashburn Aerial Lift Certification
With our online aerial lift certification program, we ensure workers understand OSHA standards and are certified to operate AWPs. The program takes just about an hour to be completed and can be done anywhere with a secure internet connection. The training teaches workers how to operate a lift and inspect it and the work area while remaining in compliance. Workers will learn how to recognize hazards and avoid them to prevent injury. Our scissor lift certification in Ashburn is the best to ensure employees are certified and able to do their jobs. The courses are affordable for individuals and companies.
Once the course has been completed, you receive a printed certificate showing you are now in compliance with a certified worker to operate the AWPs.
Don't hesitate to get started on your compliance certification. Sign up today and get started on your safety program. You can find out more when you talk to our training experts and OSHA compliance consultants and get all your questions answered. Call us at (888)278-8896 today.