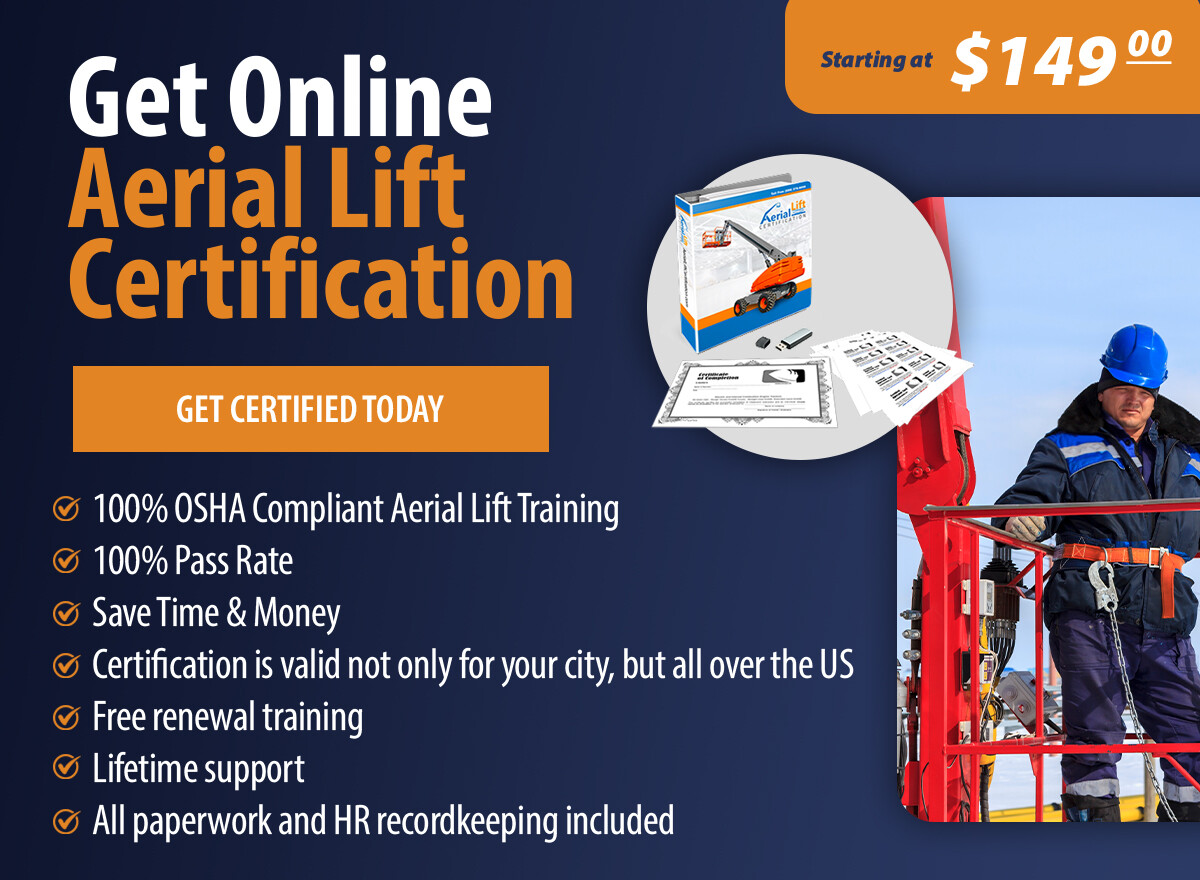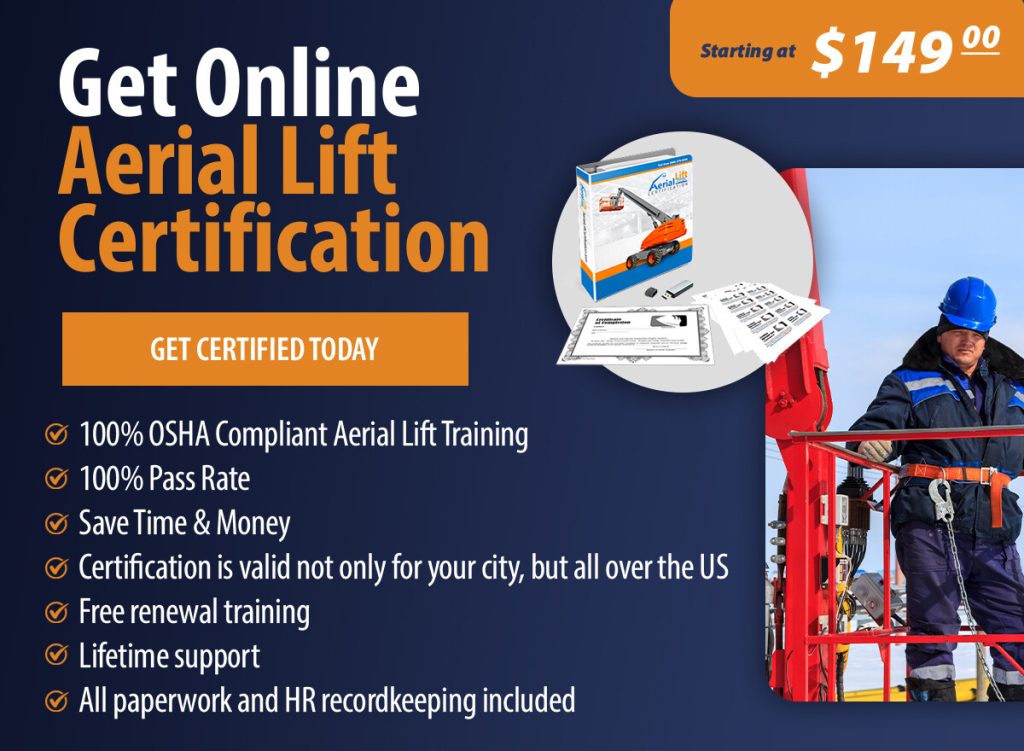 Experts estimate that the electric scissor lift market will grow by at least $581 million over the next three years. Scissor lifts are one type of aerial lift, but there are plenty more, like boom lifts, telehandlers, and others.
Suppose you plan to use this equipment on your next Columbus worksite. In that case, it's necessary that you first learn about OSHA's rules and regulations. Per the law, operators must first obtain an aerial lift certification in Columbus. You can't legally operate an aerial lift on your job site without certification.
Choosing to work with us here at Aerial Lift Certification has its benefits. You can obtain our operator aerial lift training kit for a one-time price of $299.00. This kit can help you certify your entire team to operate aerial lifts. Even better, if you want to conduct the whole certification process on-site, you can purchase our bundle and save kit, which includes a course on training a certified aerial safety expert, for only $399.00.
Considering the investment, you likely want to know more about how to get aerial lift certified in Columbus using our program. Get the details below.
How Online Aerial Lift Certification in Columbus Works
A Columbus aerial lift certification program should adequately train your employees about the various aerial lift hazards and how to navigate them safely. In the past, certification required your team to travel off-site to attend seminars, get hands-on training, and more. Today you can get your team's Columbus aerial lift certification online and on-site. Here is how our process works:
Employers Should Sign Employees Up
Pick Your Class: Check out our course options and select the one that fits your team's needs. Then pay for the course directly on our site. We'll mail you the paper materials, but you can access the digital material immediately.
Employees Educate Themselves: Next, employees go through our digital or paper material to learn more about aerial lift operation
Employees Must Pass Online Quizzes: Employees should pass written or online quizzes to demonstrate they understand the course material.
On-Site Evaluations: Employees must show they can safely operate an aerial lift in person. To do so, they'll need to submit to an on-site evaluation with a certified trainer. You can have one of your employees certified to become an aerial lift safety expert by having them submit to our train the trainer course.
Employees Graduate
Once your employee graduates from the program, you will officially certify their training. You can now print off proof of the employee's education in the form of a certificate or operator card. Your employee will now be sufficiently trained per OSHA standards to operate aerial lifts in Columbus.

Why Choose Aerial Lift Certification for Columbus Aerial Lift Certification
Getting your team certified is more than just a legal issue. It's also vital for the safety of your team. Here are a few reasons why you should choose Aerial Lift Certification for your team's needs:
24/7 Access to Educational Material: Access our digital material anywhere with internet access
Affordable: Certify an unlimited number of employees for one price
Instant Proof of Education
Quick and Simple: Complete our program within an hour
Free Renewals and Updates: Aerial certifications do expire, so you'll need to recertify your team at some point. We offer free renewal as well as updates to our educational
If you try our program and aren't happy, we'll give you your money back! Try out our kit risk-free today.

FAQs about Columbus, OH Aerial Lift Certification
Do you have more questions about aerial lift certification or OSHA's rules? Check out our general aerial lift FAQs and get answers to commonly asked questions about Columbus below.
What Types of Hazards Do Aerial Lift Operators Face in Columbus?
There are several aerial lift hazards that Columbus operators need to be aware of before they attempt to use this dangerous equipment. One of the biggest and most fatal accidents on a lift is a fall from a height. A 53-year-old Ohio resident recently suffered a fatal fall while painting the Hendricks Bridge.
Another common thing to watch out for is powerline hazards. Hitting a powerline can cause fatal shock injuries. Aerial lift operators must also be wary of tip-overs, hitting objects, getting caught between objects, and getting struck by falling objects. Navigating these many risks is very challenging. Still, the good news is that training prevents accidents, and now you know how to train your team members up to OSHA's standards.

Choose AerialLiftCertification.com for Your Columbus Scissor Lift Certification
With our online aerial lift certification program, you can know that all of your workers are certified on OSHA standards. It takes an average of one hour to complete the program, which can be done at their own pace. With this course, workers learn how to inspect the lift equipment as well as the work zone, how to operate the lift, and how to remain in compliance with regulations. They will learn to recognize hazards and discover how to avoid them to prevent accidents. Our scissor lift certification in Columbus does the best job preparing workers for their jobs. Our courses are affordable to fit any budget.
At a cost of just $149 for the aerial lift certification course, you can get all set with a printed certificate once the work is completed.
Don't wait any longer to get your team certified. Sign up today and get your workers started on certification. If you need to know more about aerial lift certification in Columbus, you can speak with our training experts and OSHA compliance consultants. Call us at (888)278-8896.