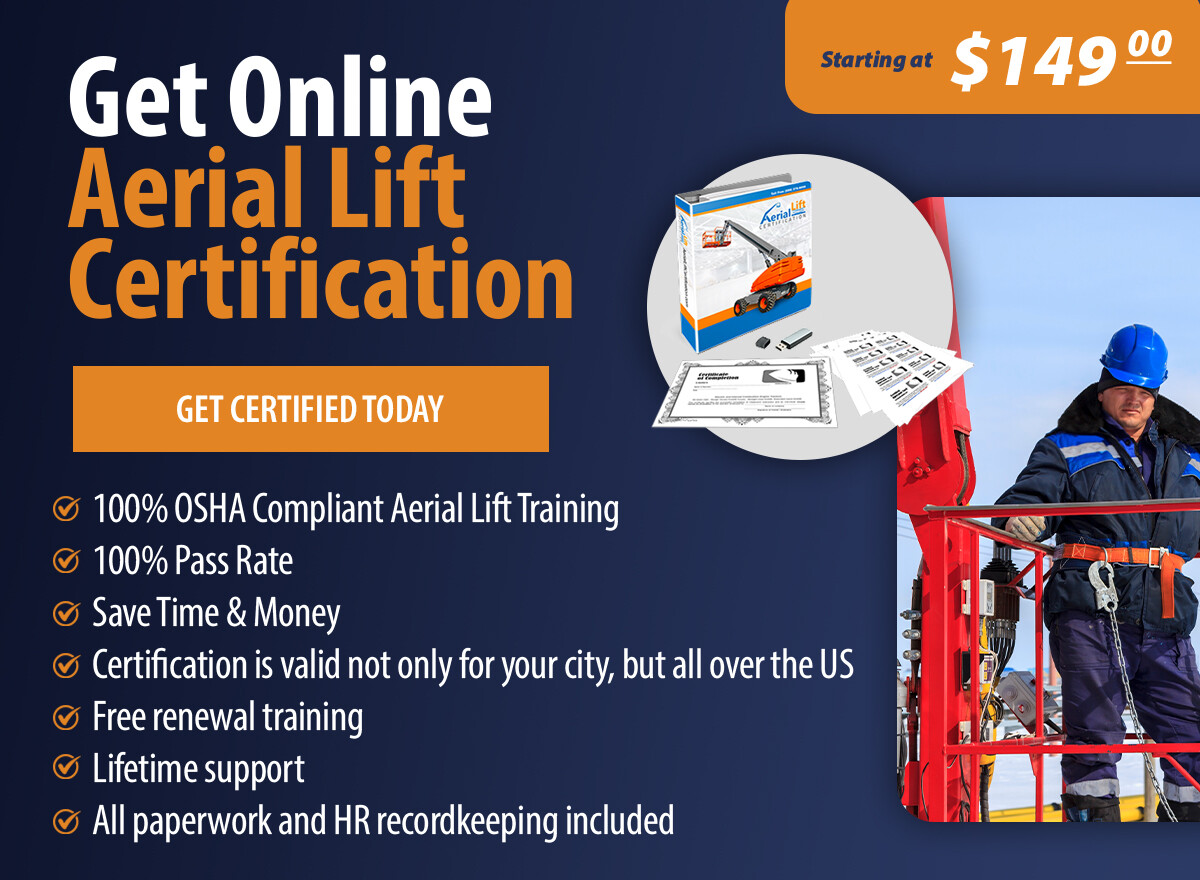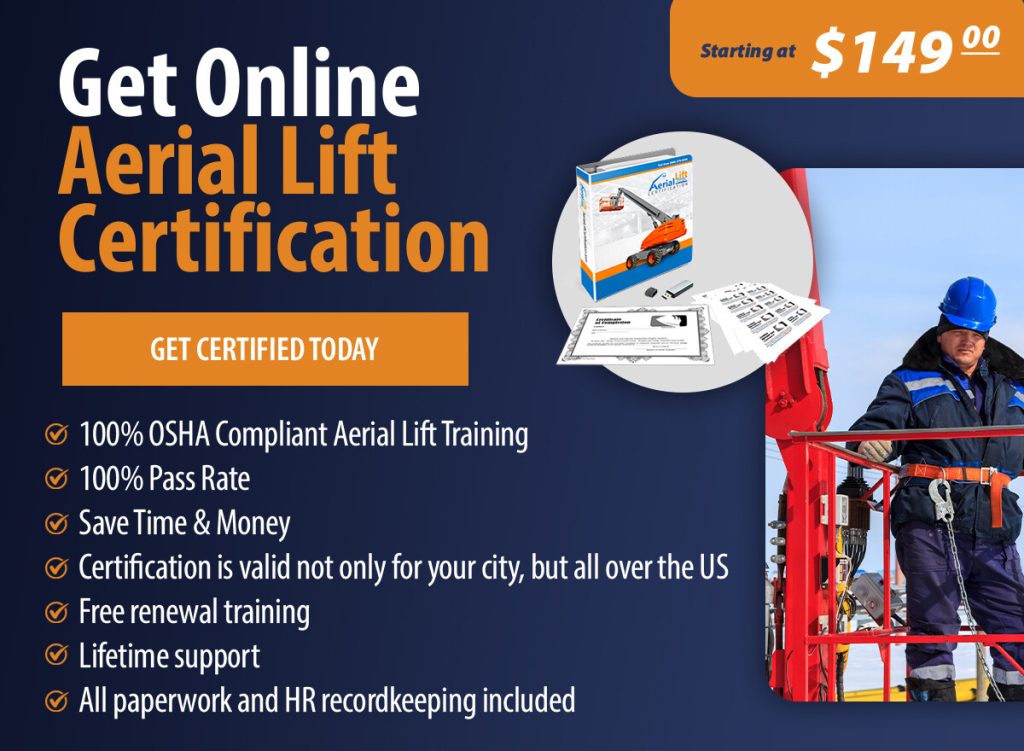 There's a massive need for aerial lift operators in New Mexico. Our state uses this equipment for all aspects of construction.
Before you use an aerial lift, though, you must seek a Roswell aerial lift certification to ensure that you abide by OSHA's standards. Are you in charge of a job site, or do you plan to oversee a project requiring the use of an aerial lift? Then you might want to learn more about our training kit for aerial lift certification in Roswell. Proper certification is mandatory to use this equipment.
Our basic training kit comes at a one-time fee of $299.00, and you can use this program to certify an unlimited number of employees. We also offer a trainer certification kit for $149.00. This allows one of your team members to become a trainer to give your other employees on-site evaluations. If you need both courses, you can get them with our bundle and save the discounted price of $399.99.
How Online Aerial Lift Certification in Roswell Works
Getting certification for your team is an investment. Learn more about how to get aerial lift certified in Roswell before deciding.. When your employees get certified online, three things happen. You purchase the material, they study it, and then they get certified with online quizzes and on-site evaluations. Here is a step-by-step guide on how our process works:
Sign Up With Aerial Lift Certifications: First, sign up with our platform.
Pick Your Class: Check out our course selection and pick the classes that will benefit your team the most. You will pay for the courses online.
Employees Go Through the Online Educational Material. Employees study the online course materials on their own time at their own pace.
Employees Take an Online Written Test: After going through the course material, employees will need to pass an online quiz. It's mandatory for the employee to successfully pass this section before moving on to the next step. The good news, though, is that employees can take the quizzes as many times as they need to.
On-Site Evaluation:: Next, an on-site certified trainer will administer an on-site evaluation. This will help prove that the employee can safely operate an aerial lift. If you currently do not have a certified trainer on site, you can get one by designating one of your employees to take our train the trainer course.
Print Operator Cards: Once the employee completes the above steps, they will graduate from our program. You can print off proof of their training and an operator card using our materials.
After going through these steps, your employees will be certified to OSHA standards. They'll be able to not only operate aerial lifts in Roswell but across the entire country.

Why Choose Aerial Lift Certification for Your Roswell Aerial Lift Certification
Ensuring that your employees get certified isn't optional. If you violate OSHA's certification standards, your business could get hit with significant fines. Depending on how bad the violation is, OSHA could even shut down your job site until your team is certified.
Even worse, you could risk a work-related aerial lift accident that causes injuries or death.
To prevent this, your best choice is to get your crew trained and certified. The good news is that obtaining your Roswell aerial lift certification online doesn't have to be a massive headache. When you choose to work with us, you get to enjoy the following advantages:
24/7 Access to Educational Material: Our course materials are accessible anywhere at any time of the day.
Fast and Easy: Our course materials are easy to complete. Many past customers say they were able to complete the course materials and get certified within one hour.
Proof of Certification: You can obtain instant proof of certification directly from our kit
Free 3-Year Renewals: Your team is eligible for free three-year renewals through our program
Affordable: Our training is cost-effective. You can certify an unlimited number of employees at a one-time price.
On top of these benefits, we will also offer you a 100% money back guarantee if you aren't thrilled with our training kit.

Roswell Certification FAQs
Do you have more questions about the aerial certification process here in Roswell? You can check out our general certification FAQs or keep reading to get answers to questions more specific to New Mexico.
What Does the Aerial Lift Industry Look Like in New Mexico?
Recent statistics reveal that the aerial work industry was worth over $8 billion in 2021. The industry is set to grow by at least 9% between 2022 and 2028. In New Mexico, there is a need for more aerial lift-certified individuals. Getting your certification is a great way to achieve good job prospects.
How Serious Can Aerial Lift Accidents Get?
Unfortunately, aerial lift accidents can be extremely serious and even fatal. In 2018, an employee passed away in New Mexico after falling from an all-terrain man lift on a water tower. Falls from a significant height aren't always fatal, but are the most common cause of aerial lift accidents. They can also lead to life-long or long-term injuries. Aerial lift accidents can also be deadly when they crush employees or the machines fail. The good news is that the proper safety training and gear will help prevent most accidents.

Enroll Your Uncertified Operators in ALC Online Training Now
ALC's training includes everything necessary for your workers to receive Roswell aerial lift training and certification. Don't put off bringing your staff and facility into OSHA compliance. Sign up with AerialLiftCertification.com now! To enroll your employees and get started today, create an account online or call (888) 278-8896 now to speak with one of our training experts. You'll be glad you did!