How Do Accidents Happen on Aerial Lifts?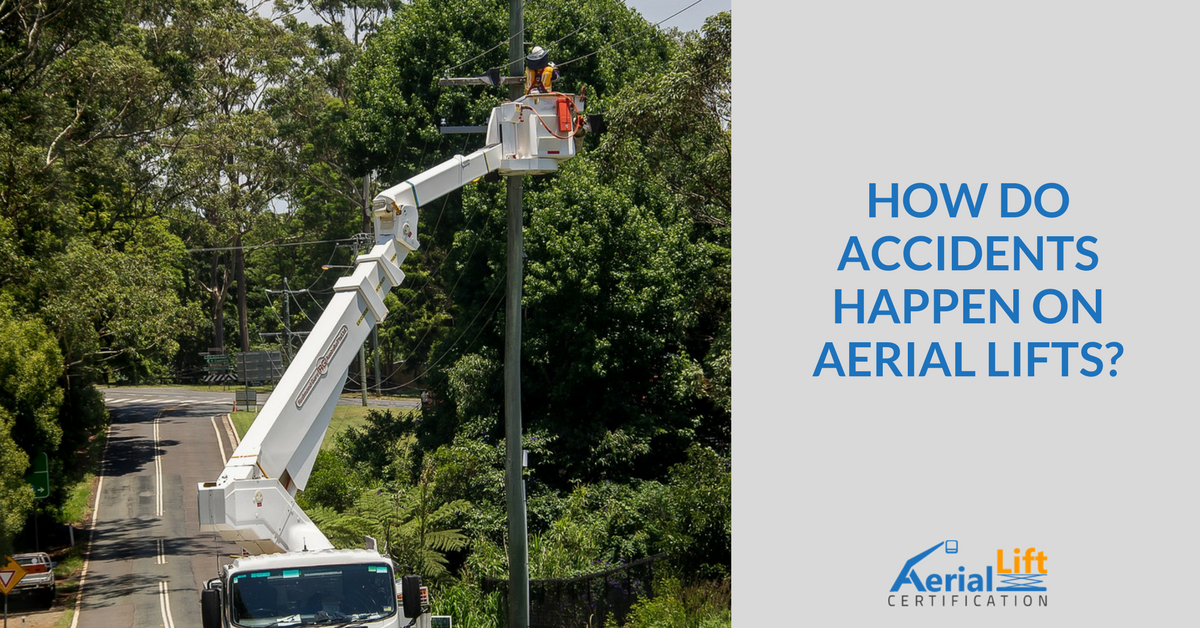 Aerial lifts are known for their impressive size and reach capabilities. They have made the tasks of tree care, window cleaning, exterior building maintenance, and many others possible. But with great possibility comes great risk.

Aerial Lift Accident Statistics and Examples
On average, 26 construction workers die annually due to aerial lift falls. This represents up to 3% of all deaths in the construction industry.
Additionally, research indicates that other types of workers who may be susceptible to aerial lift accidents and fatalities include:
Electricians
Electric installation and repair professionals
Painters
Carpenters
Meanwhile, there are several notable examples of aerial lift accidents reported to OSHA, and these include:
Aerial Lift Worker Catapulted: An aerial lift operator was catapulted from the lift after a mechanical failure occurred; the operator was not wearing a seat belt or restraint.
Aerial Lift Worker Crushed Between Lift and Trencher: An aerial lift operator sustained critical injuries after a lift rear-ended the trencher; the worker was stuck between the lift and trencher died as a result of the incident.
Aerial Lift Worker Killed When Caught Between Lift and Overhang: An aerial lift operator died after getting caught between a building overhang and the lift's console controls.
Working at great heights puts workers on and near the lift at risk, and it can lead to serious injuries, deaths, costly equipment damage, and legal issues.
Aerial lift accidents are an unfortunate part of industrial work activity. Yet, some accidents can be prevented with common sense safety measures. ALC's OSHA compliant safety training programs are designed to avoid aerial lift fatalities, scissor lift accidents, and other job-related OSHA violations.
Our safety training programs are comprehensive, and they teach workers about the risks associated with operating an aerial lift. In doing so, our programs ensure that workers know what to expect when they operate a lift, so they can limit risk for themselves and others.
How do accidents happen on aerial lifts? And what can be done to prevent injuries and aerial lift fatalities? This article will help answer these questions and much more – but first, let's review some of the most common aerial lift accidents.
The Most Common Aerial Lift Accidents
From 1992-1999, 26 construction workers died from boom lift accidents, while there were 69 electrocutions from improper aerial lift use. During that time, there were also 64 falls, 46 collapses/tip-overs, 23 caught in/caught between, and five other deaths related to aerial lifts.
With 207 aerial lift fatalities from 1992-1999, 70% of those were boom lift accidents.
25 percent of aerial lift deaths are due to scissor lift accidents, which typically occur from falls related to being struck by an object and tip-overs from driving with the lift extended. Most aerial lift accidents and aerial lift fatalities can be avoided by keeping buckets clear from overhead objects, such as power lines, utilizing proper harnesses and safety gear, and keeping the lift clear from obstructions, including other workers.
AerialLiftCertification.com offers training that teaches workers how to take care of overhead obstacles and avoid other aerial lift safety hazards. As a result, your company can reduce the chance of aerial lift fatalities, accidents, and injuries. It's not just the law; it's also a great way to avoid aerial lift fatalities and other serious on-the-job incidents.
How Do Boom Lift Accidents Happen?
Most boom lift accidents occur when safety guidelines are ignored, such as driving a lift while it's extended, exceeding manufacturer requirements, and operating on uneven surfaces.
According to OSHA, the most common types of aerial lift accidents are tip-overs, workers falling from heights, electrocutions, workers being struck by vehicles and other objects, and workers being crushed by objects. However, the vast majority of these aerial lift accidents are a result of negligence, error, or failure to follow the American National Standards Institute's and OSHA's guidelines, resulting in death or severe injuries. Safety violations are the most common cause of boom lift accidents, which include: lack of fall protection, tip-overs, working near power lines, crushing/pinching, falling objects, and unstable surfaces. As you can see, there's no single glaring issue when it comes to aerial lift fatalities. There are many factors that contribute to serious accidents. That's why comprehensive training is so important – as an aerial lift operator, you have to be prepared for everything that comes your way. With ALC's training, you'll have a well-rounded skill set and real-world knowledge of OSHA safety guidelines to reduce the chances of aerial lift fatalities.
How Can Aerial Lift Fatalities and Accidents Be Prevented?
Aerial lift hazards are very serious and not to be taken lightly. However, they are preventable with the right knowledge, protection equipment, and training.
In order to prevent boom lift accidents like tip-overs, ejections, electrocutions and falls, aerial lift operators and employers need to follow the safety procedures and precautions listed below that can be broken up into eight main components:
1. Fall Protection
Make sure access gates are closed
Stand on the floor of the bucket or platform firmly
Do not climb on the guardrails
Use a body harness and lanyard whenever operating on an aerial lift
Do not belt off to nearby structures while in the aerial lift bucket
2. Traveling/Loading
Never exceed load-capacity limits
Do not carry objects that are bigger than the platform
Do not drive the aerial lift with the platform raised
Do not exceed vertical or horizontal reach limits
Do not operate an aerial lift or scissor lift in high winds or other severe weather conditions
Do not override the safety devices on the lift
3. Overhead Protection
Assess surroundings and be aware of overhead objects and structures
Do not position the aerial lift between overhead hazards
Consider all electrical lines live
Stay at least ten feet away from all power lines
De-energize power lines when nearby
4. Proper Stabilization
Use outriggers on level surfaces and set the brakes when used
Use wheel chocks on sloped surfaces when safe
Set up work zone areas with cones and signs to warn others nearby
5. Pre-Start Inspections
Inspect the vehicle components (fluid levels, leaks, wheels, tires, battery, alarms, brakes) and lift components (controls, insulating components, hydraulic, air, pneumatic, fuel and electrical systems, guardrail systems, etc.) to catch any defects or damages to prevent boom lift accidents.
6. Work Zone Inspection
Keep an eye out for high-traffic and narrow areas
Identify any potential blind spots
Avoid areas where the terrain is uneven or rough
Ensure coworkers and bystanders are a safe distance away from work zones where aerial lifts are used
Avoid low ceilings
Avoid electrical power lines and overhead cables
7. Aerial Lift Maintenance
Perform regular fluid checks
Assess the tire pressure
Conduct an in-depth lift evaluation before using the lift; this evaluation should be performed prior to any work project
Keep detailed aerial lift maintenance records; these records are paramount to ensure a lift is properly maintained and to comply with OSHA mandates
8. Operator Training
Ensure all aerial lift operators are trained and certified to operate aerial lifts before any work begins. Retrain workers at least once every three years, or when unsafe practices are observed or a new type of aerial lift is being used.

Where to Get Aerial Lift Training to Prevent Aerial Lift Accidents
Boom lift accidents are caused by a number of hazards and can be prevented using many types of safety practices. However, the best and most effective way to prevent aerial lift accidents is through proper operator training. Aerial lift training from ALC is fast, easy, convenient, and affordable. The program is self-paced, but it typically takes trainees only about one hour to complete, from any device with the internet.
For only $299, workers will receive instant access to our aerial lift and scissor lift training kit and will receive everything they need to be safe and efficient operators.
In a single afternoon, workers can be trained and certified to operate aerial lifts and be prepared to prevent these aerial lift accidents. They will learn how to operate the controls, perform equipment inspections, assess the environment for hazards, and prevent boom lift accidents.
Sign up your workers today, so they can earn their aerial lift certification!