What to Do When Stuck in Lift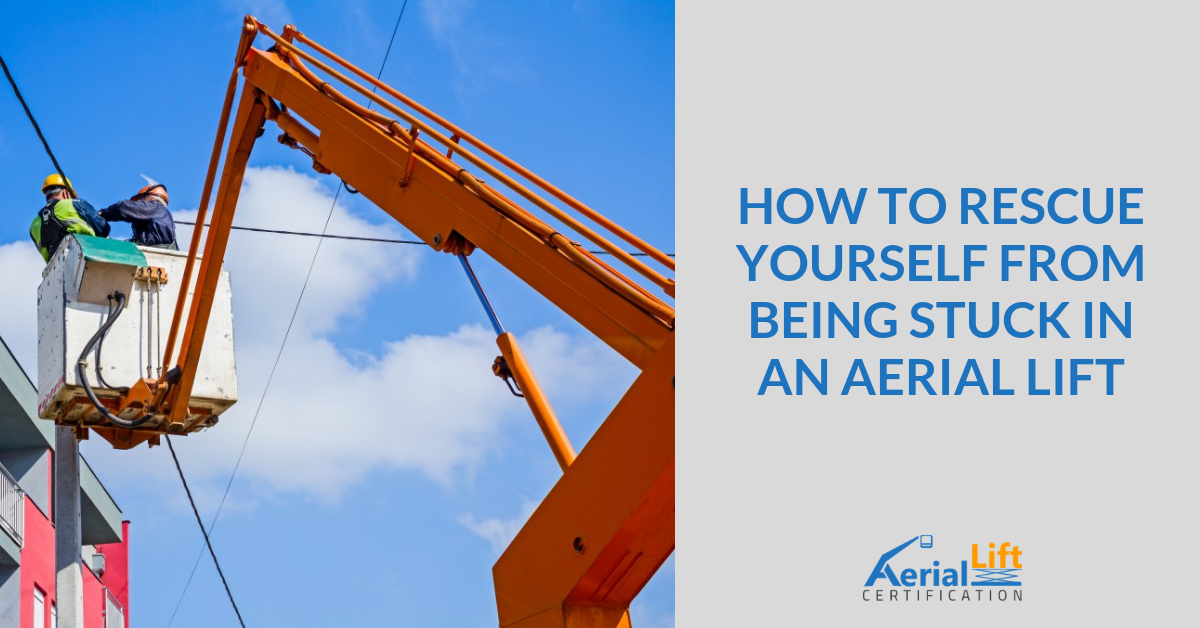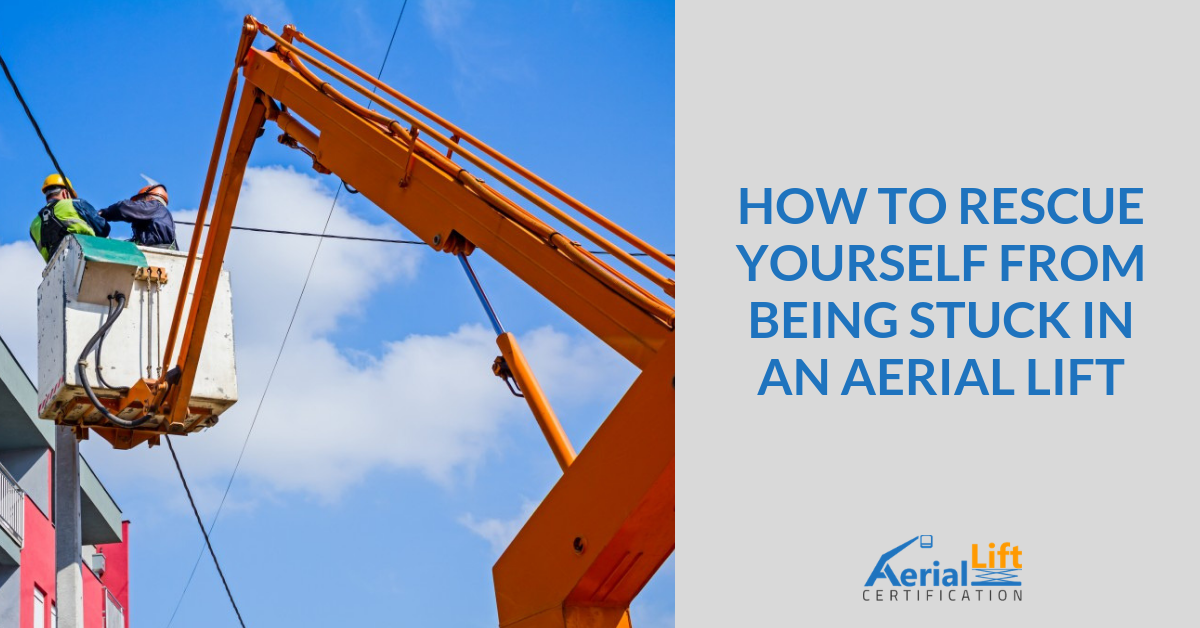 Your worker is high up in the air in an aerial lift, working on power lines to get electricity restored to the neighborhood. He's found the problem, fixed it, and now he is ready to come down and everyone can go home for the day. At this point, he realizes that something isn't right. The aerial lift won't work like it should. It fails to retract, so he can come down. After a few moments of denying the truth, everyone realizes he is stuck in an aerial lift.
Actually, this situation is not really "unthinkable." At least it shouldn't be. A well-trained aerial lift worker or aerial work platform (AWP) operator should be prepared for anything. This includes any scenario where the lift stops working, resulting in being stranded stories above the ground.
What's the best way to "rescue" yourself from an immobile aerial lift? The best way is to avoid the situation in the first place.
How can you prevent potential dangers like this? AerialLiftCertification.com offers OSHA-compliant training for this situation and many others – sign up today and get the best aerial lift and scissor lift safety training!

Pre-emptive Procedure for Avoiding Getting Stranded in an Aerial Lift
Proper AWP safety includes a whole host of things to do BEFORE you ever get into the bucket. Oftentimes, a worker ends up stuck in a lift because it's not properly maintained. If your aerial lift is on a regular maintenance schedule, the chances are you'll never have to worry about this situation.
Bad weather can cause an aerial lift to become stuck. This could happen with mechanical failure (excessive swaying, movement, etc.) or becoming "stuck" against another object (tree, bridge, etc.). Never operate an aerial lift in windy conditions. The chance is simply too great for something bad to happen, and not just a "stuck" aerial lift. Many accidents and injuries on aerial lifts happen in bad weather.
Another common cause of "stuck" aerial lifts involves the terrain. Muddy, wet surfaces basically act as quicksand with a large aerial lift, so make sure your construction site or other outdoor area surfaces can properly support your aerial lift.
Next, you should be aware of surrounding hazards. These include power lines, the ceiling (if you're working inside, obviously), tree branches and other obstacles. Once you're stuck, there's a chance the aerial lift could move, shift, or (worst of all) totally collapse.
But what happens if you've taken all the necessary precautions, only to find yourself stuck? There are devices called "self-rescue kits" that, properly used, can safely transport workers to the ground. To use a self-rescue kit, thorough training is a necessity.

What Would Cause a Stuck Aerial Lift?
If your lift becomes stuck and won't come down, try this:
Ensure the power supply is connected and is working for your lift. If you're unsure about the power, use a voltage meter to find out for sure. Some issues that could cause a lift to become stuck include a bad fuse or solenoid. We recommend having your aerial lift or scissor lift regularly inspected and maintained to prevent this from happening at the worst possible time!
Steps to Make Your Own
Aerial Lift Rescue Plan
If you find your worker in an unfortunate situation of being stuck in a lift, you need a plan on how to handle things until you have a resolution. When you have a plan for a boom lift stuck in the air or any other kind of lift that stopped operating with a worker on it, everyone will feel less panicked. Here are some tips:
✓ Assess the situation and make sure it is safe before anyone attempts a rescue. If power lines are nearby, you will need to wait for emergency help.
✓ Have workers know to call a supervisor with an assessment of the situation.
✓ Workers should consider how to lower the lift. Telescoping is usually the first option before lowering to the ground.
✓ Roll the deck on a scissor lift with a rollout deck to avoid a collision on descent with a nearby obstacle.
✓ Determine if the operator is able to participate in the rescue. They should be conscious and coherent and not panicked. If not, an assisted rescue will be required.
Sometimes even with the best preparation, unfortunate situations like being stuck in an aerial lift can't be avoided. With the proper training, your workers can deal with it and prevent injury.

Trained to Handle Emergencies
When your company has the proper training in place (and every company should), things such as stuck in aerial lifts, are much less common. From a regular maintenance plan to well-trained employees, it simply makes sense to get the best aerial lift and scissor lift training possible.
And speaking of training, Aerial Lift Certification offers superior aerial lift and aerial work platform safety courses. We cover all the basics, including some advanced concepts as well. Our course is simply the most complete, affordable, hassle-free aerial lift training program available today.
We have 3 different courses, each with targeted learning concepts. Whether you need the Train the Trainer, Training Kit or Bundle Package, we have what you're looking for. Check out the AerialLiftCertification.com contact page or call our aerial lift OSHA safety experts at (888) 278-8896.