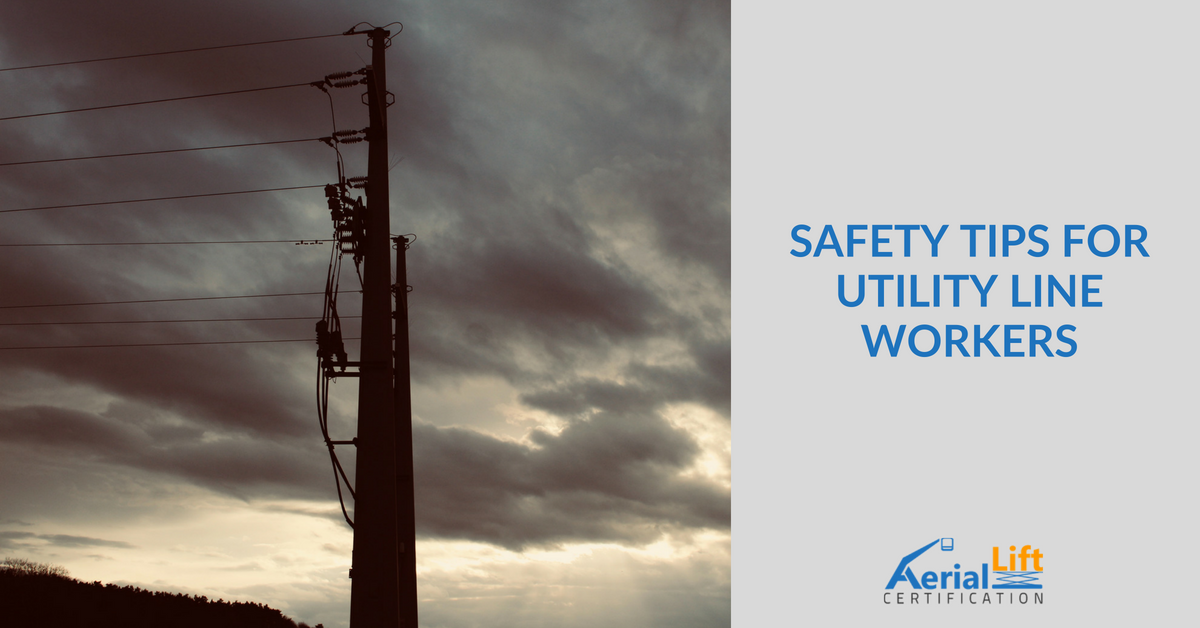 Utility line work is dangerous. Each year, workers suffer serious injuries and even death in accidents where overhead power lines are involved. The two leading causes are falls and electrical shocks.
Electrocutions occur when lifts, cranes, ladders or other equipment come into contact with power lines. Even a moment's distraction can make the difference between life and death. Here are some tips on how to avoid injury when working near overhead lines:
Cranes
A crane in the hands of untrained or reckless operators can spell disaster. It's easy for a tall crane with a mobile extension arm to make contact with a power line by accident. The minimum safe operating distance between the boom and the line depends on the kilovolts (kV) the line carries. OSHA has set the following minimum approach distances when working near power lines:
0 to 50 kV (50,000 volts)                                                                    10'
50 kV to 200 kV (50,000 to 200,000 volts)                                   15'
200 kV to 350 kV (200,000 to 350,000 volts                                20'
350 kV to 500 kV (350,000 to 500,000 volts)                               25'
500 kV to 750 kV (500,000 to 750,000 volts)                               35'
When crane operators work around power lines, they should always assume the lines are energized. If the voltage isn't known, keep 35 feet away. Additional safety measures include using boom guards, ground observers and warning devices that sound when the boom is getting too close to a power line.
Scaffolds
Risks to workers who put up, move, or work from scaffolds near overhead lines are much the same as those who work with cranes. The safe distances between the platform and the power line, however, are less than for cranes. OSHA requires a minimum clearance of two feet for insulated lines under 300 volts. For insulated lines of 300 volts or more, the minimum distance is ten feet. A ten-foot clearance is also required for uninsulated lines, regardless of the voltage.
OSHA also requires the employer to appoint a "competent person" to observe and warn workers if they get too close to a power line. A competent person is defined as one who has the training and experience to recognize workplace hazards. He or she must also have the authority to take corrective action if a hazard is spotted.
It isn't just the scaffolding itself that puts workers at risk. When the tools and materials they're using come into contact with power lines by accident, the outcome can be serious injury or even death. Whenever possible, metallic tools and other items should be replaced with tools and items that don't conduct electricity.
Ladders
Ladders are used to extend a worker's reach. If they come into contact with a power line, however, the outcome can be deadly. OSHA has the following rules in place for working with ladders near power lines:
– Ladders made of materials that conduct electricity aren't allowed
– Conductive ladders must be marked with warnings not to use them around electrical equipment
– Only use tools that will withstand their voltage ratings
– Ladders must be kept a minimum of 10 feet from lines of 50,000 volts or less. The minimum distance for higher voltages is 35 feet.
– Always carry ladders horizontally rather than vertically
Aerial Lifts
Various types of aerial lifts, including boom lifts, scissor lifts, and bucket trucks are used to work on overhead power lines. OSHA has specific rules for using these lifts when they're operated near overhead lines. These include:
– Only well-trained and certified workers should be allowed to operate aerial lifts. They must observe the lift's rating and design limitations at all times.
– All lift controls must be tested every day before they are used to be sure they're working properly
– Lifts need to maintain the same minimum approach distances as outlined under Cranes above
If the lift could possibly make contact with a "hot" line, one or more of these actions must be taken:
– Insulate parts of the lines that could make contact with the lift
– To the extent possible, the lift itself must be insulated
– The lift needs to be positioned so that any parts that aren't insulated can't come closer than the minimum approach distance
– All parts of the lift, including trucks and trailers, must be grounded
– All equipment pieces must be bonded together
– Ground mats are to be used around the equipment to extend the grounded area
To protect against injuries or death from falls from aerial lifts, OSHA requires the following when working more than four feet above the ground:
– Unless there is a guardrail or net, workers must wear fall arrest equipment, such as a body harness with a shock absorbing lanyard
– The lanyard must be connected to an anchor point on the bucket or boom
– Fall protection equipment must be inspected each day before it is used
For further reading on utility workers and aerial lifts, check out our blog post entitled How Aerial Lifts are Used by Utility Workers.
When precautions aren't taken, working around electricity or on ground that isn't stable can be deadly. The key to worker safety when working around overhead utility lines is proper training. We offer online aerial lift certification training that's 100% OSHA approved. It's also fast, convenient, and affordable.