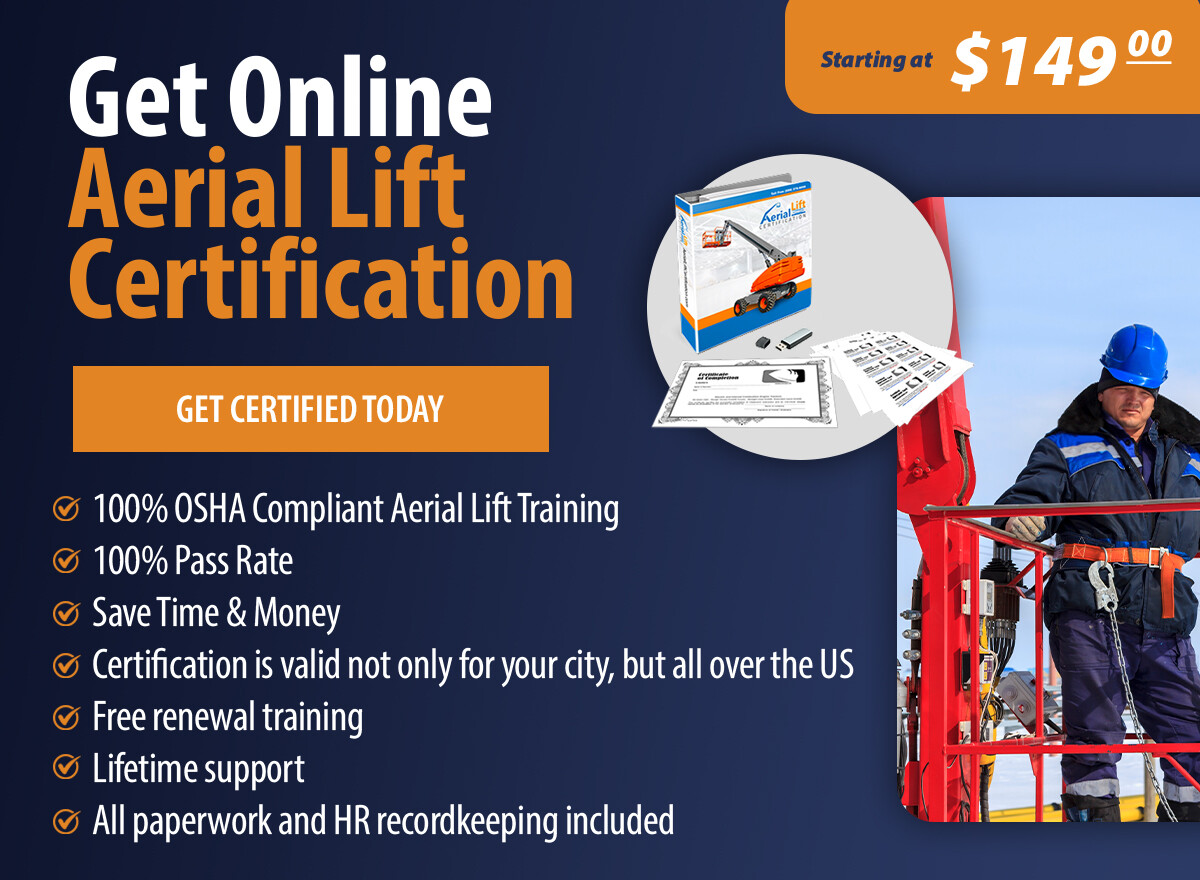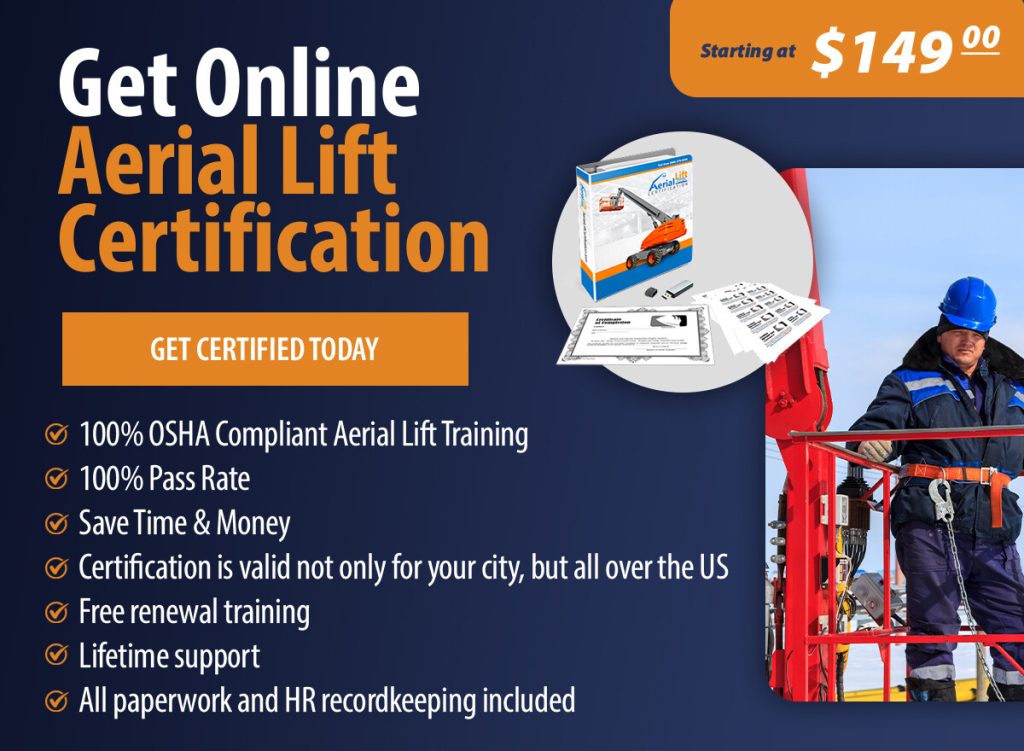 If you need to certify your team for fast and effective aerial lift operation, you've come to the right place. Your team can obtain a Milwaukee aerial lift certification online within an hour using our kit.
Our operator training kit costs $299.00, with a digital program and a physical kit we will mail out to you. We also offer a train-the-trainer kit to help you complete all your team's certification needs in person and on-site for $149.00.
If you'd prefer both kits, consider our bundle and save option, which gives you access to both kits for only $399.00.
How Online Aerial Lift Certification in Milwaukee Works
Aerial lift certification in Milwaukee is a breeze when you use ourtraining kit materials. Your team won't have to travel offsite for formal education. Instead, they can learn everything they need to know online. Don't worry about your team being unprepared; they should also submit to an in-person evaluation before getting fully certified. Here is how to get aerial lift certified in Milwaukee using our proven process:
Create an Account: First, employers should create an account with us.
Pick a Course: Employers should select the course that fits their team's needs. You'll want to pay for this class directly on our site.
Your Employees Educate Themselves: Once you've secured the digital course material, your employees can create their login information and access the educational material 24/7 on any internet-connected device. Employees can go through the training at their convenience.
Online Tests: The educational material does include a few online written tests that must be completed. Employees should be able to pass these tests, as they have unlimited tries to do so.
In-Person Exam: Next, a certified trainer should evaluate the employees in person to ensure that they can safely apply their aerial lift knowledge in a work situation. If you don't have a certified trainer, you can always train one using our train-the-trainer course.
You Certify the Training: Employees will be considered fully trained once you certify their training. Once you certify that the employee is proficient with aerial lifts, you can print off proof of their training from our kit.
After this process, your employee will be considered sufficiently trained. They can legally operate aerial lifts in Milwaukee and throughout the country.

Why Choose AerialLiftCertification.com for Milwaukee Aerial Lift Certification
Getting your team certified isn't optional. It's a legal requirement. Failure to uphold your legal duty opens your business up to fines from OSHA and legal liability in the event of an accident. Proper training can help your employees avoid a work-related accident, so it also keeps your whole team safer to choose to certify your team. Here are just a few reasons to consider working with us to meet your legal obligations:
Only Pay Once: You can certify an unlimited number of employees for one price
Renew for Free: Get free three-year renewals
Easy and Fast: Your team can get certified within one hour
Instant Proof: Your team won't have to wait for official proof of their training. You can print off proof directly from our kit
Accessible: Employees can access our digital material 24/7 online
Another major benefit is a money-back guarantee if you purchase our training kit and determine it isn't right for your team, you can request a refund.

FAQs
Obtaining a Milwaukee aerial lift certification doesn't have to be a long or difficult process using our kit. However, you might still have more questions about aerial lifts, OSHA's standards, or hazards your team may face daily. Check out our general FAQs page to learn more and get answers to a few common questions below.
What Do Aerial Lift Operators Need to Know About Power Lines?
One serious risk that aerial lift operators must be aware of is power line hazards. Extreme caution is warranted whenever an aerial lift is used around power lines. Any contact with these lines will likely result in an electrocution incident.
Electrocution can also happen when dealing with other types of electrical devices. Just recently this year, a Milwaukee worker passed away after suffering fatal injuries while changing overhead lights on an aerial lift. After getting shocked, the worker fell over five meters.

Ready to Enroll Your Workers in Aerial Lift Training in Milwaukee? Get in Touch with ALC
We encourage you to enroll your workers in one of ALC's training programs as soon as you can. Because, the sooner you sign your workers up for our aerial lift certification training, the sooner they can become OSHA-approved lift operators. 
Our team is available to offer assistance if you are considering aerial lift certification training for your workers. For more information or to enroll your workers in one of our programs, please contact us online or call us today at (888) 278-8896.