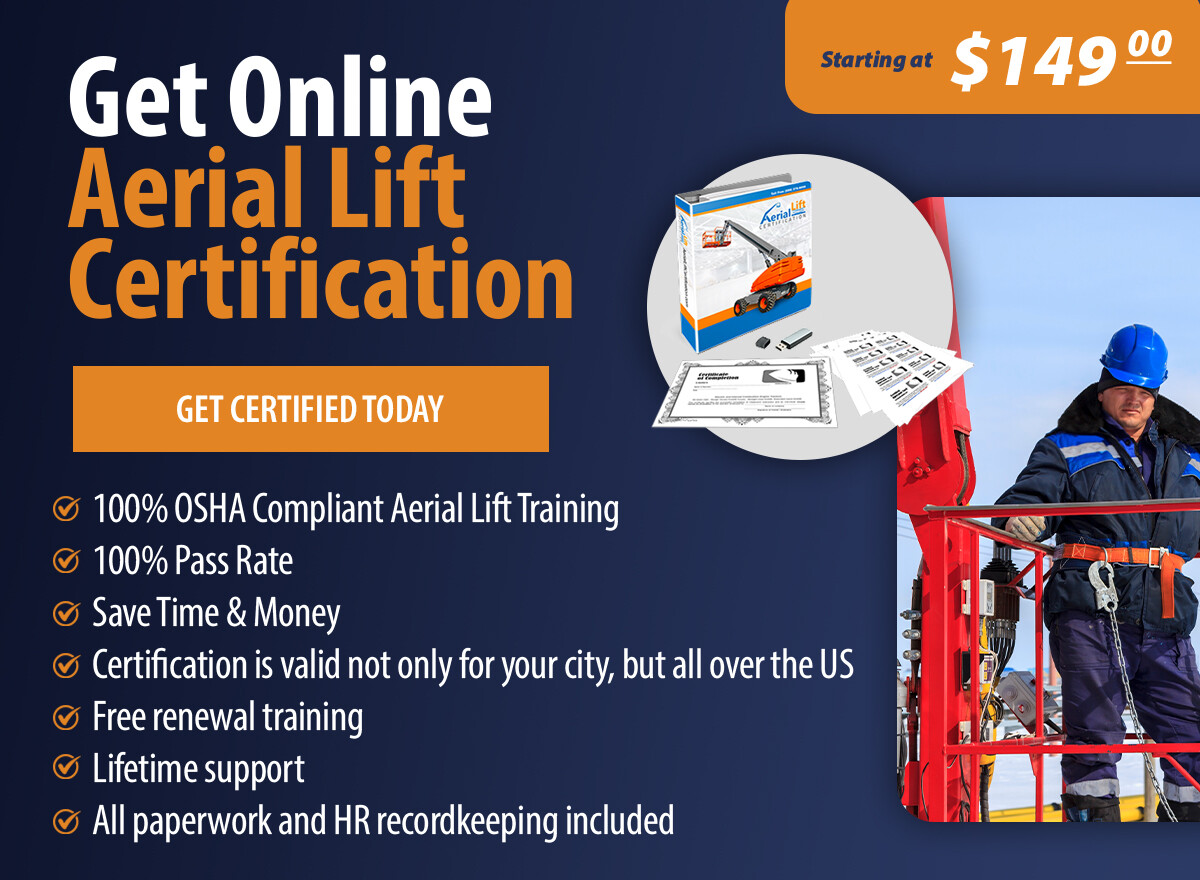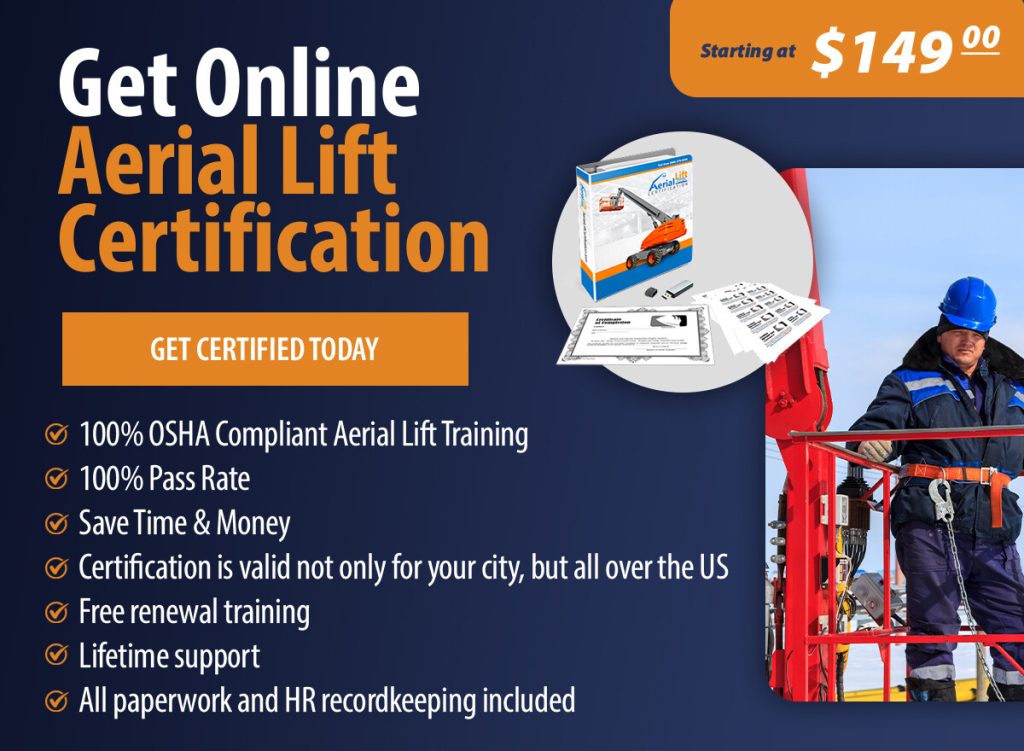 San Jose has always been a hub for growth and advancement, so it's no surprise that the city's aerial lift industry has remained strong for years. Aerial lifts help support the city's telecommunications, power, buildings, and more. If you plan to utilize an aerial lift in one of your current or future projects, there's a step you have to take first – obtaining your team's aerial lift certification in San Jose.
A San Jose aerial lift certification course trains employees on how to use aerial lifts, the best safety practices, and OSHA's many standards that must be followed at every job site. Certification makes your team safer and helps you meet your legal obligation to certify every aerial lift operator on your job site.
Here at AerialLiftCertification.com, we offer training packages that you can use for your whole team for a one-time price of $299.00. If you don't already have a certified trainer on your staff, you can also obtain our trainer certification kit for $149.00. Our best deal is to bundle these kits for $399.99.
How Online Aerial Lift Certification in San Jose Works
Before you invest in our courses, you likely want to know more about how to get aerial lift certified in San Jose and why you should choose to work with us. When you certify your team, you can choose an in-person training course. However, that will require your team to travel off-site to get an education, take tests, and participate in an evaluation. If you work with us, you can go through this process on-site. Here's how it works:
Sign Up on Our Platform Here at AerialLiftCertificaiton.com: First, you'll want to sign up on our platform.
Pay for Your Classes: Check out our various course choices to determine the best kit for your team. Pay for your courses directly through our platform.
Train Your Employees: Once you've purchased your kit, employees can browse the training material anywhere with a computer. Employees can take as much time as they need to complete the material.
Employees Need to Pass an On-Site Evaluation:: To demonstrate that the employee can safely operate an aerial lift, employees will next need to pass an on-site evaluation with a certified trainer. If you don't have a trainer on your team yet, consider getting our train the trainer course.
Print Instant Proof of Training: After passing the evaluation, you can print off proof of certification and your employee's official operator cards.
After going through this process, your employees will be legally certified to operate aerial lifts per OSHA standards not only in San Jose but around the country.

Why Choose Aerial Lift Certification for Your San Jose Aerial Lift Certification
When you're seeking a San Jose aerial lift certification online, you want to make sure you're getting a good education. After all, certification is important for a reason. Your team needs to know how to operate this equipment safely to minimize workplace accidents and injuries. What's more, if OSHA finds you violating their regulations, you could get fined, too. Here are just a few reasons why you should work with us to ensure your team is certified properly the first time:
Train Anywhere Anytime: Access our material 24/7 online
Our Process is Simplified and Quick: Certify your team in 1 hour
Instant Proof of Training: Print proof of training from our site
Renew For Free: Free three year renewals
Cost Effective: With our bundle and save option, you can certify an unlimited number of employees
AerialLiftCertificaiton.com offers some of the best, most accessible, and most cost-effective educational material. What's more, we'll also offer a money-back guarantee to customers who aren't satisfied with our products.

FAQs about San Jose, CA Aerial Lift Certification
For more answers to your questions about the certification process, check out our general certification FAQs page. Below, we'll review some of the most common questions about aerial lift certification in San Jose.
What are the Most Common Types of Aerial Lift Accidents in San Jose?
In San Jose and throughout the county, the most common aerial lift accidents include:
Falling from a height
Tip overs
Getting trapped between the lift and another object
Electrocution
Equipment failure
Getting hit or struck by falling objects
These are far from the only risks associated with this equipment, though. As every San Jose local remembers well, accidents can also happen while this equipment is transported. Back in 2019, a well-knownwreck involving a crane caused the shutdown of Highway 237.

Need San Jose Aerial Lift Certification? Contact AerialLiftCertification.com Today!
As the city's reach grows, so does its infrastructure needs. Interstate highway construction continues apace – and so will the need for scissor lift and aerial lift certification in San Jose.  Highway construction invariably leads to new suburban development, promising a construction boom that, combine with the shipping industry, stands to keep San Jose a growing city for years to come.
Give ALC a call with any questions you have about aerial lift certification in San Jose. We are the #1 option for companies all across the country and our aerial lift certification in San Jose travels with employees, no matter where they work. Call us today at (888) 278 –8896, and see how we can help. We look forward to helping with all of your aerial lift training in San Jose.