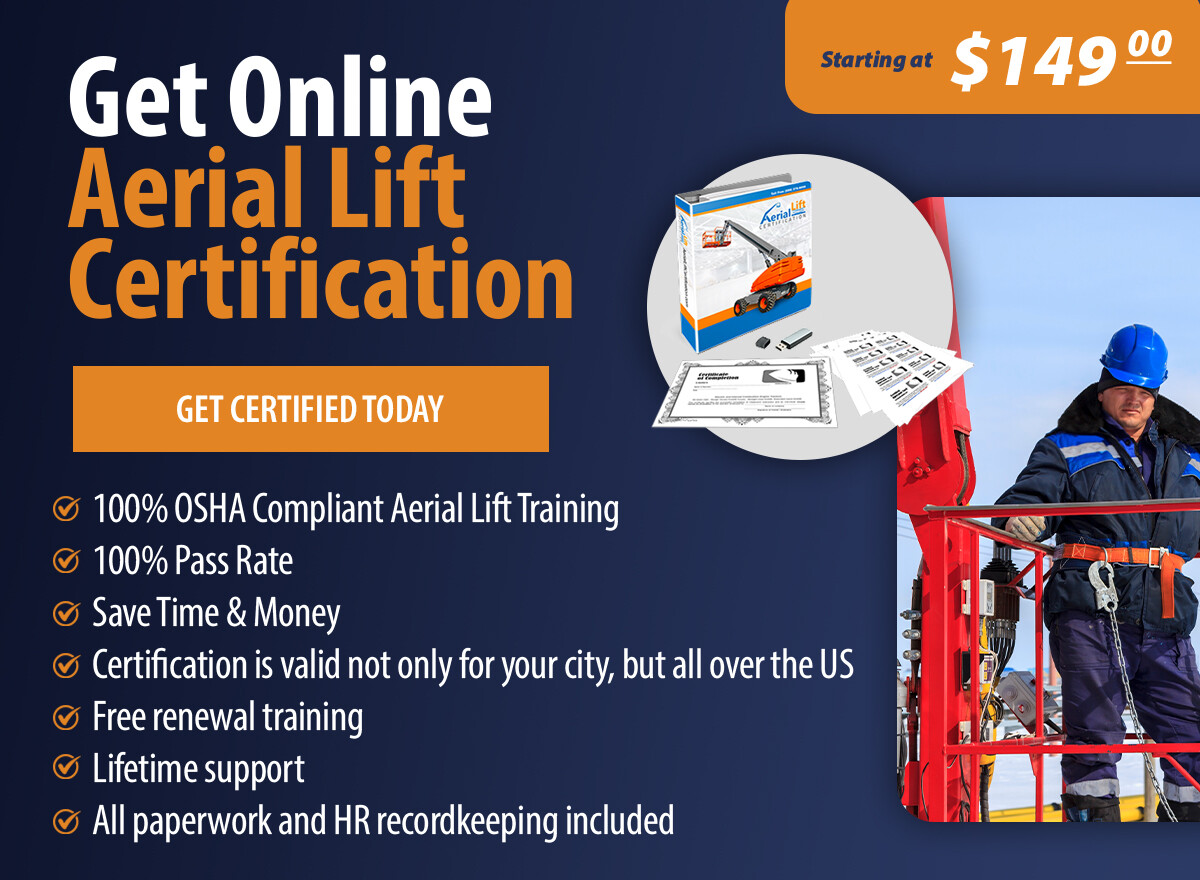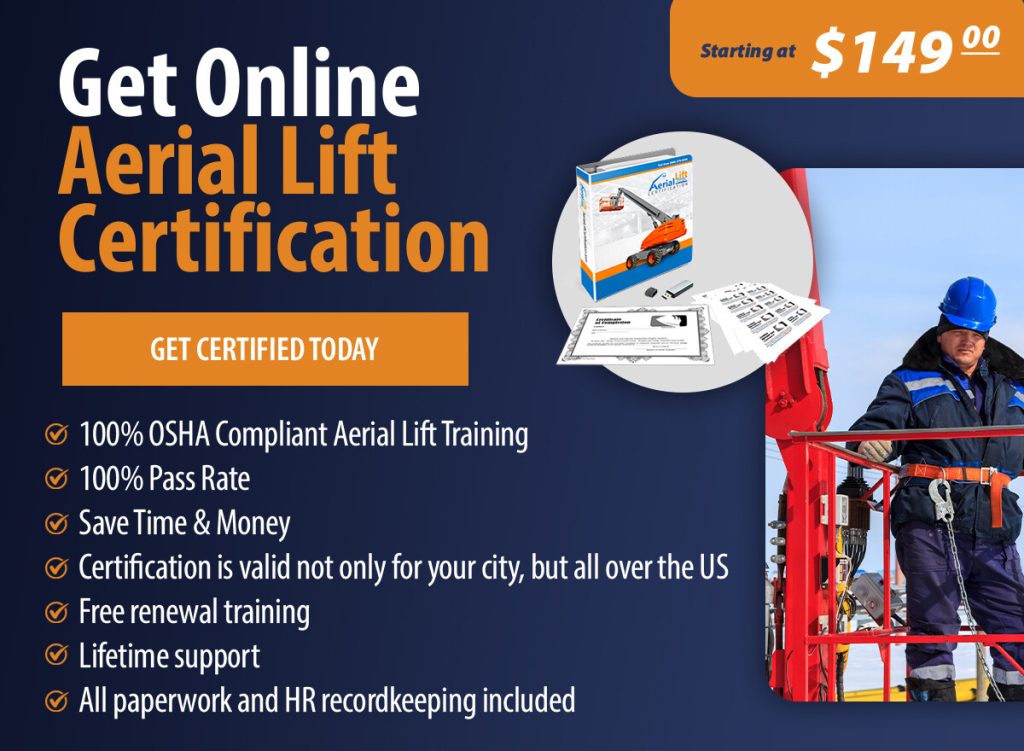 In the past, seeking out an aerial lift certification in Memphis was a lengthy and trying process. That's because you'd have to schedule time off work, travel off-site, and take the time to get an education. The good news is that you can now streamline the process by considering our fully online Memphis aerial lift certification process.
We offer a training kit that will fully certify employees for a one-time price of $149. If you have a team that you want to certify, then you might also want to consider our bundle and save kit, which comes with a train-the-trainer kit.
Once certified, your team will be OSHA approved to operate aerial lifts in not only Memphis but across the country as well.
How Online Aerial Lift Certification in Memphis Works
Before you purchase our kits, you might want to learn more about how to get aerial lift certified in Memphis with our online program. Here's how the process works:
Employers Should Sign Up

: An employer is usually the individual who will seek out a certification course. If you're an employee, then it might be best to ask your employer about certification before seeking it out yourself. That's because your employer should bear the financial costs of your certification course. With our program, it makes the most sense for employers to handle the signing up process.

Pick the Right Course

: Once the employer has decided to work with us, then they'll simply need to

pick out the course

or bundle they would like to purchase and check out on our site.

Get Educated Online

: Once the course is purchased, employees can begin the certification process. They'll get educated by going through our online training materials on their own time and wherever they have internet access.

Pass an Online Quiz

: After absorbing the material, students will need to pass an online quiz. The good news is that this exam can be taken as many times as necessary until the student receives a passing score.

On-Site Evaluation

: Next, a

certified trainer

will need to perform an on-site evaluation with the person seeking certification. This evaluation will ensure that the individual knows how to properly operate the aerial lift and understands the concepts they learned online.

Print Your Operator Card

: After the evaluation, the individual can print off their official certification and operator card. The course is complete.
After going through this process, employees will be considered sufficiently trained to operate and use aerial lifts per OSHA standards.

Why Choose Aerial Lift Certification for Memphis Aerial Lift Certification
Obtaining an aerial lift certification should be a simple choice if you plan on using one. If you don't get certified, then you could get fined, face a job shut down, lose time off of work, or even suffer an on-site injury or death. Training your employees can help you avoid these outcomes. Here are just a few of the benefits of working with our team:
24/7 access to course materials

: Take our classes anywhere with internet access and at your own convenience

Free 3 year renewals

: Aerial lift

certifications do expire

, but we offer free renewals with our program

Affordable and cost-effective

: Certify an unlimited number of employees for one price

Fast and easy

: Our course only takes about 1 hour to complete

Access to proof of training

: Print off your proof directly from our program
With these benefits in mind, choosing us as a partner to obtain your Memphis aerial lift certification online becomes the obvious choice. Even better, we also offer a 100% money back guarantee if you aren't satisfied with our training materials.
Frequently Asked Questions About Memphis Aerial Lift Certification
Getting yourself and/or your crew aerial lift certified shouldn't be a complicated process. Using our program, the whole ordeal should be simple and fast. Below, we'll go over some of the most frequently asked questions regarding the certification process here in Memphis.
What's the Biggest Cause of Aerial Lift Accidents in Memphis?
Throughout Memphis and the entire US, the most common cause of aerial lift accidents is a lack of appropriate safety gear. By obtaining the proper training, employees will be more empowered to make wise decisions including wearing the right safety gear, following the proper procedures, and more.

Need Memphis Aerial Lift Certification? Contact AerialLiftCertification.com Today!
As the city's reach grows, so does its infrastructure needs. Interstate highway construction continues apace – and so will the need for scissor lift and aerial lift certification in Memphis.  Highway construction invariably leads to new suburban development, promising a construction boom that, combine with the shipping industry, stands to keep Memphis a growing city for years to come.
Give ALC a call with any questions you have about aerial lift certification in Memphis. We are the #1 option for companies all across the country and our aerial lift certification in Memphis travels with employees, no matter where they work. Call us today at (888) 278 –8896, and see how we can help. We look forward to helping with all of your aerial lift training in Memphis.