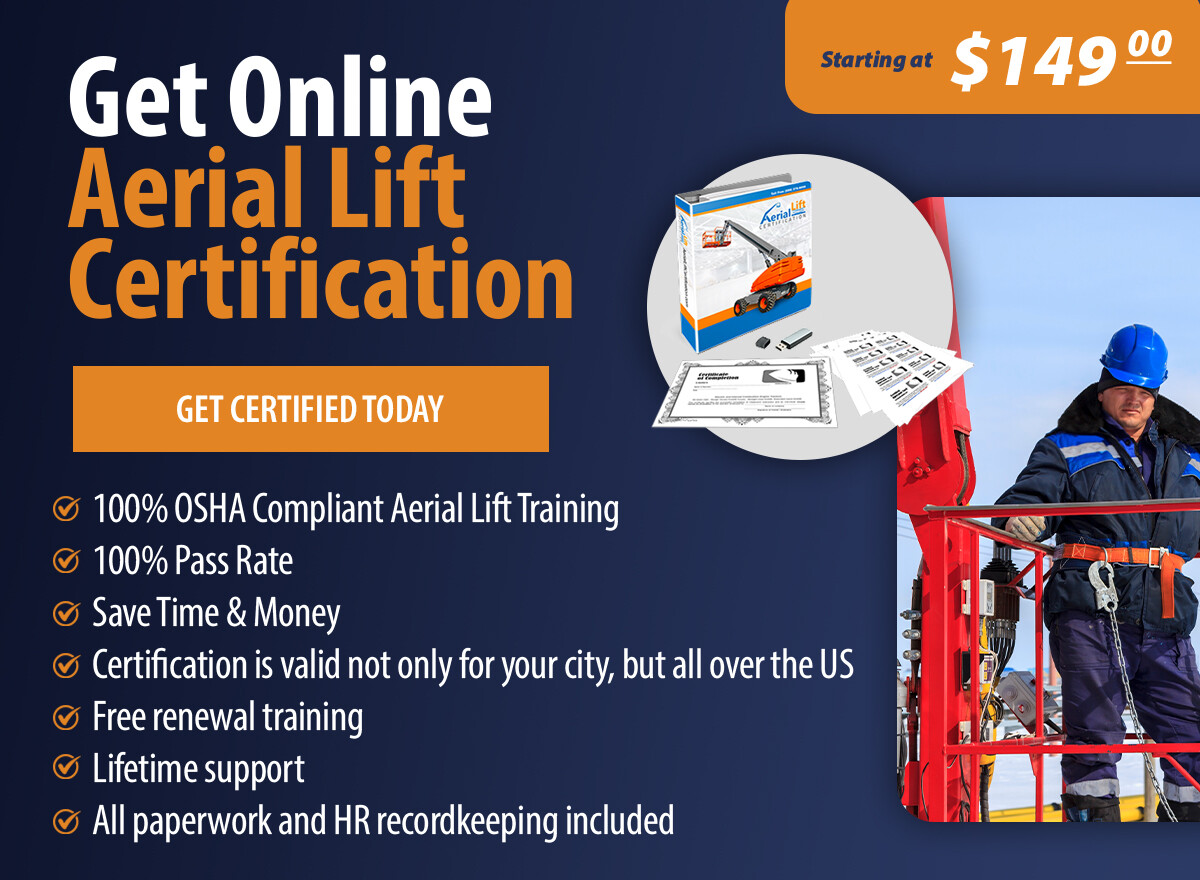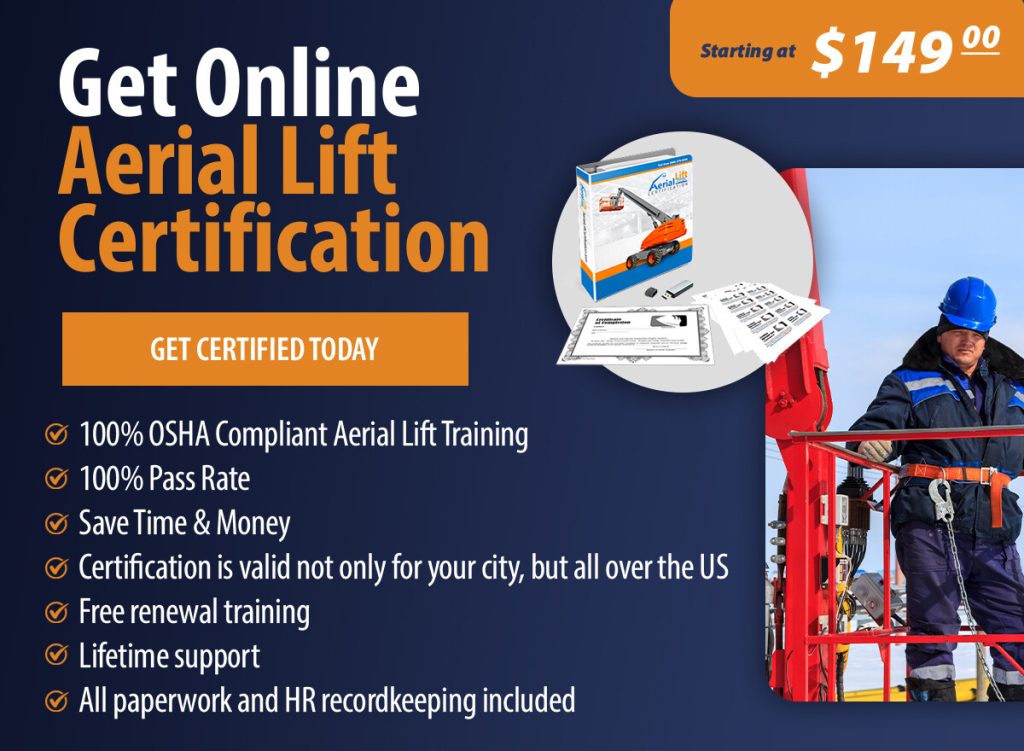 Once upon a time, seeking your aerial lift certification in Orlando meant sitting through time-consuming, expensive training classes in person. Now, you can obtain your certification from the comfort of home. Our online training allows you to learn new skills and get certified from anywhere and any time that is most convenient. Most learners complete the training in a few hours' time. 
Once certified, you'll be ready to operate aerial lifts in Orlando and throughout the rest of the United States. Our $299 training kit can be used to certify an unlimited amount of employees for one affordable price. 
How Online Aerial Lift Certification in Orlando Works
Earning an Orlando aerial lift certification is simple. Online training means workers won't experience much downtime or waste time traveling off-site to train. Instead, each person can train at their own convenience. Here's how it works:
Register Online:

Visit our website to see prices, learn more about

our program

, and understand the benefits of training with ALC. When you're ready to get started, simply sign up.

Select a Course:

As you register, you'll need to select which

certification courses

you're interested in. Our basic kit helps employees learn the fundamentals, while our training certification provides education to an on-site representative who can perform evaluations required to complete the training process. You may also choose to bundle the two. Select your course and make the payment.

Familiarize Yourself with Aerial Lift Operations:

Employees may now complete the online education program at their convenience. Materials are available 24/7 online. Most people complete the content in about an hour.

Pre-Exams:

The online training program requires you to complete five online exams. They are vital to the learning process and prepare learners for the next steps.

Hands-On Evaluation:

Upon completion of training, a certified trainer must perform a hands-on evaluation of each employee. After passing this evaluation, employees will graduate from the program.

Print Your Operator Card:

After completing the first five steps, operators are certified and ready to print off proof of their training. 
Once certified, your employee will be up to OSHA standards. They'll know how to safely and securely complete aerial lift jobs, making for a safer and legally compliant work environment for all.


Why Choose AerialLiftCertification.com for Orlando Aerial Lift Certification
Once it's clear how to get aerial lift certified in Orlando, you may be curious about whether ALC is the right place to start. Here are just a few of the perks of training with us:
OSHA Compliance:

Should OSHA inspect your workplace, you'll be ready with proof of certification.

Affordable Prices:

Businesses of all sizes across Florida love our affordable training options.

Free Recertification:

Aerial lift certification in Orlando

expires every three years. We offer free renewal training for life.

Quick and Simple:

Most people complete their

aerial lift certification in Orlando

in about an hour.

Convenient:

Employees can learn at their own pace, in their own time.

Comprehensive:

We'll mail you a three-ring binder with all course materials, as well as student handouts, operator permits, and a USB flash drive with all materials in digital form.
Our program provides each graduate with a certification that's valid for three years. When it's time to recertify, you can use our ALC training materials to bring everyone up to speed. These recertification's are free for life!


Orlando Aerial Lift Certification FAQs
How Many Employees Can I Certify at Once?
Our kit allows you to certify an unlimited number of workers. You can only do one on-site evaluation at a time, but you can train an entire class of employees at once.
What if the Job Site Fails an Aerial Lift Inspection?
Should your job site fail an inspection, you may be fined or shut down. Aerial lift accidents like this one in Orlando may also trigger a shutdown.
Will My Certification Expire?
Yes, you will need to have your certification renewed every three years. The good news is that you'll be able to re-certify quickly, easily, and for free once you purchase our training kit.
Are Accidents Preventable with Aerial Lift Certifications in Orlando?
Training can help prevent many of the most common types of workplace aerial lift accidents.

Choose AerialLiftCertification.com for Your Orlando Aerial Lift Certification
ALC's online aerial lift certification program ensures that all your employees understand OSHA standards and are certified to operate AWPS. The training takes about an hour to complete and can be done from anywhere with an internet connection. The training teaches workers how to operate a lift and inspect it while remaining in compliance with OSHA standards. Workers can learn how to avoid hazards and prevent accidents. Our Orlando aerial lift certification online is the best way to bring your employees into compliance. Affordable and convenient, our courses are the gold standard for training.
Don't wait to get started training your employees. Sign up now and get started building your organization's safety program. Want to learn more? Chat with OSHA compliance consultants by calling (888)278-8896 today.