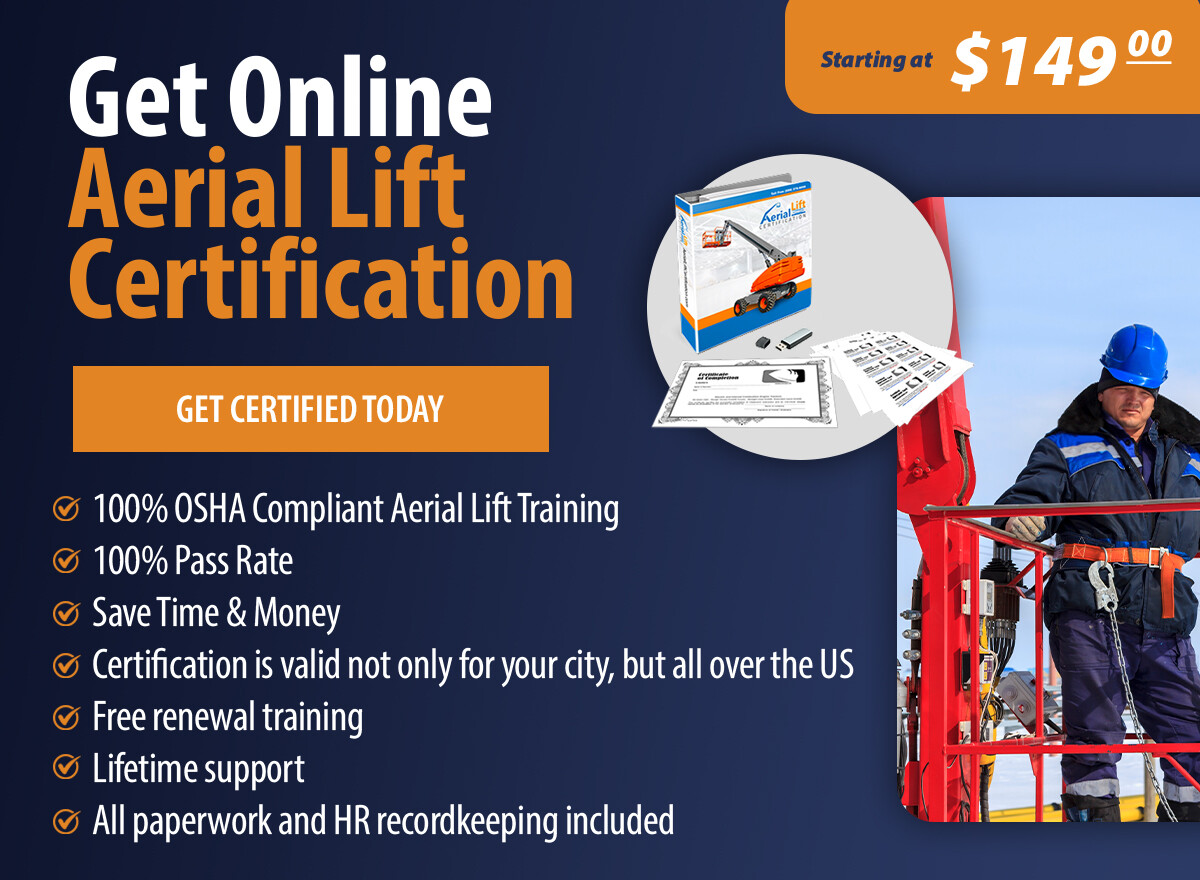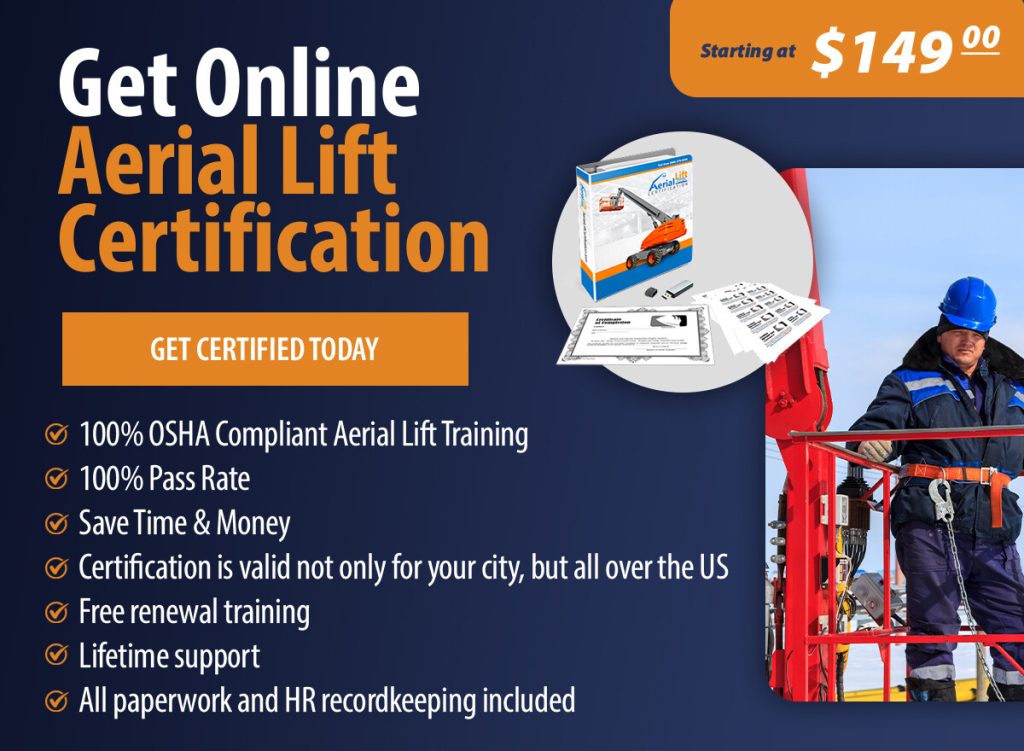 Aerial lift certification in Phoenix once meant traveling off-site classroom training. Trainees spent a lot of valuable time and money learning the fundamentals of aerial lift operation. Thanks to AerialLiftCertification.com, training is fast, simple, and affordable. Our aerial lift training in Phoenix allows you to learn on your terms. Our convenient courses can help you learn everything you need to know to operate aerial lifts anywhere in the United States. Training options include:
Trainer Certification $149.00: This self-paced course covers all you need to know to become your organization's official Certified Aerial Safety Expert.
Operator Training Kit (which will be mailed) $299.00: New lift operators can be trained in-house with our Operator Training Kit.
Bundle & Save (Best Deal) $399.99: If you're eager to get all the perks of a fully certified on-site aerial lift trainer and an employee aerial lift certification training package at one low price, take advantage of this fantastic deal.
How Online Aerial Lift Certification in Phoenix Works
Phoenix aerial lift certification is easy when you train with us. Employees can stay on the premises while learning how to operate aerial lifts safely and effectively. This method will save significant time and costs. Most people complete the class in about an hour, making it a wise investment of your time. To begin training, follow these simple steps:
Registration – Create an account and register any trainees you want to enroll.
Choose Class – Select the course that best fits the needs of your unique organization, then head to check out.
Finish Course – Learners may complete the course at their preferred pace.
Take and Pass the Written Exam – Learners can take the exam as often as needed to earn a passing score.
Undergo a Hands-On Evaluation – An on-site trainer employed by your team should perform a hands-on evaluation for trainees. If you don't have anyone trained to oversee this test, our Train the Trainer class allows you to train someone to conduct such exams in the future.
Print Proof of Certification -Print off the operator cards as proof of certification.

At this point, lift operators are fully certified to OSHA standards. Keep operator cards on hand with Human Resources as proof of certification.
Why Choose AerialLiftCertification.net for Phoenix Aerial Lift Certification
All aerial lift operators in Phoenix must be trained and certified to OSHA standards. If your company fails to provide training opportunities, OSHA may fine your organization. Untrained lift operators are far more likely to be involved in workplace accidents than those who have been properly trained and certified. If you're hoping to avoid workplace accidents, it's important to prioritize Phoniex aerial lift certification online. If you're looking for reasons why you should train with ALC, here are a few benefits:
24/7 Availability – Workers can train from anywhere with an internet connection.
Quick and Easy – Most people finish the class in about an hour, but you can take as long as you need with the material.
Fast Proof of Certification – Print off proof once you're done training.
Free Lifetime Renewals – OSHA requires all operators to recertify every three years. We offer free lifetime renewals, which leads to significant savings over the years.
A Fantastic Value – Our classes are affordable and comprehensive.
With all these benefits available, using AerialLiftCertification.com for your in-house training is a no-brainer. We even offer a 100 percent money-back guarantee. There's no risk in trying us!

Frequently Asked Questions About Phoenix Aerial Lift Certification
Are you still trying to figure out how to get aerial lift certified in Phoenix? Here are a few answers to some frequently asked questions:
Why Do I Need to Get Aerial Lift Certification?
According to OSHA requirements, employers of aerial lift operators must provide training and certification opportunities to their employees. Failure to do so could result in penalties. Investing in aerial lift training is smart, as trained operators tend to be more efficient and have a reduced risk of accidents.
Are Aerial Lifts Dangerous?
They certainly can be – a May 2023 incident in Phoenix shows just how deadly forklifts can become. That's why training is so important.
Can I Register for Training, Or Should My Manager Sign Me Up?
OSHA requires all employers to offer training for lift operators, so you should wait and train once you find a job.
Do You Need Experience to Start Training?
Experience is optional to start training with ALC.
Is Aerial Lift Certification Required in Phoenix?
All lift operators in the United States must be fully trained and certified before using aerial lifts at work. 

Provide Phoenix Aerial Lift Operator Training from ALC
ALC ensures that you can get one or more workers OSHA-compliant without delay. Our training programs are readily available. They make it simple for workers to learn how to safely operate and maintain all types of aerial lifts.
Remember, it is illegal to let an employee use an aerial lift at a worksite unless he or she has valid OSHA certification. So don't wait any longer to have your aerial lift operators trained and certified!  Enroll them in certification training from AerialLiftCertification.com now! 

Still have questions? Call us at (888) 278-8896 to speak with one of ALC's training experts or contact us online for more information