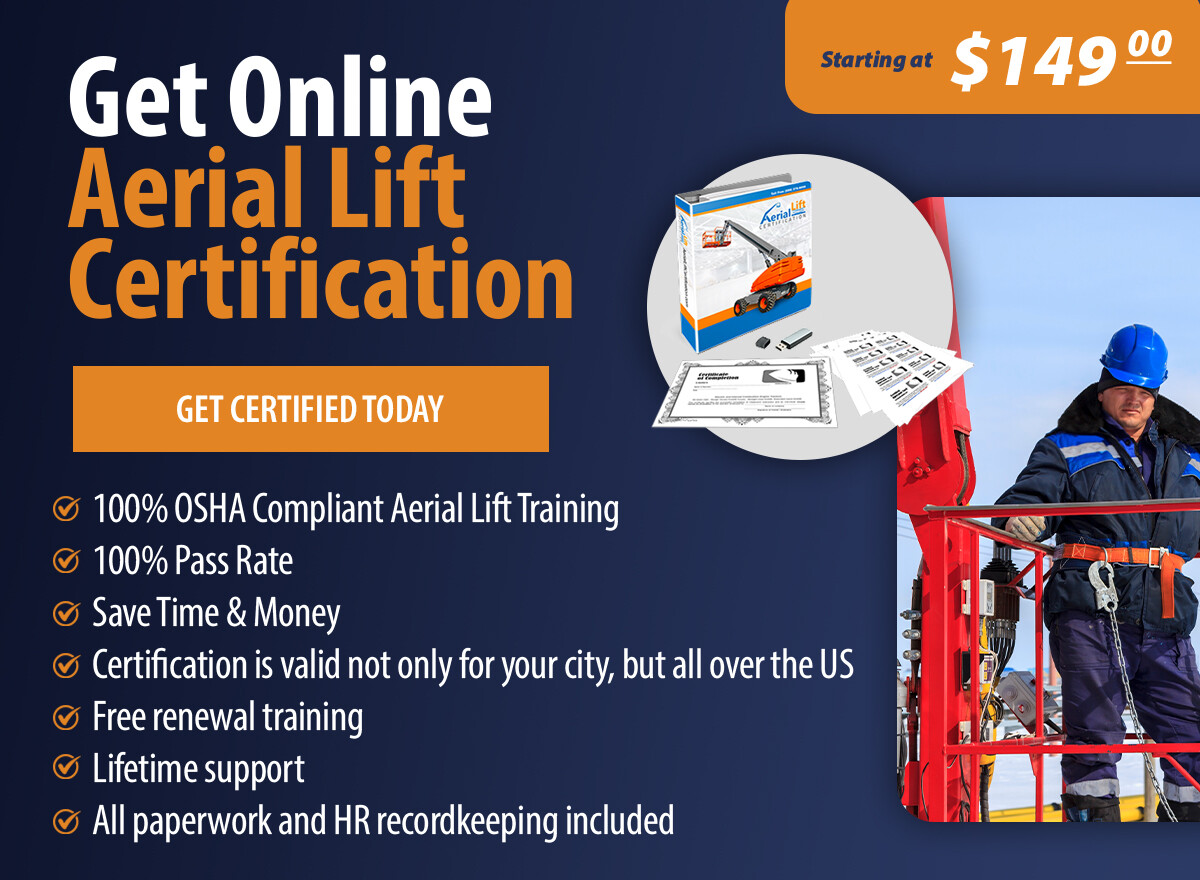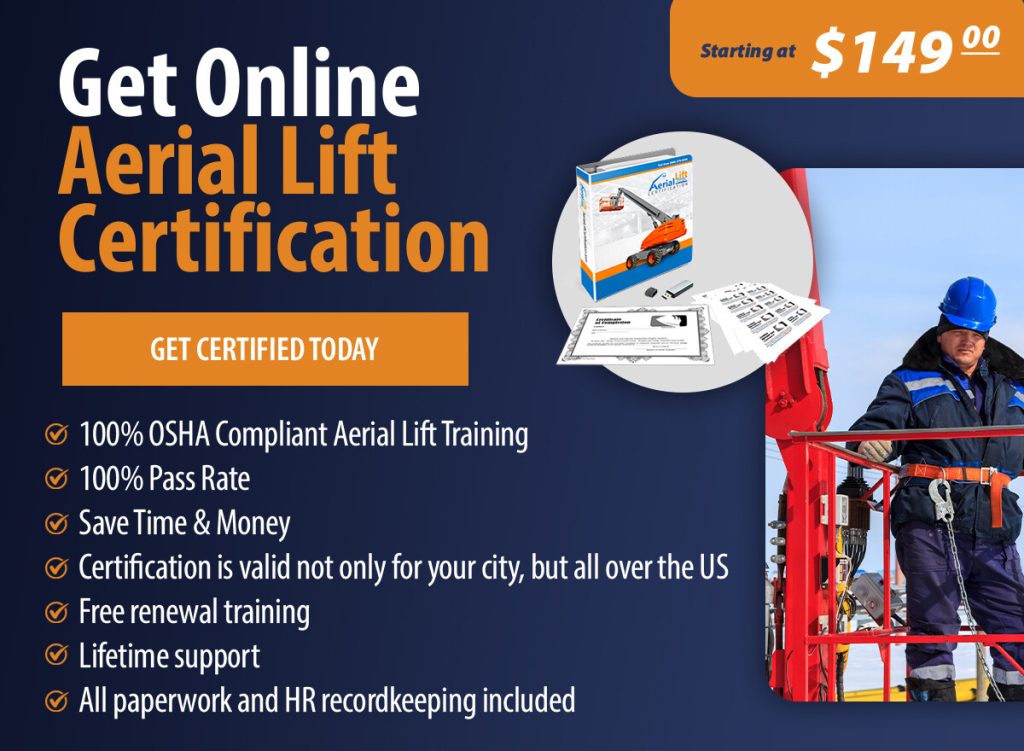 Do you plan on completing a job that requires the use of an aerial lift here in Colorado Springs? If so, then it's crucial to first understand what a Colorado Springs aerial lift certification is, whether you're required to get certified, and how to go about the process of getting certified.
The good news is that we provide a comprehensive aerial lift certification training bundle that you can complete 100% online. With our online program, you won't have to attend in-person classes. Once you complete the program, you'll be certified to operate aerial lifts in not only Colorado Springs but all across the country.
Our operator training kit, which can be used to certify an unlimited number of people, comes at a one-time price of $299.00. We also offer a train the trainer certification course for a one-time fee of $149.00. When purchased together, the whole bundle is discounted at $399.99.
How Online Aerial Lift Certification in Colorado Springs Works
Before you make your purchase, you likely want to know more about how to get aerial lift certified in Colorado Springs and how our process works. Generally, the person who wants to get certified will get an education through a training course, take an evaluation, and then get certified. In-person certification courses usually require off-site training, but our program can be completed online. Here's how it works:
Your Employer will Sign You Up

: Employers should take the first step in signing up with the platform because they will be in charge of purchasing the course.

Choose Your Course

: Next, you'll choose which course option will work best for your team's needs. Check out and purchase the course.

Take the Classes

: Next, the employees that want to get certified will go through the online course at their own pace and completely online. The goal is to fully train the individual on how to

operate an aerial lift

.

Take an Online Quiz

: Next, the employees will need to pass an online written quiz. This quiz can be taken as many times as necessary.

On-Site Evaluation

: A

certified trainer

will give the employee an hands-on, on-site evaluation

Print Your Operator Card

: Finally, the employee can print their certification and operator card directly from our program.
After completing these steps, you'll be considered sufficiently trained per OSHA standards.

Why Choose Aerial Lift Certification for Colorado Springs Aerial Lift Certification
By obtaining your Colorado Springs aerial lift certification online, you're empowering not only your employees but also your own business, too. That's because you're ensuring that you remain compliant with OSHA's standards. A failure to do so could result in fines or even employee injuries. Here are just a few reasons why our online certification program is a good choice for your team:
24/7 access to course materials

Free 3 year renewals

Affordable and cost-effective

Fast and easy (1 hour to complete)

Access to proof of training
Even better, we offer a 100% money back guarantee!
If you're not sure where to get started, then take our quiz for more guidance.
Frequently Asked Questions About Colorado Springs Aerial Lift Certification
Do you still have more questions about aerial lift certification in Colorado Springs? Below, we'll go over some of the most frequently asked questions regarding aerial lifts in the area.
Are Aerial Lifts the Same as Ski Lifts or Chair Lifts?
There are several different types of aerial lifts including scissor lifts, boom lifts, and vertical mast lifts. What many don't know, though, is that ski lifts, gondolas, trams, and chair lifts are all considered types of aerial lifts, too. OSHA pays particular attention to ski resorts in Colorado Springs. If you own a ski resort, then it's important to make sure you're following OSHA standards and training your employees who operate the ski lifts, gondolas, or chair lifts.
How Dangerous are Aerial Lifts?
Aerial lifts can be extremely dangerous and even fatal. This is especially true when aerial lifts are being operated on a recreational basis. In Colorado Springs, chair and ski lifts, which are both considered aerial lifts, are very popular at tourist attractions. In March of 2023, a 60-year-old Illinois resident was tragically killed. after falling from a recreational ski lift while attempting to clear away snow that was on the chair. Aerial lifts can also be fatal on job sites, too, though so it's always best to use the utmost caution when an aerial lift is in operation.

Want the Best Aerial Lift Training in Colorado Springs, CO? Partner with ALC
Colorado Springs businesses are responsible for learning and complying with OSHA aerial lift safety mandates. Ignoring these requirements puts aerial lift operators and their coworkers at risk of accidents. Even worse, an aerial lift accident can lead to a serious injury or fatality.
Don't risk an aerial lift accident. Conversely, enroll your worker in aerial lift certification training from ALC. This ensures you can teach your workers how to safely operate, inspect, and maintain all types of lifts. And, your workers can comply with OSHA aerial lift safety requirements.
ALC is happy to provide additional details about our Colorado Springs aerial lift certification options. To learn more, please contact us online or call us today at (888) 278-8896.