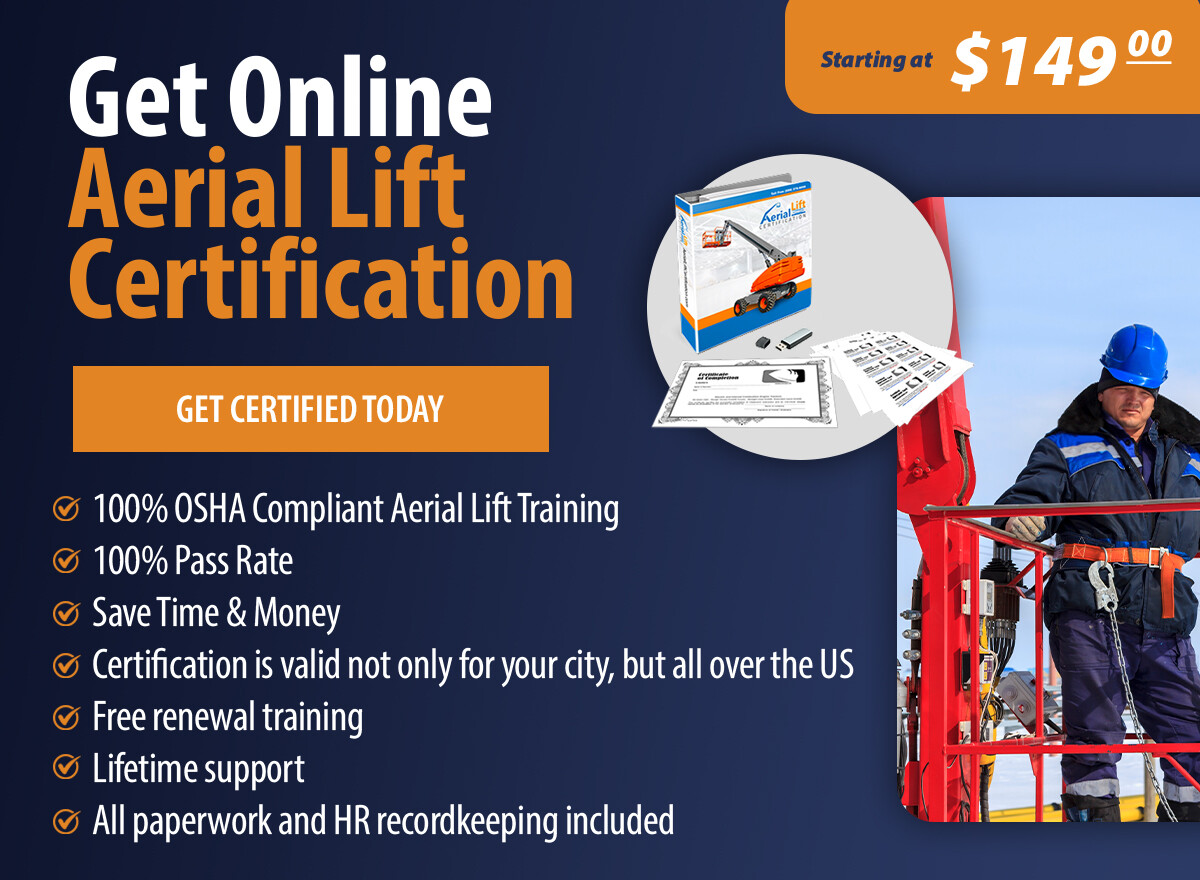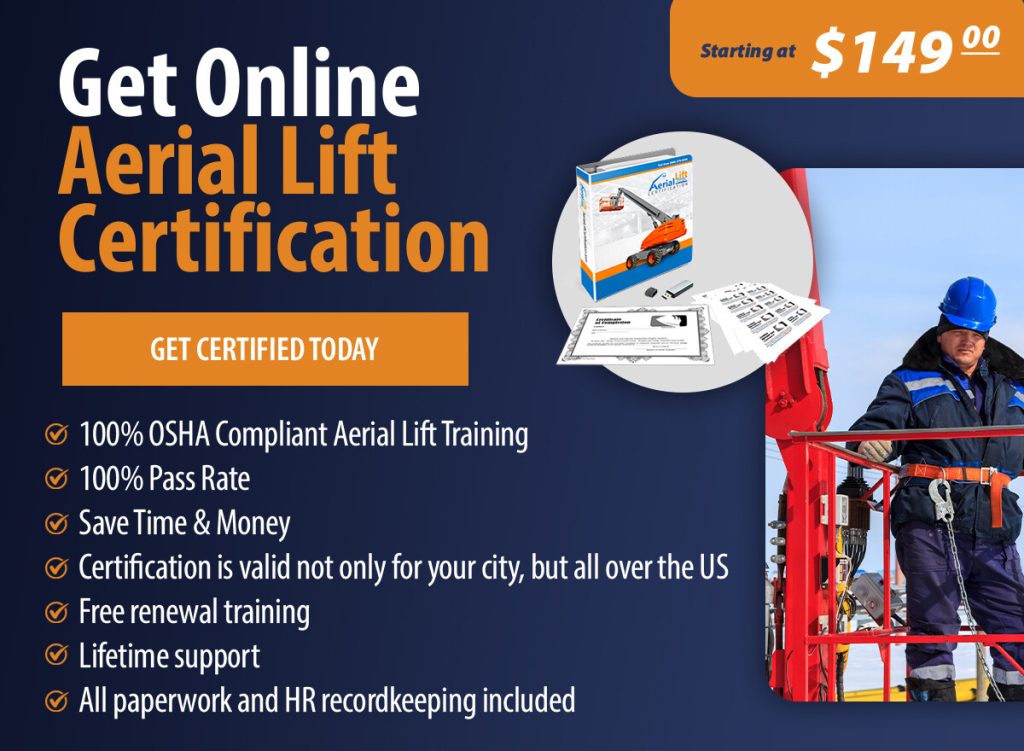 If you're looking for a fast and efficient way for your team to obtain an aerial lift certification in Detroit, look no further! At AerialLiftCertificaiton.com, we offer an operator training kit for a one-time fee of $299.00. This digital and paper copy training kit can help your entire team officially obtain a Detroit aerial lift certification online and on-site when you get our bundle and save option for only $399.99. This kit includes the training you'll need to certify one of your employees as a certified trainer and evaluator.
Do you need more details? Learn how to get aerial lift certified in Detroit using our proven process below.
How Online Aerial Lift Certification in Detroit Works
Your team needs to get certified to understand the proper do's and don'ts of operating an aerial platform. In the past, getting the proper education meant taking time off work to travel offsite for an education. Now, your team can learn everything they need to know online and on-site at your facility or job site. Here is how it works:
Create an Account on Our Platform
Purchase Your Course
Educate Your Employees: Once you've received our kit, you can provide your employees with all the education they'll need to succeed with aerial lifts. Employees can also access our digital educational material 24/7 online.
Employees Pass a Test: Employees must show that they understand the course material by passing a test.
Employees Pass an In-Person Evaluation: Employees must demonstrate they can safely operate an aerial lift by submitting to an in-person evaluation.
Employees Graduate: At this point, your employee is considered sufficiently trained. You can certify their training and print off proof of their training using our kit.
After going through these six proven steps, your employee should have enough knowledge and skill to operate aerial lifts on your job site safely. If you want to complete the certification on-site, consider getting our train-the-trainer course. This way, you can train one of your employees to become a certified trainer. They can perform on-site evaluations for all your employees.

Why Choose AerialLiftCertification.Net for Detroit Aerial Lift Certification
Your team's certification is important for the longevity and success of your job and overall business. Suppose OSHA discovers that you aren't being compliant with their rules. In that case, they will likely penalize you by issuing significant fines. Not only that, but certification is also essential because it helps your team stay safer and avoid accidents. If you're ready to meet your legal obligations and certify your team, we can help! Here are a few reasons you should work with us here at AerialLiftCertification.com.
Fast to Complete: Get through training within an hour
24/7 Online Access to Educational Material
Print Off Instant Proof of Training
Cost-Effective: Train countless employees for one price
Money Back Guarantee
Your team's certification won't last forever, but our guarantee will! We offer free three-year renewals and updates to our training material so that you can stay up-to-date and compliant for years.

FAQs
Do you have more questions about Detroit aerial lift certification, OSHA's rules, and regulations, or general aerial lifts? Get answers to some of the most commonly asked questions below, and then check out our FAQs page for more information.
What Other OSHA Standards Apply to Aerial Lifts?
Getting your team certified doesn't end your legal obligations under OSHA's rules and regulations. Most importantly, under the law, you must ensure that you take reasonable steps to ensure the safety of your worksite and team members. One thing you need to do regularly to ensure that is to perform aerial lift inspections and job site inspections. Regular inspections ensure that all equipment and safety gear are working properly.
If you have more questions about your duty regarding aerial lifts, check out this OHSA fact sheet.
How Does Compliance Prevent Accidents?
Once you spend a few years in the construction industry, you quickly learn how many hazards construction workers face daily as a part of their job. Hazardous conditions are especially true when workers use equipment like aerial lifts. OSHA compliance helps prevent work-related accidents in several ways. For one, through proper training, workers become more aware of the hazards they face. They also learn ways to navigate these risks.
As an employer, complying with other OSHA laws, like inspecting equipment and job sites, can also help prevent accidents. For example, a recent fatal crane accident occurred in Michigan when a boom snapped off a piece of equipment and hit a worker standing on the ground. Proper inspections can help you avoid this type of incident by ensuring all equipment is up to par before every job.

Get Your Detroit Aerial Lift Certification with AerialliftCertification.com
The program with AerialliftCertification.com is the most comprehensive yet convenient program available. It is online, can be accessed 24/7 on any device with the internet, rewards you with a certificate immediately upon completion of the program, is OSHA-compliant, and is affordably priced – we think everyone should have access to aerial lift certification in Detroit. In only about one hour, you can be qualified and confident to start your new aerial lift career in Detroit!
For any questions with aerial lift training in Detroit, give ALC a call today at (888) 278-8896. Thanks for visiting ALC – we look forward to hearing from you soon!