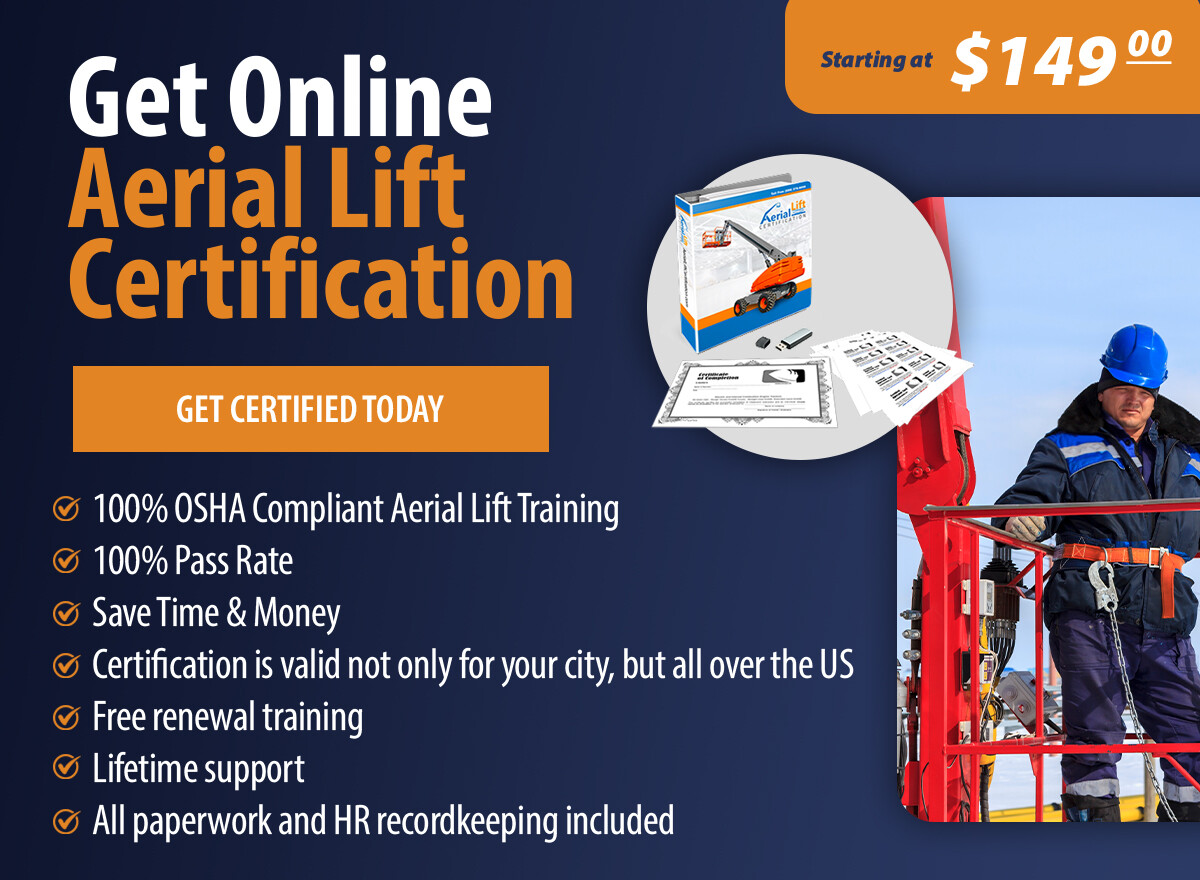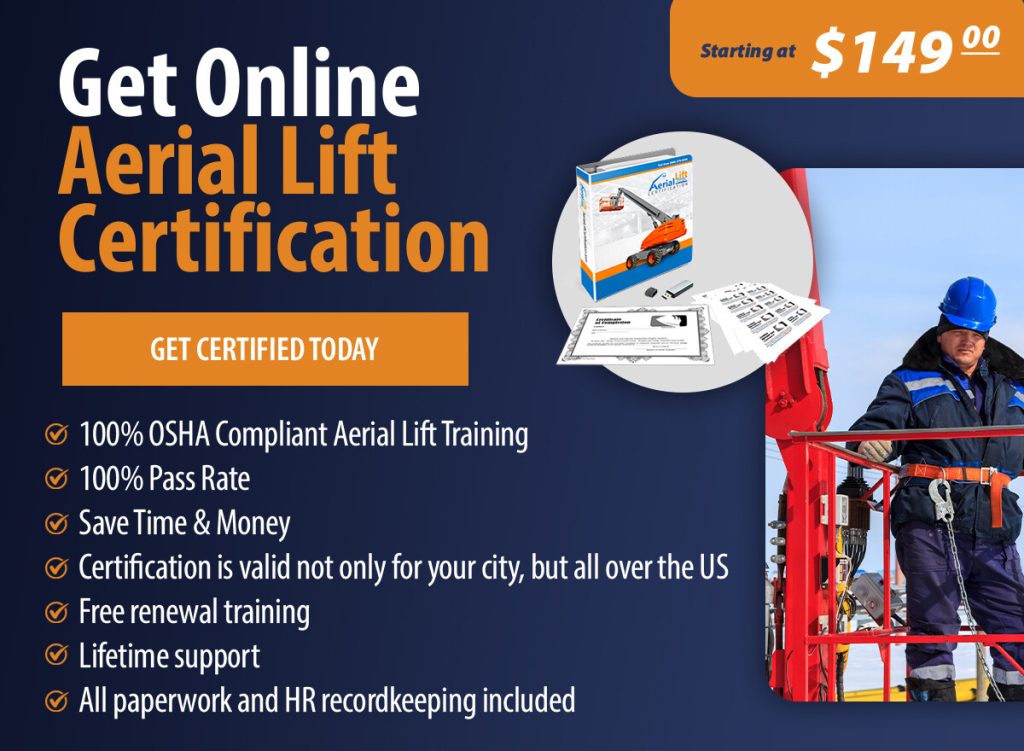 New technologies have a way of transforming the aerial lift sphere. The latest disrupter? Online aerial lift certification in Nashville. While training once required employees to travel off-site for an expensive, time-consuming classroom session, AerialLiftCertification.com makes training more convenient and affordable than ever before. So long as you have an internet connection, you can train to use aerial lifts. Given the convenience, affordability, and availability of our aerial lift training in Nashville, you owe it to yourself to get started. Training options include:
Trainer Certification $149.00: Using our online self-paced class, you can train to become a Certified Aerial Safety Expert at your organization.
Operator Training Kit (to be mailed to you) $299.00: Educate your lift operators in-house using our comprehensive Operator Training Kit.
Bundle & Save (Best Deal) $399.99: Combine both offers for one low price!
How Online Aerial Lift Certification in Nashville Works
Nashville aerial lift certification is simple when you train with ALC. We'll save you valuable time and money by keeping your team on site while they train. The online course can be completed in about an hour – it's a wise investment of your time and resources. To get started, follow these simple steps:
Employee Registration – Create an account, log in, and register any employees who need training.
Select Courses – Select any class that best applies to your organization, then head to check out.
Complete the Classwork – Trainees can finish the online course at their convenience and at their own speed. 
Take and Pass the Exam – Learners can take the written online exam as many times as necessary to earn a passing score.
Complete a Hands-On Evaluation – An on-site trainer employed by your organization should provide a hands-on evaluation. Don't have an employee in mind to oversee this test? Our Train the Trainer course can help you train an individual to teach and assess the skills of new operators.
Print Proof of Training – Once the above steps are complete, you can immediately print off proof of certification in the form of operator cards.
After this point, lift operators are fully certified in the eyes of OSHA. Be sure to file operator cards with your Human Resources department as proof of proper certification.

Why Choose AerialLiftCertification.net for Nashville Aerial Lift Certification
Aerial lift operators in Nashville must be trained and certified to OSHA standards. If anyone in your organization fails to meet these standards, your company bears the financial burden of potential penalties. There's a lot of risk that comes with employing untrained workers. They tend to be more accident-prone – if you're hoping to avoid injuries and fatalities in the workplace, make Nashville aerial lift certification online your top priority. Here are just a few of the benefits of training with ALC:
24/7 Access – As long as you have an internet connection, you can train with ALC.
Fast and Easy – Most people finish the course in about an hour, but you can take as long as you need to with the material.
Immediate Printed Proof of Certification – Once you're done training, you can print off proof of certification and keep it in your HR file.
Free Lifetime Renewals – OSHA requires all aerial lift operators to recertify every three years. ALC offers lifetime renewals, leading to significant savings over the length of your career.
An Incredible Value – Our courses are as affordable as they are comprehensive. They cost a lot less than what most training schools charge, too!
Given these incredible benefits, it makes sense to use AerialLiftCertification.com for your in-house training. With our 100 percent money-back guarantee, there's no risk in giving us a try!

Frequently Asked Questions About Nashville Aerial Lift Certification
Still uncertain about how to get aerial lift certified in Nashville? Allow us to clarify by answering some frequently asked questions:
Why Does Aerial Lift Certification Matter?
Employers are required by OSHA to provide their workers with training and certification opportunities. If your company doesn't adequately train workers, you may be fined. Trained aerial lift operators are quicker, safer, and more efficient on the job. Invest in training now and reap the benefits for years to come.
Can I Register for Training, Or Should My Employer Sign Me Up?
Anyone may register for our online class and pay out of pocket, checking with your employer first is a good idea. Employers are required to provide training for employees, so you may want to wait and get certified once you're employed.
Do You Need Experience to Start Training?
No experience is necessary to begin aerial lift training with ALC. 
Is Aerial Lift Certification Required in Nashville?
Yes, all lift operators in the United States are required to be certified before using aerial lifts at work.

What Makes ALC the Top Choice for Aerial Lift Certification in Nashville, TN?
Along with providing multiple options for aerial lift training in Nashville, ALC takes the guesswork out of certification. We understand that getting your workers OSHA-certified can be a long, arduous process. To streamline this process, we make it easy for Nashville businesses to get the aerial lift certification training they need, exactly when they need it. 
As soon as your workers begin one of our training programs, they can learn about a wide range of aerial lift safety topics. Your workers can get the insights they need to become OSHA-approved aerial lift operators. In addition, your business will be well-equipped to avoid costly, time-intensive aerial lift accidents. 
OSHA requires anyone who uses a boom lift, scissor lift, or any other type of aerial lift to have a license. Therefore, if your Nashville business has unlicensed aerial lift operators on staff, it is breaking the law. In this instance, your company endangers its workforce. Your business can be subject to OSHA penalties as well. 
Avoid OSHA penalties and keep your aerial lift operators safe by offering certification training from ALC. That way, you can ensure your aerial lift operators can receive comprehensive training. You can maintain a safe, productive work environment and avoid OSHA penalties, too. 
ALC is happy to provide additional details about our aerial lift certification training in Nashville. To learn more or to sign your workers up for one of our certification training programs, please contact us online or call us today at (888) 278-8896.