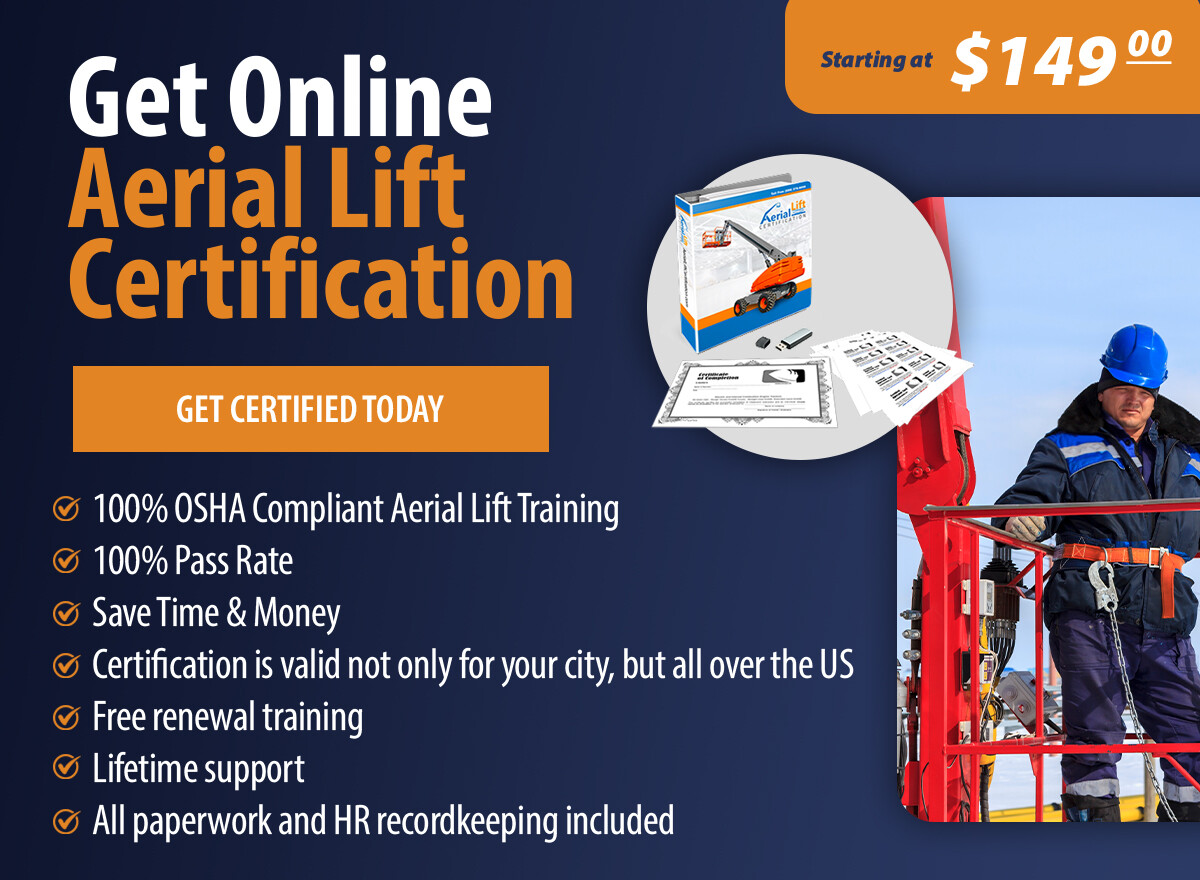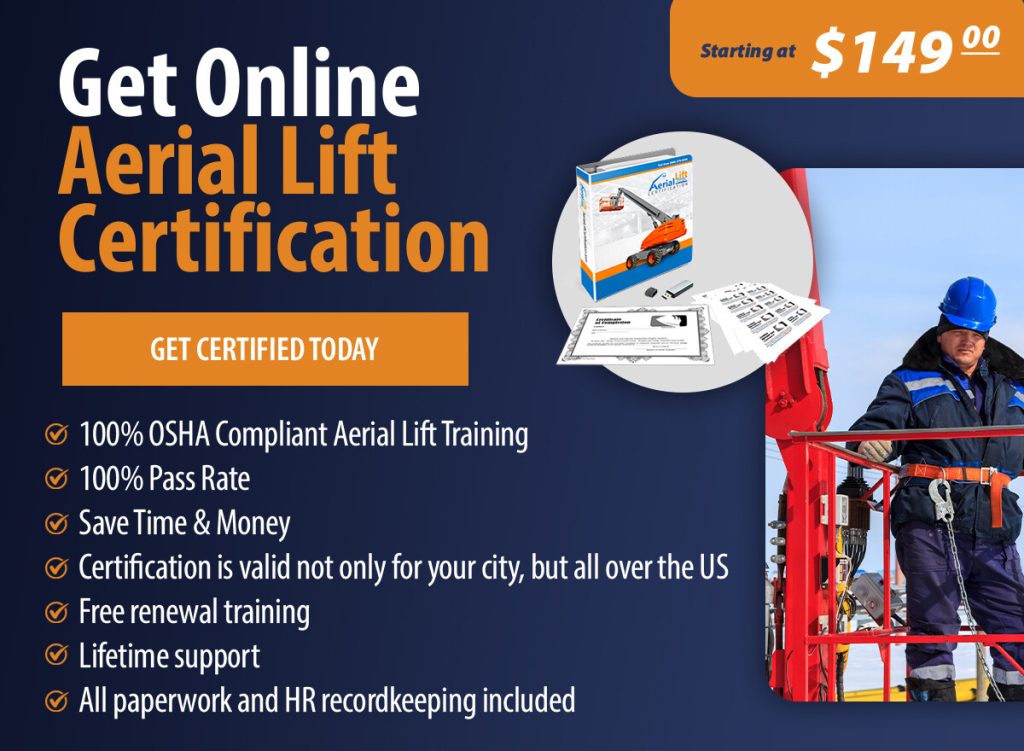 Every Jacksonville company with aerial lifts needs employee training and certification – including yours. AerialLiftCertification.com is the only training partner you need. ALC provides info-packed flash drives with everything you need for OSHA certification. With affordable prices and great customer service, we're here for all your Jacksonville aerial lift certification needs.
We have three training options for aerial lift certification in Jacksonville. Our popular Train the Trainer program ($149) lets you train mobile elevating work platform (MEWP) and aerial work platform (AWP) workers on site. For complete OSHA certification and compliance, try our Training Kit at $299. For the best of both worlds, get both packages for only $399 with our Bundle Package,
Register your company and get compliant! Let's look at how you can get Jacksonville aerial lift certification online – it's easier than you think.
How to Get Aerial Lift Certified in Jacksonville
Follow these steps for simple, affordable Jacksonville aerial lift certification.
Get registered: Sign up with login info for your company and employee accounts.
Choose your ALC aerial lift certification in Jacksonville: Go to the ALC course selection page for everything you need to get started.
Online training: Your workers will learn about OSHA safety standards, how to operate scissor lifts, aerial lifts, and more!
Quizzes: Our training tests ensure employees keep the skills they've learned.
On-site testing: Can your workers avoid accidents? That's the key to compliance. With ALC's checklist and testing content, you can make sure your workers are ready to run your equipment!
Print licenses: The final step of your aerial lift certification in Jacksonville – just print certification, and you're good to go!
Don't wait any longer for Jacksonville aerial lift certification. Sign up now!

Why Choose ALC Aerial Lift Certification in Jacksonville?
Our customers enjoy the following benefits:
Top-tier customer support. We understand OSHA compliance and Jacksonville aerial lift certification. We're here to answer your questions and help with training.
Prices to fit any budget: ALC thinks safety should be affordable. That's reflected in our Jacksonville aerial lift certification online prices.
Get certified in one hour. Many students can complete their training in 60 minutes.
Testing on your terms. Workers can complete their aerial lift certification in Jacksonville whenever it's convenient.

Jacksonville Aerial Lift Certification FAQs
Check out these FAQs about our online Indianapolis aerial lift certification:
Should I have a maintenance program?
If you have regular aerial lift inspections, the chances of accidents go down. We recommend a consistent inspection schedule at all times.
What happens if I skip training?
Unless you want six-figure fines, you should get aerial lift certification in Jacksonville today.
Do I get anything else besides OSHA compliance?
Besides the peace of mind that comes with complete training, you'll also get the best customer service. Plus, as OSHA safety rules change, our training updates reflect them automatically!
We'll show you how to get aerial lift certified in Jacksonville. And we'll also ensure you stay compliant Register today with ALC!

Easy, Affordable, and Fast Jacksonville Aerial Lift Certification
If you're ready to have your employees complete their Jacksonville aerial lift certification and become OSHA compliant, you've come to the right place. We created the most convenient and affordable OSHA-compliant training program available.
Don't hesitate; create an account today! The longer you wait with your aerial lift certification in Jacksonville, the more chances you'll have of getting in an accident, or being audited by OSHA. Get started today with your aerial lift training in Jacksonville. Call ALC today at (888) 278 – 8896 or reach out online.