OSHA Compliant Aerial Lift Certification in Jacksonville | Sign Up with ALC Today | Training & Compliance in About One Hour!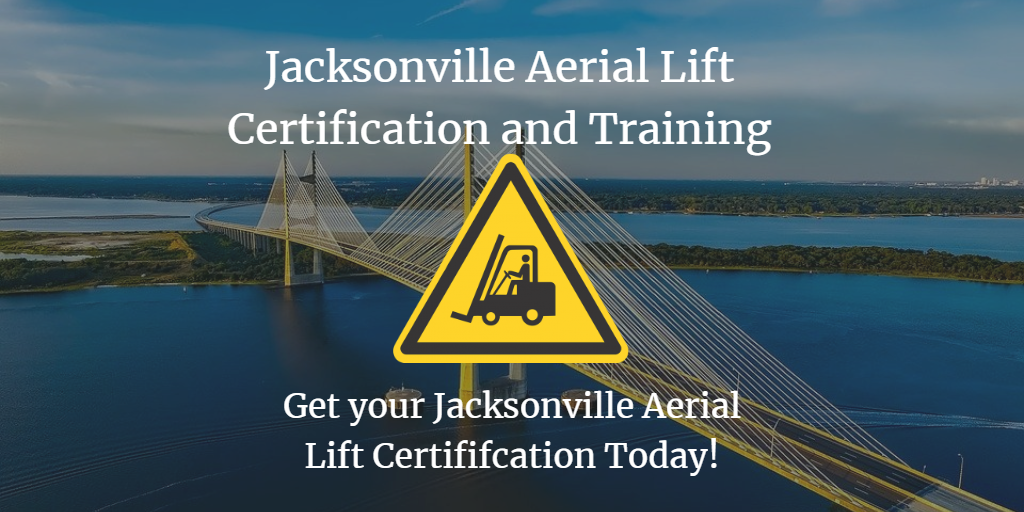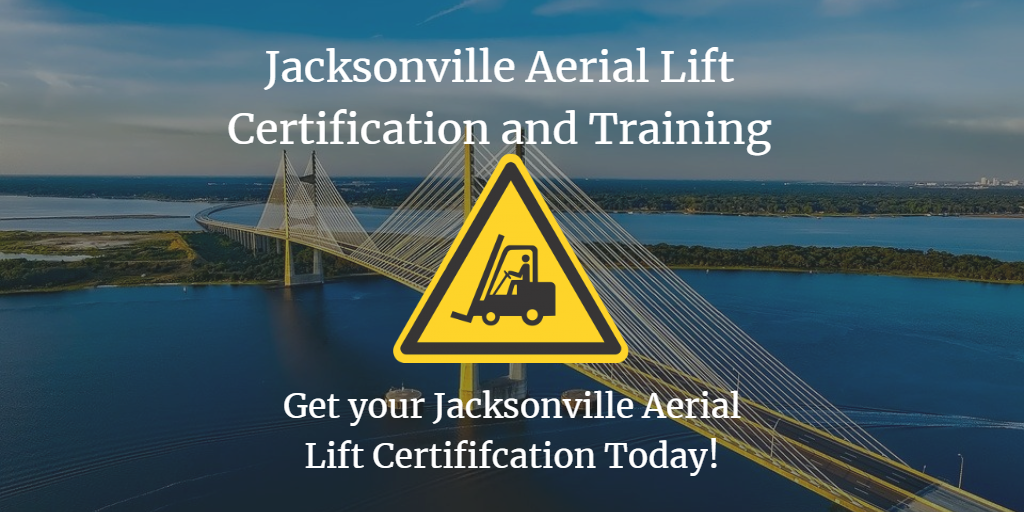 Need to train aerial work platform, aerial lift, scissor lift, or mobile elevating work platform employees in Jacksonville? You've come to the right place. AerialLiftCertification.com offers everything you need to get your entire team their Jacksonville aerial lift certifications. Employers are legally required to provide training and certification opportunities for their workers. Fail to get employees certified and you could face expensive OSHA penalties. 
If that's not enough motivation to sign up for our aerial lift training in Jacksonville, here are a few more reasons:
Stellar customer service

Updated training that reflects the latest OSHA safety regulations 

Free renewal training every three years

Comprehensive OSHA compliance

Paperwork & HR recordkeeping is included

Affordable and convenient
If your company needs help with Jacksonville aerial lift certification, ALC has the training and compliance opportunities you need!
ALC Course Lineup: Complete Aerial Lift Certification in Jacksonville
Investing in a Jacksonville aerial lift certification that is compliant with all OSHA standards is one of the best decisions you can make for your business. ALC courses teach your employees everything they need to know. Students will learn to to operate lift safely, perform inspections and routine maintenance, and avoid accidents will ensure they're prepared to handle anything that comes their way on the job. Here are a few of our course options:
Want a fully certified on-site aerial lift trainer in-house? This course is for you. The convenience and flexibility of having your own safety expert on staff is invaluable. 
Ideal for anyone in your organization that needs to achieve certification. This is the best aerial lift and scissor lift certification in Jacksonville!
Looking to save some cash on your Jacksonville aerial lift certification? This package is a fantastic value. It includes comprehensive compliance and a discounted rate with both courses listed above. 
The path to compliance doesn't have to be stressful or complicated. Just register your organization with ALC today and get your aerial lift certification in Jacksonville on your own terms.

Why Complete a Jacksonville Aerial Lift Certification?
A Jacksonville aerial lift certification ensures your company is OSHA compliant. That means if your employees are involved in an accident, you have the training records to show they've had OSHA approved safety training.
For employers, aerial lift training is important for OSHA compliance. If your company is involved with an aerial lift or scissor lift accident, OSHA may investigate training records, company procedures, and more. These investigations often result in expensive fines and penalties. Properly training and certifying employees is just good business sense.
Of course, there's also the safety factor to consider. Trained, experienced employees are less likely to find themselves involved in workplace accidents. If you're hoping to avoid on the job injuries amongst your team, boom lift training and certification in Jacksonville is an excellent investment. 
Convenience and affordability are two key reasons why so many people opt to earn their certification via ALC. Instead of sending workers offsite to train, you can bring the certification process in house. This saves valuable time and money for your entire organization. Since three-year renewals are included with registration, you'll never need to worry about additional re-certification expenses, either. 
Get signed up with aerial lift certification in Jacksonville today – you won't regret it!
Easy, Affordable, and Fast Jacksonville Aerial Lift Certification
If you're ready to have your employees complete their Jacksonville aerial lift certification and become OSHA compliant, you've come to the right place. We created the most convenient and affordable OSHA-compliant training program available.
Don't hesitate; create an account today! The longer you wait with your aerial lift certification in Jacksonville, the more chances you'll have of getting in an accident, or being audited by OSHA. Get started today with your aerial lift training in Jacksonville. Call ALC today at (888) 278 – 8896 or reach out online.