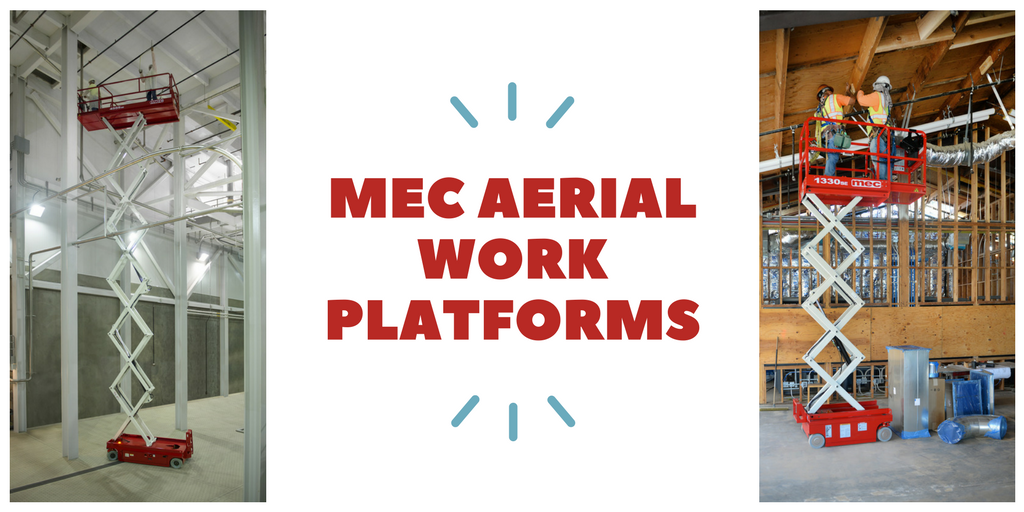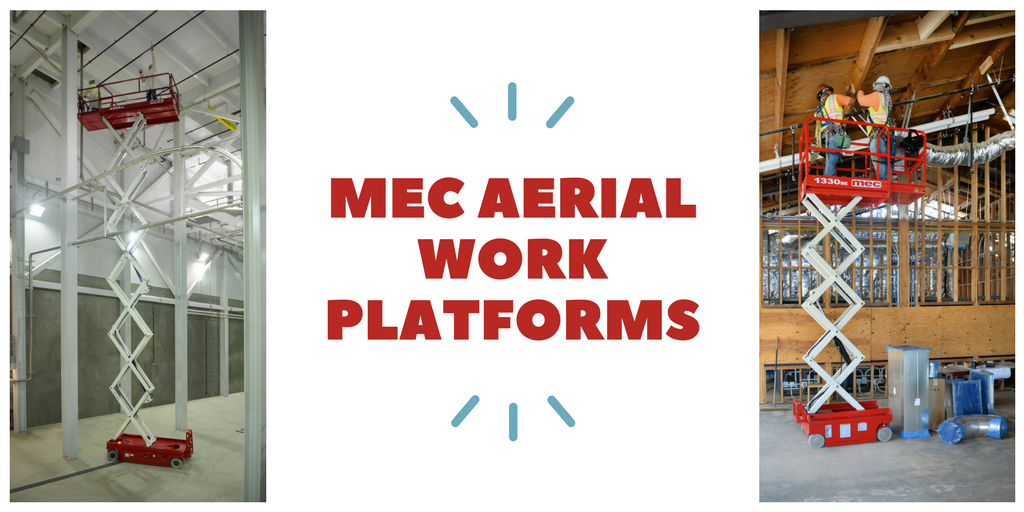 MEC Aerial Work Platforms, a manufacturer of various models of aerial lifts used primarily in the construction and building industries has been in business for more than 40 years. Located in Kerman, California., MEC's best-known products are its Titan Boom Lift and Speed Level Sigma Lift. MEC Aerial Work Platforms offer top quality MEC scissor lift and boom lift equipment that can make your business a safer and more productive place to work.
For employers, having your aerial work platform (AWP) workers certified is more than just something nice for your employees to have – under regulations established by OSHA, it's also the law! Click here to learn more about MEC  lift equipment and why it's important to arrange aerial lift training and certification for all your aerial lift operators. Having employees operate or work from aerial work platforms without OSHA-approved training and certification is strictly illegal, and as an employer, you can't afford to take the risk of putting off AerialLiftCertification.com's MEC aerial work platform training.
The undisputed choice of business of all sizes throughout the country, AerialLiftCertification.com (ALC) is the premier online training source for MEC aerial work platform operator training. ALC provides everything that's needed for you as an employer to become OSHA-compliant in virtually no time at all by having us train and certify your employees to work from aerial work platforms, including MEC equipment. Our surprisingly affordable prices, comprehensive training materials, convenient 24/7 online access, free lifetime support and free renewal training as required by OSHA every three years make AerialLiftCertification.com the training school of choice for AWP certifications, including MEC scissor lift training.

Enroll Today for MEC Aerial Lift and Scissor Lift Training From ALC
To register your company and become compliant for all types of MEC aerial work platforms, sign up now. Our training is fast, easy and affordable. Signing up for our MEC scissor lift training and MEC aerial lift certification program will also keep you and your employees on OSHA's good side. In as little as about an hour, your workers can complete their MEC online lift certification training using a smartphone, tablet or similar digital device anywhere there's an Internet connection.
Through our Aerial Lift Training Kit, you can train and certify your entire workforce for a low, one-time payment of just $299 For $149, one or more of your employees can be certified as an in-house instructor to train and certify other workers through ALC's Train the Trainer program. For even greater savings, our Bundle and Save package includes both programs for the discounted price of $349, which is a savings of $50 over purchasing the two courses separately.  Available in both English and Spanish versions, our MEC scissor lift and aerial lift training includes free lifetime renewal training, refresher training, and periodic training course updates.
After enrolling in and completing MEC lift training from ALC, your employees will have the knowledge and skills they need to safely operate MEC scissor lift and aerial lift equipment. A few of the topics covered in our OSHA-approved certification program include how to:
✓ Conduct Equipment Inspections and Perform Routine Maintenance
✓ Use the Lift Equipment in Accordance With MEC's Factory Instructions
✓ Safely Navigate Around Pedestrians and Obstacles Under Various Workplace Settings
✓ Use Personal Protective Equipment (PPE) Such as Body Harnesses and Lanyards to Prevent Falls and Injuries
ALC's aerial lift and scissor lift training also clarifies two recent updates to the American National Standards Institute's (ANSI) A92 Standards. These changes affect the rules for safely using mobile elevating work platforms (MEWPs) and add new training requirements for operating, inspecting, testing and maintaining MEWPs.
Types of Aerial Work Platforms Made by MEC
MEC specializes in making and selling aerial work platforms from their facility in Kerman, California. Their line of equipment includes a variety of MEC aerial work platforms, scissor lifts, telehandlers, and telescopic and articulating boom lifts. Each of these AWPs has unique capabilities designed specifically for different types of jobs. The main categories of MEC aerial lifts and platforms are Micro, Compact, Rough Terrain and Large Scissor Lifts, Diesel and Electric-Powered Articulating and Telescopic Boom Lifts and Utility Lifting Machines.
MEC Lift Equipment Uses and Training Requirements
Small micro or compact scissor lifts, which are sometimes also called slab lifts are mainly used inside large buildings like warehouses, shopping centers, museums and similar facilities for various routine tasks such as stocking shelves, picking inventory, changing overhead lights, installing and maintaining overhead sprinkler systems, HVAC equipment installation and maintenance and routine repairs.
MEC's rough terrain scissor lifts are designed for working outside on uneven terrain under rugged conditions that require medium reach capabilities. You'll find rough terrain scissor lifts in lumberyards, outdoor construction sites and inside low-rise buildings where they're used for everyday maintenance and repairs. If your employees need MEC aerial work platform training, get in touch with ALC today. Our scissor lift training and certification programs cover every type of aerial lift and other AWP equipment made by MEC.
Boom lifts provide the greatest height-reaching capabilities. Telescopic boom lifts are most often used for overhead electrical and cable communications work. MEC AWP training teaches workers how to safely and properly use MEC's high quality articulating and telescopic boom lifts in various settings under a variety of simulated workplace conditions.
MEC telehandlers are basically forklifts with greater reach capabilities. They're, usually fitted with pallet forks. and are typically used for lifting materials and equipment on construction and building sites.
Regardless of the type of MEC aerial lift or scissor lift equipment used in your business, always keep in mind that OSHA-approved training for each of your drivers isn't elective – it's mandatory. When you choose ALC training to certify your workers, there's no need to pay high prices or have your operators waste valuable time traveling to and from offsite, time-consuming training facilities.
Why MEC Scissor Lift and Aerial Lift Training is Necessary
The various types of MEC lifts require different skill sets and knowledge to operate them safely, so when it comes to training your workers to properly operate aerial lifts and scissor lifts, you'll need a comprehensive training program that covers all types of lift equipment.
AerialLiftCertification.com offers the fastest, most convenient and most reasonably priced  OSHA-compliant training you'll find anywhere. Our MEC aerial lift certification program will teach your workers how to operate the various MEC aerial lifts and scissor lifts, as well as AWP equipment from other manufacturers. After your operators complete our program, your workplace will be safer and more productive, and you'll have fulfilled the OSHA requirements for AWP training and certification.

MEC Aerial Lift Parts
Although most MEC equipment and parts are warrantied for 12 months from the date of original purchase, there inevitably will come a time when replacement parts or spares are needed. MEC aerial lift parts are now available directly from our Kerman, California factory. For orders placed by 2:00p PST daily, same day and overnight shipments can be arranged. For more information or to place an order, call us at (559) 842-1500 or email MEC at Parts@MECawp.com.
Enroll Now
To get started on your way to becoming OSHA-compliant, sign up now! Contact us online or call ALC at (888) 278-8896 to speak with one of our MEC aerial work platform experts – you'll be glad you did! AerialLiftCertification.com is here to help you with your MEC aerial lift equipment and other equipment training needs Thanks for considering AerialLiftCertification.com for all your training on MEC aerial work platforms!