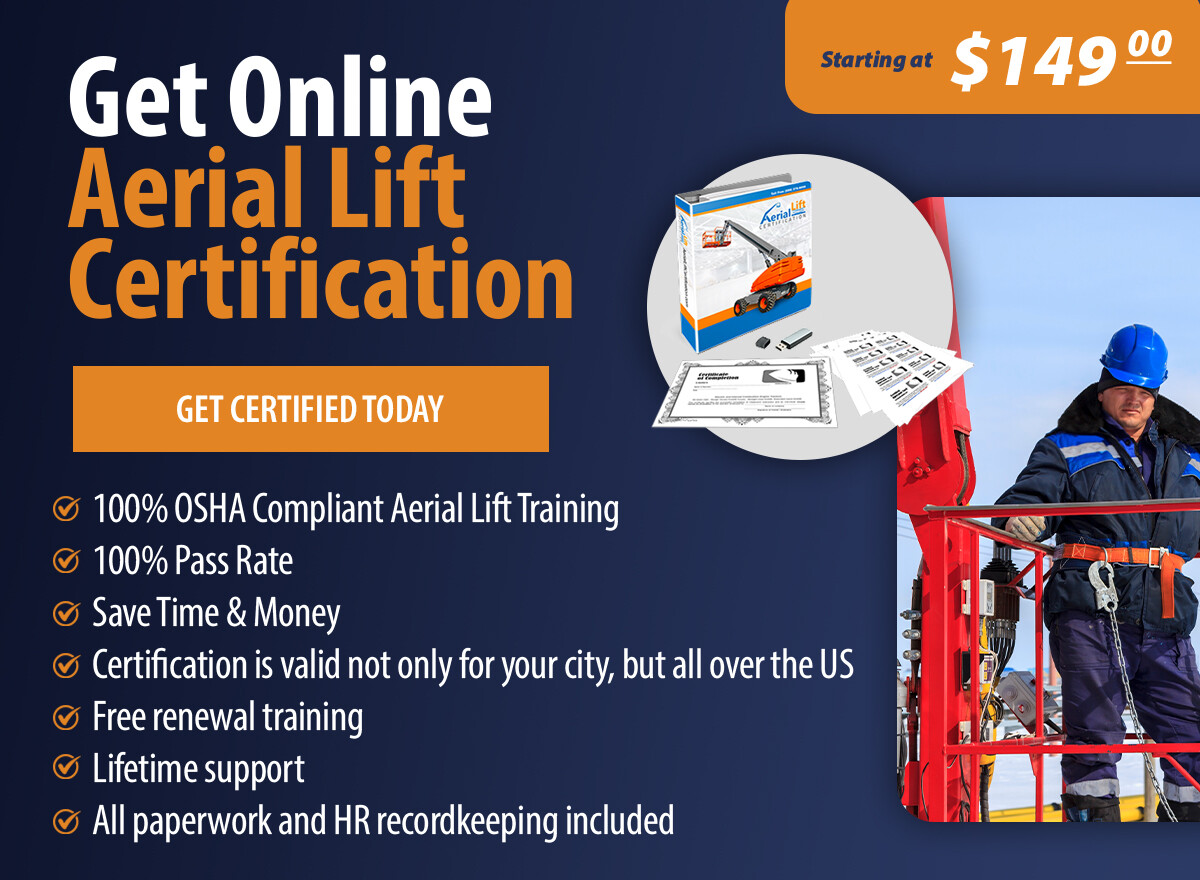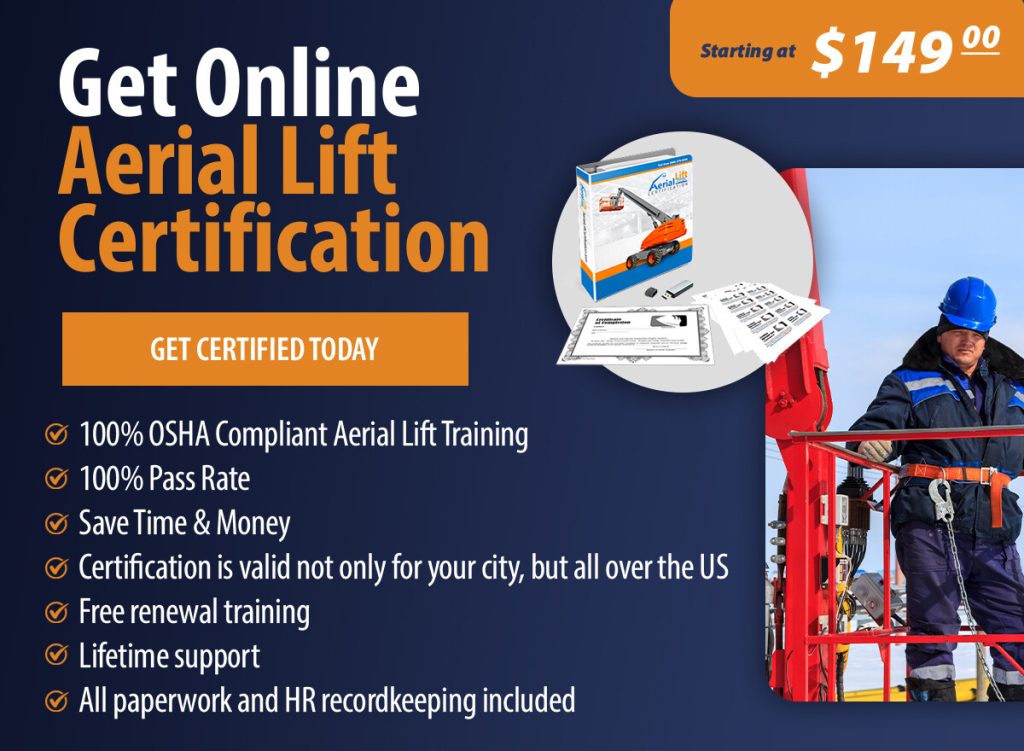 On average, 300-400 Americans get injured every year while attempting to operate an aerial lift. The last thing you want is for one of those incidents to happen on your job site under your watch. One way to prevent these types of accidents is to ensure that your employees know how to get aerial lift certified in Philadelphia.
In the past, getting your Philadelphia aerial lift certification meant downtime from work and lost productivity. Now, however, you and your whole team can seek out a Philadelphia aerial lift certification online using our training kit here at aerialliftcertification.com.
Our comprehensive training kit comes at a one-time price of $299. For $100 extra, you could bundle our services and also obtain a 'train the trainer' kit, too. This will make sure you have everything you need to certify an unlimited number of employees to operate aerial lifts not only in Philadelphia but across the country.
How Online Aerial Lift Certification in Philadelphia Works
Getting your aerial lift certification in Philadelphia doesn't have to be a time-consuming and stressful process. With our training program, your employees won't need to miss work, arrange for childcare, or feel inconvenienced. Instead, they can take our educational course online in their free time. Here is how our process works:
Select Our Platform and Sign Up

: Your first step in getting certified is picking a training program. Aerialliftcertification.com is a great option, so if you've chosen to partner with us, then your first step is signing up. If you're an employee, then you'll likely want your employer to handle this step.

Pick Your Product

: Next, the employer will select which type of training product they'd like to purchase. Depending on your needs, you may want to purchase our bundle, which offers both the certification program and a 'train the trainer' kit. Select the course(s) and make the payment.

Online Education

: Next, employees will go through the online training material. Make sure your employees understand that they need to really read through and comprehend the subject matter because they will need to apply all the information in the course to actually operating an aerial lift later.

Online Examinations

: Throughout the process, you'll encounter five online pre-examinations. You will need to pass these quizzes to proceed with the educational material.

Hands-On Test

: Finally an on-site operator will perform a hands-on test.

Obtain Your Certification

: Once an employee passes the hands-on exam, they can print off their certification and official aerial lift operator card.
After completing every step above, your employee will be considered fully trained by OSHA standards. You or the employee should keep a copy of their certification at each job site in the event the job site gets inspected.

Why Choose Aerialliftcertification.com for Philadelphia Aerial Lift Certification
Why is it important for your employees to be trained up to OSHA standards? Not only is it a legal requirement for aerial lift operators, but it's also a safety issue, too. As explained above, hundreds of workers get injured on aerial lifts every year. You can reduce the risks of an aerial lift injury or death by adhering to OSHA standards and ensuring that all your employees are certified.
Aerialliftcertification.com is a one-stop shop that will help provide you with everything you need to accomplish your goals. You will only pay us for our training guides and materials one time. Once you've done so, you will be able to train an unlimited number of employees for years to come. Here are a few more advantages of partnering with us:
Ease of access: access training materials 24/7/365 anywhere with internet access

Fast: many employees report completing the training within an hour

Cost-effective: certify an unlimited number of employees for a one-time price

Renew for free

Proof of training: print off your certification after the program
For all the reasons listed out above, aerialliftcertification.com is a great option for employers who plan on using aerial lifts.

Philadelphia Aerial Lift Certification FAQs
Do you still have more questions about getting certified or our program? No worries! Check out these FAQs and more below.
Do I Have to Worry About OSHA Inspections?
OSHA inspects job sites regularly and without any advanced notice. With that in mind, you should always prepare for inspections because they could happen at any time. If you fail an inspection, then you could get hit with fines or even have your job shut down for safety concerns.
Do I Really Have to Worry About Aerial Lift Accidents?
The reason why OSHA might shut down your job site is because of safety concerns. Common aerial lift accidents can lead to life-altering injuries, so safety needs to be a top priority at every job site.
How Long is a Certification Good For?
Your aerial lift certification needs to be renewed every three years.

Choose ALC for Philadelphia Aerial Lift Certification Training
Aerial lift certification training is a must-have if you require workers to use AWPs. Thanks to ALC, you can get your workers OSHA-certified right away. And you can reap the benefits of your decision to provide certification training to your workers long into the future. 
There is no reason to put off having your aerial lift operators trained and certified any longer! Enroll them in Philadelphia aerial lift operator certification training today. Or, if you still have questions, call us at (888) 278-8896 to speak with one of ALC's training experts or contact us online for more information.