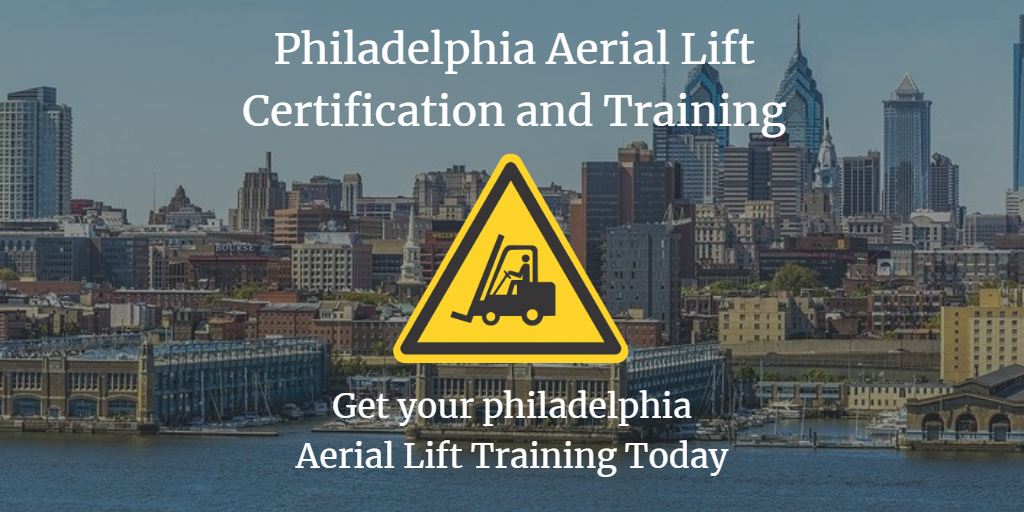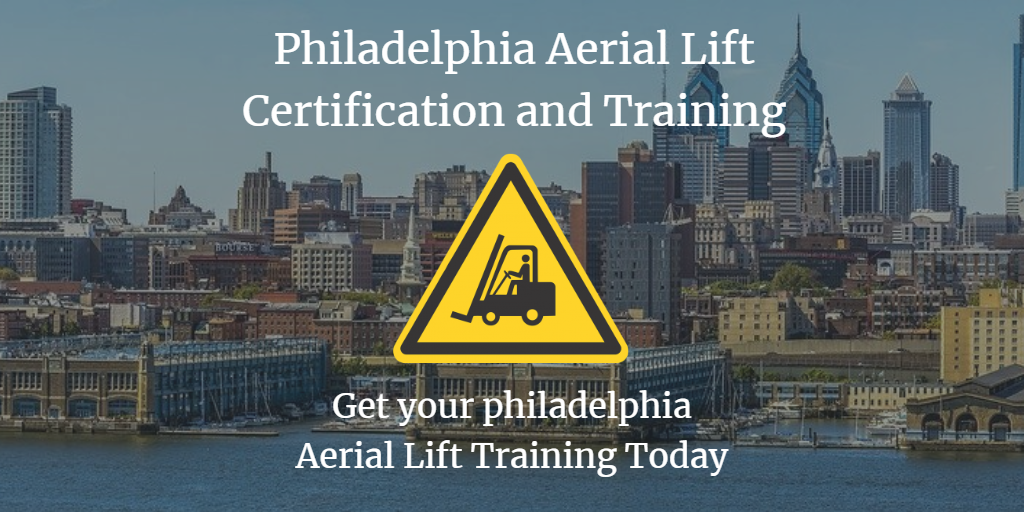 Choose AerialLiftCertification.com for Aerial Lift Certification in Philadelphia That Meets OSHA Requirements.
Home of the Liberty Bell, Independence Hall, and other historic sites, Philadelphia is the sixth most populous metropolitan area in the United States. It's also one of the busiest job markets on the east coast, increasing both the demand for aerial lift operators and the competition among employers for their services. Getting your employees qualified with aerial lift certification in Philadelphia is one of the most important yet easiest things you can do — and that's where AerialLiftCertification.com can help. If you have employees that require Philadelphia aerial lift certification, ALC's fast, convenient, and affordable aerial lift training programs include everything you need to become OSHA-compliant. 
Philadelphia Aerial Lift Certification Training Courses 
Here's an overview of our three Philadelphia aerial lift training certification programs. 
Aerial Lift Training Kit 
One of our most popular aerial lift certification programs, the kit covers all types of aerial lifts. A one-time payment of $299 will allow you to train and certify your entire workforce in as little as one hour.
Train a Trainer Program 
This class lets you certify one of your company's experienced drivers to train your other operators for just $149, which means you'll have an in-house safety training instructor available at all times. Philadelphia aerial lift certification training doesn't get any better than this! 
Bundle and Save Package 
Get both our Aerial Lift Training Kit and Train a Trainer Program for $349, which saves $50 over purchasing them separately. This is the best value you'll find anywhere for Philadelphia aerial lift operator certification training.

Reasons to Have ALC Certify Your Operators 
When you choose ALC to certify your aerial lift operators, you've chosen the best training around. Here are some of the many reasons why our programs can't be beat: 
✓

Our Aerial Lift Training Is Fast. 

All training materials are online and accessible around the clock. Using any device connected to the internet. Training can be completed in as little as an hour, although there are no time restrictions. Most students pass the first time, but the training can be taken as many times as needed. 
✓
You Can Forgo Offsite Training.
The time and costs required to enroll your workers in an offsite aerial lift certification training program can be exorbitant. With ALC, you can sign your workers up for seamless, economical online certification training.
✓ 
ALC's Training Is Fully OSHA-Compliant.
When your operators complete ALC's Philadelphia aerial lift certification program, your workplace will be safer and more productive than ever before. You're also less likely to incur OSHA penalties and fines. 
✓ 
We Provide the Most Up-to-Date Training.
Our learning modules are designed in accordance with OSHA regulations 29 CFR1910, the National Fire Institute, and the American National Standards Institute. We track myriad regulations closely and keep our training up to date, too. 
✓ 
Our Training Is Affordable. 
ALC's aerial lift training program costs only $299, which will certify all your current and future operators. There's no reason to spend a lot of money to train your operators. 
✓ 
We Provide Interactive Certification Training.
We provide state-of-the-art training modules, including PowerPoint presentations, quizzes, and pre-test summaries. All of our training modules are accessible on any desktop or laptop computer, smartphone, or tablet.
✓ 
Our Certification Training Is Straightforward.
We design our certification training for workers of all skill and experience levels. Anyone can access one of our training programs and use it to quickly become an OSHA-approved aerial lift operator.
✓ 
There Is No Time Limit.
Your workers can commit as much time as they choose to complete our aerial lift certification training program. When an employee finishes, he or she instantly becomes an OSHA-approved aerial lift operator.
✓ 
We Cover Relevant Aerial Lift Safety Topics.
Our training educates your workers about boom lifts, scissor lifts, and other types of aerial work platforms (AWPs). Upon completion, your employees will know how to operate a lift with precision and care.
✓ 
We Offer Multiple Training Options.
Your workers can capitalize on self-paced, guided, or group certification training programs. Each one ensures that any employee can learn in a way that works well for him or her.
✓ 
Our Online Training Is Convenient. 
Your employees can take the training any time or place – at a coffee shop, during a lunch break, or at home. With ALC's aerial lift certification, your workers won't need to take time away from work traveling to and from an offsite training facility. 
✓ 
All Documentation Is Available Immediately. 
After completing ALC's training, temporary lift operator cards are immediately available – just download and print them! There's no need to wait for the certifications to arrive in the mail. 
✓ 
Our Training Can Help You Avoid OSHA Penalties. 
Your business will have less risk of incurring severe OSHA penalties and fines. CertifyMeOnline.net, which is an ALC affiliate, surveyed more than 100 business owners, managers, and safety personnel about their experiences with OSHA. More than half reported OSHA had audited them, and 18% of these received fines, the majority of which were over $100,000! Click here to see the full study. 
✓

W
e

Stand Behind Our Training.

If you have concerns or questions regarding our aerial lift certification training, let us know. Our team is available to assist you in any way we can.  
✓ 
You Can Optimize Workplace Safety and Productivity. 
If you have untrained aerial lift operators on your payroll, it's important that you have them certified as soon as possible. With our aerial lift certification training, you can improve workplace safety and productivity. 
Protect yourself and your workers against OSHA penalties and fines — enroll your workers in ALC's Philadelphia aerial lift certification now!
The Importance of Aerial Lift Certification in Philadelphia 
Safety is the primary reason OSHA requires operator certifications. They're also more efficient and productive. Properly trained and certified workers have the skills and knowledge needed to operate aerial lifts, perform inspections and routine maintenance, recognize hazards, and understand a lift's controls. 
ALC's aerial and scissor lift training is the most effective way to prevent accidents that can result in serious worker injuries or fatalities. When your workers complete ALC's aerial lift certification program, you'll also be protected against OSHA penalties and fines. 
Philadelphia aerial lift certification is more than just an OSHA requirement – it also makes good business sense. After your workers complete our Philadelphia lift operator training, they'll have increased confidence in operating the equipment. 
ALC's certification is without question one of the best means of preventing aerial lift accidents. Operator error is the main cause of most of these accidents. And it's a lack of training that puts workers' lives at risk. 
Thanks to ALC's fast and affordable aerial lift certification program, there's no need to spend a lot of money to become OSHA-compliant. Plus, you can avoid putting your company and employees at risk – sign your workers up for our aerial lift certification training today!
How to Get Aerial Lift Certification for Your Workers
Enrolling your employees in ALC's aerial lift operator training is simple – just follow these five easy steps: 
Register your business on our website (it takes only a couple of minutes).

Sign up each of your operators. 

Have your operators log in to the company account.

Have them watch the online video training classes and take the exam (this usually takes about an hour).

After completing the exam, a certified training instructor will evaluate each trainee's lift operating capabilities and safety knowledge.The only thing you'll need to supply is an instructor to perform the evaluations.
That's all there is to it! After students pass the test, the aerial lift certification process is complete and they're 100 % OSHA-compliant. All that's left to do is download and print their temporary lift operator cards, and they're ready to work!  

Choose ALC for Aerial Lift Certification Training
Aerial lift certification training is a must-have if you require workers to use AWPs. Thanks to ALC, you can get your workers OSHA-certified right away. And you can reap the benefits of your decision to provide certification training to your workers long into the future. 
Our aerial lift certification training ensures your workers can learn about all aspects of aerial lift safety. From here, they can operate aerial lifts properly and contribute to your company's success. 
There is no reason to put off having your aerial lift operators trained and certified any longer! Enroll them in Philadelphia aerial lift operator certification training today. Or, if you still have questions, call us at (888) 278-8896 to speak with one of ALC's training experts or contact us online for more information.