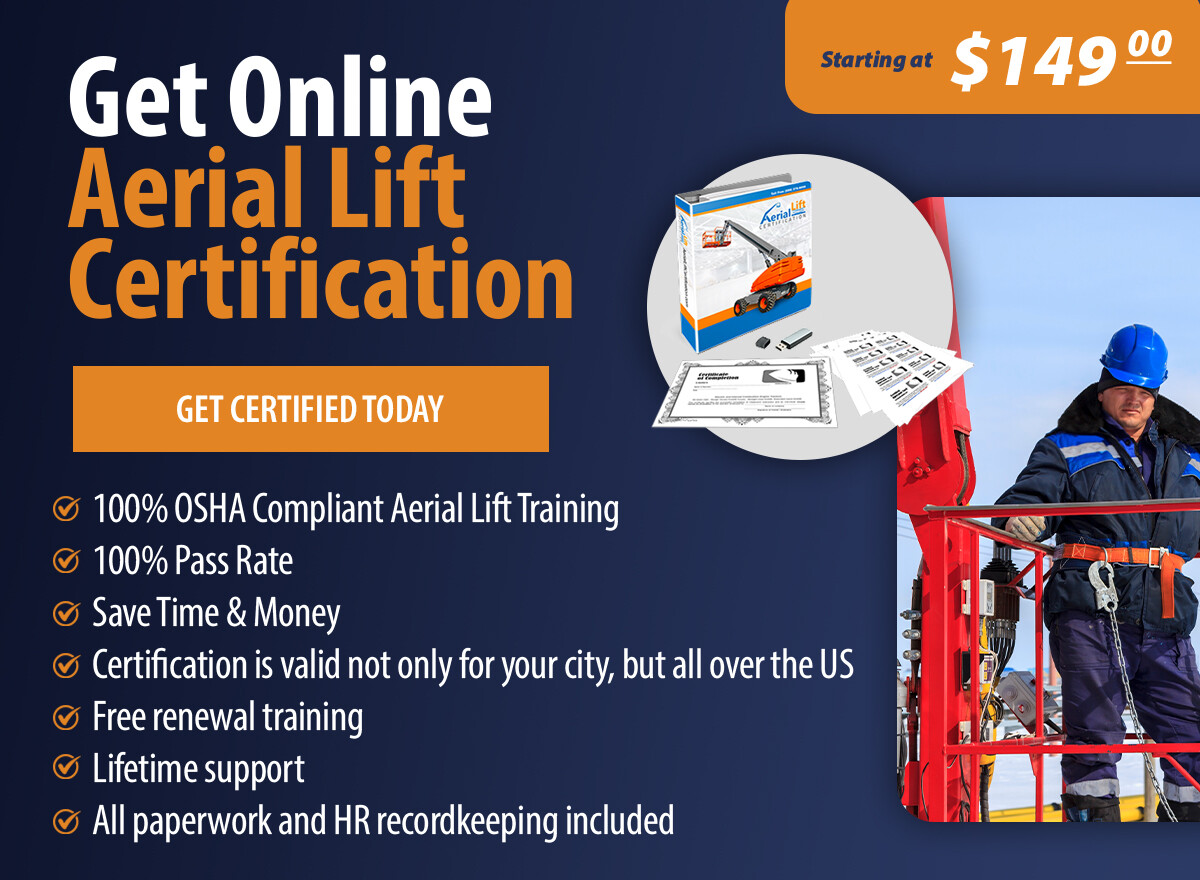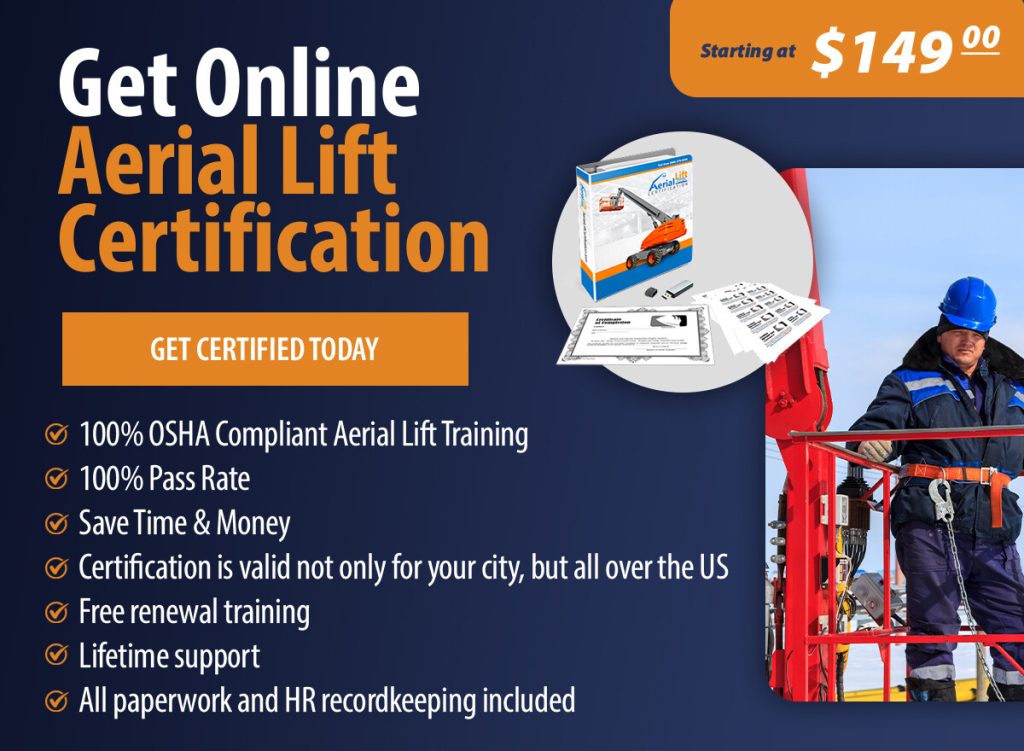 Does your company have aerial lifts, mobile elevating work platforms (MEWPs), aerial work platforms (AWPs), scissor lifts, cherry pickers, and similar equipment? If so, you must provide OSHA-approved training and certification for every employee.
But where to begin? What about constantly changing OSHA guidelines? And how will this impact my budget? Your training solution is here for Long Island aerial lift certification: AerialLiftCertification.com. Our online based courses give you everything required for complete, comprehensive aerial lift certification in Long Island.
It's against the law to have anyone operate aerial lifts, MEWPs, and AWPs without proper training and certification. With ALC's Training Kit for just $299, your workers will gain the skills, confidence and OSHA knowledge to operate all your equipment safely and efficiently. We also have a value-added, money-saving Train the Trainer program to give you an in-house training expert for only $399. Get registered with ALC today…you can't afford the cost of non-compliance!

How Online Aerial Lift Certification in Long Island Works
ALC is with you every step of the way with your aerial lift certification in Long Island. Follow these steps and you're on your way to 100% OSHA compliance. 
Get registered – company and employees

: This simple step includes login and password creation.

Pick the Long Island aerial lift certification you need

: On our

course selection page

, you'll see all the options available – we already discussed our two most popular options, the Training Kit and Train the Trainer courses. If you'd like both for an exclusive discounted price, just choose the

Bundle Package

. Many Long Island and New York employers opt for the Bundle Package to cover ALL their training requirements.

Take online training

: Your employees then get online to complete the classroom portion of

their Long Island aerial lift certification

. Most employees can complete this step within an hour or so.

Quiz time

: Our unique approach to learning reinforces

OSHA safety guidelines

so all employees are prepared for evaluation. Speaking of that step…

Hands-on evaluation

: OK, it's time for your employees to prove they can safely operate your MEWPs and AWPs to the latest OSHA guidelines. We'll provide all the checklists and training resources. Our Train the Trainer program streamlines this process for optimal efficiency.

Print aerial lift operator licenses

: No waiting around in the mail for official credentials – just print operator cards and all employees who pass the course and hands-on evaluation are ready to work!
That's it! At this point, your operators have all the knowledge they need to identify and avoid hazards – plus, your company is covered in case of an accident or injury – and eventual OSHA audit or investigation!  
Advantages of ALC's Aerial Lift Certification in Long Island
Here are just some benefits you'll enjoy with our online Long Island aerial lift certification:
FREE renewal training

: after 3 years, your employees'

Long Island aerial lift certification

expires. No problem – ALC offers renewal training at no extra cost!

Awesome prices

: companies all over Long Island rely on ALC for on-point – and affordable – certification and OSHA safety training.

Fast & efficient

: on average, most students can complete their

aerial lift certification in Long Island

in about 60 minutes.

Ultimate in convenience

: unlike other training providers, our training has no set schedule – your workers can complete their certification on YOUR schedule!

Long Island Aerial Lift Certification FAQs
We get plenty of questions about how to get aerial lift certified in Long Island…here are some of the most common ones:
What happens if I don't provide training for my AWP operators?
If your employees are in an accident, and an OSHA audit shows they don't have Long Island aerial lift certification, your operators are subject to crippling fines and penalties.
What about aerial lift inspections?
ALC recommends regular maintenance as part of a sustainable, safety-first company culture. Aerial lift inspections are part of this process – and we'll help you establish a plan that works for your company
Does ALC offer other resources beyond training?
Absolutely! From aerial lift safety checklists and friendly customer support for all your questions, you have a reliable, always-ready training partner with ALC!

Choose AerialLiftCertification.com for Your Long Island Aerial Lift Certification Today!
With our online aerial lift certification program, we ensure workers understand OSHA standards and are certified to operate AWPs.  The training teaches workers how to operate a lift and inspect it and the work area while remaining in compliance. Workers will learn how to recognize hazards and avoid them to prevent injury. Our scissor lift certification in Long Island is the best to ensure employees are certified and able to do their jobs. The courses are affordable for individuals and companies.
Don't hesitate to get started on your compliance certification. Sign up today and get started on your safety program. You can find out more when you talk to our training experts and OSHA compliance consultants and get all your questions answered. Call us at (888)278-8896 today.