15 Things You Never Knew About Aerial Lifts and Scissor Lifts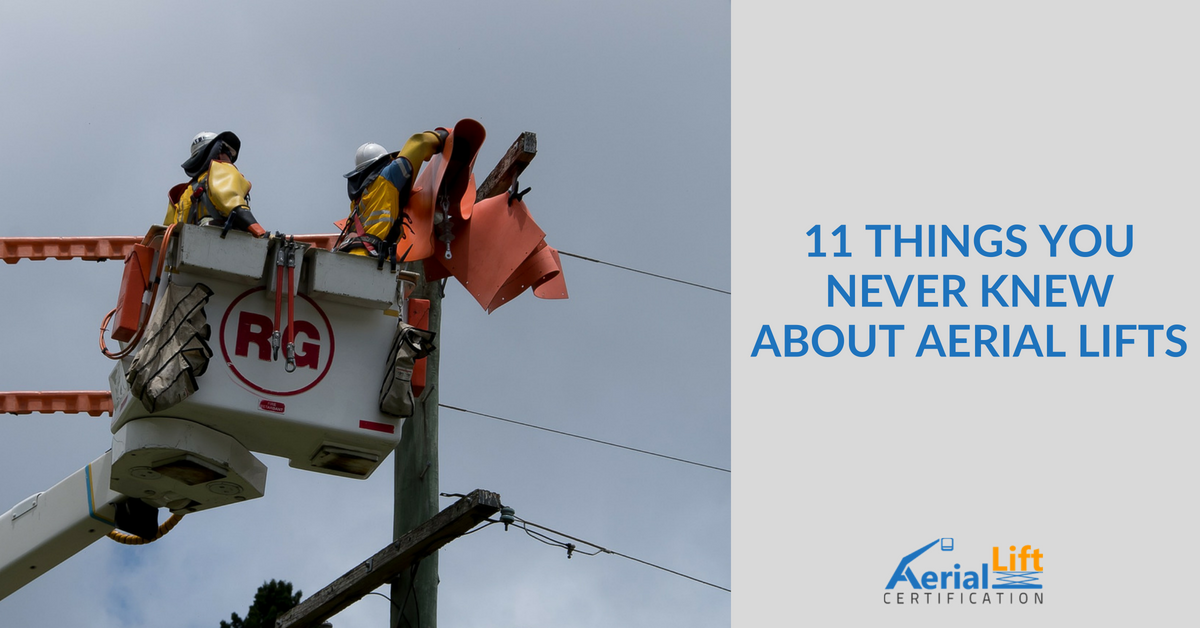 Whether you've operated an aerial lift before or are looking to get trained to become a certified aerial lift operator, there are probably a few things you still need to learn about them. So, the next time you're talking with your coworkers after a long day of work, you can show off your knowledge with these 15 things you never knew about aerial lifts.
The invention of the aerial work platform is often credited to John L. Grove, an American inventor and industrialist. However, before Grove's first model, a company called Selma Manlift introduced a model in 1966. This lift was much smaller than today's tallest aerial lift, and not much higher than the tallest scissor lift (see below).
While on a road trip with his wife, Grove witnessed two workers at the Hoover Dam get electrocuted while working on scaffolding. After witnessing this tragic event, was inspired to manufacture a product to allow workers to perform construction and maintenance tasks in the air more safely.
The world's tallest aerial lift to date, created by Elliott Equipment, offers a 215-ft. working height, 80 ft. of side reach, and up to 1,200 lb. of platform capacity. Technically, the E160/215 is officially known as an aerial work platform (AWP), but still qualifies as the tallest aerial lift in the world, even higher than the JLG 1850SJ (185 ft. high).
The most common types of aerial lifts are cherry pickers (boom-supported work platforms mounted to a vehicle), personnel lifts (mechanical ladders), articulating boom lifts (cranes that can be maneuvered vertically or horizontally or rotated 360°), telescopic boom lifts (single-boom work platforms that are retractable and can reach heights up to 100 ft.), towable boom lifts (portable lifts that can be towed behind a vehicle), and scissor lifts (scaffolding with a criss-cross metal structure that can raise the work platform up to 60 ft.).
There are three major types of aerial work platforms: boom lifts, scissor lifts, and mechanical lifts.
Aerial lifts come in either two-wheel drive or four-wheel drive.
Lifts can have different tire treads depending on the terrain they are used for operation, even including bulldozer-like tracks for soft or sandy soils.
Aerial lifts can be operated with pneumatics, hydraulics, or mechanically with screws or a rack-and-pinion system.
Aerial lifts typically use gasoline, diesel, or propane, but many new lifts are using lithium batteries as well.
Aerial lifts are available for rental or purchase. Renting an aerial lift can be more affordable than purchasing a lift, and it is ideal if you intend to use a lift for only a short period of time. Comparatively, purchasing an aerial lift enables you to own a lift, and you can maximize the return on your investment if you properly maintain your lift.
The average cost of an aerial lift usually ranges from $5,000 to $80,000, based on the make and model. Oftentimes, it helps to shop around for an aerial lift, so you can identify one that has the accessories and features you need to perform various work tasks.
When working from an aerial lift, a body belt must be worn along with a lanyard attached to the boom or basket.
The self-propelled IAWP-7.3 industrial aerial work platform can safely and efficiently maneuver in tight quarters and offers a great alternative to ladders and scaffolding.
Appropriate use of an aerial lift depends on the type of lift and the work environment. For instance, a scissor lift offers a great option at construction sites and other work areas where workers need to quickly reach high elevations. On the other hand, telescopic boom lifts may be ideal for electrical work. Other aerial work platform options can help workers trim tall trees, lift and lower event staging and lighting, and perform other specialized tasks at heights.
Successful completion of an OSHA-approved safety training program is required to legally operate an aerial lift. If OSHA discovers that a business allows its workers to use an aerial lift without the proper certification, the company could receive significant fines and penalties.
AerialLiftCertification.com offers 100% OSHA-compliant safety training. With our program, students can use our English or Spanish training courses to learn aerial lift fundamentals, safety standards, and the dangers associated with operating a lift. Plus, our program only takes about one hour to finish, so it makes it simple for a business to get its lift operators OSHA-certified right away.

Whether or not you operate the world's tallest scissor lift or an average sized aerial lift, we have the training packages to help you become OSHA compliant in no time. Our 3 training packages (Train a Trainer, Training Kit, and Bundle Package) are made for beginners and experts alike. If you need to brush up on your aerial lift safety skills or if you'd like to become compliant with a scissor lift, we're ready to put you on the path to compliance. To learn more about our aerial lift safety training program or to sign up for our program, please contact us online or call us today at (888) 278-8896.