Do I Need a Harness in a Scissor Lift?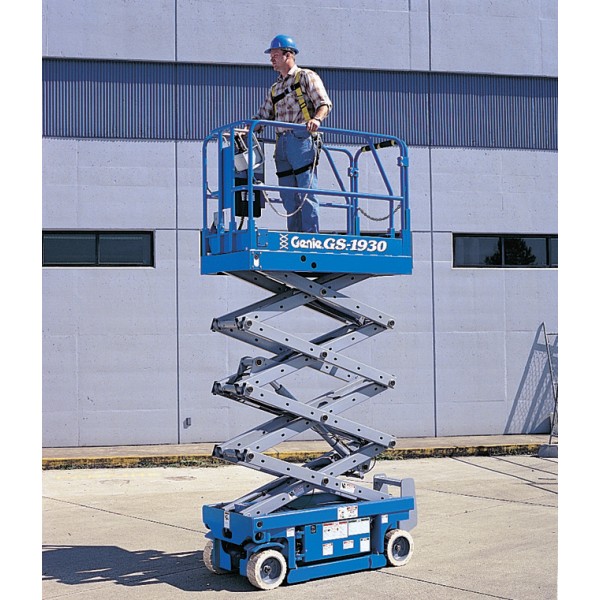 Wearing a safety harness is optional for scissor lift operators. But, the benefits of wearing a safety harness can be significant for both a scissor lift operator and their employer.
Is a Harness Required on a Scissor Lift According to OSHA?
OSHA does not require scissor lift operators to wear a safety harness. It does, however, provide guidelines to safeguard scissor lift operators against falls. These guidelines focus on the following areas:
1. Fall Protection
Scissor lift operators must only use lifts that have a guardrail system in place. Additionally, employers must teach scissor lift operators how to:
✓ Verify a guardrail system is in place before they use a lift
✓ Stand exclusively on the work platform — and never on the guardrails
✓ Avoid learning away from the lift as they work
Like a safety harness, a guardrail system won't stop scissor lift falls. Yet, a safety harness and guardrail system can help reduce the risk of scissor lift falls and ensure lift operators can safely perform a wide range of tasks at heights.
2. Stabilization
A scissor lift should only be used on a stable surface. Otherwise, the lift can tip over, leading to accidents, injuries, and fatalities.
To ensure a scissor lift is stable, an operator must:
✓ Follow the manufacturer's instructions for safe use of the lift
✓ Isolate the lift, so it cannot come into contact with other heavy equipment; this may require the use of traffic controls or other safety measures
✓ Avoid using a lift on a slope, in holes, or other unstable work surfaces
✓ Use the lift only in good weather conditions; a lift should not be used if wind speeds exceed 28 miles per hour or heavy rain, snow, or other inclement weather conditions are present
Along with the aforementioned measures, an employer can take steps to help scissor lift operators keep their vehicles stable. These steps include:
✓ Require regular scissor lift evaluations and maintenance
✓ Take any malfunctioning scissor lifts out of operation; these lifts should not be used until they are running properly once again
✓ Verify that the weight of a scissor lift's platform never exceeds the manufacturer's load rating
Proper scissor lift safety training can teach employees about the importance of using a lift on a stable surface. This training can also show lift operators what they can do to avoid tip-overs and other safety issues.
3. Positioning
How a scissor lift is positioned can have far-flung effects on operator and bystander safety. If a scissor lift is used too close to power lines, it could lead to electrocutions. Or, if a scissor lift is used too close to other heavy equipment, operators who fall could get caught in the middle.
Regardless of how a scissor lift is positioned, wearing a safety harness can make a world of difference. If a scissor lift operator is equipped with a safety harness, he or she can avoid serious falls.

Scissor Lift Safety Harness Requirements: When to Wear a Harness
Scissor lift operators should wear a harness any time a guardrail system is missing or insufficient. When in doubt, scissor lift operators should err on the side of caution and wear a harness as well.
Furthermore, scissor lift operators should consider wearing a safety harness, even if a guardrail system is sufficient. The harness won't prevent a scissor lift fall, but it can limit the risk of an accident, injury, or fatality. Perhaps best of all, a harness can provide scissor lift operators with the peace of mind that they can work safely at heights.
Learn More About Scissor Lift Safety Harness Requirements
At AerialLiftCertification.com, we offer a comprehensive training program that offers insights into scissor lift safety harness requirements and other aerial lift safety topics. Our program enables workers to become OSHA-certified aerial lift operators, and it only requires about one hour to complete. To learn more or to enroll your workers in our aerial lift safety training program, please contact us online or call us today at (888) 278-8896.