New Snorkel Safety Accessory Guards Against Aerial Lift Accidents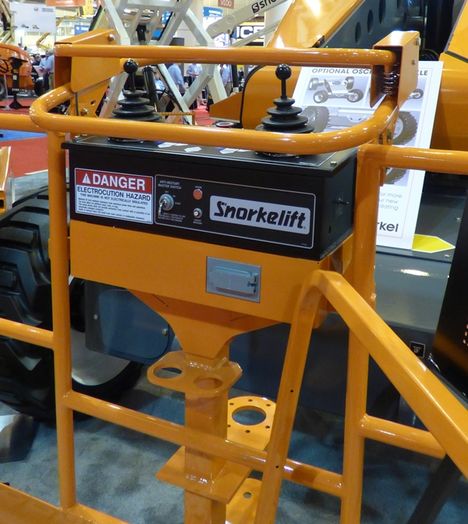 Snorkel USA, a manufacturer of aerial work platforms (AWPs), boom lifts and related equipment, recently unveiled a safety accessory that every aerial lift operator should consider.
The device, called Snorkel Guard, will accompany new boom lifts and AWPs that reach at least 40 feet and above.
What is the Snorkel Guard Accessory?
The Snorkel Guard is a spring-loaded guardrail that is positioned above and around the upper controls on boom lifts with platform heights of 40 feet and above. It shuts off the lift's operations when compressed, in the instance that an accident occurred and the operator was pressed up against the controls. The Snorkel Guard was designed to make snorkel boom lifts safer and to prevent serious accidents from happening if the operator experiences a temporary loss of control.
Snorkel Guard has a few smart features, including the automatic shut-off of power, along with the ringing endorsement of authority figures around the industry.
When is the Snorkel Guard Most Beneficial?
The Snorkel Guard should be used whenever an operator is working in close proximity to any fixed objects. It would come in handy in a situation where the AWP operator came up against a tree, building, tower, or other obstacle. Being crushed by a fixed object is one of the most common and most serious accidents involving aerial lifts and snorkel boom lifts. The Snorkel Guard can help prevent these accidents from happening by cutting off power when it detects a worker is being crushed or compressed by something.
However, user control is customizable with the Snorkel Guard; override controls are available when required.
Which Snorkel Boom Lifts Can Accept the Snorkel Guard?
According to Snorkel CEO Matthew Elvin, the Snorkel Guard will be made available for existing aerial lifts. "Operator safety is paramount, which is why we have rolled out the system as a standard feature globally, as well as offering it as a retrofit solution," said Mr. Elvin.
The Snorkel Guard was designed to be fitted onto already existing aerial lifts, and will be a standard feature on all new snorkel boom lifts.
The added user protection should increase on-the-job safety, according to aerial lift analysts. And given that most aerial lift accidents and fatalities are caused by collapses, tip-overs and falls, it's hard to ignore the Snorkel Guard.
For more information, see the official Snorkel press release announcing the release of Snorkel Guard here.
Aerial Lift Training for Snorkel Boom Lifts
Regardless of your safety accessory kit, you need to ensure safety for each operator. The use of safety tools, like the Snorkel Guard, isn't enough to protect your workers from serious accidents. Accidents, injuries, and fatalities can still happen with the aid of the best aerial lift safety systems if employees are not trained in how to operate snorkel boom lifts properly and to recognize and avoid hazards.
The best way to get your entire crew trained on proper AWP and boom lift safety is with Snorkel Lift Certification. With training courses for every skill level, ALC has 3 different training packages to suit your needs. And with affordable prices and ultimate convenience, our training solution certainly makes more sense than those so-called safety experts who charge thousands of dollars per session!
Give our aerial lift specialists a call today at (888) 278-8896, or visit the ALC contact page for additional info. Thanks for reading our blog!