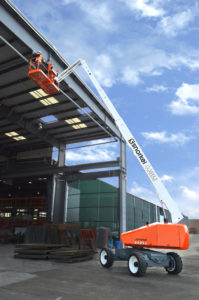 According to OSHA data, about 85% of aerial lift accidents occur during the operation process. That said, the best way to avoid most accidents is to ensure that your team has the proper training before they operate or ride on this type of machinery.
Snorkel lift certification ensures that your team has effective training before attempting to operate a Snorkel lift. This process is important for your team's safety, and the Occupational Safety and Health Administration mandates it.
At AerialLiftCertification.com, we offer a comprehensive training package to help you and your team feel competent when operating all Snorkel lifts. Snorkel International Inc. was founded in 1959 by Art Moore. The company's original lift design was manufactured to help firefighters reach new heights safely. The company's dedication to safety and security has helped it maintain a loyal customer base over the years, which has now expanded into a global operation. Snorkel International Inc. manufactures aerial lifts from the U.S., Asia, Europe, New Zealand, and the U.K.
Our current training kit comes at a one-time cost of $299. It includes everything you'll need to fulfill OSHA's educational training requirements. To complete the certification process onsite, you can get ourtrain-the-trainer kit for $149. You can also bundle these products together for a complete package at a one-time cost of $399.
Learn more about Snorkel lifts, the certification process, and how our package can help your team thrive below.

Why Enroll Your Workers in Snorkel Lift Certification from AerialLiftCertification.com?
Aerial and scissor lift operators need to know how to safely operate Snorkel lifts and other brands of aerial lifts. If you're an employer whose workers operate aerial lifts or you're interested in becoming an aerial or scissor lift operator to expand your career opportunities, look into AerialLiftCertification.com's aerial lift training programs. If you've been considering completing your Snorkel lift certification, here are some of the many benefits you'll enjoy when you choose ALC for your training:
1. Fast Certification
ALC's online certification program can be completed in as little as an hour using a smartphone or other digital device at any time and from anywhere there's an internet connection.
2. Hassle-Free Certification
There's no need to waste time traveling to and from an offsite facility to complete classroom training.
3. Time and Cost Savings
Our online training programs are both convenient and affordable.
4. Ability to Live and Work Anywhere in the United States
Aerial lift and scissor lift certification from ALC is recognized anywhere throughout the United States.
5. OSHA-Approved
Learn how to operate Snorkel lifts and other types of aerial lifts, as well as how to inspect the equipment and how to avoid hazards that can have costly and even fatal consequences. You'll also be up to date on all the latest OSHA regulations.
6. Instant Proof of Certification
Download and print your aerial lift operator certificate immediately upon completing the online coursework. There's no need to wait for official documentation to arrive in the mail – just print the certificates and you or your workers are good to go!
AerialLiftCertification.com Classes and Price Tiers
AerialLiftCertification.com provides a variety of training classes at different price points to suit your needs. 
Our Trainer Certification class is discounted at $149.00, down from the original $249.00. 
Our Operator Training Kit, originally priced at $399.00, is now available at a discounted price of $299.00. Our Train-The-Trainer Digital Kit Downloadable Bundle can be purchased at a reduced price of $249.00, down from $399.00. 
Lastly, we offer a Trainer Certification PLUS Kit Bundle & Save at a discounted price of $399.00, originally priced at $499.00. These prices reflect the commitment of AerialLiftCertification.com to provide quality and affordable training classes.
Benefits of Snorkel Lift Certification?
Since its inception, Snorkel's philosophy has been to "keep it simple." The philosophy resonates in its aerial lifts, which are simple to operate and maintain.
Snorkel lifts are designed with efficiency and safety top of mind. They let operators safely perform various tasks at heights indoors or outdoors.
Of course, in order to operate a Snorkel lift properly, training is required. Operators who know how to control a Snorkel lift can identify and address hazards before they lead to accidents. They can also take the necessary measures to maintain Snorkel lifts and ensure they work as expected for an extended period of time.

Choose ALC for Snorkel Lift Certification Training Today!
If you plan on utilizing a Snorkel lift for your next job, it's your legal duty to ensure your employees are properly educated, trained, and certified. In the past, this process was often complex and required going off-site. Today, you can fulfill all of OSHA's certification requirements in-house and online using AerialLiftCertification's training packages.
Sign up today, and you can be sure your team will have the right training to keep them safe and OSHA-compliant. If you have any questions about certification or our program, contact us now for more information or call us today at 888-278-8896.