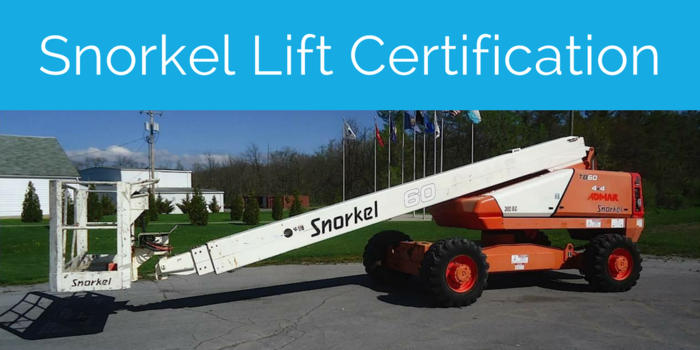 Snorkel International Inc. is an aerial work platform manufacturer with facilities in Asia, Europe, the UK, and the US. Snorkel lift products are used on thousands of work sites across a wide array of industries. From construction sites to electrical work to commercial sign installation, snorkel aerial lifts and scissor lifts are making modern-day life happen from operators with aerial lift certification.
Looking for Snorkel lift certification? ALC offers OSHA-compliant aerial lift certification, and upon completion you will know everything you need in order to operate a Snorkel lift.
Equipment workers face many challenges everyday on the job, and must be trained in the safe operation of snorkel lifts and the other brands used by their employer. Read this article to learn more about the widely used Snorkel brand to become a better operator, and why you need aerial lift training to operate a snorkel lift.
What is a Snorkel Lift?
Spanning across more than 50 countries and with over 500 employees, it's safe to say that Snorkel is a highly successful manufacturing empire that has established itself as a reliable aerial lift provider. The well-known Snorkel name is synonymous with top of the line lift equipment backed by wrought iron dependability.
If your current or future employer uses Snorkel lifts within their business, then you need to look into snorkel lift certification to be prepared to handle the various types of Snorkel lifts. Snorkel lift products include:
• Electric scissor lifts
• Rough terrain scissor lifts
• Speed level lifts
• Electric boom lifts
• Articulated boom lifts
• Telescopic boom lifts
• Trailer boom lifts
• Personnel lifts
• And push around scissor lifts
What Jobs Are Snorkel Lifts Used for?
Each type of Snorkel lift was designed for different projects in construction and maintenance, large and small scale properties, and indoor and outdoor work.
• Articulated boom lifts: For accessing large buildings with difficult exterior architectural features to navigate
• Electric boom lifts: For accessing hard to reach areas, and indoor construction and maintenance work with the zero emissions battery-power.
• Electric scissor lifts: For work indoors, such as inside a mall or large conference center
• Rough terrain scissor lifts: For handling bumpy outdoor terrain and accessing the exterior of flat, easy to access buildings
• Telescopic boom lifts: For projects that require maximum vertical and horizontal reach capabilities, often used for accessing electrical • Trailer boom lifts and personnel lifts: As two of the most convenient and cost-effective lift models, these types of Snorkel lifts are low-maintenance and easy to operate for a wide array of jobs
Any of these types of Snorkel Lifts can be dangerous without the proper training. Get your Snorkel lift certification before attempting to operate any boom or scissor lift.
Once you are qualified with your Snorkel lift certification, you can apply to be an:
• Snorkel aerial lifts operator
• Snorkel scissor lifts operator
• Electrician
• Special events employee
• Maintenance crew member
• Aircraft mechanic/technician
• Window washer/installer
• Lighting worker
• Arborist
• And much more! The job opportunities are endless
What Makes Snorkel Lift Different?
In addition to providing some of the highest quality aerial work platforms on the market, Snorkel is dedicated to providing exceptional support and ongoing service to customers. Snorkel takes great pride in their comprehensive customer support, reconditioning program, technical support, spare parts locating, and snorkel lift training that is exclusive to their company. Ensuring operators are prepared to handle their equipment safely and properly, and that employers have everything they need to maintain and keep their Snorkel lifts in rotation is the Snorkel difference.
Why Do You Need Snorkel Lift Training?
Equipment workers face many challenges everyday on the job, and must be trained in the safe operation of snorkel lifts and the other brands used by their employer.
According to OSHA, workers should only be allowed to operate Snorkel aerial lifts and other brands if they are trained. Many accidents happen every year involving aerial lifts, and the majority of them are caused by operator error. A lack of training is behind almost all aerial lift-related accidents across the country, and it's vitally important to operators' lives to receive their certification.
Besides safety, the next important reason to complete Snorkel lift training and an aerial lift certification is to qualify for the best jobs. Employers simply aren't willing to hire untrained workers because they put their business at risk and are a liability. Untrained workers are more likely to cause accidents and harm other workers nearby. They also cost employers more money. If you want to protect your life on the job and qualify for the jobs you really want, invest in equipment specific Snorkel lift training and receive your aerial lift certification.
Get Your Snorkel Lift Certification at AerialLiftCertification.com
As an aerial lift and scissor lift operator, you need to know how to operate the various types of lifts in the workplace, especially the top makes and models from Snorkel. If you're an aspiring aerial or scissor lift operator, or you want to expand your career opportunities, then you should look into aerial lift training from AerialLiftCertification.com.
If you're thinking about completing your Snorkel lift certification, here are some of the many benefits you can receive when you choose AerialliftCertification.com:
– Quick completion time. The online Snorkel lift certification program can be completed over a lunch break from any device with the internet
– Skip the hassle. No more traveling to an offsite facility to complete classroom training
– Save time and money with our convenient, cost-effective online course
– Live and work anywhere. Our Snorkel lift certification is recognized anywhere in the United States
– Be OSHA-compliant. Learn how to operate all types of aerial lifts, including Snorkel lifts, inspect the equipment, all related OSHA regulations, and avoid hazards that can lead to fatal and costly consequences
– Instant proof. Print your certificate immediately after completing the online course
Choose a training package to get started and receive your own snorkel lift certification today!
For only $299 for the entire training kit that include free three-year renewals for life, you can complete your top quality aerial lift training and qualify for your ideal Snorkel aerial lifts job. Aerial lift certification only takes about one hour to complete from any device with an internet connection. You don't need to travel to an offsite facility, take time off work, or commit to a certain schedule. You can work through the modules at your own pace, right from home.
Sign up for your Snorkel lift training today and begin your dream job tomorrow!